interview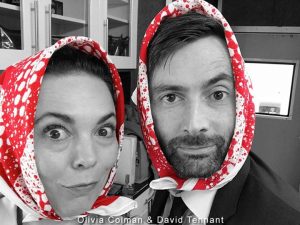 The 'Broadchurch' co-stars will continue working together once the popular ITV crime drama draws to a close after the current series as they are teaming up for their very own comedy musical stage show, which Olivia, 43, says she and the 45-year-old hunk will write together and hopefully star in.
According to the Daily Star newspaper, Olivia said: "We do have plans to work together again – we think it would be fun to do something like a panto.
"We would have to put us in it to play the Ugly Sisters."
Olivia – who portrays Detective Sargent Ellie Miller in 'Broadchurch' – clearly didn't find it difficult working with David, who recently admitted he was like a "grumpy old man" when he was shooting the hit show.
The nation may be preparing itself for mourning when the third installment – the final series to ever hit screens – comes to an end next month, but David – who plays DI Alec Hardy in the crime drama – admitted he was glad it's almost over because he was sick of having to keep the storylines and scripts under lock and key for most of the year.
He recently said: "This is it. I think we should do three and leave them wanting more.
"It's always been the way. Anything that's a thriller has elements you want to hold back. Being on the show gets really tiresome because everything is sent with a password. One script has one password, another has another password. I just can't keep up. I end up being a grumpy old man saying 'just send me some paper!'"
Source: sundayworld.com – Olivia Colman and David Tennant planning a pantomime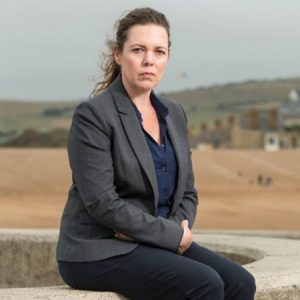 Few people saw the immense global success of Broadchurch coming – least of all, the show's creator Chris Chibnall.
The writer looks back in wonder at the humble origins of the drama, which features Detective Inspector Alec Hardy (David Tennant, Doctor Who) and Detective Sergeant Ellie Miller (Olivia Colman, The Night Manager) investigating gruesome crimes in the close-knit community of Broadchurch on the beautiful Jurassic Coast in Dorset.
On the eve of the third and final series, Chibnall reflects that, "It's been an extraordinary journey – from tiny beginnings inspired by a walk in 2011 along the Jurassic Coast where I live, to a global success in 180 territories, with two international remakes, a novel adaptation, and Broadchurch walking tours that take a similar route to my first walk. It's been quite a ride."
Chibnall, who will take over from Steven Moffat as the show-runner on Doctor Who, continues that, "We've kept a lot of secrets, had a lot of fun and, hopefully, given people another reason to stay in."
In this season, regulars Colman, Tennant, Jodie Whittaker and Andy Buchan are joined by Julie Hesmondhalgh, Sarah Parish, Lenny Henry, Mark Bazeley, Georgina Campbell, Charlie Higson and Roy Hudd.
This time, Hardy and Miller are desperate to find out who sexually assaulted farm-shop worker Trish Winterman (Hesmondhalgh, who played Hayley Cropper on Coronation Street).
Forty-three-year-old Colman outlines where Miller – still coming to terms with the fact that her husband murdered a teenage family friend – is at the start of the third season of Broadchurch.
"We discover that her dad is living with her after her mum has passed, but I think she is finding family quite annoying. She is on her own so her dad's help is great, but her son…
"It's not easy at the best of times for a teenager, but he knows what his dad was put away for, so it's pretty hard and he is becoming a bit of a pain in the backside. So it's all quite trying for Ellie and I think it is probably quite nice for her to be at work."
Former Timelord Tennant, 45, chips in by explaining where viewers will find Hardy when they return to Broadchurch.
"It's a few years down the line and some stuff has happened in the interim which we will find out as the series unfolds. At the end of series two, we didn't know if he was getting in the cab or not…
"It turns out he did, but he has found his way back to Broadchurch and has found his way back to working with Ellie again. Although he is never entirely happy with his lot, he realises that this is probably where he is meant to be and that Ellie is the closest thing he has to a best friend."
Colman, who has also gained plaudits for her work on Peep Show, Twenty Twelve and Accused, is delighted that the latest season of Broadchurch is tackling such an important subject.
"We know that every moment of every day there is someone reliving something like what Trish has gone through. The bravery of Trish is so fantastic to show.
"It's also important to show that there are people who want to help you and who offer their time and protection and love.
"If you have the bravery to ask for help, it is all there. That is a great thing to show people.
"Speak out, don't let anyone get away with this."
The actress adds that, "I'm really pleased to be a part of this story, and it's amazing how people don't know how common this is. People need to know, I think.
"We have to do whatever it takes to stop this happening. We need to put everything we can into teaching and helping people to repair the damage. People have a right to be themselves and not to feel scared."
The Broadchurch crime stories are always compelling but, above all else, it is the chemistry between Miller and Hardy that ensures audiences keep coming back to this drama.
Colman muses that, "Chris has written these two characters brilliantly. They are really good mates – possibly each other's only mate. They need each other and it is quite funny – a bit like watching the old Hinge and Bracket, two old ladies always having a go at each other.
"It feels like they have been friends for longer than they have, the way they bicker. But they clearly deeply respect each other and would staunchly defend each other against other people.
"I think it makes people feel quite secure, watching their friendship. Maybe it just makes them laugh at how horrible they are to each other, even though they clearly love each other."
As she contemplates the end of this hugely successful show, Colman concludes, "It really helps that David and I get on so well. You can tell that Hardy and Ellie like being together because David and I like spending time together. It makes it much easier.
"I will miss working with David. We giggle, he is never late, knows all of his lines … he is a dream person to work with.
"If we could stand next to each other on set every day, I would be so happy."
Source: stuff.co.nz – Broadchurch's Olivia Colman on assault storyline: 'Don't let anyone get away with this'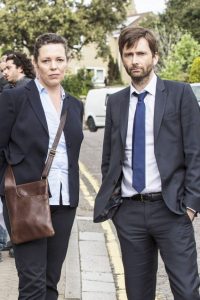 David is back as Detective Inspector Alec Hardy while Olivia is reprising her role as DS Ellie Miller.
Coronation Street star Julie Hesmondhalgh has also joined the cast for the highly-anticipated series.
The soap legend will play Trish Winterman, the victim of a rape that Hardy and Miller are tasked to investigate.
Despite recently revealing that the end of the show feels like "a loss," David has admitted he's not surprised by the decision to end Broadchurch now.
Speaking from the set of the show, the actor told Digital Spy: "We were only ever going to do one.
"Then when the idea came to do more, it was presented as 'Let's do another two and then walk away' so it's not really been a shock."
Olivia added: "I think it seems right."
"The whole point [with the first series] was that a terrible thing had happened in a beautiful place, a place where things like this don't happen," she explained.
"If you get to series 10, it's hard to believe that anymore.
"It's a lovely job, I'd happily do it every couple of years. But I think ending it is the right thing to do."
Having filmed just five of the total eight episodes when the interview took place, the stars couldn't give too much away of how their characters will end up.
They did admit, however, that they were apprehensive they'd be killed off.
Olivia said of the series finale: "It depends how annoyed Chris is with us – he might kill us off.
"He's very certain that it's the last series, isn't he?"
David agreed, adding: "Which does make you wonder if there's some kind of terminal full-stop?"
"Yes…to make sure they can't ask him to bring it back!" Olivia joked.
45 year old David recently confessed he is "sad" to say goodbye to his character Alec.
Speaking to Radio Times, he admitted: "What will be sad is that we'll never go back to it.
"The star then revealed that despite the show's dark subject matter, the actors have always enjoyed their time on set.
"It's always been there as a sort of friendly, comfortable place that we'll return to," he said. "But now that doesn't exist anymore, it does feel like a loss."
Source: OK.co.uk – David Tennant and Olivia Colman admit they feared they would be killed off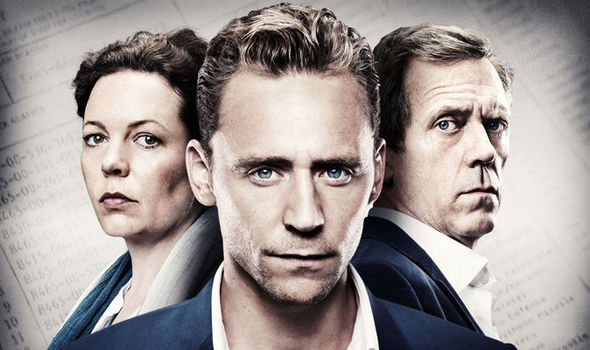 The Night Manager star Olivia Colman said she was "gutted" she missed the chance to pick up an award in person at the Golden Globes in the US on Sunday.
The British star won best supporting actress in a series, mini-series or TV movie for her role as an intelligence officer in the BBC drama.
Colman chose not to attend as she is about to start filming a new adaptation of Murder on the Orient Express.
"It was a gamble not to go but I thought 'I bet I don't win'".
She is starring opposite Dame Judi Dench in Sir Kenneth Branagh's version of the famous Agatha Christie tale.
She said: "I can't believe I was not there but it feels like the wrong thing not being there for the first week of a new job.
"I'm playing Judi Dench's maid and I want her to be so impressed because she is my hero. I have to be good and I don't want to be that person who turns up jetlagged but now I sort of think they would have forgiven me."
Colman said she was in bed at home by 2200 on Sunday and only found out about her win when she switched her phone on at 0700.
She said: "I had all these voicemails from the director Susanne Bier saying, 'turn your phone on!' Now I'm so gutted I'm not there. It's such an enormous honour, I'm beside myself."
Colman beat fellow Brits Lena Headey (Game Of Thrones) and Thandie Newton (Westworld) as well as This Is Us actresses Chrissy Metz and Mandy Moore to her award.
The Broadchurch star said: "I looked at the list and thought 'I won't win in that group'."
Colman said she regretted she had missed the chance to celebrate with her co-stars, Tom Hiddleston and Hugh Laurie, who also won Globes.
"I bet they know how to have a good time. I was always pregnant when we were filming but I could have got wellied with them all last night."
Her award was collected for her by presenters Kristen Bell and Cuba Gooding Jr.
Colman joked: "Don't wash it! Don't polish it if they have touched it!
"I'm clearing everything off the mantelpiece, it's going right in the middle.
"Cool people put their Baftas and things in the downstairs loo but mine are on the mantelpiece."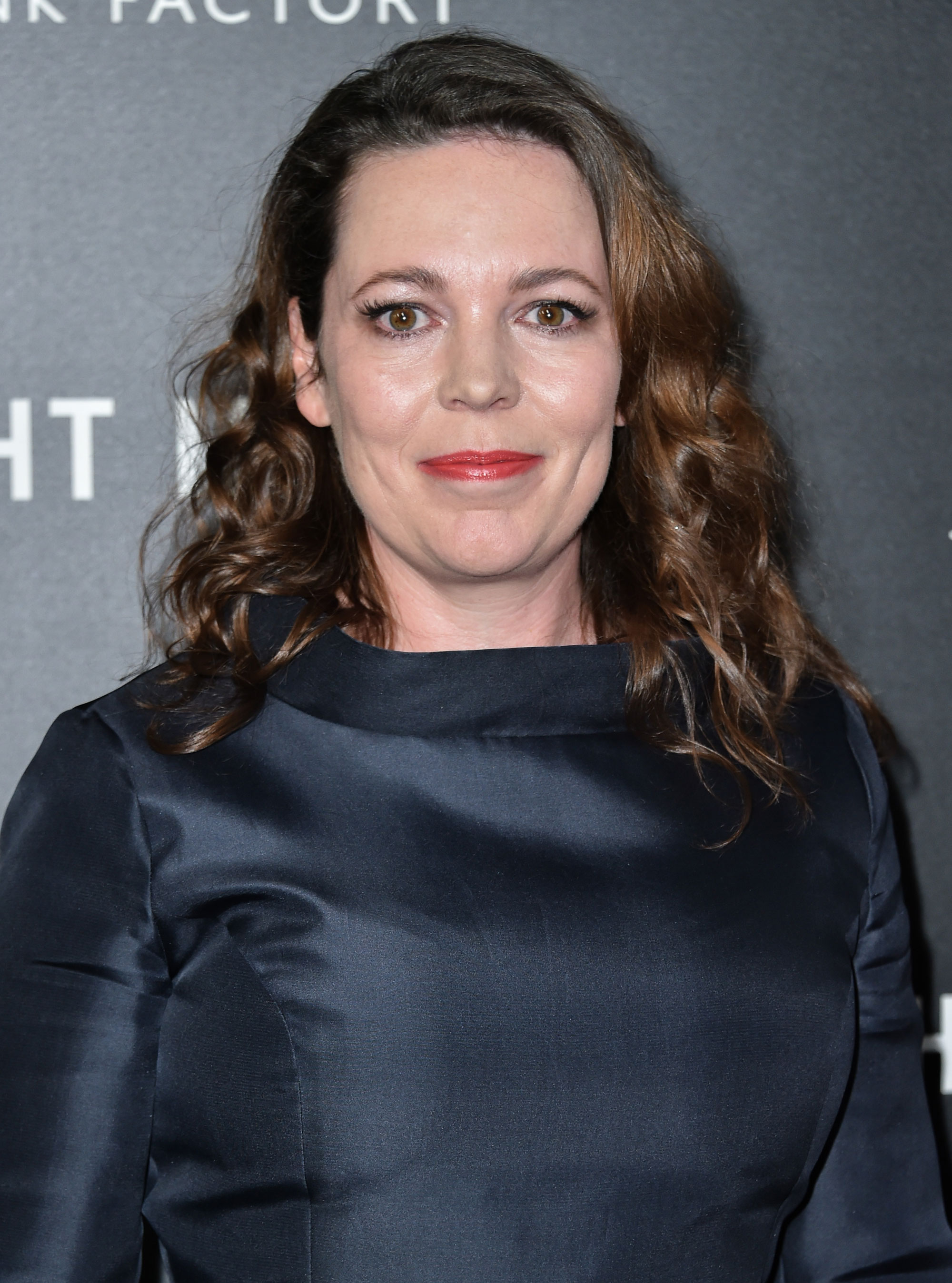 Having recently appeared on our screens as The Night Manager's spy boss, Angela Burr, BAFTA-winning actress Olivia Colman is back – and this time, she's turning her hand to comedy. Stepping into the shoes of Deborah Flower in Channel 4's new six-part series, Flowers, she's a music teacher tasked with trying to keep her dysfunctional family together.
As Deborah's husband, author of illustrated children's books, Maurice, fights inner demons and dark secrets, she becomes increasingly suspicious that he's in a secret homosexual relationship with his Japanese illustrator Shun [Will Sharpe]. But that's just the half of it – the family live in a creaky, messy, crumbling old house with Maurice's elderly mother Hattie (Leila Hoffman) and their maladjusted 25-year-old twins, Amy and Donald, who are both competing for the same girl.
Despite living on top of each other, the family will do anything to not communicate, pushing their struggles with love and life to extreme and ridiculous places. Can Deborah hold things together? We'll be tuning in to find out. But in the meantime, star of the show, Olivia Colman, shed some light on the situation…
Flowers is not what you'd call a traditional sitcom, is it?
No! It goes to darker places than most would go to. A comedy about suicide and mental health is pretty unusual – they're normally the domain of drama. It's quite daring, and I like that.
You play Deborah – what's her story?
Deborah is a woman of love. She loves her family desperately, although is misguided a lot of the time. If she can sense something isn't right, she doesn't necessarily try and sort it in the right way. It's a symptom of the entire family that they don't really listen to each other. Or they listen but don't hear, which is where a lot of the comedy comes from. She's quite eccentric, as they all are. She's lovely, she loves her family and wants to sort them out – she just gets it a bit wrong.
There's a very real feeling to a lot of the conversations and reactions in the series. Did you improvise much or was it all laid out in the script?
It was all there in the script. If there was a big group scene, we'd record it as it was written, and then Will would say "Okay, and now we're going to let rip a bit." I find that terrifying, but it was actually really quite liberating and fun, and some hilariously weird stuff came out of it.
Looking at your comedy back catalogue, with Sophie in Peep Show and now Deborah in Flowers, your characters aren't exactly blessed with the greatest luck in love, are they?
No! I don't know why. Maybe I find that funny. Is that awful of me? I think a good dollop of sadness is quite a useful thing in comedy sometimes. I think if everyone's happy all the time, it's a bit dull. It's like salt and caramel – you wouldn't imagine they would go well together, but they do. I think watching someone, from the comfort of your own home, doing something awful or wrong – you have the luxury to be able to laugh at it. I think it works.
Flowers and The Night Manager are such different projects – is everything a bit more exaggerated and pronounced in comedy?
Yes and I hadn't done it for a while, so I felt quite out of my comfort zone doing Flowers. You feel more comfortable as the days go by. I felt like I was doing an awful job, really hamming it up. But then I started to care less and just enjoy it.
You seem to have been very busy for the last few years. Are you someone who feels a need to keep on working? Do you hate to turn good work down?
I do struggle. I really remember what it was like not to work, so it's hard to willfully say 'no'. But it also looks like I've been working more than I have. Apart from Flowers, I've just had nine months off, because I've been with my baby. It's just the luck of the draw that The Night Manager and Flowers are showing fairly close together. My family is my first love and my first priority and I probably have more time at home than people with normal jobs.
How was learning lines and performing with a small child at home?
It was slightly worse! The learning lines when pregnant wasn't too bad, but there were a few rewrites and so I might have possibly used it as an excuse to say, "I can't do it!" But once the baby's there, it's quite hard. I had the car journey in the morning to try and cram it in!
Flowers starts on Channel 4 on Monday 25th April.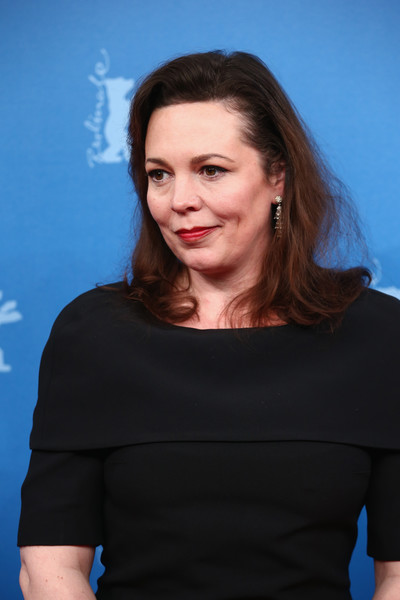 Olivia Colman is laughing and blushing. "I don't often get to play the object of lust," confesses the actress. "I don't know how to do it. It's really fun to play and, it turns out, quite embarrassing. I got a bit nervous and giggly."
Olivia, who has also starred in Broadchurch, The Iron Lady, Rev and The Night Manager, may be one of our most celebrated actresses, but she clearly doesn't see herself as love-interest material.
But as Deborah in Channel 4 comedy-drama Flowers, a six-part series about a dysfunctional family that will be shown from Monday to Friday next week, she is propositioned by various family friends.
Olivia's desperate, smiling matriarch Deborah is the glue that holds the family together.
Her husband, children's author Maurice (The Mighty Boosh's Julian Barratt), is depressed and suicidal, while their grown-up twins, Amy (Mount Pleasant's Sophia Di Martino) and Donald (Eric And Ernie's Daniel Rigby), are maladjusted. Amy is lost and sad, while her brother is a delusional, failed inventor.
Other characters include Aunty Viv, Deborah's fun-loving sister, played by Anna Chancellor, neighbour Abigail (Murdered By My Boyfriend's Georgina Campbell) and Shun, Maurice's illustrator, played by Flowers' writer and director Will Sharpe, best known as Yuki Reid from Casualty.
Flowers is Will's first TV project as a writer and director, although he co-wrote and directed the independent film Black Pond.
"Flowers is about how your own state of mind can affect those around you," says Will, 29. "I also knew that I wanted it to be funny, but not just funny.
I felt like I wanted it to be a bit like a non-sitcom sitcom. Something that while definitely a sitcom, finds its characters breaking the sitcom format by questioning their own identities and archetypes."
Olivia, 42, says, "Deborah loves her family desperately, although she is misguided a lot of the time. If she can sense something is not right, she doesn't necessarily try and sort it in the right way. It's a symptom of the entire family that they don't really listen to each other – or they listen but don't hear, which is where a lot of the comedy comes from."
The surreal feel of Flowers meant the actors, playing larger-than-life characters, had to produce some big performances.
It was a coup for the production to get an actress of Olivia's stature, given that Will is a TV first-timer. But she says she's never accepted a role because she thinks a show will be a hit, revealing, "I've never picked a project because it's high profile. I picked Flowers because I liked the scripts and, if I'm enjoying myself, then I'm very lucky."
Flowers came at a busy time for Olivia, who also filmed The Night Manager and gave birth to her third child last year. She and husband Ed Sinclair are also parents to Finn, 10, and Hal, eight.
Although the scripts must come pouring in, Olivia says that having once been an out-of-work actress, it's hard to turn down work. "I do struggle. I really remember what it was like not to work, so it's hard to wilfully say no," she says.
"But it also looks like I've been working more than I have. Apart from Flowers, I've just had nine months off, because I've been with my baby. It's just the luck of the draw that
The Night Manager and Flowers are showing fairly close together. My family is my first love and my first priority and I probably have more time at home than people with normal jobs."
Olivia's role in Flowers is very different from that of The Night Manager's clever spy boss Angela Burr. The locations alone were certainly worlds apart but
Olivia says the jobs aren't very different as life off-camera for actors is usually the same.
"Between scenes, it's not very different whether you're on a comedy or a drama," she says. "We're doing a job we love and that we want to do. I always try to remember, 'Take the job seriously, but not yourself'. We're really lucky."
Flowers, Monday-Friday, 10PM, Channel 4
express.co.uk – Olivia Colman: I don't often get to play the object of lust

If you're familiar with the original John le Carré novel, you'll notice a few changes when you see the BBC's dramatisation of The Night Manager.
For a start, in the TV series the intelligence officer at the heart of the drama — named Burr — is female (on screen, she's Angela; in the book, Leonard).
Secondly, in the TV adaptation, Burr is pregnant… a feat that even the most daring of male spies would struggle to pull off.
Why is Burr pregnant?
There was, reveals Olivia Colman, who plays Angela Burr, no mention of it in the script. But after the Broadchurch star was given the part, she found out she had a baby on the way. (We speak during filming, when Colman is five months pregnant. Colman's third child, a daughter, was born in August.)
Colman admits that her pregnancy led to a difficult conversation.
Colman: "I went to see Susanne [Bier, the director]. thinking, 'Oh God, should I mention it in the first meeting?' And I thought: 'I can't lie.' Which is why I'd be a rubbish spy.
"She said, 'Oh… right…' And didn't look that pleased.
"But then she said, 'You know, just go with it for a minute. Remember the film Fargo and Frances McDormand? The pregnancy added to the drama: the domesticity versus the extraordinary nature of her job. And I think it adds a weird power to this part, too.'"
What difference has Colman's pregnancy made to the storyline? The answer — not a lot, "Beyond the odd person saying to Burr: 'Aren't you meant to slow down during pregnancy?', to which she responds: 'B***** off.'"
There is, however, one rather amusing change: Colman says that more chairs have been written into the script — so that she can deliver her lines without having to stand up for hours on end.
But, she says honestly, there's one other difference too — for Colman, the actor.
"I just can't retain my lines like I normally would. I've got a bit of nappy brain going on. There are an awful lot of script changes that happen. It can change the day before, on the day. It fills me with fear: 'Oh Christ, I've barely got the script in my head and now I've got to change it.' So it is a little bit hanging by my fingernails."
Source: radiotimes.com – Olivia Colman says pregnancy didn't slow me down on the Night Manager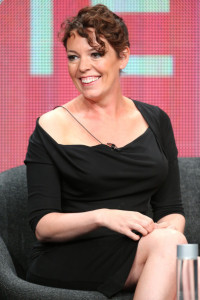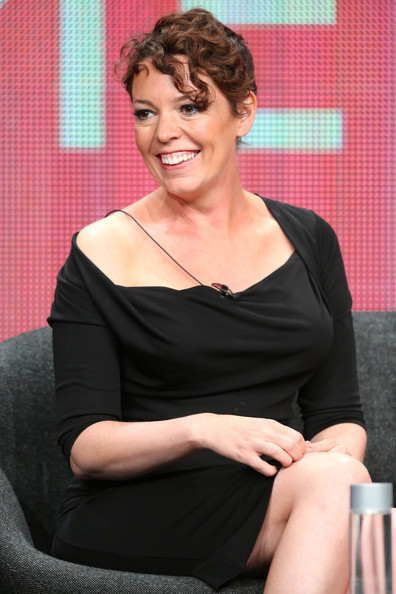 "I am just an actor – all I do is I memorise someone else's words and tart around," says Olivia Colman, Bafta-award-winning actor and patron for anti-domestic violence charity Tender.
Within a few minutes of interviewing her, the self-deprecation that Colman is known for is revealed. "Some actors know much more [than me] but I'm aware of my limitations," she tells me. But, perhaps this is what makes her an effective charity patron.
When faced with a number of requests from charities, Colman says she chose to focus on a few, carefully chosen causes. She became a patron of Tender less than a year ago, after approaching a range of charities while researching for her role as a domestic violence survivor in the film Tyrannosaur.
"I want to be helpful to the charities I support. I think you can dilute it, the more you do," she says. "You have to be a bit strong about what you do … otherwise you risk spreading yourself a bit thin and you can be less useful."
She explains that sometimes there are things "I just know I can't do". When approached by Comic Relief to appear in a fundraising film in Africa, Colman had reservations. "I said I don't think you want me, I won't be able to do it," she says. "I've got no armour. If they're suffering they don't want some twatty actor turning up in tears."
Eventually, Colman did find a good fit at Comic Relief, with young carers. She found filming for the TV event uplifting and while she still "still cried", she realised that, when it comes to charity work, she's "better at doing positive stuff".
This is what drew her to Tender – its positive, preventative work and the fact that "it's grassroots and gives people useful tools to lead a happy life."
Tender was established in 2003 and works with young people to raise awareness of abuse and educate them around friendships and relationships. Its workshops are run in places like schools, youth centres, offices and healthcare settings.
"That's the point of Tender – to try and get in there early," Colman explains. "Teach people about the warning signs and children how to be a good friend and good partner. So that's why I said yes to being a patron, it sort of made sense. I understood that."
When I ask her what her advice is for anyone considering becoming a patron it was very considered: know your limits by not over-committing to causes and being sure it's the right cause for you. But there's one thing, self-deprecating as she is, that she doesn't mention – hard work.
"I'm not trying to pretend, you know … it's the staff who are doing the tough shit," she tells me. While she acknowledges that "my job means I'm helpful" she doesn't consider herself an expert. "If Susie [McDonald, Tender's chief executive] were here she'd be much better than me at this … I'll never be as knowledgeable as her," she says.
But she reveals her commitment in other ways – attending Tender's workshops, meeting beneficiaries and volunteers and even calling the charity before this interview to "apologise in advance in case I am not saying all the things you want me to say".
Her eagerness to get it right is obvious as she adds: "I'm always keen to have more training as a charity patron."
Like her day job, it seems there's rather more to her charity work than memorising words and tarting around. Her advice for aspiring charity patrons shows as much: "Make sure it's a good fit. You can't fake it, even as an actor. You have to have a real passion for it."
Source: theguardian.com – Olivia Colman: You can't fake it as a charity patron even as an actor
As the winner of three Bafta awards for Broadchurch, Accused and Twenty Twelve – including two in the same year – you might assume that Olivia Colman spends most of her time either filming or sifting between piles of possible scripts. Counterintuitively, though, greater success has brought more frequent unemployment.
"I think there's a perception that I'll be too busy," she says. "So actually, after those first two Baftas, I didn't really get offered anything, which makes you think: Oh, no! And, after I finished the second series of Broadchurch, nothing came up for six months, which really is a long time and I got a bit panicky."
Her current schedule is rushed, however. Immediately after our conversation about the film London Road (in cinemas from Friday 12 June), she is flying to Morocco to resume shooting The Night Manager, a six-part BBC adaptation of a John le Carré novel.
Colman plays Burr, a British spy who was a man in the book but has been rewritten as a woman and – to accommodate the impending birth of the actress's third child – a heavily pregnant one. Le Carré approved the changes when she met him, although the actress didn't realise she had. "I didn't know it isn't his real name. At the read-through, I was chatting away to someone called David Cornwell, telling him how great the story was, without realising that he was John le Carré."
Babies are a pressure on diaries and costumes that male screen actors are spared, but Colman says that she has always been lucky with morning sickness and, "It would be worse if I was having to hide it on screen because I've already got a waddle. But, so far, it's always worked out for me that I've been able to be pregnant in the job I'm doing."
In London Road, Colman does something she has never previously done on stage or screen – sing. When she was called to meet Rufus Norris, the new artistic director of the National Theatre, she perhaps imagined an invitation to give her Cleopatra or Hedda Gabler. But Norris – after an audition with a musical director – signed her up for his cinematic version of the stage show London Road by Alecky Blythe and Adam Cork.
Although most conveniently described as a musical, it resembles nothing previously attempted in that genre. Playwright Blythe conducted interviews with residents of the area in Ipswich where, in 2006, five women working as prostitutes were murdered by forklift truck driver Steve Wright. Verbatim extracts from these conversations were then set to music by composer Cork.
A local's expression of apprehension – "Everyone is very nervous" – becomes an aria, while the guilty verdicts in Wright's trial are sung by a chorus of TV news reporters. It is the most original piece of music theatre I have ever seen and the film retains the shock and originality.
"It was very difficult at the beginning," Blythe recalls, "because there were no references for what we were trying to do. I'd say to the residents, 'It's a musical but it's not like Mamma Mia, but then it isn't an opera either.'"
The actors learned the words from tapes of the original speakers, with every hesitation and repetition included. Colman – who plays Julie, organiser of a scheme to rehabilitate the area after the killings – had to adjust, unusually for an actor, to being told-off for not stumbling enough: "Alecky would say, 'There's actually a count of three between the 'um' and the 'but'.
Learning somebody else's speech rhythms is very difficult. It would take me a whole day to learn one speech and my husband would be testing me and would say, 'You missed out an 'oh' there' and I'd think, 'But it's not even a proper word!'"
Source: radiotimes.com – Olivia Colman on slow success broadchurch fever and why she'll do anything to be in peep show