Britishgeek
Full casting has been announced for the world premiere of Lucy Kirkwood's Mosquitoes, which opens at the National Theatre in July.
Joining the previously announced Olivia Colman will be Amanda Boxer, Cait Davis, Vanessa Emme, Yoli Fuller, Paul Hilton, Joseph Quinn, Sofia Stuart and Olivia Williams.
Kirkwood's play focusses on Alice (Williams), a scientist working to find the Higgs boson at the Large Hadron particle collider in Geneva, when a tragedy collides her life with that of her Luton-based sister Jenny (Colman).
Directed by National Theatre artistic director Rufus Norris, Mosquitoes has designs by Katrina Lindsay, lighting by Paule Constable, music by Adam Cork, sound design by Paul Arditti and video design by Finn Ross and Ian William Galloway.
Mosquitoes runs in the Dorfman at the National Theatre from 18 July to 28 September.
More information: HERE
Buy tickets: HERE
Source: whatsonstage.com – Full cast announced for Mosquitoes at National Theatre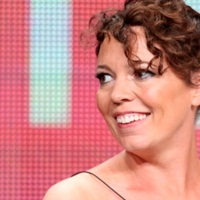 In Conversation with Standard Issue
Sep 03, 2017
Leicester Square Theatre, London
Join a line-up of brilliant women, including Olivia Colman, Jenny Eclair and Kerry Godliman* chatting about funnies, feminism and more. *Line-up subject to change.
For more information and to book tickets go HERE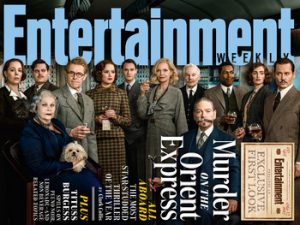 Director Kenneth Branagh and the starry cast of his new version of "Murder On the Orient Express" gathered in London on Friday to show off new footage from the upcoming adaptation of Agatha Christie's classic whodunit. Almost the entire ensemble cast, which includes Oscar winners Judi Dench and Penelope Cruz, "Star Wars" actress Daisy Ridley, BAFTA winner Olivia Colman and Tony winner Josh Gad, was on hand, with only Johnny Depp and Michelle Pfeiffer notable absentees.
They were later followed onstage by director Francis Lawrence, who introduced 18 minutes of footage from his upcoming spy thriller "Red Sparrow," starring Jennifer Lawrence, which is currently shooting in London.
Branagh, who plays Belgian detective Hercule Poirot, introduced about 10 to 15 minutes of work-in-progress footage from the Fox film, saying: "This is the very first time any of this footage has been seen in this way. We're very excited to share the promise and potential of this work."
The footage featured four brief scenes that introduced the central characters, established the murder of one of them, and showed off the film's epic vistas of snow-capped mountains. The footage was followed by the film's trailer, which was first unveiled at CinemaCon in March.
Branagh and the cast spoke of the camaraderie on set, with Derek Jacobi, who plays the butler to Depp's Edward Ratchett, describing the ensemble as having "a wonderful company feel about it."
"What was very extraordinary was that we were all together," added Dench, who plays Princess Dragomiroff. "It wasn't like a film where you all do different bits. In this case we were all there all the time."
Gad, who plays Depp's assistant, said the backgrounds that were shot rolled by the windows of the on-set railway carriage during filming in England, "so it really felt like we were there."
"I found myself going to the end of the train to watch the scenery go by as if I was on a real train, and I wasn't the only one," Branagh said, adding that the impression was so real to the cast and crew that it caused some ill effects. "Quite a few of us got motion sickness," he said.
Gad said the production design was equally important to getting in character and into the story. "It was surreal. I just had the opportunity to go on the real Orient Express, and the detail that the production team brought is unreal, exquisite. It is so spot-on," said Gad. "For us that intimacy really lends itself to Ken's vision. When you're in a confined environment, it creates a sense of unease, even if you have nothing to hide."
The film, currently in post production and set for a Nov. 10 release, is the first big-screen treatment of Christie's famous 1934 novel since Sidney Lumet's 1974 version, which won a best supporting actress Oscar for Ingrid Bergman.
At the London event, Christie's great-grandson James Prichard, who chairs the company that controls her estate, said the story was probably born of the prolific crime writer's first trip on the legendary train in 1928 and that securing Branagh to direct and star was "awe-inspiring." "He gets the grandeur of the work, and his vision as he first told it us made my hair stand up," said Prichard.
Branagh said he made a conscious decision not to watch Lumet's version, and that he had advised the cast also to avoid watching it. "Our goal is to try and find a new approach. That's why classic stories are worth retelling," he said, adding that "there are some surprises."
Speaking later in the day about "Red Sparrow," Francis Lawrence said he had about a week left to shoot on the film, which is due for release March 2, 2018.
The director said the film, which re-teams him for a fourth time with Jennifer Lawrence following the three "Hunger Games" sequels, was "definitely a hard R [rating]." He said the biggest thrill for him was working with Lawrence on a role that he described as "very brave and very different for her."
"She was willing to take some risks in this movie I think she might not have been willing to do for someone she didn't know," said the director.
He also said the film's Russian spy narrative became "more politically relevant the more we worked on it." "One of the questions we had originally was that thematically it didn't seem as relevant as it could, but that had completely changed in the past year. It rings very true now," said Lawrence, who first read the book while in post production on the "Hunger Games: Mockingjay" films.
Although the film is based on the first book of a trilogy, he said there were currently no plans to do sequels. But he added: "If this were to work, it would be fantastic to do another one."
Source: variety.com – All-star cast of 'Murder on the Orient Express' gather in London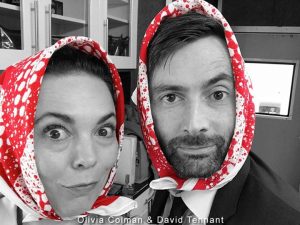 The 'Broadchurch' co-stars will continue working together once the popular ITV crime drama draws to a close after the current series as they are teaming up for their very own comedy musical stage show, which Olivia, 43, says she and the 45-year-old hunk will write together and hopefully star in.
According to the Daily Star newspaper, Olivia said: "We do have plans to work together again – we think it would be fun to do something like a panto.
"We would have to put us in it to play the Ugly Sisters."
Olivia – who portrays Detective Sargent Ellie Miller in 'Broadchurch' – clearly didn't find it difficult working with David, who recently admitted he was like a "grumpy old man" when he was shooting the hit show.
The nation may be preparing itself for mourning when the third installment – the final series to ever hit screens – comes to an end next month, but David – who plays DI Alec Hardy in the crime drama – admitted he was glad it's almost over because he was sick of having to keep the storylines and scripts under lock and key for most of the year.
He recently said: "This is it. I think we should do three and leave them wanting more.
"It's always been the way. Anything that's a thriller has elements you want to hold back. Being on the show gets really tiresome because everything is sent with a password. One script has one password, another has another password. I just can't keep up. I end up being a grumpy old man saying 'just send me some paper!'"
Source: sundayworld.com – Olivia Colman and David Tennant planning a pantomime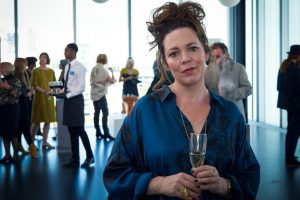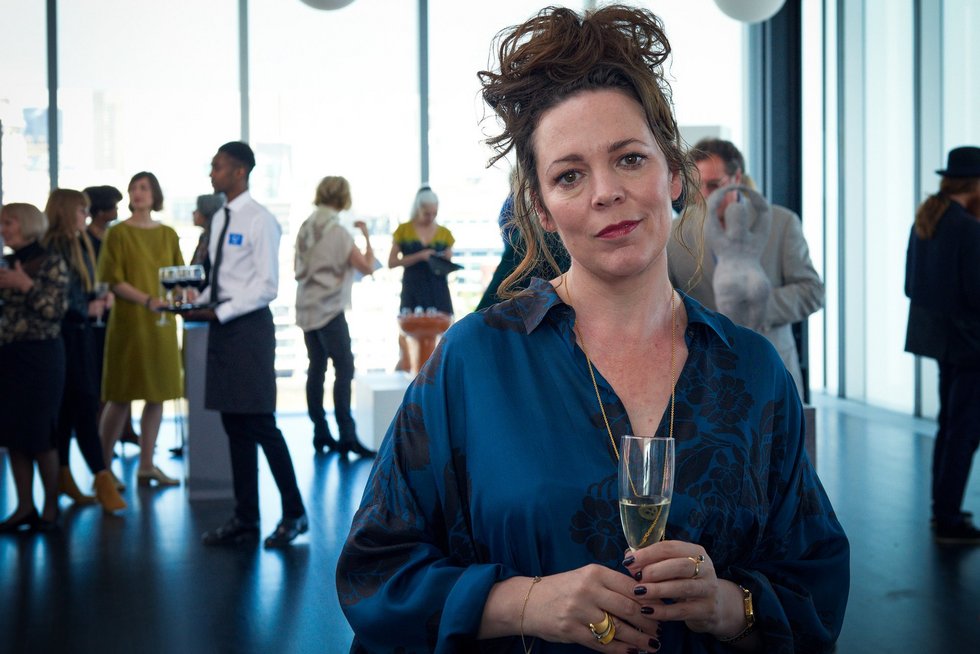 One of our favourite shows of 2016 will back for more as Fleabag has been renewed for a second season. The BBC comedy drama, written by and starring Phoebe Waller-Bridge, came off the back of her award-winning one-woman play for the Edinburgh Fringe back in 2013.
It followed the story of Phoebe, a troubled young woman navigating her way through London life with an unapologetically dark sense of humour throughout. Things were wrapped up fairly well for Phoebe in the first season, but thankfully there will be more to come, with Waller-Bridge saying at the Broadcasting Press Guild Awards that she only wanted to bring it back again if she had "an idea that was good enough," adding, "I think I have one. We are all trying to make it work and have the same team back".
The six-part series also starred Olivia Colman, Hugh Dennis, Bill Paterson, Sian Clifford and Hugh Skinner. Phoebe told Radio Times that the current plan is to shoot in November and then hopefully broadcast Fleabag's second season next year.
It looks like 2017 could well be the year for Phoebe Waller-Bridge with the actress and writer in high demand at the moment, having already landed a showrunner gig on BBC America's Killing Eve, as well as a part in the upcoming Han Solo spin-off movie.
Source: entertainment.ie – Fleabag will be renewed for a second season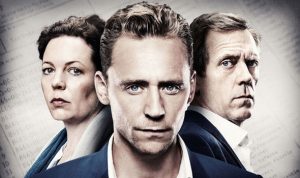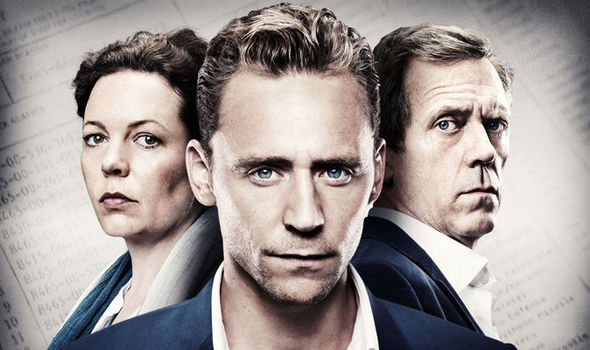 A second season of The Night Manager, the hit espionage thriller from the U.K.'s BBC and U.S.'s AMC, is in the works, the broadcasters have confirmed.
The networks, along with production company The Ink Factory, said development is in the "early stages."
"The Ink Factory, AMC and the BBC are in the early stages of developing a potential second [season] of The Night Manager, but nothing is definite yet and we have nothing to announce," the trio of companies said in a joint statement published by Variety.
The confirmation comes after series director Susanne Bier revealed to Broadcast Tuesday that a second season was being planned.
"We all very much want to do a Season 2 but the thing we absolutely do not want is to do something that does not live up to the level of Season 1. That would be a really bad idea," she said.
The Night Manager starred Tom Hiddleston, Hugh Laurie, Olivia Colman and Elizabeth Debicki in the spy thriller about a hotel manager (Hiddleston) who is plunged into the criminal underworld. Hiddleston's Jonathan Pine went undercover and gained the trust of international arms dealer Richard Roper (Laurie), ultimately bringing him down.
The drama first aired on BBC One in the U.K. in early 2016 and was well-received by critics. It also attracted strong viewing figures with an average of 6 million people tuning in each week.
The Night Manager won three acting awards at the Golden Globes in January: Best actor in a limited series for Hiddleston and best supporting actor and actress in a limited series for Laurie and Colman respectively.
Source: newsweek.com – The Night Manager season 2 in development, BBC and AMC confirm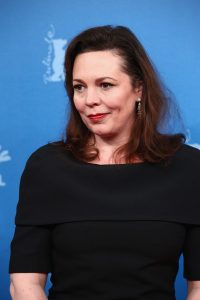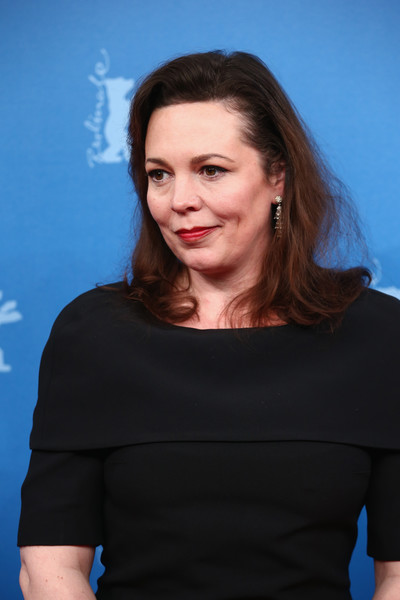 If you ask us, Broadchurch star Olivia Colman has always been a queen, but new film The Favourite will finally see her play a real-life one.
Deadline reports she's been cast in the role of Queen Anne, who ruled Britain in the early 1700s, with X-Men's Nicholas Hoult, Denial's Rachel Weisz, and the freshly minted Oscar-winning Best Actress Emma Stone all jockeying for influence in the queen's court as three of her closest confidantes.
Hoult will reportedly play "Harley," which presumably refers to Robert Harley, the 1st Earl of Oxford, a noted politician and patron of the arts whose family developed the famous Harley Street district of London.
Stone will play his cousin and ally Lady Abigail Masham, while Weisz will play Sarah, Duchess of Marlborough, the queen's close friend and rumored lover.
As a period drama, The Favourite marks something of a departure for director Yorgos Lanthimos, whose previous films include 2015's offbeat dystopian comedy The Lobster starring Colin Farrell.
Some things don't change, however. Weisz and Colman both appeared in that film, which boasted an ensemble cast every bit as formidable as this one.
The Favourite will also represent another reunion of sorts. It's been 15 years since Weisz and Hoult appeared together in About a Boy in 2002, playing the prospective girlfriend of Hugh Grant's character Will, and Will's young friend Marcus, respectively.
We suspect all this hasn't answered your most burning question, however, which is: What is on earth is that on Nicholas Hoult's top lip? Well, he's just wrapped filming on The Current War, in which he plays moustachioed electricity pioneer Nikola Tesla opposite Benedict Cumberbatch as Thomas Edison.
We think that's what it is anyway. He's certainly had to make some interesting hair commitments in his career, what with Marcus's bowl cut, Beast's hirsute chops, and now this.
His character in The Favourite, on the other hand, wore a rather lengthy wig. It starts filming later this year, and is slated for release in 2018.
Source: bbcamerica.com – Nicholas Hoult Cast in 'The Favourite' with Emma Stone and Olivia Colman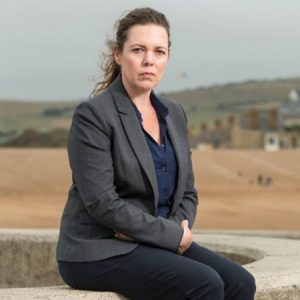 Few people saw the immense global success of Broadchurch coming – least of all, the show's creator Chris Chibnall.
The writer looks back in wonder at the humble origins of the drama, which features Detective Inspector Alec Hardy (David Tennant, Doctor Who) and Detective Sergeant Ellie Miller (Olivia Colman, The Night Manager) investigating gruesome crimes in the close-knit community of Broadchurch on the beautiful Jurassic Coast in Dorset.
On the eve of the third and final series, Chibnall reflects that, "It's been an extraordinary journey – from tiny beginnings inspired by a walk in 2011 along the Jurassic Coast where I live, to a global success in 180 territories, with two international remakes, a novel adaptation, and Broadchurch walking tours that take a similar route to my first walk. It's been quite a ride."
Chibnall, who will take over from Steven Moffat as the show-runner on Doctor Who, continues that, "We've kept a lot of secrets, had a lot of fun and, hopefully, given people another reason to stay in."
In this season, regulars Colman, Tennant, Jodie Whittaker and Andy Buchan are joined by Julie Hesmondhalgh, Sarah Parish, Lenny Henry, Mark Bazeley, Georgina Campbell, Charlie Higson and Roy Hudd.
This time, Hardy and Miller are desperate to find out who sexually assaulted farm-shop worker Trish Winterman (Hesmondhalgh, who played Hayley Cropper on Coronation Street).
Forty-three-year-old Colman outlines where Miller – still coming to terms with the fact that her husband murdered a teenage family friend – is at the start of the third season of Broadchurch.
"We discover that her dad is living with her after her mum has passed, but I think she is finding family quite annoying. She is on her own so her dad's help is great, but her son…
"It's not easy at the best of times for a teenager, but he knows what his dad was put away for, so it's pretty hard and he is becoming a bit of a pain in the backside. So it's all quite trying for Ellie and I think it is probably quite nice for her to be at work."
Former Timelord Tennant, 45, chips in by explaining where viewers will find Hardy when they return to Broadchurch.
"It's a few years down the line and some stuff has happened in the interim which we will find out as the series unfolds. At the end of series two, we didn't know if he was getting in the cab or not…
"It turns out he did, but he has found his way back to Broadchurch and has found his way back to working with Ellie again. Although he is never entirely happy with his lot, he realises that this is probably where he is meant to be and that Ellie is the closest thing he has to a best friend."
Colman, who has also gained plaudits for her work on Peep Show, Twenty Twelve and Accused, is delighted that the latest season of Broadchurch is tackling such an important subject.
"We know that every moment of every day there is someone reliving something like what Trish has gone through. The bravery of Trish is so fantastic to show.
"It's also important to show that there are people who want to help you and who offer their time and protection and love.
"If you have the bravery to ask for help, it is all there. That is a great thing to show people.
"Speak out, don't let anyone get away with this."
The actress adds that, "I'm really pleased to be a part of this story, and it's amazing how people don't know how common this is. People need to know, I think.
"We have to do whatever it takes to stop this happening. We need to put everything we can into teaching and helping people to repair the damage. People have a right to be themselves and not to feel scared."
The Broadchurch crime stories are always compelling but, above all else, it is the chemistry between Miller and Hardy that ensures audiences keep coming back to this drama.
Colman muses that, "Chris has written these two characters brilliantly. They are really good mates – possibly each other's only mate. They need each other and it is quite funny – a bit like watching the old Hinge and Bracket, two old ladies always having a go at each other.
"It feels like they have been friends for longer than they have, the way they bicker. But they clearly deeply respect each other and would staunchly defend each other against other people.
"I think it makes people feel quite secure, watching their friendship. Maybe it just makes them laugh at how horrible they are to each other, even though they clearly love each other."
As she contemplates the end of this hugely successful show, Colman concludes, "It really helps that David and I get on so well. You can tell that Hardy and Ellie like being together because David and I like spending time together. It makes it much easier.
"I will miss working with David. We giggle, he is never late, knows all of his lines … he is a dream person to work with.
"If we could stand next to each other on set every day, I would be so happy."
Source: stuff.co.nz – Broadchurch's Olivia Colman on assault storyline: 'Don't let anyone get away with this'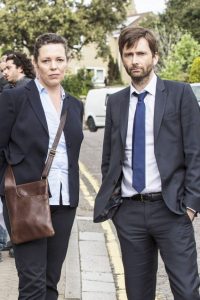 David is back as Detective Inspector Alec Hardy while Olivia is reprising her role as DS Ellie Miller.
Coronation Street star Julie Hesmondhalgh has also joined the cast for the highly-anticipated series.
The soap legend will play Trish Winterman, the victim of a rape that Hardy and Miller are tasked to investigate.
Despite recently revealing that the end of the show feels like "a loss," David has admitted he's not surprised by the decision to end Broadchurch now.
Speaking from the set of the show, the actor told Digital Spy: "We were only ever going to do one.
"Then when the idea came to do more, it was presented as 'Let's do another two and then walk away' so it's not really been a shock."
Olivia added: "I think it seems right."
"The whole point [with the first series] was that a terrible thing had happened in a beautiful place, a place where things like this don't happen," she explained.
"If you get to series 10, it's hard to believe that anymore.
"It's a lovely job, I'd happily do it every couple of years. But I think ending it is the right thing to do."
Having filmed just five of the total eight episodes when the interview took place, the stars couldn't give too much away of how their characters will end up.
They did admit, however, that they were apprehensive they'd be killed off.
Olivia said of the series finale: "It depends how annoyed Chris is with us – he might kill us off.
"He's very certain that it's the last series, isn't he?"
David agreed, adding: "Which does make you wonder if there's some kind of terminal full-stop?"
"Yes…to make sure they can't ask him to bring it back!" Olivia joked.
45 year old David recently confessed he is "sad" to say goodbye to his character Alec.
Speaking to Radio Times, he admitted: "What will be sad is that we'll never go back to it.
"The star then revealed that despite the show's dark subject matter, the actors have always enjoyed their time on set.
"It's always been there as a sort of friendly, comfortable place that we'll return to," he said. "But now that doesn't exist anymore, it does feel like a loss."
Source: OK.co.uk – David Tennant and Olivia Colman admit they feared they would be killed off