The Marvel Cinematic Universe may soon be home to two new queens. Yesterday, The Hollywood Reporter wrotethat Olivia Colman was negotiating a role in Marvel's Secret Invasion Disney Plus series, and today, Variety reports that Emilia Clarke is in talks to do the same.
Secret Invasion is expected to be the television adaptation of the comics storyline of the same name that's focused on a hostile takeover of Earth led by a shape-shifting alien race you may already know and love from Captain Marvel: the Skrulls. Few details have been revealed since the project was first announced, but we do know the show will feature the return of Samuel L. Jackson as Nick Fury and Ben Mendelsohn as the friendly Skrull Talos, who was last seen impersonating Fury in Spider-Man: Far From Home.
There are some interesting possible characters for Colman and Clarke to play, too. In the comics, Empress Veranke is the leader of the Skrulls, and Colman's time as both Elizabeth II on The Crown and Queen Anne in The Favorite could certainly translate to alien royalty. You could make the same case for Clarke's turn as Daenerys Targaryen in Game of Thrones as well. There's also the possibility of Abigail Brand, the leader of extraterrestrial-focused security agency S.W.O.R.D., making an appearance in the show, which could be a great recurring role for either actress.
There's no announced release date for Secret Invasion, but with at least three Marvel films and several TV shows still slated to come out in 2021, there's a good chance there'll be some hints of what's going on with the cosmic, space-based side of the Marvel universe soon.
Source: theverge.com – Two queens in talks to join Marvel's Secret Invasion on Disney Plus
Olivia Colman is currently enjoying the aftermath of her awards season success thanks to her many nominations at this year's Golden Globes and the upcoming BAFTA and Academy Awards, but the actress is already gearing up for her next big project.
The Oscar-winner, who is beloved for her many credits including The Crown, Broadchurch and The Favourite, will be starring as the lead in Sam Mendes' upcoming blockbuster, Empire of Light.
It's not yet confirmed who Olivia will be playing, but the film itself marks a special milestone as Sam Mendes, the director behind Skyfall and 2020 awards season giant 1917, has penned the film without a co-writer for the first time and is reportedly thrilled to have Olivia on board.
According to Deadline, the movie is described as a romantic story set around an old cinema in the South coast of England in the 1980s. We can't wait to hear more!
The James Bond director said in a statement: "I have long been an admirer of Searchlight and the dynamic way they have produced and released some of my favourite theatrical releases of recent years. This project is very close to my heart, and I couldn't be more delighted that it has found its ideal home."
Meanwhile, Olivia is hoping to win big at this year's Academy Awards. The actress is nominated in the Supporting Actress category for her role as Anne in The Father which also stars Anthony Hopkins and Mark Gatiss.
Olivia also received a nod at this year's Golden Globes in the same category, however she lost out to Jodie Foster who won for her part in The Mauritanian.
Olivia was also nominated in the TV category for her part as Queen Elizabeth II in Netflix's huge hit, The Crown. The actress' nomination was no doubt bittersweet as it marked ending her time on the streaming series on a high before waving goodbye to her role as the monarch. In the show's upcoming fifth season, Imelda Staunton will be taking over the play Her Majesty in the next chapter of the drama.
source: hellomagazine.com – Olivia Colman's next big film role revealed
Olivia Colman knows what she's doing. Even when she doesn't, she does.
"I think just time passing gives me a bit more, you know, confidence," Colman tells Esquire Middle East.
The English actress, 47, has in the last decade gone from one of the most underappreciated talents in the world to one of the most universally beloved, collecting an Academy Award for Best Actress, four BAFTAs, three Golden Globes and a Screen Actors Guild award.
On top of that, she's nominated for another Academy Award this year, too—for her role in Florian Zeller's The Father, opposite fellow nominee Anthony Hopkins.
Colman is one of the rare individuals who, no matter how many accolades you bestow upon them, never seems to be changed by it all in the slightest. Talking to us over Zoom, she's as genial and open-hearted as ever, someone who you can't talk to without feeling like you've made a new friend.
The secret to her success—and her unbridled warmth and aforementioned confidence—is in her acceptance that you don't need to be perfect to be great.
"I know what I'm doing now. Well, you never get to the point where you really feel like you know what you're doing. But I trust myself, all because I know I can make mistakes. I think that helps. I trust that if I make a mistake, it doesn't matter," says Colman.
The actress, who famously has no process in how she gets into characters, performed nearly automatically opposite Hopkins in the Father, a harrowing portrayal of one man's failing mind and the daughter he's relying on to cling to man he once was, and can't accept he no longer is.
The two worked without rehearsals, sparring back and forth in one or two takes and then laughing off the screen. All of this was enabled by a first-time filmmaker in Zeller who trusted his actors and allowed them the space to create without the preciousness or stress that often comes with inexperience.
That, to Colman, was everything.
"I think it's so important to feel safe and secure. Anyone who tries to sort of break you down and make you feel absolute nonsense. If you feel safe and secure, and you trust everyone around you, you can go anywhere with any amount of emotion," Colman says.
"If you get someone who's an a**hole, you don't want to be nice. You don't want to do good work for them."
Rufus Sewell, who plays Colman's increasingly less-patient husband, took to the vibe that Zeller, Colman and Hopkins had created on set immediately.
"I'm not a particularly serious person. When people meet me, they're often surprised because I always get cast as these dour, humourless tw*ts," says Sewell.
Colman brought out the silly in Sewell like few had before.
"It was very fun, easy, and especially silly. There was a lot of silliness. With me and Olivia, I felt like that we were going to be separated. That was the joy of it. I looked forward to each day," says Sewell.
Colman, Sewell and Hopkins would eat together each day, getting a laugh out of one another hours on end.
"There were no dressing rooms or trailers. Most of the time we were in the same makeup room telling stories and jokes and, you know, farting around. For me, it was a wonderful discovery that my favourite actors work the same way I do," says Sewell.
At the end of the day, of course, what matters most is the work itself, and in The Father, the crew has turned in a masterpiece—a wholly unique, horrifying and tightly-wound drama that deserves every one of the six Academy Awards its nominated for, including Best Picture.
The specialness of The Father, of course, is not lost on any of them, least of all Colman herself.
"I know that I had no problem getting out of bed every morning. No, I was excited to go to work. I thought I'm part of something really beautiful and I'm working with lovely people. I love my work. I love working. I love going to work. But every now and then you get one that's really special, and this felt special. I'll be eternally grateful to Florian for writing it and letting me be in it and letting me act opposite Anthony Hopkins. I can die happy now that that's happened," says Colman.
The Father is in theaters now across The Middle East
Source: esquireme.com – Olivia Colman knows what she's doing, even when she doesn't
he BBC is once again turning to Oscar-nominated Magic Light Pictures for its latest animation special. The studio behind The Gruffalo will bring Julia Donaldson and Axel Scheffler's book Superworm to life with a cast including Olivia Colman and Matt Smith.
Colman will narrate, while Smith will feature as hero Superworm. They are joined by Patricia Allison (Sex Education) as Butterfly, and Rob Brydon (Gavin & Stacey) as the Crow.
Super-long and super-strong, Superworm is always on hand to help out other animals and insects, but when he is kidnapped by wicked Wizard Lizard and sidekick The Crow, his friend Butterfly must come to the rescue.
Superworm is directed by Sarah Scrimgeour and Jac Hamman, from a script by Max Lang and Suzanne Lang. The producer is Barney Goodland, with executive producers Martin Pope and Michael Rose for Magic Light. The composer is Rene Aubry, while animation services are provided by Blue Zoo Animation Studio.
Colman said: "This is such a lovely project to be involved with. When reading the script, and imagining all those goings on at the end of the garden, I could really get a feel for the pure fun and joy that the film will bring."
Superworm is the BBC's ninth Donaldson and Scheffler adaptation, as the stories have become fixtures of the BBC One's Christmas line-up. Last year's adaptation was Zog and the Flying Doctors, which was watched by 7 million viewers.
Source: Deadline.com – Olivia Colman, Matt Smith To Lead Cast Of BBC Animated Special 'Superworm'
The queen's got moves! Olivia Colman asked the cast of The Crown to join her in a choreographed dance routine to Lizzo's "Good as Hell" on set — and believe it or not, they obliged.
"Olivia apparently does a dance class — in the area that she lives with a bunch of friends — on a regular basis. And the last time she did the class, they had danced to that song," Gillian Anderson, who played Margaret Thatcher in season 4 of the Netflix historical drama, said on Late Night With Seth Meyers on Wednesday, January 27. "She asked if we would happen to be interested in maybe doing it."
After some convincing, cast members including Tobias Menzies, Helena Bonham Carter, Josh O'Connor and Anderson, 52, confirmed that they were on board.
"[Olivia said] she would video it, and then she would just share it only with her friends, the other dancers," the X Files alum recalled. "It was never meant to see the light of day."
Well, so much for that. With a sly laugh, Seth Meyers cued up the video, which was recorded between takes of a funeral scene, and played it for his late-night viewers.
In the hilarious clip, Colman, 46, enthusiastically busted a move in her Queen Elizabeth II costume as Menzies, also 46, Bonham Carter, 54, O'Connor, 30, Marion Bailey, Erin Doherty and other costars followed her lead. They ended the dance with a perfectly in-sync glide to the right ("Cha Cha Slide" style) and a collective "Woo!"
Meyers, 47, called the choreography "really good," but Anderson was visibly mortified.
"So humiliating," she said, shaking her head. "I mean, that look on my face. I don't even know. There's such delight and shame all at once."
The TV host tried to lighten the mood, telling the Chicago-born actress that she "did a better job than Margaret Thatcher would have done." He also acknowledged that it was "a pretty low bar," however.
Anderson only played the late British prime minister in one season of the streaming hit, but she had a blast doing so. She shared several photos and videos with her castmates via Instagram and Twitter in 2020 as they enjoyed some rare downtime on set. In one particularly funny video that she tweeted in December, Colman reversed her car out of ditch while looking like the spitting image of the queen.
The Crown is now streaming on Netflix.
Source – usmagazine.com – Olivia Colman Convinces 'The Crown' Cast to Dance to Lizzo's 'Good as Hell' — in Costume!
How does one sum up 2020 in fashion? It was a year in which red carpets were called off, celebrities let us inside their wardrobes at home and awards ceremonies went virtual. Fashion's biggest night of the year, the Met Gala, was cancelled, since the Metropolitan Museum of Art itself had to close its doors—the only days that the museum has had to close to the public previously were the day after 9/11 and the day that hurricanes Irene (2011) and Sandy (2012) hit New York.
We got to see our favourite celebrities and fashion icons in a whole new way; we witnessed the royals doing work-from-home style, street style stars working a protective face mask into their outfits and the likes of Zendaya releasing their red carpet looks via an Instagram GIF instead of debuting them on an actual red carpet… it was a year the fashion industry won't forget.
Looking back, it's hard to believe that in January, February and March, award season went ahead as if the whole world wasn't about to change forever. The Oscars and the Golden Globes, as well as the BAFTAs and the SAG Awards all took place before global lockdowns. Fortunately, this gave us insight into which stars were primed to make 2020 their year.
As always, this year's best dressed list isn't only about the red carpet moments that blew us away with their glamour. We like to say it's also a nod to the people serving us style every day, and in every way. And this year, that was more important than ever. Scroll on to see Vogue Australia's best dressed of 2020.
Olivia Colman
The Queen herself was also our queen of fashion this year. The English actor was here to reign over each red carpet she attended for her role as Queen Elizabeth II in season three and four of The Crown and her regal looks would have made the monarch herself proud.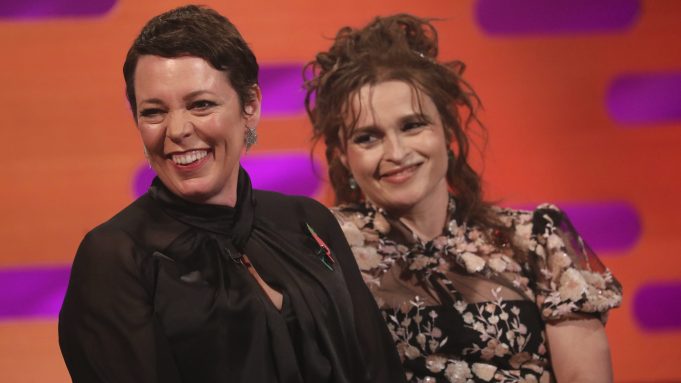 The Crown stars Olivia Colman and Helena Bonham Carter are to star in a socially distanced, virtual staging of pantomime classic Cinderella for BBC Two, with Richard Curtis executive producing.
The stars will perform from the safety of their homes for the Comic Relief special, which airs on Christmas Eve and will be brought to life with illustrations from iconic children's illustrator Quentin Blake.
Colman plays the fairy godmother, while Bonham Carter features as the wicked stepmother Lady Devilia. Meanwhile, the breakout star of Netflix series The Queen's Gambit, Anya Taylor-Joy, will play the title role.
Other cast includes The Night Manager star Tom Hollander and Guz Khan as Baron Hardup and Buttons respectively. Daisy May and Charlie Cooper, the stars and creators of This Country (which is currently being remade by Fox), have been cast as the evil step-sisters. The pair are siblings in real-life.
Written by the Dawson Brothers, and based on an original script by Ben Crocker, Cinderella: A Comic Relief Pantomime for Christmas will be a retelling of the timeless panto classic. It is made by Crook Productions.
The executive producers for Crook Productions are Matt Crook, Richard Curtis, and Colin Hopkins. The director is Matt Lipsey. It was commissioned by Patrick Holland, Jo Wallace and Katie Taylor.
Curtis said: "It'll be very funny and merry — and also a great seasonal opportunity to raise crucial funds for the projects that will help the most vulnerable people, at home and abroad — especially now when Covid has made things harder than ever for many."
The BBC has promised other starry cameos, including an "incredibly famous person wearing an incredibly unconvincing horse costume."
Source: deadline.com – BBC Reunites Olivia Colman, Helena Bonham Carter For Richard Curtis-Produced Virtual 'Cinderella' Pantomime; Anya Taylor-Joy Lands Title Role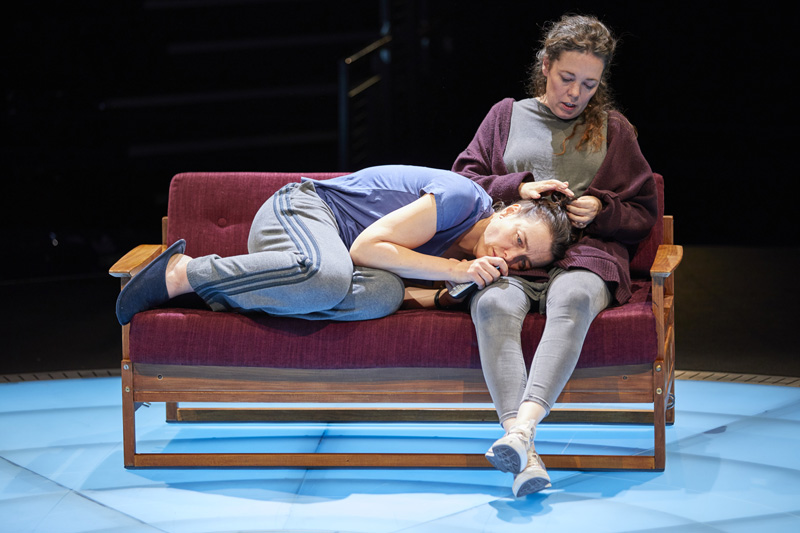 The National Theatre, in partnership with Bloomberg Philanthropies, has launched National Theatre at Home, a new streaming platform.
The service launches with productions including the first ever National Theatre Live, Phèdre with Helen Mirren, Othello with Adrian Lester and the Young Vic's Yerma with Billie Piper, new titles from the NT's catalogue of filmed theatre will be added to the platform every month.
In addition to productions previously broadcast to cinemas by National Theatre Live, a selection of plays filmed for the NT's Archive will be released online for the first time through National Theatre at Home, including Lucy Kirkwood's Mosquitoes with Olivia Colman and Inua Ellams' new version of Chekhov's Three Sisters (a co-production with Fuel).
Viewers can choose a monthly or annual subscription to access the full catalogue and exclusive backstagecontent, or can opt to rent single plays for a 72-hour window.
National Theatre at Home's digital streaming offer was first made available during the UK's first COVID lockdown when theatres and cinemas were closed. This resulted in over 15 million views for 16 productions over four months and reached 173 countries around the world.
Lisa Burger, Executive Director and Joint Chief Executive of the National Theatre, said: "We were overjoyed to have had 15 million views for National Theatre at Home earlier this year and to discover we had reached so many audiences new to theatre both in the UK and worldwide. At a time when many people were isolated at home, it was uplifting to see audiences recreate the shared experience of visiting the theatre. From homemade tickets to interval drinks, NT at Home was a way of making people feel more connected. And so, since the last stream finished in July, we have been determined to find a way to give our audiences access to these stunning filmed productions online once again. With the agreement from artists, we are now able to showcase an extraordinary range of fantastic NT Live productions and, for the first time, some treasured plays from our NT Archive. This is a really exciting day for the National Theatre as we launch a major, online streaming destination for our filmed theatre productions which we hope will continue to provide audiences with the power and joy of theatre for as long as it is needed. We want National Theatre at Home to once again bring people together from all over the world after what has been a very tough 2020for so many."
Source: televisual.com – National Theatre launches streaming service