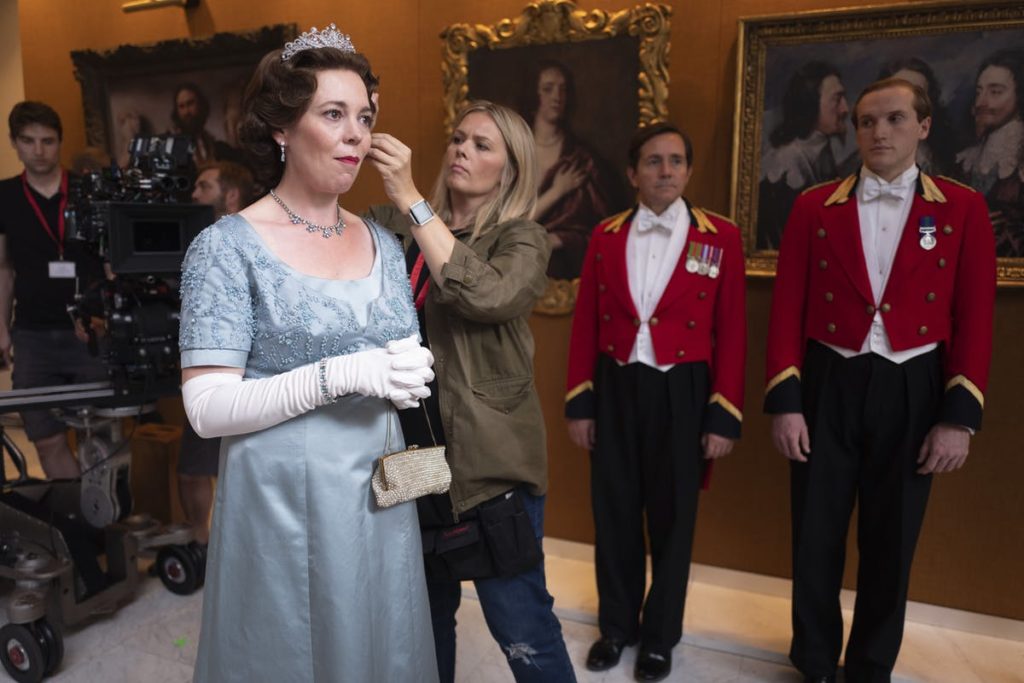 The Crown is back! The drama series, which follows the life of Queen Elizabeth II, comes back on November 17th on Netflix, with lots of news – including the planned changes in the cast. Claire Foy, who garnered significant acclaim for playing Elizabeth in her early years on the throne, leaves the post for Olivia Colman, who won the 2019 Best Actress Oscar for playing a different queen (Anne) in The Favourite and was a recent Emmy nominee for her role in Phoebe Waller-Bridge's comedy Fleabag.
In season three, which focuses on 1964-1977, Queen Elizabeth II (Olivia Colman) and her family struggle to meet the challenges of a rapidly changing Britain. From cold war paranoia to the jet-set and space-age, the season follows the royals as they navigate the flamboyance of the swinging '60s and the long hangover of the 1970s. Ever-present is the need to adapt to a new world, more liberated but also more turbulent.
On the show, Olivia Colman's similarities to Queen Elizabeth are striking, as are those of Helena Bonham Carter to Princess Margaret. To uncover the secrets behind these transformations, L'Officiel spoke to Cate Hall, the makeup and hair designer for the series.
(Photos: Disclosure)
What was your initial reaction when you were called to work on this third season of The Crown?
It was obviously a dream come true. It's the kind of thing I've always wanted to do, especially with reference to historical periods and with characters so real that they were part of contemporary British history. But I joined in to replace Ivana Primorac, which is incredible but also comes with a lot of pressure and anxiety.


What is the research, preparation, and attention to detail like in order to create the looks of the series? What was it like to dive into that?
I am very thorough with work and have always been a fan of The Crown just for that. So for me, actually, research is part of who I am and what I like to do. I had just had a baby, so I was on maternity leave and spent four months working part-time. The research was done while breastfeeding all night, so it was kind of crazy in the world of The Crown.


And specifically with Olivia's work to become the queen in such a striking look…can you tell us how it went?
The most iconic element we know of the queen is the shape of her hair, which hasn't changed for sixty years. So the most important thing was to establish the hair shape for the 1960s. The wig contains at least three or four different colors of real human hair, made by Alex Rouse. We had to take a lot of weight out of our hair to give it a kind of lightness over the previous period, because part of the character's achievement is not just the obvious type, it's the queen, but it's how the queen behaved from 1964 to 1977 with as few fake devices as possible.
(Photos: Disclosure)
Now, talking about the wigs and their variety, are different wigs worn for different occasions, even for the same character, or are they the same?

We have repeated wigs for all the main characters because we depend so much on the schedule of the day. Sometimes the scene is rainy, and the wig is wet. To get it back takes time, so we always have some extra ones.

And roughly how many wigs would you say you worked on for this third season?
I did the math here and I think it was about 47. And that includes repeated wigs and partial wigs for backup terms.

What about Princess Margaret. How did you create her hair and style compared to Elizabeth?
Her hair and makeup really relate very well to the narrative in terms of her characters. Elizabeth is all about consistency, sameness, and reliability, and basically her hairstyle doesn't really change. The type of development and change is very subtle. While Margaret was in fashion, she followed the arts and culture and changed her hairstyle and makeup regularly. So we were able to approach Helena's character with a little more versatility and a little more variety.
(Photos: Disclosure)
How was it for you to work with Olivia Colman and create this new Elizabeth?
Magic! Olivia is extremely instinctive in her acting and she had absolute confidence in my work. To Olivia, it seems that this moment of makeup and hair is very valuable as a process for her to get into character.

And was Helena Bonham Carter like that too?
No. Helena is a very different actress. And it's interesting because it's fascinating, it's one of the unique privileges of our role: watching actors transform into their characters. Helena had many opinions and ideas of things to try because she loves to get involved in everything. Margaret goes through a lot at this time and Helena was excited to transform, to test contact lenses, to test different wigs.
Is there any makeup, hair, or overall look that you are most proud of this third season?
Several! But I'm really proud of how Olivia has aged very subtly from beginning to end of the season. Suddenly, she is this much more mature queen in the 1970s.
(Photos: Disclosure)
(Photos: Disclosure)
Source: lofficielusa.com – The Secrets to Olivia Colman and Helena Bonham Carter's Transformation for 'The Crown'