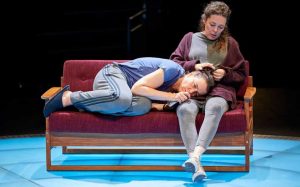 Olivia Colman and Olivia Williams, stars of Lucy Kirkwood's new play Mosquitoes at the National Theatre, will reflect on the acclaimed show in a talk next month.
Lauded by audiences and critics alike, the duo star as sisters with contrasting occupations: one a scientist in Geneva, searching for the Higgs Boson in the Large Hadron Collider and on the brink of worldwide fame, and the other based in Luton, sat by her computer, Googling. But tragedy throws them back together with chaotic consequences.
The talk will take place on Monday 18 September at 3pm, with tickets £7 (£5 concessions) and available through the National Theatre's website.
Mosquitoes is currently sold out for its entire run, with the exception of good availability for the matinee performance on Wednesday 20 September. It is also still possible to buy seats via day tickets and Friday Rush.
The new play is penned by the Olivier Award-winning Kirkwood, who wrote huge West End hit Chimerica, and directed by the National Theatre's Artistic Director, Rufus Norris, who will hold their own talk on Thursday 7 September at 6pm.
Further related events can be found through the National Theatre's website.
Source: officiallondontheatre.co.uk – Olivia Colman and Olivia Williams hold Mosquitoes talk 
BROADCHURCH stars will be among the celebrities at a special charity celebration in Hampshire.
David Tennant and Olivia Colman who played DI Alec Hardy and DS Ellie Miller in the ITV Show will take part in the event at Winchester Cathedral on December 7.
It is in aid of Breast Cancer Haven in Titchfield and The Murray Parish Trust.
Other high profile personalities from the world of TV and film who will take part include Downton Abbey star Hugh Bonneville and actor Timothy West CBE.
There will also be a performance by renowned soprano Claire Rutter, along with festive performances by a variety of Hampshire musical groups including Winchester Cathedral Girl Choristers.
BBC South Today presenter and chair of The Breast Cancer Haven Development Board Sally Taylor said:"Once again, we are extremely grateful for this generous support from our high profile friends. We are delighted to be working closely with The Murray Parish Trust to deliver something very special for Winchester Cathedral this year."
Actress and co-founder of The Murray Parish Trust, Sarah Parish said: "We are so lucky to have such big names supporting this event and we will be doing everything we can to ensure that this will be a night to remember to raise as much funds as possible for these two incredible local charities."
From September 600 tickets will be available. To register your interest or if you would like to be involved with or support the event in any way, contact Sally Hillyear on Sally.Hillyear@breastcancerhaven.org.uk or Sam Robson on sam@themurrayparishtrust.com
Source: hampshirechronicle.co.uk – Broadchurch duo among TV and film stars to take part in special celebration at Winchester Cathedral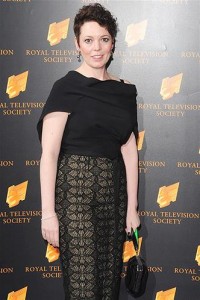 Actors Olivia Colman, Alice Englert and Thomas Mann have been roped in to star in 'Them That Follow'. The movie will be helmed by Brittany Poulton and Daniel Savage, who will direct it from their original screenplay. Bradley Gallo and Michael Helfant will produce the flick for Amasia Entertainment, along with Gerard Butler, Alan Siegel and Danielle Robinson for G-BASE.
The movie is a dramatic thriller which is set deep in the wilds of Appalachia, where a Pentecostal pastor, Lemuel Childs, and his believers handle snakes filled with venom to prove themselves before God. The story of the film focuses on Lemuel's daughter, played by Alice Englert, who holds a secret that threatens to tear church apart. She also has romantic past with a nonbeliever, Augie, played by Thomas Mann.
As Mara's wedding to a devoted follower comes close, she has to decide whether or not to trust the cruel matriarch of their community, Hope, played by Olivia Colman. In doing so, she has to put her heart and life at stake. The makers will begin the production work of the flick from October in Ohio.
Source: desmartini.com – Olivia Colman and Alice Englert roped in for Them that follow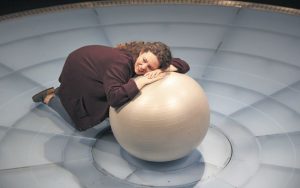 Alice is a physicist working at CERN. Her sister Jenny is the kind of Google-trained, self-proclaimed "expert" who chain smokes but distrusts diet coke and worries that vaccines cause autism. Lucy Kirkwood's latest play, following the excellent Chimerica, pits them against each other, in a grudge match of reason vs emotion that ranges from the risk of ultrasounds to the potential destruction of the universe at the hands of meddling scientists.
Both characters are deeply flawed, and it's commendable to see portrayals of people who have suffered personal tragedies being forced to confront their actions rather than be coddled as helpless victims. The dialogue and acting are strong throughout, especially from Olivia Williams (Alice) and Broadchurch star Olivia Colman (Jenny) as the sisters. Their opening scene is a spectacular argument on the merits of facts over parental instincts, and is hilarious and moving to boot.
Colman in particular shines as an unsympathetic and tactless pseudoscience advocate, who nonetheless at times displays more emotional intelligence than anyone else in the play. A special mention should also go to Paul Hilton, who plays Alice's estranged partner, a brilliant but unhinged physicist listed in the credits simply as "The Boson". His monologues on the wonder of scientific discovery, fused with the visceral panic of experiencing mental breakdown, are sensational.
It's quick-witted and thought-provoking, with a phenomenal set that at times resembles an intimate planetarium. It's a shame, then, that there are too many competing plotlines and themes, which resolve towards the end in an unsatisfactorily forced conclusion. At crucial moments of tension, competing threads detract from the main story, with fresh crises looming before the audience has had time to properly process the last.
This is, at its core, a play about science, and how we talk about science. It's about the way we all misunderstand risk, distrust experts, and dismiss those we consider too stupid to understand our own reasoning. When the play focuses on this, it's a work of rare brilliance. The problems arise when it gets sidetracked by other themes: the challenges faced by women in technical fields, loss of agency in old age, children's desire not to grow up like their parents, sibling rivalry, mental illness, motherhood, guilt. While these are all interesting topics, there just isn't time to explore them properly.
Come for the acting, stay for debate on scientific communication, and try to forgive the convoluted plot.
Source: cityam.com – Mosquites at the National Theatre review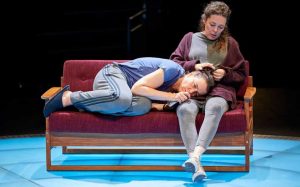 Alice is a scientist. She lives in Geneva.
As the Large Hadron Collider starts up in 2008, she's on the brink of the most exciting work of her life – searching for the Higgs Boson. Jenny is her sister. She lives in Luton. She spends a lot of time Googling. When tragedy throws them together, the collision threatens them all with chaos.
How would you cope if your world was turned upside down? There's the famous phrase that 'blood is thicker than water'; that family is everything and they'll always support each other. A notion pushed to its limits in Lucy Kirkwood's spectacular new play at the NT. When the inconceivable happens within your own inner circle, how do you react and most of all – how do you cope?
Mosquitoes takes a raw and intimate look into the deepest parts of our lives and paints it beautifully for all to see. Oh, and if you like your physics, there's a healthy dose of that in there too!
It's not all quite so heavy, as Mosquitoes packs its fair share of comedy; often leaving us in stitches with witty one liners and sassy comebacks. It's all so reminiscent of real life as therefore is instantly recognisable, which somewhat adds to the humour. The delicate juxtaposition of dark and angst immediately after hilarious comedy is beautifully executed.
Olivia Colman delivers a sensational performance as Lucy. Raw emotion emanating from every action, this allowed an incredibly powerful sensation to wash over the audience from her first moments on stage. Joseph Quinn's portrayal of troubled teenager and genius Luke is equally as impressive throughout – some of the best scenes coming from fraught and awkward interactions between the pair.
Olivia Williams as Alice creates some of the finest scenes when battling her sister [Colman]. The sisterly bond is well and truly felt and is a testament to the tight knit they've formed. It's all so believable.
Katrina Lindsay's design is a marvel, managing to achieve maximum effect from a small space makes for some visually stunning scenes. The use of projection at such short range, including projecting onto the audience, is powerful.
Surrounded on all four sides by the audience, the small stage of the NT's Dorfman Theatre feels noticeably intimate, even before the play starts. So close to the action, you feel almost as if you're intruding on their lives; a powerless witness to the crashing of relationships right before your eyes.
Raw. Emotional. Poetic. Hilarious. We could continue with the adjectives for days, though the verdict is quite clear: tTis is one piece of theatre you don't want to miss out on!
Gay Times gives Mosquitoes – 5/5
More information can be found here.
Source: gaytimes.co.uk – Olivia Colman soars in epic NT production of mosquitoes
Full casting has been announced for the world premiere of Lucy Kirkwood's Mosquitoes, which opens at the National Theatre in July.
Joining the previously announced Olivia Colman will be Amanda Boxer, Cait Davis, Vanessa Emme, Yoli Fuller, Paul Hilton, Joseph Quinn, Sofia Stuart and Olivia Williams.
Kirkwood's play focusses on Alice (Williams), a scientist working to find the Higgs boson at the Large Hadron particle collider in Geneva, when a tragedy collides her life with that of her Luton-based sister Jenny (Colman).
Directed by National Theatre artistic director Rufus Norris, Mosquitoes has designs by Katrina Lindsay, lighting by Paule Constable, music by Adam Cork, sound design by Paul Arditti and video design by Finn Ross and Ian William Galloway.
Mosquitoes runs in the Dorfman at the National Theatre from 18 July to 28 September.
More information: HERE
Buy tickets: HERE
Source: whatsonstage.com – Full cast announced for Mosquitoes at National Theatre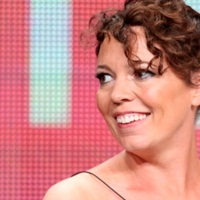 In Conversation with Standard Issue
Sep 03, 2017
Leicester Square Theatre, London
Join a line-up of brilliant women, including Olivia Colman, Jenny Eclair and Kerry Godliman* chatting about funnies, feminism and more. *Line-up subject to change.
For more information and to book tickets go HERE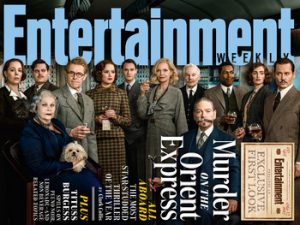 Director Kenneth Branagh and the starry cast of his new version of "Murder On the Orient Express" gathered in London on Friday to show off new footage from the upcoming adaptation of Agatha Christie's classic whodunit. Almost the entire ensemble cast, which includes Oscar winners Judi Dench and Penelope Cruz, "Star Wars" actress Daisy Ridley, BAFTA winner Olivia Colman and Tony winner Josh Gad, was on hand, with only Johnny Depp and Michelle Pfeiffer notable absentees.
They were later followed onstage by director Francis Lawrence, who introduced 18 minutes of footage from his upcoming spy thriller "Red Sparrow," starring Jennifer Lawrence, which is currently shooting in London.
Branagh, who plays Belgian detective Hercule Poirot, introduced about 10 to 15 minutes of work-in-progress footage from the Fox film, saying: "This is the very first time any of this footage has been seen in this way. We're very excited to share the promise and potential of this work."
The footage featured four brief scenes that introduced the central characters, established the murder of one of them, and showed off the film's epic vistas of snow-capped mountains. The footage was followed by the film's trailer, which was first unveiled at CinemaCon in March.
Branagh and the cast spoke of the camaraderie on set, with Derek Jacobi, who plays the butler to Depp's Edward Ratchett, describing the ensemble as having "a wonderful company feel about it."
"What was very extraordinary was that we were all together," added Dench, who plays Princess Dragomiroff. "It wasn't like a film where you all do different bits. In this case we were all there all the time."
Gad, who plays Depp's assistant, said the backgrounds that were shot rolled by the windows of the on-set railway carriage during filming in England, "so it really felt like we were there."
"I found myself going to the end of the train to watch the scenery go by as if I was on a real train, and I wasn't the only one," Branagh said, adding that the impression was so real to the cast and crew that it caused some ill effects. "Quite a few of us got motion sickness," he said.
Gad said the production design was equally important to getting in character and into the story. "It was surreal. I just had the opportunity to go on the real Orient Express, and the detail that the production team brought is unreal, exquisite. It is so spot-on," said Gad. "For us that intimacy really lends itself to Ken's vision. When you're in a confined environment, it creates a sense of unease, even if you have nothing to hide."
The film, currently in post production and set for a Nov. 10 release, is the first big-screen treatment of Christie's famous 1934 novel since Sidney Lumet's 1974 version, which won a best supporting actress Oscar for Ingrid Bergman.
At the London event, Christie's great-grandson James Prichard, who chairs the company that controls her estate, said the story was probably born of the prolific crime writer's first trip on the legendary train in 1928 and that securing Branagh to direct and star was "awe-inspiring." "He gets the grandeur of the work, and his vision as he first told it us made my hair stand up," said Prichard.
Branagh said he made a conscious decision not to watch Lumet's version, and that he had advised the cast also to avoid watching it. "Our goal is to try and find a new approach. That's why classic stories are worth retelling," he said, adding that "there are some surprises."
Speaking later in the day about "Red Sparrow," Francis Lawrence said he had about a week left to shoot on the film, which is due for release March 2, 2018.
The director said the film, which re-teams him for a fourth time with Jennifer Lawrence following the three "Hunger Games" sequels, was "definitely a hard R [rating]." He said the biggest thrill for him was working with Lawrence on a role that he described as "very brave and very different for her."
"She was willing to take some risks in this movie I think she might not have been willing to do for someone she didn't know," said the director.
He also said the film's Russian spy narrative became "more politically relevant the more we worked on it." "One of the questions we had originally was that thematically it didn't seem as relevant as it could, but that had completely changed in the past year. It rings very true now," said Lawrence, who first read the book while in post production on the "Hunger Games: Mockingjay" films.
Although the film is based on the first book of a trilogy, he said there were currently no plans to do sequels. But he added: "If this were to work, it would be fantastic to do another one."
Source: variety.com – All-star cast of 'Murder on the Orient Express' gather in London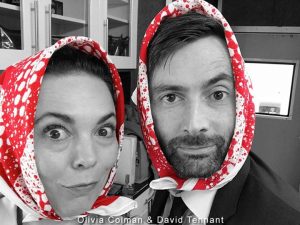 The 'Broadchurch' co-stars will continue working together once the popular ITV crime drama draws to a close after the current series as they are teaming up for their very own comedy musical stage show, which Olivia, 43, says she and the 45-year-old hunk will write together and hopefully star in.
According to the Daily Star newspaper, Olivia said: "We do have plans to work together again – we think it would be fun to do something like a panto.
"We would have to put us in it to play the Ugly Sisters."
Olivia – who portrays Detective Sargent Ellie Miller in 'Broadchurch' – clearly didn't find it difficult working with David, who recently admitted he was like a "grumpy old man" when he was shooting the hit show.
The nation may be preparing itself for mourning when the third installment – the final series to ever hit screens – comes to an end next month, but David – who plays DI Alec Hardy in the crime drama – admitted he was glad it's almost over because he was sick of having to keep the storylines and scripts under lock and key for most of the year.
He recently said: "This is it. I think we should do three and leave them wanting more.
"It's always been the way. Anything that's a thriller has elements you want to hold back. Being on the show gets really tiresome because everything is sent with a password. One script has one password, another has another password. I just can't keep up. I end up being a grumpy old man saying 'just send me some paper!'"
Source: sundayworld.com – Olivia Colman and David Tennant planning a pantomime