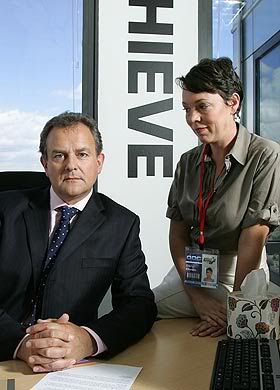 Hugh Bonneville has revealed the Twenty Twelve team are planning special episodes to tie in with the summer Olympics.
The Downton Abbey actor stars with Jessica Hynes and Olivia Colman in the BBC spoof documentary about the team planning London 2012.
Hugh revealed: "There's four new episodes coming out at the end of March and we're going to try to film three more and get them out for the Olympics."
He added: "Seb Coe's been a good sport and he appears in the next series. I'm sure he'll be a bit busy come late spring when things really start hotting up but we've got some good fun in store for the show."
The actor, who has just begun filming the next series of hit ITV costume drama Downton Abbey, admitted he relished going between his stiff-upper-lipped character in Downton to the comedy of Twenty Twelve.
He laughed: "It's such a contrast I can't tell you, to go from the relative calm and the stiff collars of Downton to the frenetic pace of Twenty Twelve, it's great. It's a lovely contrast to be able to do that."
And Hugh is looking forward to working with Shirley MacLaine, when she arrives in Downton Abbey.
"I'm just incredibly excited about sharing just a few minutes of screen time with her," he said.
"We're all over-the-moon that we're going to have two great titans of cinema in the same square footage, Maggie [Smith] and her together."
To celebrate the fact that Tyrannosaur is a) out on DVD, and b) a BAFTA-winning film, we've got a special prize to give away.
We were thrilled when Paddy Considine won the most promising debut award at the 65th Orange British Academy Awards, and now we've got a DVD and a quad poster signed by the actor-turned-director himself to give to one lucky reader. One runner-up will receive the film.
Considine made his directorial debut with his powerful drama, which stars Peter Mullan and Olivia Colman as two damaged people brought together by circumstance: Joseph, an unemployed widower, crippled by his own volatile temperament; and Hannah, a respectable charity shop worker, whose apparent happiness belies troubles of her own. Read our review here, and watch our interview with Considine and Colman here.
With Considine remaining behind the camera for this film, we want to know your favourite of his performances and why for a chance to win. Email your answer to competitions@thisisfakediy.co.uk with Tyrannosaur in the subject field by 20th February, and remember to include a postal address.
Source: thisisfakediy.co.uk – Win Tyrannosaur DVD signed and poster
Olivia Colman has joked that she chose to wear Victoria Beckham to the London Evening Standard British Film Awards – because it meant she could eat more.
She revealed: "I've been looking at all her clothes and I think they're really pretty."
She laughed, pulling out the waist: "And you can eat in here and you don't have to breathe in, which is always worth it."
The Peep Show actress won Best Actress for her role as a battered wife in Paddy Considine's Tyrannosaur.
She said: "Very excited, it's obviously a very, very lovely feeling.
"To win things for this particular film feels pretty special because it's probably the best part I will ever get, so it's lovely that people have loved it just as much as I have."
It was the latest in a run of awards for the Rev actress.
She said: "I'd like to be cool like lots of people and go 'Yeah, it's in the downstairs loo', but they're absolutely all over the mantelpiece, polished."
A champagne reception before the ceremony was interrupted by a fire alarm, forcing the stars – including Tom Hiddleston, Poesy and Downton Abbey star Jessica Brown-Findlay – to be evacuated outside on to the street for a short time.
But everyone made light of the episode, swigging from miniature bottles of champagne and huddling together for warmth.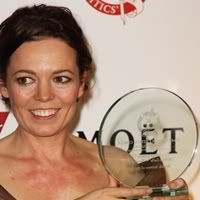 Michael Fassbender, Olivia Colman and John Hurt stole the honours at Monday night's Evening Standing British Film Awards which was a blazing success despite an alarming delay.
The awards took off to a rocky start when stars were evacuated from the venue following a fire alarm which put the ceremony behind schedule, according to BBC News.
Famous guests including Colman, Hurt, Clemence Poesy and Jessica Brown-Findlay stood out in the cold until it was deemed safe to return inside.
However the show continued without a hitch as prizes were handed out to the best in the business.
Fassbender won the best actor prize for his role in sex addiction drama 'Shame' and as Edward Rochester in 'Jane Eyre'. He was not present for the awards so 'Shame' writer Abi Morgan accepted the prize on his behalf with a message from the actor saying he "truly honoured and delighted" by the win.
The best actress gong went to Olivia Colman for her performance in drama 'Tyrannosaur.' 'The Iron Lady' star beat Oscar winners Vanessa Redgrave, Rachel Weisz and Tilda Swinton for the honour.
John Hurt picked up the Alexander Walker lifetime achievement award for his contribution to cinema. 'The Elephant Man' star, 72, was presented his prize by 'My Beautiful Laundrette' director Stephen Frears.
The prize for best film went to Lynne Ramsay's 'We Need To Talk About Kevin,' a drama about a woman who tries to deal with the grief of her teenage boy who goes on a high-school killing spree.
'Harry Potter And The Deathly Hallows: Part 2' picked up The People's Choice Award for Blockbuster of the Year.
The awards were hosted by 'Green Wing' star Stephen Mangan at the London Film Museum
Source: entertainmentwise.com – Michael Fassbender, Olivia Colman lead British Film Awards
Thank you so much to Louise for pointing me in the direction of these amazing photos of Olivia in rehearsals for her latest theatre production photos are by Sonia Friedman Productions click the picture below to see them:
I was apalled to see that Olivia had not been nominated in the BAFTAs this year after such an incredible run of performances from her. She deserved to be recognised by these awards and I was so upset to see that they had overlooked her, however I was heartened when I saw how loved she is via Twitter where celebrities and us normal folk alike were using their 140 character limit to let the world know just how upset they were at this! It is truely incredible to see how loved and appreciated Olivia and her work is and I hope she saw our upset at her being overlooked at the BAFTAs and realised that we love her.
For more see: bleedingcool.com – Twitter berates BAFTA for stupid Olivia Colman snub and rightly so
radiotimes.com – BAFTA 2012 film nominations: Where's Olivia Colman?
I want to extend my major congratulations to Olivia for her award win at London Film Critics' Circle Awards  where she was given the Moet & Chandon Award: British Actress of the Year! So well deserved it is wonderful to see her incredible talent finally being recognised though we saw it a long time ago! I have added some beautiful pictures of her at the event to the gallery click the picture below to see them: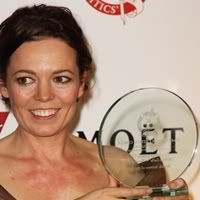 Time to Change, the mental illness charity organisation, is launching a new campaign to encourage people to talk about the issue of mental health.
The "It's time to talk. It's time to change" campaign aims to "remove the fear and awkwardness" around mental health by encouraging people to talk openly about it.
The TV, press, radio and digital campaign was created by Dare, and includes a series of cartoon strips showing common misunderstandings around mental health, drawn by Stephen Collins, who has previously created cartoons for the Times and Spectator.
Olivia Colman, who played Sophie in Channel 4 TV programme Peep show, will voice one of the characters in the radio ads.
The charity is also inviting people to make a pledge towards ending the silence around mental illness through an online portal that offers help on how to start a conversation on the subject or send e-cards to let someone know they are thinking of them.
Time to Change director Sue Baker says: "The aim of our social marketing campaign is to use creative, innovative methods to reach our target audience. It's time to talk. It's time to change, encourages the public to talk and open up about something that affects one in four people in our communities. Through the use of subtle humour in our advertising, we hope we can remove the awkwardness and fear that stops many people talking about mental health."
The Time to Change campaign is jointly run by charities Mind and Rethink Mental Illness, and recently received new funding from the Department of Health and Comic Relief.
You can find out more about this charity here:Time to change
Source: marketingweek.co.uk – Charity encourages people to talk about mental health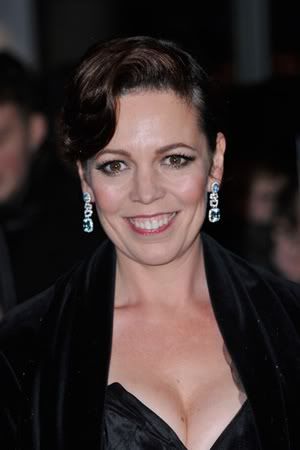 Tomorrow morning, Olivia Colman is alarmed to remind herself, she is due at the first rehearsal for a West End play. "It is Hay Fever by Noël Coward. And I am very nervous about going back on the stage. I am playing Myra, or Myrna, is it?"
Colman will be appearing alongside Lindsay Duncan, Jeremy Northam, David Haig and Freddie Fox, but the list of illustrious co-stars does not help. "I used to do stage all the time, but it has been such a long time. I feel they are all going to be shaking their heads soon enough, saying to each other, 'I can see we are going to have to carry this one.'"
The 37-year-old has applied her subversive wit to a wide selection of critically acclaimed television comedies over the past decade, from Peep Show to Green Wing and Rev, but recently pulled a switch on her audience by proving she can deliver uncompromising emotion, too. Her performance in Paddy Considine's Tyrannosaur, in which she played a charity shop worker enduring hidden domestic violence, won her best actress at the British Independent Film Awards in November, and her portrayal of Margaret Thatcher's daughter Carol in director Phyllida Lloyd's film Iron Lady was last week saluted by critics.
"I don't believe any of the Thatcher family have seen it yet. I think they have decided that if they see it they will do so in their own time, which seems right, although I know Phyllida did ask if they wanted to see it first."
Colman researched her role as the prime minister's daughter by watching back-to-back tapes of the 2009 series of I'm a Celebrity… Get Me Out of Here, the jungle-based reality TV show in which Carol unexpectedly triumphed.
"I know it seems a bit silly to play someone without meeting them, but seeing the show was very good, because it meant I watched her when she was unaware of the cameras. Although the gung-ho, fearless Carol of the bush is not the same woman as in my scenes in the film, which are much more emotional."
Residual affection for the hearty and occasionally maladroit Carol is based, Colman thinks, on her eccentricity.
"I think the English understand that it must be very difficult to grow up in the shadow of someone like her mother, although in America the reaction is different, I hear, because the younger generation do not know anything about Margaret Thatcher, let alone her daughter. You wonder at first how they could not know, but of course they don't."
When it comes to the politics of the film, Colman holds the party line, embellishing the director's view that the film is not about Thatcher's policies or her social impact. "I am not in the same camp as Thatcher politically myself, but the great thing about the film is it looks at how powerful she was and how contentious a figure she was and shows she did it with dignity. It is about the fading of powers. Dementia is such a terrifying thing for all of us, and we are particularly bad at coping with old people in this country."
This subject, she says, coupled with "the more universal family dynamic in the story", drew her to the screenplay. "If you hate Thatcher, you are not going to be satisfied. Although if you look at the film objectively, you will see she is shown as someone who both impressed millions of people and is thought to have ruined millions of lives too."
Decisions about which parts to take – and there are growing conflicts – are based on the scripts.
"If when I read it I can't imagine making it sound real, then I just can't do it," says Colman. "If a script is good, you are 10 steps into the part just reading it. But my choices are not all down to my taste. It is about people you have worked with before. A series like Look Around You, which I did with Peter Serafinowicz, was down to luck. He asked me and he has very good taste in comedy."
Aside from amusing early appearances in the AA's "Kev and Bev" adverts, Colman began to be recognised in 2003 as sensible Sophie from Peep Show, alongside David Mitchell and Robert Webb.
"I suppose I am very sensible," she says. "I mean, here I am now and I'm building a fire and making a cup of tea at the same time as talking. But in fact I was slightly badly behaved at school and got in trouble. I would get a bee in my bonnet about something I thought wasn't right, and I would ape about too, to make everybody laugh. That was my way through my girls' school, because I wasn't very academic."
Funny was never going to be the whole story though. Colman wanted to be taken seriously as an actress and admits running through her awards acceptance speech from the age of eight. "I suppose everybody who wants to perform does that."
She grew up in Norfolk and, after a truncated spell studying in Cambridge, trained at Bristol Old Vic.
"They tried to knock the edges off my funny voice, so that I can do 'received pronounciation'. But my voice is working for me now. It's not really a Norfolk accent, I have moved about a bit and at school I wanted to sound like everybody else."
It was Colman's agent who nudged her into pulling away from a lucrative run of comic roles. "She said not to panic, but that doing straight-girl parts and giving Mitchell and Webb the feed lines was not going to make it easy for me to do other work. So I talked to David and Robert about it and they just said: 'We wondered when you were going to say that.' It was a hard decision though."
Since Considine's Tyrannosaur, the break from sketch shows has proved its worth. "People know I can do other things now. That is all down to Paddy, who stuck his neck out for me." Yet Colman is not turning her back on comedy. "If people still trust me with a funny line, then that is fine. If that is what gets me work."
The popularity of the BBC's Rev, in which she plays the wife of Tom Hollander's vicar, Adam Smallbone, has brought a new breed of fan. "We tried to do some guerrilla filming for the series at the Greenbelt religious festival, but in the end we couldn't use any of the footage because it was like being the Stones. We were mobbed by people saying they loved what we had done with Rev. They are normal human beings, after all, and fed up with constantly being portrayed as starchy."
Colman adds that, while she is not a believer, she is happy that the show is good PR for the church. "Adam Smallbone is an everyman: good, kind, worried and troubled. I have enormous admiration for people that do believe. Maybe one day I will take that step."
Colman lives with her writer husband, Ed Sinclair, and their two small boys. "It is easier now the boys are at school. I don't feel so bad leaving them all at home."
Colman met Sinclair in a student production of Alan Ayckbourn's Table Manners. "I saw his right profile as I entered the room and felt a thunderbolt. He didn't feel it, though. It took me about six weeks to convince him. At least it wasn't six years."
The suggestion that offers of work may soon come from America is unsettling, she says. "It hasn't happened yet, but I would find it hard to sign up for seven years for a series. It would be very tricky. I would have to take everyone. I don't really sleep if I am not with my husband, and seven years is a long time not to sleep."
For now, British television audiences can look out for Colman in a new series of Jimmy McGovern's The Accused, in which she stars with Anne Marie Duff.
"I always want to work. I have got a huge mortgage and I am the only earner at the moment, so I need to work too. It took me a good week or so to calm down over Christmas. Now I have completely relaxed, so I am a bit daunted by the rehearsals tomorrow. I've been used to having the boys come into bed and just lying there. But that all has to change again now."