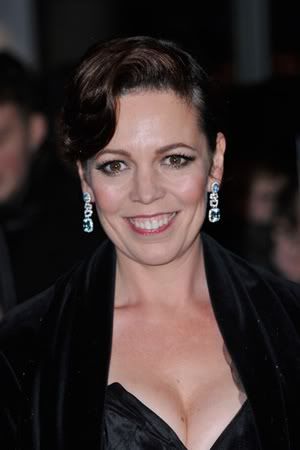 WHAT to do on meeting a double Oscar-winning actor playing a triple election-winning prime minister?
It's the sort of matter etiquette guides don't cover, so Olivia Colman went with her instincts and gave Meryl Streep a playful biff on the arm.
"I didn't know what to do with myself," says Colman, who plays daughter Carol to Streep's Margaret Thatcher in The Iron Lady. "She looked like Margaret Thatcher, which is pretty intimidating and scary anyway. And I knew it was Meryl Streep under it, which is also pretty intimidating."
This is said in such a breathless, oh-gosh way you might never guess the speaker has just won the British Independent Film Award for best actress (for Tyrannosaur), is a cult comedy heroine courtesy of Peep Show and Rev, and seems to be on more "people to watch in 2012" lists than Hillary Clinton and Beyonce combined. Colman, refreshingly, is not your flint-faced diva type. Naturally wide-eyed and dressed in a fake fur coat, she looks like a woodland creature who has wandered indoors to a PR firm's Soho offices for a heat rather than a rising star punting a picture.
Heat has already come The Iron Lady's way, with former ministers and aides queuing up to condemn Phyllida Lloyd's biopic, usually on the basis of the trailer alone. One called the film indecent and exploitative for showing Thatcher as an infirm old lady.
Although "on the other side of the fence, views-wise" from Thatcher, the film made Colman, 37, appreciate what a mould-breaker the Tory leader had been. "It is extraordinary that a woman fought against a sea of men, and a sea of men who didn't know how to cope with women anyway because they were all public schoolboys. To rise to the very top of all of them, amazing. Everything else is a matter for debate." She pauses and laughs. "I'm trying to be diplomatic about it."
What has irked some Thatcher supporters is the way the film highlights her current frailty. Unfair? "It would be unfair if we were laughing at her predicament. That would be appalling." Instead, says Colman, the film shows in a tender way how even the most powerful person can be made fragile by old age. "Sickness doesn't care who it is attacking."
Whatever the reaction to the film in 2012, last year was a very good one for Colman, with critics hailing her portrayal of a battered wife in Paddy Considine's demanding drama, Tyrannosaur. Also starring Scotland's Peter Mullan and Eddie Marsan, it looked like a tough gig.
"Actually it was one of the most enjoyable shoots I've ever had, which sounds weird having seen the film. We all felt we were part of something very special. Those are the sort of films most actors want to do. I can't imagine anything topping that experience, ever."
And there was always Mullan to cheer things up. "He's such a raconteur, he's got a million stories and he'll have everyone in stitches then go straight into a scene where he's …." At this point three things happen. She segues into a Scottish accent, suddenly looks horrified, and starts to apologise. "Sorry, I can't believe I did that accent to you. How awkward." I'm too busy laughing at the impersonation to be offended.
To those who only knew Norfolk-born Colman from Peep Show, Tyrannosaur would have been a surprise. She first met David Mitchell and Robert Webb in Cambridge. They were "clever, clever" students at the university, she was doing a teacher training course. She doesn't quite know why they clicked. "They're two of the loveliest people I know and they always were. They haven't changed. We were just a bunch of 20-year-old idiots. Slightly bumbly. We just got on."
Colman didn't become a primary school teacher – "There's a whole generation who should be grateful for that" – and instead went to drama school in Bristol.
Having appeared in Hot Fuzz, Green Wing, and That Mitchell and Webb Look, she achieved spotted-in-the-street recognition as Sophie, David Mitchell's demanding girlfriend in Peep Show.
What sort of a girlfriend was Colman? "It depends who the boyfriend was. I think I was quite a good girlfriend. I never really went in for drama.
"I used to watch some of my lovely, witty girlfriends being dramatic with boyfriends and think that was a bit boring and tiring. I was quite fun. Probably more fun than Sophie."
Sophie certainly gives heightened meaning to the word intense. Particularly during those childbirth scenes, which turned out to be remarkably similar, in sound effects, to Colman's own experiences. "Apparently I mooed," says the mother of two. "My husband said it sounded quite like a cow. I said that's nice, thank you."
At the prompting of her agent she decided to start branching out on her own. "I was so terrified about telling [Mitchell and Webb] because I love them so much. They were so supportive, with Rob saying 'We knew it was only a matter of time'."
It was a gamble, she admits, but it is paying off. Besides Tyrannosaur and The Iron Lady, she's on stage in London in February in Noel Coward's Hayfever, and she has just done a pilot for a new Channel 4 comedy series, Bad Sugar, a British take on Latin American telenovelas. Also starring Nighty Night's Julia Davis and Pulling's Sharon Horgan, written by Sam Bain and Jesse Armstrong (Peep Show), and directed by Ben "The Inbetweeners" Palmer, the omens for Bad Sugar are good.
Colman, Davis and Horgan came up with the original idea, though she's keen to give the credit to her co-stars and particularly the writers. "I couldn't have written it and I wouldn't have the confidence to think of an idea without them." Really? "Definitely. I haven't done it up till now. Lots of people think of things all the time. I never did. It's clearly not what I naturally do."
It's hard to reconcile this view of herself with the opinion others, Mitchell, Webb, Considine and the rest, obviously have of her. She, however, is more comfortable talking up their talents rather than her own.
"It's very nice that people might think it's a collaboration but that would be wrong of me to take that glory. We all get on very well. Maybe there's something about me that makes them think of something. It would have happened without me."
Her children won't see her in The Iron Lady – not really the thing for a four-year-old and a six-year-old – and they've been too young to catch her other stuff (the Doctor Who part was far too scary). But many others will see her soon as Carol Thatcher, false nose and all. She was glad of the prop.
"It made me feel a bit more confident. It's scary playing someone we all know so well. I'm slightly terrified about her seeing it and saying 'it's nothing like me'. It's a piece of fiction with a hint at her. I can't do impressions so I'm hoping people will forgive me. And they've got Meryl to watch."
The Iron Lady opens in cinemas on January 6.
Source: heraldscotland.com – Maggie, Meryl and my modest career
In Paddy Considine's directorial debut "Tyrannosaur," Peter Mullan ("War Horse") and Olivia Colman ("The Iron Lady") play Joseph and Hannah, two troubled souls trapped in destructive home lives that manage to connect and find hope in the other. The two characters meet after Joseph, a bitter widower who's just killed his dog, stumbles into a Christian charity run by Ms. Colman's unhappily married wife, who's also being abused by her alcoholic husband.
The film debuted at the Sundance Film Festival this past January and recently swept the British Independent Film Awards, wining awards for best British independent film, best debut director for Mr. Considine and best actress for Ms. Colman. The film beat out more heavily favored dramas "Tinker Tailor Soldier Spy" and "Shame."
Speakeasy spoke to Mr. Mullan and Ms. Colman earlier this year.
Speakeasy: Both of you first became involved in "Tyrannosaur" roughly five years ago, when both of you starred in Mr. Considine's short film "Dog Altogether," the basis for "Tyrannosaur."
Peter Mullan: When Paddy first sent the script for the movie, I wasn't sure about it because the first eight, nine pages were basically the short film and I thought, oh my God, he has sent me the wrong script. And then it got into what is now the film and it blew me away.  Initially, I didn't know where he was going to take the short film, but I became so impressed with how he opened up the Hannah character and all that she is having to go through, and then gently reintroduced the Joseph character. Well, maybe gently is not the right word, given Joseph's character. And then there was the great twist at the end and it all just blew me away.
Olivia Colman: I also loved the end, the extension of the short. You now see Joseph's home and his life is not what you might expect. You think he is a complete bum and he's not.  He has got this proud, clean, tidy little house. And it's lovely isn't it, to see their whole love story?
Given the quick nature of the shoot, it sounds like Paddy gave you room to improvise and flesh out characters from the page.
Colman: Paddy was lovely at that. He would say, "You don't even have to say the words [on the page.] Just show us where you think you might go so that we make sure there is no boom [microphone] in the way, and even then, you can change it again and we'll just move." For me, it took a little while to get used to because I'm so used to being told [by directors] we've already lit the scene, we want you to stand on that mark. So when Paddy goes, "Do what you want," I panicked a little.  I need instruction.  It was great.
Mullan: I liked how the story remains as much a mystery to you as to anyone, and I don't mean that in any kind of bleak way.  I mean it is genuinely a mystery because you don't quite know what you are going to do next or what is going to happen next.  You may have read the script and you might know the journey, but for me, if a film is going to work acting-wise, the work can't be premeditated. Then there's no pursuit of truth.  What you'd effectively be doing is a vanity exercise.  If you break it down too much, it won't work. When you don't think too much about your performance, you have to feel it more.  I didn't know half the time whether my character loves this woman or  if he's just wanting her to cut his throat. I genuinely don't know.
Whether or not they're in love, the characters have a spiritual connection.
Colman: Well it's shared upset and shared pain and they can sort of sense that in each other.
Mullan: Hannah has declared her faith and that's the flame for [Joseph's] particular moth.  It's like, "Oh really, you have faith? Watch us now try and break it into total pieces." But the truth is, people like Joseph don't actually want to break it.  They want you to resist and then earn their respect. Of course, to Joseph's horror he does break Hannah's faith to a degree and then obviously he doesn't feel good about it. One of my favorite scenes is when Joseph is watching Hannah give the last rites to his friend. I genuinely don't know why I have no recollection of us doing it but what fascinates me about it is, and my reading of it may be wrong, but my reading of it was there's this guy looking at someone wishing to God that if he is to die, then you'll be the one that is there. At the same time, he's horrified by the very notion of his own feelings.
Does it surprise you that some audiences seem to be more offended by the scenes of animal cruelty than the violence against women?
Mullan: The misplaced priorities anger me, to be honest.  I mean there was this lady in the UK who became the most hated woman in all of England because she put a cat in the dustpan.  The literally got death death threats, and the venom that was directed at this woman was astounding. Meanwhile, I'm thinking, do you watch the news? Do you know what is going on in Zimbabwe?  Do you see what we're doing in Afghanistan and Iraq?  I mean, no offense to cats, but it wasn't like she was putting him through a meat grinder. I wouldn't mind so much if they would transfer that care to human beings. But no offense to the animals.  I love my dogs, you know.
Especially because since it's a film, there is no harm actually being committed to the animal.
Colman: Exactly, it's imagery. It illustrates, right away in the film, the extent to which Joseph has got himself in such a place that he'd damage a loyal, gentle thing.  It's a great way of telling you exactly where Joseph is at that point, isn't it?
Mullan: Completely. I remember when Apocalypse Now first came out.  All the press talked about was the whole bit when they severed the head of the cow towards the end. It's like, you just sat through two and a half hours of a Vietnam War movie, one of the biggest, genocidal war crimes in human history, but you care if someone really cut the head off that cow? It's what we do, but for me it's so misplaced and then you really start to wonder about people and humanity.
blogs.wsj.com – Peter Mullan and Olivia Colman on the mysteries of Tyrannosaur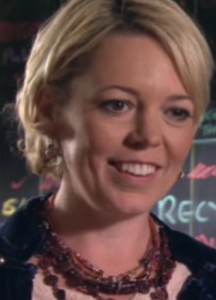 Which TV series would you take to a desert island?
Mad Men. I love the attention to detail: the clothes, the curvy silhouettes which you don't see any more on telly, how everyone smokes in every scene… It's so alien now.
What's your guilty pleasure?
America's Next Top Model. You couldn't parody Tyra Banks; she's already too funny.
What did you last change the channel to avoid?
Sport. My husband will watch anything with a ball in it so occasionally, out of sheer boredom, I cry "Look over there!" and turn over. I do like sport but I enjoy his distress a little bit more.
What was the last thing you recommended?
One Born Every Minute to an emotional friend who likes to cry a lot. My husband and I sat there and bawled; people having babies is a winner every time.
What do you sit down to watch as a family?
Our children are very little so they insist on watching films ad nauseam until we can't bear them any more. I must have watched WALL-E and Bolt 50 times but had to sneak out for the first 20 minutes of Up because I found it too upsetting. I'm a softie, a filmmaker's dream – if they're going for saccharine and sobs then I'm their man.
Could you be tempted onto a reality show like Strictly?
Not for anything in the world. I'd rather eat my own feet. I'm just an actor; there is nothing interesting about me apart from that fact. The very word "celebrity" makes me feel sick.
Who was your first crush?
Michael J Fox in Back to the Future. All my fellow little girls fancied him so I fancied him.
Who's your ideal dinner guest?
I'm not sure I could cope sitting at the same table as David Attenborough or Stephen Fry or anyone else I'm in awe of. I met Jennifer Saunders once and could barely function. I'd rather keep my heroes at a distance.
How do you while away your time online?
Gawping at luxury mansions. My husband calls it "house porn" but I prefer to think of it as old-fashioned nosiness. I've even got a RightMove app on my phone.
Have you ever Googled yourself?
I have and I didn't enjoy it one bit because I was worried I'd find rude things written about me. I'm not very thick-skinned.
In the first series of Rev you had to dress up as a prostitute – what had you blushing during the filming of series two?
There's a short burst of dancing during a camping trip. Might not sound like much, but I felt embarrassed. They ended up cutting it short because it was so bad.
When did you realise you wanted to be an actor?
At the age of 16, when I was in my first school play. I liked the smaller, comic parts in plays because you didn't have to learn as many lines and got people to laugh, so it was instant gratification without much work.
What's the secret to making people laugh?
You still have to be truthful. Even if it's heightened comedy, if it doesn't come from a truthful place it's not going to be funny.
Is there any sitcom that you like to watch again and again?
I've always adored Friends. I was at university when it first came out and now I'm a proud owner of the box sets. It's still a good old comfort blanket.
You play Carol Thatcher in the forthcoming Iron Lady movie with Meryl Streep and are currently in LA – have we lost you to Hollywood? What's going to become of the Rev Adam Smallbone without his long-suffering wife Alex?

It's very nice here, but I'm only here for a week. Couldn't leave Adam!
radiotimes.com – Olivia Colman: I'd rather eat my own feet than go on Strictly Come Dancing
Below is a link to really nice video interview with Olivia:
I have uploaded photos from the Virgin short awards 2011 and the British Independent Film Awards 2011 to the gallery click the pictures to see them:
Channel 4 has commissioned a new comedy pilot featuring three of Britain's leading comic actresses.
Bad Sugar will star Olivia Colman, Julia Davis and Sharon Horgan, who also conceived the idea for the show together.
The half-hour pilot centres on a dysfunctional, wealthy mining dynasty, with an ailing patriarch and some greedy siblings. The show, produced by Tiger Aspect Productions, is described as 'a peculiarly British take on telenovela style melodramas, played for laughs'.
Bad Sugar has been written by Sam Bain and Jesse Armstrong, the award-winning writers behind The Old Guys and hit Channel 4 comedies Peep Show and Fresh Meat. It will be brought to the screen by The Inbetweeners director Ben Palmer.
The programme will also feature Peter Serafinowicz, Reece Shearsmith and David Bradley, best known for appearing in Ideal and the Harry Potter film series.
Executive Producer Sophie Clarke-Jervoise said: "The process of bringing together such gigantic talent, both on and off screen, has been tremendously exciting. Bad Sugar is a darkly comic world where anything can happen, and does!"
Writers Sam Bain and Jesse Armstrong add: "We've always wanted to write a show with poisonings, death threats, extreme psychological pain and big hair. With the help of the amazing cast we're hoping it might be what everyone in UK television has been waiting so long for – Grey Gardens, the sitcom."
Nerys Evans, Channel 4's Comedy Commissioning Editor, says: "We're so delighted to have three of the country's funniest comedy actresses come together on this glorious project, it's beautifully written by Sam and Jesse, who are without a doubt the hottest comedy writers in the UK right now. If that mix of comedy talent wasn't tantalising enough, it's also directed by Ben Palmer, fresh from the record-breaking Inbetweeners Movie. To say we're excited by Bad Sugar is a bit of an understatement."
Bad Sugar will be shown on Channel 4 next year. Meanwhile Olivia Colman is currently starring in Rev and will continue to appear in Peep Show when it returns next year; Julia Davis stars in Charlie Brooker's Black Mirror on Channel 4 on December 11th; and Sharon Horgan is currently making Created by Sharon Horgan and Holly Walsh.
Source: comedy.co.uk – Olivia Colman, Julia Davis, Sharon Horgan to star in C4 pilot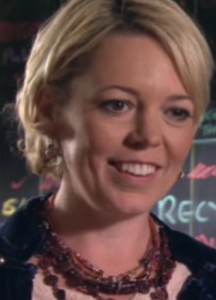 British actress Olivia Colman speaks softly and with great modesty but perhaps that's wise. Her talent speaks loudly on its own behalf by way of ntroduction. Though British audiences have embraced her comic talent for years now, international audiences are just now getting to know her as a dramatic force. She's utterly devastating as a meek Christian shop owner in the violent drama Tyrannosaur. The film, directed by the actor Paddy Considine (In America), is gathering a small but very vocal fanbase who think Colman really ought to have a Best Actress nomination in her very near future. Later this month, she'll be onscreen again as Carol Thatcher daughter of The Iron Lady, but even if you exited the first movie only to immediately enter the latter, you'll scarcely recognize her from one film to the next.
We spoke briefly on the phone recently about her rising stardom, drama and comedy acting muscles, and having a living legend as a co-star.
Nathaniel: Have you been able to soak in all of this attention from Tyrannosaur? Your name being on the awards radar here in the US and such?
OLIVIA COLMAN: Not really. it's quite surreal. Because it's not my first job. I'm 37 and i've been working for a long time. So… [long pause]  This job means so much to me that I'm thrilled that people are liking it. That's the best thing about it, that other people are taking it to their hearts as much as we all did.
Nathaniel: Your involvement with Tyrannosaur goes way back. You were also in Paddy Considine's short film "Dog Altogether" about the same characters. Did this feel like a do-over? What was it like going back?
COLMAN: lt felt different. A lot of the scenes from the short were also in the feature and the reshooting of those scenes that we'd done years before were the hardest to film. It's weird because it's like an echo. You can hear yourself. You've already said it but years ago. It felt very different apart from that because we suddenly had a sense of a much longer journey. In the short I didn't know about Hannah's backstory at all.
Nathaniel: This gave you a chance to dig deeper then?
COLMAN: Yes. It's lovely to get your teeth into it.
Nathaniel: In terms of Hannah's religiosity and her generous nature. How did you approach constructing her? A lot of religious characters in cinema aren't, well, sympathetic like this.
COLMAN: It was so clear from the page. Paddy had written it so beautifully you just had to do what was written, really.  I knew who she was straightaway. Even if she hadn't been a Christian of good faith, she would still have been a good person. Her faith is sort of her protection and her armor but even without it, I would have known who she was.
Nathaniel: Paddy is such a brilliant actor but he's not in front of the camera for this one. So what it was like being directed by a fellow thespian?
COLMAN: Amazing! It made such a difference. I don't imagine all actors can direct at all. I think probably a lot of them would be terrible but he was so comfortable on that side of the camera. He knew how difficult he found it in front of the camera and he made sure we never felt like that. We always felt safe. He's an extraordinary creature. He would say exactly the right thing to get you to the right place. I've said this before but I think he could get a performance out of a log. He's amazing, just taps in. Everybody wanted to make him proud. And he's a great leader of people. A little thumbs up at the right moment would made someone feel 10 feet tall.
For those of us who don't act, we always assume that sets of intense brutal dramas like this one must be sober or difficult to be on. But maybe it's not like that exactly.
OLIVIA COLMAN: No, we had a really jolly time! We were all doing something we felt passionate about. Everyone was up in their game. There were a lot of people who were very funny on set. Peter, Eddie, and Paddy – hilarious people. You have to have a little giggle after you've done some of those scenes. You have to go have a drink together and laugh or you'd go mad.
Everyone is so cruel to Hannah in the film, even Joseph (Peter Mullan). He's trying to be kind but he's actually cruel.
Well, yes. He starts off being cruel. It's his defense mechanism. He's scared as well, underneath. But he ends up rising to the challenge and being her rock. They are each other's rocks which is a rather beautiful thing.
Since you had this opportunity to revisit Hannah and expand the character, which other character of yours would you love to revisit?
Ooh, that's a good question. I have no idea. [Pause]. I did a school play of The Prime of Miss Jean Brodie and I'd like to do Jean Brodie again now that I'm a grown up rather than a 16 year old.
You played Jean Brodie at sixteen [Laughter]!? That's an interesting character to bring up because she has such odd concepts of her age and time and the way her life has developed.
I probably didn't have a clue what was going on with it at 16. I don't think I had a clue what it was really about! That'd be quite fun to do now.
You've been working for a long time and prior to Tyrannosaur it was mostly comedic work. What was your first American movie experience like? Amy Heckerling's I Could Never Be Your Woman. I know that was a really long time ago.
I haven't seen it! I don't even know if I made it to the edit. I went to do that job ten days after having my first child. My husband came with me. We were both sort of tired and emotional and of all people to stand next to, you know, still in shock having just had my first baby, I had to stand next to Michelle Pfeiffer. I thought 'Somebody somewhere is having a laugh! Standing next to this? She's more beautiful than any human I've ever seen and I've got sore boobs and breastfeeding. This is not fair!'
It was a funny old moment.
Do you consider comedy a different acting muscle than drama?
I don't know actually. I think you still have to commit to it and throw yourself in. Comedy people — often when they try to play the comedy it doesn't work. It still has to be real, do you know what I mean? So, no, not really.
It's scarier for me doing what I did for Tyrannosaur because I felt that some people would watch this who knows what it feels like and I don't want to let them down.
So did you do research into abused women?
A little bit. I went to talk to two lovely women who work for a charity called Refuge in the UK which helps victims of domestic violence. They answered a lot of my questions. My preconceived ideas about domestic violence… they put me straight on a few things. They gave me case studies to read which were just shocking, much worse than anything you saw on screen. That sort of informs your performance in the back of your head.
Have you given any thought to the Oscar buzz? Do you read reviews?
I find it hard to read reviews. I'm not so thick-skinned. I don't tend to look at reviews unless a friend has looked beforehand. 'It's all right, they liked it!' If people love our film, Paddy's film, than nothing could be better. But I don't expect it to happen. It would be amazing, it would be a dream, but there's no point in pinning your hopes on it. It does seem rather like a fairy tale and not possible.
Especially for something so dark.
It's quite a hard sell on the face of it. Do you go to a big budget beautiful Avatar type film or do you go to watch this thing that might upset you? But I think [Tyrannosaur] is redemptive and beautiful.
In your next two films you're playing two characters that are very famous to British audiences, Queen Elizabeth in Hyde Park on Hudson and Carol Thatcher in The Iron Lady. How intimidating is it to play celebrities?
Queen Elizabeth was not so intimidating. This was her in 1939 which is not recent memory and there aren't an awful lot of recordings of her voice. I was terrified of playing Carol. There's a real person still there who could watch and I didn't want to offend or get it too wrong.  So I had to go with broad brush strokes, I suppose, sort of hint at her. She's got quite a well known voice, the way she speaks. So I took some of that and then had to make her my own. I hope she doesn't mind.
In The Iron Lady you're working with a living legend Meryl Streep and Jim Broadbent who is also such a fantastic actor. Did you have a lot of time with them or did you all show up, characters formed?
We had a bit of rehearsal, mainly to work out tricky camera moves. The camera is trying to capture her thought process [Margaret Thatcher's] but from a distance. We had to work out where we were standing for what scenes. It was more of that than character work — that had to be done on your own. I'm so grateful that Jim was there. I've worked with him a couple of times before that and he's just the nicest man in the world. It took the edge off that I was having to stand in a room with a minor deity, MERYL.
It turns out Meryl is such a lovely woman so you forgot about being nervous after a few moments in her company.
Was that odd to watch her go between her character and herself between takes?
Yes. It's hard to remember that underneath this character makeup is this ethereal beauty with these wonderful cheekbones and nose and things. That was all hidden. I'm quite grateful it was hidden. It would have been harder to be normal remembering "Oh my god you really are Meryl Streep!". She was lovely and it was amazing that she would just flick between two voices without batting an eyelid.
I've loved Jim Broadbent for a long time in Mike Leigh movies and elsewhere. He's played your father twice now so are you required to send him cards for Father's Day?
We do text each other "Hello Daddy!" / "Hello Daughter!" [Laughs] I'd love it in my contract if I always had to play his daughter and he always had to play my daddy. It'd be brilliant. At the end of The Iron Lady –I think it was around mother's day —  I gave a mother's day cupcake to Meryl and a father's day cupcake to Jim so no parents were upset.
I'm sure they're tough to follow as co-stars but who would you love to work with next? I know I'd love to see you in a Mike Leigh movie.
Would you? [Laughs] I don't know if I'd be any good! I don't think I'm very good at improvising. Eddie Marsan [her screen husband in Tyrannosaur] is a genius at it. Well, I'd love to be in it but I don't think I'd make the grade. I don't know. Obviously anything Paddy does ever, I'd do. I'd so anything he does. Even if I was just the girl making tea.
So Queen Elizabeth and Carol Thatcher. Two famous Brits in a row. Will you make it a trilogy?
I'm afraid I have no say in it. I'll go for auditions and see if i get them.
Well, the offers will surely be rolling in after Tyrannosaur.
Maybe. But don't tempt fate. I might never work again!
Source: thefilmexperience.net – Olivia Colman on Tyrannosaur and mumsy Meryl Streep
Olivia Colman was in fighting spirit last night, telling anyone who thought her film Tyrannosaur was bleak and downbeat "should go and watch the f***ing film".
The British actress was in giddy form, after winning the prize for Best Actress in a film about an unlikely love story within the horror of marital abuse.
She added, "I just want people to see that it is actually redemptive and beautiful. Tell all your friends to go and see it."
Colman, who in her glamorous frock was a million miles away from the demoralised character Hannah she plays, thanked her writer and director Paddy Considine for "the role of a lifetime. You don't get scripts like that every day".
It was Tyrannosaur's night – also winning the award for Best Film, and Considine collecting the gong for Best Debut Director (the Douglas Hickox Award).
Considine joked it was just as well he was a director, as there weren't any other debut awards available – "I might go into make-up next, try my hand at that."
Source: huffingtonpost.co.uk – Olivia Colman wins best actress award for Tyrannosaur at British independent film awards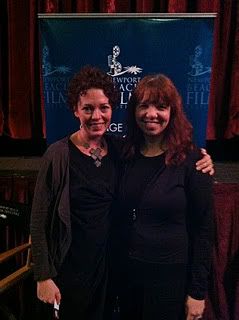 Well, if you know Olivia Colman, you know GOOD work! The above photo was taken tonight after the film and I was so thrilled to meet and chat with her.
Let me start by saying her performance in this film is OSCAR WORTHY!
The movie starts out very compelling, Joseph (Peter Mullan) coupled with rage and anger that you don't really expect. The shear madness of it all will have you inching up in your seat just drooling wondering what will happen next!
Skip ahead to when we first see Hannah (Olivia Colman), you already can feel this character…she's warm, loving, almost sacred-there can be nothing wrong with this child of God.
We find out later in the movie there is a lot of things wrong with Hannah. Namely, she is a victim of domestic abuse over and over and over. I can relate to her turmoil, not sure what to do, how to get away from it, making excuses and lying to your friends…it's just a vicious cycle that we victims have gone through until we find the strength to leave. Which, by the way, she did leave-yeah!
There is a part in the movie where she is praying over Joseph's father and you'd think she was a nun the way the words flowed, sounding so heavenly. The use of sound reduction in this particular scene works amazingly. Joseph's eyes and the faint whisper of her voice in back of them…really well done!
The story continues and moves to happier times with Hannah and Joseph in a pub, celebrating the life of Joseph's now deceased father. The joy that was forgotten in both their lives was brought seemingly back to life in those moments. Watching it, I reflected back to more care-free times in my life where I could enjoy a glass of wine with friends and just talk about anything, laugh about anything, no worries, all the world's trouble's forgotten. This scene hit the mark, I think a lot of people probably felt the same way watching it. If they didn't, there's something wrong with them.
When we reach the end of the movie, the twist of fate that occurs was just so unexpected for me. Inside, it made me want to scream and shout and cheer for Hannah, but at the same time I felt so sad for her. Joseph's life will go on now, but with a sort of calm that only Hannah could provide.
If you want to know why the movie is named "Tyrannosaur" it will be revealed to you in the movie, I'm certainly not going to tell you! Go watch it!
Two Thumbs WAY Up!!
OSCAR WORTHY!!! You heard it here! OSCAR WORTHY!!!
Please be sure to "Like" The Film on Facebook!
https://www.facebook.com/TyrannosaurUK