PEEP Show actress Olivia Colman praised the NHS as she switched on the Christmas lights at University College London Hospital.
Ms Colman, who has also had roles in The Iron Lady and Tyrannosaur, said: "It's very nice to be asked to do something for the NHS. We only realise how lucky we are to have the NHS when we travel abroad and people cannot believe we get free healthcare – it's a special and beautiful thing. My mum was a nurse in the NHS for 40 years so I have grown up being very aware of that."
Hundreds of visitors browsed more than 45 display stands to the sound of carol singing under the 24-foot tree. There were also behind-the-scenes tours of some clinical areas, mince pies, prize raffles.
Source: camdennewjournal.com – Peep show actress Olivia Colman praises the NHS as she turns on the lights at NCLH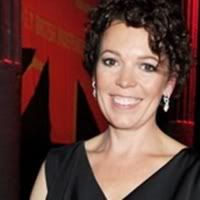 Stephen Fry leads a long list of big-name guest stars who will appear in series two of This Is Jinsy next summer.
Other supporting roles in the cult Sky Atlantic comedy, written by and starring Justin Chubb and Chris Bran, will be played by Derek Jacobi, Olivia Colman, Ben Miller, Stephen Mangan, Katy Brand, Greg Davies, Eileen Atkins and Phil Davis.
The first episode of the new series of This Is Jinsy – a musical sitcom/sketch hybrid set on the fictional island of Jinsy, following the trials of uptight Arbiter Maven (Chubb) and his placid assistant Sporall (Bran) – will feature Stephen Fry as a cartoon version of his own public persona: he's Dr Bevelspepp, a tweedy professor whose encyclopaedic knowledge of Jinsy helps to save the island from an invasion of rampaging hair.
Greg Davies co-stars in the same episode as a sadistic female TV presenter.
Later in the series, Eileen Atkins plays a schoolmistress, Katy Brand stars as a psychic who takes readings from a pen full of rats, and Derek Jacobi appears as Robunce Barnatty, the island's oldest resident.
Phil Davis and Olivia Colman also play old folk: ex-Arbiter Roley Jenkins and his wife Joan, who both stink.
Rob Brydon takes the role of Rex Camalbeeter, a popular singer who likes to dress up as a badger. KT Tunstall, who memorably appeared in series one as bearded shanty man Briiian Raggatan, returns, but as a different artiste: Meb Twaheely, lead singer of Jinsy's third most famous folk band, Twaheely Transfix.
Ben Miller plays the island's hitherto unseen chief accountant, as well as the chief accountant's accountant daughter. Stephen Mangan is Mr Lovely, owner of Mr Lovely's Lovely Jumper Shop and purveyor of knitted onesies.
Janine Duvitski, Geoff McGivern and Sightseers star Alice Lowe return to their regular supporting roles.
The first series of This Is Jinsy aired in 2011 and featured guest performances from David Tennant, Peter Serafinowicz, Catherine Tate, Simon Callow and Harry Hill. Series two is filming now, again directed by Matt Lipsey (Psychoville), and will air on Sky Atlantic in summer 2013.
Source: radiotimes.com – Stephen Fry, Derek Jacobi Olivia Colman and Rob Brydon head to Jinsy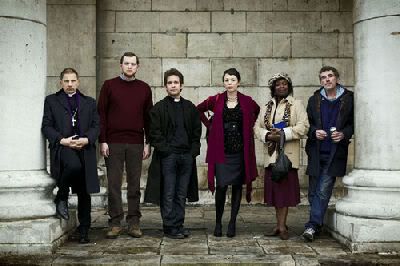 Award-winning comedy Rev is to be remade in the US, with Desperate Housewives producer Bob Daily on board to write the American version.
The half-hour comedy series, which follows an inner-city vicar and his eclectic congregation, won the best sitcom Bafta in 2011.
The British version, starring Tom Hollander and Olivia Colman, recently won fans on the US streaming site Hulu.
It will return to BBC2 for a third series in 2014.
Hollander, who plays Rev Adam Smallbone, and who co-created the series, will consult on the US version with fellow creator James Wood.
The US set-up will centre on an Episcopal priest who leaves a small rural parish in Wisconsin to take over a failing inner-city church in a deprived Chicago neighbourhood, reports US industry website Deadline.
As with the British version, the congregation will include a homeless man and a crack addict.
For Daily, it marks a return to the half-hour sitcom, having spent five years on the award-winning US series Frasier before moving to Desperate Housewives.
Kenton Allen and Matthew Justice, of Britain's Big Talk Productions – which produces Rev in the UK – confirmed they will executive produce the US version, but stressed that the project was still in development and no script was yet available.
Rev won best comedy at the South Bank Awards and picked up four prizes at the Broadcasting Press Guild Awards in March, including best comedy and entertainment show and best writing.
Hollander recently completed filming About Time, a new time-travel comedy from Love Actually director Richard Curtis. Colman is due to appear on the big screen early next year in Hyde Park on Hudson, playing the Queen Mother.
Not long ago, Olivia Colman went out for dinner at a restaurant near her home in south London. "We arrived," she says, grinning, "and the owner came up to me and went 'Hi!' and gave me a big kiss, and I thought, 'Ooh, I've been recognised, that's interesting.' And then, at the end of the night, she came back up to me and said, 'I'm sorry, I mistook you for a mate of mine, and you're not who I thought you were'."
The anecdote is emblematic of Colman's place in the public's affections. Over the past decade, the 38-year-old actress has played a variety of eye-catching supporting roles in some of our most revered comedies: the forbearing Sophie in Peep Show; the stoic (and secretly rather bawdy) Alex, Tom Hollander's wife in Rev; Sally, the lovelorn PA to Hugh Bonneville's blustering head of deliverance in Twenty Twelve. And, while people may not be immediately able to place her, they've picked up on something in her manner — open, confiding, fun — that facilitates the kind of goodwill shown by the owner of the house in which the photo shoot is taking place, who showers Colman with praise and glasses of iced coffee.
In person, Colman is indeed remarkably unaffected, talking breezily about going out for drinks with her mates, fretting that discussing her craft will lead to her "sounding like a total k—" and regarding the (subtle) make-up she's sporting for the photos – "it's so not me!" – with awe and incredulity. In short, the kind of person we could imagine having a glass of sauvignon blanc and a laugh with.
But then, last year, this perception of Colman was turned on its head following a couple of searing performances. In Paddy Considine's Tyrannosaur she played Hannah, a charity shop worker viciously abused by her husband and further challenged by a raging alcoholic who worms his way into her life; one critic called Hannah "the most humiliated woman in the history of cinema". Meanwhile, in The Iron Lady, she played Carol Thatcher to Meryl Streep's Maggie, valiantly attempting to keep up a jolly-hockey-sticks front as her mother succumbs to dementia. When Streep won a Bafta for her performance, she singled out Colman, calling her "divinely gifted". It turns out that, all along, Colman wasn't quite who we thought she was.
"I've always done drama," Colman gently points out. "But I suppose Tyrannosaur was a bit of a watershed moment for me. It was like when Kathy Burke did Nil By Mouth — suddenly, people were saying, 'oh, she can do that, too'." Despite the vicious indignities Hannah suffers, Colman says she saw the beauty in the script, and the character, immediately.
"After one screening, someone used the word 'doormat'. They totally missed the point. Hannah's so strong; she deals with so much adversity every day and yet she still has the strength to see the good in people."
She shakes her head. "You want to try as many different things as you can as an actor, and I'm so grateful to Paddy for taking that leap of faith in me."
Colman is now reaping the rewards of the protean performer who adores the gruelling likes of Breaking the Waves and Nil By Mouth, yet retains a clown klaxon as her phone's ringtone. She has a huge raft of forthcoming projects that run the dramaturgical gamut, from playing the Queen Mother in a film called Hyde Park on Hudson, alongside Bill Murray as Franklin D Roosevelt, to essaying "a sort of halfwit" in Channel 4 comedy Bad Sugar, a Dynasty-inspired folderol from Peep Show writers Jesse Armstrong and Sam Bain, co-starring Julia Davis and Sharon Horgan.
But first up is Accused, Jimmy McGovern's new set of courtroom dramas, in which she's right back in Tyrannosaur territory as Sue Brown, a woman who takes a stand alongside her best friend Mo (Anne-Marie Duff) against the prevailing gang culture on their grim Mancunian estate, with irredeemably tragic consequences. Colman spends most of her on-screen time looking wracked in a parka. "Anne-Marie and I emailed each other when we first read the script," she says, "going, 'OK, it's really not glam, there'll be no Gucci ad campaign for this one.' But the script was extraordinary. In fact, I went to pieces at the read-through, with the rest of the cast and the executives sitting there, getting embarrassed. I was sobbing to the point where I could barely see the lines." She beams. "Not very cool."
Perhaps it had something to do with the fact that, in a drama which turns on the bond between mothers and sons, Colman has two of her own, aged six and four, with her partner Ed Sinclair, a writer. "No, that rawness wasn't hard to access at all," she agrees, laughing.
"Everything with me is pretty close to the surface, but having kids has completely ruined my emotional equilibrium."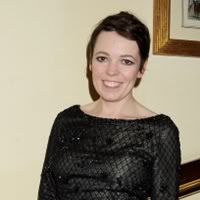 It seems that, the more harrowing the drama, the more levity there is on-set; during the filming of Tyrannosaur, says Colman, the cast, having emotionally waterboarded each other all day, would enjoy boozy nights out, while, on Accused, she developed a "girl crush" on Duff: "She's a very bad influence, and a naughty giggler. We had a great time."
This is all very much in keeping with Colman's ethic of not taking work home. If it came to a choice between immersing herself in a role Method-style, or going with Alan Bennett's oft-quoted thespian modus operandi – "turn up, put on the hat, do the accent, go home" – she'd definitely err toward the latter. "I can't see myself following the LAPD around for nine months or something," she says. "You can over-think things. If the script's good, everything you need is in there. I just try and feel it, and do it honestly. I also don't learn things for auditions, because I feel like it's just a test of memorising rather than being real." She frowns. "Maybe every other actor would think that was terrible, I don't know. But it seems to have worked for me, so far."
Colman was born and brought up in North Norfolk, "a beautiful place, and a lovely community, heavy on the eccentrics", and still retains a distinct Fenland burr. Her father was a chartered surveyor and her mother was a nurse: "They both had a good work ethic. I was really proud of my mum, dedicating her life to making people better."
She had a "boringly happy" childhood, and first got the acting bug playing Miss Jean Brodie, aged 16, in the play at her all-girls private school. "I was on stage, and I suddenly felt really at ease, and at home. Of course, at that age you keep it to yourself, you say 'I want to be a nurse or a teacher'. I remember doing one of those computer careers tests. It told me I'd make an ideal HGV lorry driver, because I've got 100 per cent spatial awareness. I'd be able to back them into tight parking spots."
She went to teacher training college in Cambridge, but "I wasn't terribly committed, and I would have been a terrible teacher. I liked having a lark more." She answered an audition advert, imagining am-dram Macbeth. Instead she found it was for Footlights, the Cambridge finishing school for comedians, where she first fell in with the likes of David Mitchell, Robert Webb and Peter Serafinowicz.
After decamping to study drama at Bristol Old Vic Theatre School, she embarked on her string of supporting roles in the likes of Peep Show, That Mitchell & Webb Look, and Serafinowicz's Look Around You. "It was a lovely way to spend your time, mucking about with all these funny people," she says. "And we all got on terribly well. I owe Rob and David so much — they gave me my first job. I might not be doing this at all if it wasn't for them. And they're lovely friends."
It was also at Cambridge that she met Sinclair; cast in a student production of Alan Ayckbourn's Table Manners, she entered the rehearsal room, and the second she saw him, in right-hand profile, she felt a thunderbolt – "I'm going to marry him." Was it really that instantaneous?
"A bit weird I know, but yes," she says, shaking her head. "He was gorgeous, the most beautiful thing I'd ever seen." Sinclair, at least initially, wasn't similarly struck. "I stuck with him and made him realise he could only be happy with me. I still feel I'm punching above my weight. We've been together 18 years now, half our lives, and we've loved it."
For most of that time, Colman has been the family breadwinner; she heads off to sets while he goes up to the attic to write. "He's very secretive about his process," she says. "I know now what his book's about, but for a couple of years I hadn't a clue." For Colman, work-life balance is crucial. "If I was away for a long time, we'd all have to go," she says. "I couldn't do it without them."
She's about to shoot an ITV drama called Broadchurch, alongside David Tennant, in which a sleepy village is catapulted into the rolling-news limelight. "It'll take four months, and I've never been away that long," she says, her eyes widening. "So I told them I have to come home every weekend. It's a big deal, and I might not do it again. I keep getting teary about the possibility of the boys waking up in the night and me not being there." She shrugs. "I should never have had kids."
What if the offers start coming in from America? She looks dumbfounded. "Well, it hasn't happened yet. But if it did, well, I guess we'd have to cross that bridge when we came to it." One would have thought that she's already crossed it with Hyde Park on Hudson, in which George VI (Sam West) and Colman's Queen Mother pay court to Murray's Roosevelt. But it was actually shot here, with rolling British countryside substituting for upstate New York.
Of Bill Murray, Colman is unequivocal: "He was absolutely lovely, a force of nature. He left me a voice message and I've still got it! I'll never erase it. He's saying" – she breaks into a laconic Murray-esque drawl – "'Hey Olivia, we're coming over to the Groucho tonight, don't know if you're around.'" She sighs. "I wasn't, more's the pity. I could have got p—– with Bill Murray." Of her performance, Colman is typically self-deprecating: "It was fun, but I think Helena Bonham-Carter in The King's Speech looks much nicer than I do."
We go through more forthcoming roles on Colman's roster. In the film Cuban Fury she plays the sister of a former salsa prodigy, played by Nick Frost, who hits the comeback trail years after his career is shattered by a jealous rival. "Nick did six months of eight-hour-day training sessions, and he's a beautiful dancer now," she says admiringly. "I had to train a bit, and I can do about six spins before collapsing. But then, everything gets harder as you get older. "I did a forward roll for the kids the other day, thinking it'd be a breeze like it was when I was six, and I had to lie flat for about 20 minutes afterwards — 'leave mummy alone, she's feeling a bit dizzy'."
As for Rev, it'll be back in 2013: "We're all too busy to do it until then, but it's great, isn't it?" she beams. "It's so gentle and intelligent. I don't like the bullying, do-one-over style of comedy. It's so cheap."
So prodigious is Colman's output, one is tempted to ask if she ever says no to anything. "But I keep thinking, make hay!" she protests. "How many actors are lucky enough to work all their lives? Or will I start boring everybody soon? I don't know how it's meant to work. I have no plans. I just feel fortunate to be getting all these great opportunities."
Colman's in a very sweet spot — the affection for her is genuine, but she can still operate more or less below the radar. She's only ambitious to do good stuff, she says: "You see thousands of films you forget the minute you come out of the cinema, don't you? Because they don't mean anything. It's the tough ones like Breaking the Waves and Nil By Mouth that stay with you, that you never forget." Olivia Colman nods emphatically. "I'd like to leave a few of those behind if possible."
Award-winning comedy Rev will return to BBC2 for a third series but it will not be broadcast until 2014.
Producers say the "brilliance" of cast members such as Tom Hollander and Olivia Colman have made getting everyone back together "challenging".
The actors play inner-city vicar Rev Adam Smallbone and his wife Alex in the hit comedy, which won best sitcom at last year's TV Baftas.
Filming is due to begin in Autumn 2013, with development starting this year.
Producer Kenton Allen said: "I'm delighted that we've managed to get Adam and his congregation back into church for what I hope will be an extraordinary third season of a show that is extremely special for all those involved."
Made by Big Talk Productions, the first two series of Rev and a Christmas special proved a hit with critics.
The show also won best comedy at the South Bank Awards and picked up four prizes at the Broadcasting Press Guild Awards in March, including best comedy and entertainment show and best writing.
Peep Show star Colman picked up two BPG awards of her own, including best actress and best breakthrough for both Rev and BBC One drama Exile.
Colman's career has soared in recent years, with roles in Olympics comedy Twenty Twelve and a transition to the big screen in films such as Tyrannosaur and The Iron Lady.
Hugh Bonneville and Olivia Colman in Twenty Twelve Colman played a lovestruck PA in Olympics comedy Twenty Twelve alongside
The actress was also recently voted number nine in Broadcast magazine's annual survey of the top 100 most creative and successful figures in TV.
Hollander is set to start filming alongside Rachel McAdams and Bill Nighy in About Time, the new time-travel comedy from Love Actually director Richard Curtis.
He also recently worked on director Neil Jordan's next film, Byzantium, which co-stars Gemma Arterton and Saoirse Ronan.
BBC2 controller Janice Hadlow said: "We're absolutely delighted to have Rev back on the channel. It's one of the real comedy jewels in BBC2's crown."
Source: bbc.co.uk – Rev returns for third series but not till 2014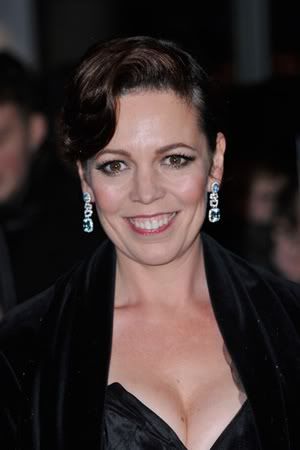 Olivia Colman appears to have been cast in Broadchurch, according to her agent's website. The drama, to be produced by Kudos for ITV, has been created by Chris Chibnall based on the BBC Four hit Danish detective series The Killing. It will be directed by James Strong and produced by Richard Stokes. David Tennant has been strongly linked to the lead role by a number of press and industry sources.
Olivia's artist entry on the United Agents website lists her past and current projects, and also says:
"Projects to be filmed later this year include TV Dramas RUN for Channel 4 and BROADCHURCH for ITV1 and the comedy feature films CUBAN FURY for Big Talk and I GIVE IT A YEAR for Working Title."
Olivia Colman is well known for her comic roles in Peep Show, Twenty Twelve and Rev; however she is also a powerful dramatic actor, appearing in Exile and The Iron Lady and she gave an award-winning performance opposite Peter Mullan in Tyrannosaur.
More production details can be found at the website of costume designer Roy Holman, whose impressive CV includes work on Doctor Who and Torchwood. This states that his work on the series starts from July. Shooting the series is believed to commence in August, and filming appears to continue until December 2012. On Ray Holman's webpage, David Tennant is listed as one of the principal actors for Broadchurch.
As yet, casting and details about specific roles have yet to be confirmed by either ITV or Kudos.
Source: dt-forum.com – Olivia Colman to join David Tennant in Broadchurch
Katie Leung and Olivia Colman are set to lead the cast of the upcoming Channel 4 drama Run.
The gritty four-part drama presents the stories of four unconnected people whose lives intertwine in a story of modern-day survival.
Each episode, directed by BAFTA-nominated Skins and Being Human helmer Chris Martin, will focus on a different character.
Best known for her role as Cho Chang in Harry Potter, Leung will play an illegal Chinese immigrant hoping to make a life for herself in the UK.
Colman, who recently received a BAFTA nomination for her work in Twenty Twelve, will play a struggling single parent who gets mixed up in the world of crime.
Run is currently filming in and around London.
Source: digitalspy.co.uk – Olivia Colman and Potter star Katie Leung for new channel 4 show Run