The writer of Rev has admitted there will not be a third series of the award-winning BBC2 sitcom this year because the cast, including Tom Hollander and Olivia Colman, are "too bloody successful".
So far the BBC has made two series and a Christmas special, and has attracted a range of impressive guest stars including Ralph Fiennes, Richard E Grant, Hugh Bonneville, Geoffrey Palmer, James Purefoy and the veteran actor Sylvia Syms.
James Wood, the co-creator with Hollander of the comedy about a London inner-city vicar, told MediaGuardian: "The cast are too bloody successful."
Wood said he was "cautiously optimistic" about getting the cast together in 2013 but this could not be guaranteed.
"The other thing of course we need to do is to make sure that we maintain the same standards as with the other two series," Wood added. He said he was currently working out whether a third series was creatively feasible as well.
Wood said it has proved very difficult to assemble the comedy's ensemble cast, led by Hollander who plays the vicar Adam Smallbone. Hollander is due to make two films this year, beginning with a role in Fiennes's film about Charles Dickens's mistress, Nelly Ternan.
The supporting cast of Rev is also in demand. Colman, who plays the vicar's wife, Alex, is currently in a West End production of Noel Coward's Hay Fever and has many other commitments including her roles in the Channel 4 comedy Peep Show and the BBC Olympic sitcom Twenty Twelve.
Other cast members include Simon McBurney, who plays Archdeacon Robert, but who spends a large part of his professional life running the experimental theatre company Complicité.
The BBC admitted that a new series of Rev will not be made this year and was unable to confirm whether it will be returning in 2013.
"BBC2 is very keen for Rev to return and we are currently discussing the possibility of a third series with [the producers] Big Talk Productions," the BBC said in a statement.
Source: guardian.co.uk – Rev writer admits the show won't return this year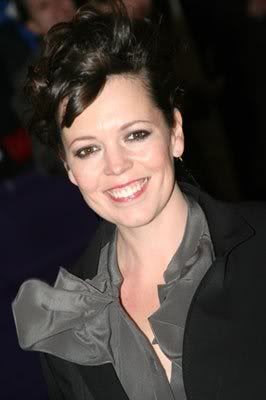 A few British actors surprised audiences last year with performances many fans didn't know they had in them. Two such actors were The IT Crowd's Chris O'Dowd who starred in American hit Bridesmaids, the other was Olivia Colman whose performance in Paddy Considine's Tyrannosaur stunned audiences across the country.
It's exciting then to hear this week that O'Dowd and Colman will be joining Nick Frost and Rasheda Jones in a fiery new comedy dance film entitled Cuban Fury – and Nick Frost promises to do all his own dancing. Never fear though. This may be a dance film, but if the information below is anything to go by … it will be no ordinary dance film.
STUDIOCANAL, Film4 and BFI are presenting the Big Talk Pictures Production. Big Talk's credits include all of Edgar Wright's films to date: Shaun of the Dead, Hot Fuzz and Scott Pilgrim Vs. the World, along with Paul and Attack the Block.
Here is the official press release:
Nick Frost (Shaun of the Dead, Hot Fuzz, Paul), Rashida Jones (The Social Network, I Love You, Man), Chris O'Dowd (Bridesmaids, The Boat That Rocked) & Olivia Colman (Hot Fuzz, Hyde Park on Hudson, Tyrannosaur) to star in James Griffiths' hot stepping comedy CUBAN FURY, co-financed by STUDIOCANAL, Film4 and the BFI Film Fund.
Beneath Bruce Garrett's shabby, overweight exterior, the passionate beating heart of a salsa king lays dormant. Only one woman can reignite his Latin fire. Spotlight hits, sweat drips, heels click – Nick Frost IS Cuban Fury.
CUBAN FURY marks James Griffiths' feature film directorial debut with TV credits including Up All Night and Free Agents. Produced by Nira Park and James Biddle of Big Talk, working from an original idea by Nick Frost, the screenwriter is Jon Brown, whose hit TV writing credits include series such as Miranda,Misfits and Fresh Meat. Brown also won the BAFTA for Break-Through Talent in 2011. Executive Producers are Nick Frost, Matthew Justice and Rachael Prior (Big Talk), Danny Perkins and Jenny Borgars (STUDIOCANAL) and Tessa Ross (Film4).
"My aim with Cuban Fury was to make a romantic comedy with fiery Salsa at its heart. I wanted to show people that sometimes it's not about a perfect nose and abs of steel, sometimes passion, soul and fire is enough. And in case you're wondering yes, I'll do all my own dancing." – Nick Frost
"For as long as I can remember, I've wanted to make a dance movie. Even better a comedy dance movie. So when I received an email from Nick Frost which read: "how would you feel if I said we should do a film where I DANCE A LOT. Imagine me in tightly fitted sequinned garments with a lot of slow-mo", I said: "I want the poster for that movie on my wall now!" Nick's idea for Cuban Fury was fantastic, and finding newcomer Jon Brown to collaborate with him and write the script was the first step – Jon just has that knack for funny that is completely innate. Being able to bring James Griffiths on to direct was the final piece of the jigsaw. We had a fantastic time making our TV show Free Agents together, and had been looking for the right movie project to collaborate on for a long time. I can't wait to see Nick in a role that will showcase all of his incredible talents as a performer, even those that have remained more hidden up to this point! And I feel incredibly lucky that we have managed to persuade the unbelievably gifted Rashida Jones, Chris O'Dowd and Olivia Colman to join us for the ride." – Nira Park
1987: A 13 year old natural born dancer with fire in his heels and snakes in his hips is working himself up to explode all over the UK Junior Salsa Championships. But then… a freakish bullying incident on the mean streets of London robs him of his confidence, and our young hero finds his life diverted down a very different path.
So it is that 22 years later, an adult Bruce Garrett (Nick Frost) finds himself out-of-shape and unloved – trapped in a downward spiral of self-pity, repression and Nando's take-outs. Only Julia (Rashida Jones), his smart, funny, gorgeous new American boss, gives him reason to live. But she's untouchable. Out of his league, so he imagines, with her perfect smile and perfect life. Unknown to Bruce however, Julia has issues all of her own. Luckily for him, she also has a secret passion…
Then there's Drew (Chris O'Dowd), his alpha male colleague and horny king-monkey of the office. With Drew making no secret of his desire to get (his words) "all up inside Julia", Bruce is forced into action…
And thus, Bruce is once again brought face-to-face with the darkest and most powerful of his inner demons. Somehow, someway, and with a lot of handholding from loyal sister Sam (Olivia Colman) Bruce must learn how to unshackle his dancing beast, regain his long lost fury and claim the love of his life…and he's going to do it all On The Dance Floor…
Source: filmoria.co.uk Nick Frost launches Cuban fury with Chris ODowd and Olivia Colman
I apologise for this HUGE gallery update but I have been sick and unable to update the site, however Olivia looks so beautiful in all these pictures so check them out. I have added pictures from Hay Fever – Gala Performance – After Party, Jameson Empire Awards 2012, London Evening Standard British Film Awards 2012, Olivia Colman, Celia Imrie attend an after party celebrating the press night performance, and South Bank Sky Arts Awards 2012 just click the pictures to see them: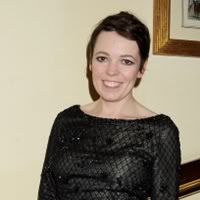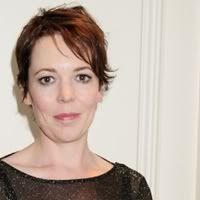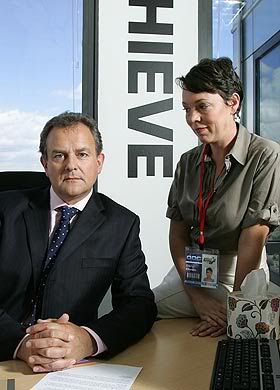 BBC America has announced that they will air BBC Two mockumentary series, Twenty Twelve, ahead of the London 2012 Olympics.
The show – which is narrated by David Tennant (Doctor Who) and stars the likes of Hugh Bonneville (Downton Abbey), Jessica Hynes (Spaced) and Olivia Colman (Peep Show) – follows the people paddling hard beneath the water to make the Olympics happen in London in 2012. They have £9 billion to spend and plenty of time before the deadline; what can possibly go wrong?
Twenty Twelve joins the likes of The Graham Norton Show, The Thick of It, Katy Brand's Big Ass Show, The Inbetweeners, Would You Rather…? with Graham Norton, Come Fly with Me, Outnumbered and Friday Night Dinner to be broadcast on the channel.
Twenty Twelve premieres on Saturday 30th June – just weeks before the opening ceremony on July 27th – as part of BBC America's 'Ministry of Laughs'.
Source: imediamonkey.com – BBC America to screen Twenty Twelve ahead of London Olympics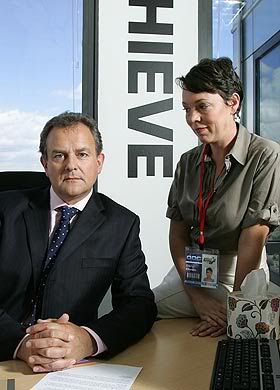 Hugh Bonneville has revealed the Twenty Twelve team are planning special episodes to tie in with the summer Olympics.
The Downton Abbey actor stars with Jessica Hynes and Olivia Colman in the BBC spoof documentary about the team planning London 2012.
Hugh revealed: "There's four new episodes coming out at the end of March and we're going to try to film three more and get them out for the Olympics."
He added: "Seb Coe's been a good sport and he appears in the next series. I'm sure he'll be a bit busy come late spring when things really start hotting up but we've got some good fun in store for the show."
The actor, who has just begun filming the next series of hit ITV costume drama Downton Abbey, admitted he relished going between his stiff-upper-lipped character in Downton to the comedy of Twenty Twelve.
He laughed: "It's such a contrast I can't tell you, to go from the relative calm and the stiff collars of Downton to the frenetic pace of Twenty Twelve, it's great. It's a lovely contrast to be able to do that."
And Hugh is looking forward to working with Shirley MacLaine, when she arrives in Downton Abbey.
"I'm just incredibly excited about sharing just a few minutes of screen time with her," he said.
"We're all over-the-moon that we're going to have two great titans of cinema in the same square footage, Maggie [Smith] and her together."
To celebrate the fact that Tyrannosaur is a) out on DVD, and b) a BAFTA-winning film, we've got a special prize to give away.
We were thrilled when Paddy Considine won the most promising debut award at the 65th Orange British Academy Awards, and now we've got a DVD and a quad poster signed by the actor-turned-director himself to give to one lucky reader. One runner-up will receive the film.
Considine made his directorial debut with his powerful drama, which stars Peter Mullan and Olivia Colman as two damaged people brought together by circumstance: Joseph, an unemployed widower, crippled by his own volatile temperament; and Hannah, a respectable charity shop worker, whose apparent happiness belies troubles of her own. Read our review here, and watch our interview with Considine and Colman here.
With Considine remaining behind the camera for this film, we want to know your favourite of his performances and why for a chance to win. Email your answer to competitions@thisisfakediy.co.uk with Tyrannosaur in the subject field by 20th February, and remember to include a postal address.
Source: thisisfakediy.co.uk – Win Tyrannosaur DVD signed and poster
Olivia Colman has joked that she chose to wear Victoria Beckham to the London Evening Standard British Film Awards – because it meant she could eat more.
She revealed: "I've been looking at all her clothes and I think they're really pretty."
She laughed, pulling out the waist: "And you can eat in here and you don't have to breathe in, which is always worth it."
The Peep Show actress won Best Actress for her role as a battered wife in Paddy Considine's Tyrannosaur.
She said: "Very excited, it's obviously a very, very lovely feeling.
"To win things for this particular film feels pretty special because it's probably the best part I will ever get, so it's lovely that people have loved it just as much as I have."
It was the latest in a run of awards for the Rev actress.
She said: "I'd like to be cool like lots of people and go 'Yeah, it's in the downstairs loo', but they're absolutely all over the mantelpiece, polished."
A champagne reception before the ceremony was interrupted by a fire alarm, forcing the stars – including Tom Hiddleston, Poesy and Downton Abbey star Jessica Brown-Findlay – to be evacuated outside on to the street for a short time.
But everyone made light of the episode, swigging from miniature bottles of champagne and huddling together for warmth.