twenty twelve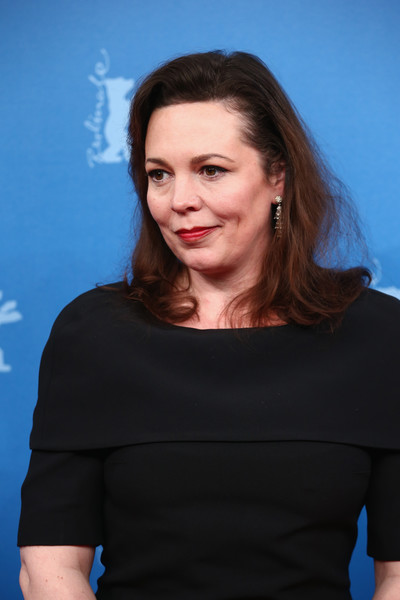 She can do no wrong: BAFTA-winning actress Olivia Colman instantly elevates every one of her projects to 'must watch' status. With the complete series of the very-bonkers but very touching Flowers available now on demand, we look back at ten times Olivia Colman was indisputably the best thing on telly.
Flowers:
As the matriarch of the Flowers family – a collection of crackpot individuals who would have been rejected as Wes Anderson characters for being 'too quirky' – Colman brought a quiet dignity to a woman who was nonetheless slowly unravelling inside. With her husband an increasingly reclusive figure and her kids too self-absorbed to notice her, Ma Flowers couldn't be blamed for lusting after other men – but her cringeworthy flirtation with the neighbouring builders makes the toes curl. For a show that never settles on comedy or drama, Colman walks the line with perfect balance.
Fleabag
Much like the mustard that bears her name, Colman is best used sparingly. As the stepmother to Phoebe Waller-Bridge's titular loafer, Colman is a picture of composed malcontent: there's so much simmering beneath her smile. Even though she only appears briefly in four episodes, she's perfectly grotesque creation, which – no offence to writer Waller-Bridge – was likely not on paper: it's all down to Colman. The awkwardness with which she discusses sex with Fleabag is exquisite; other actors should watch and learn how to spin a mere cameo into televisual gold.
The Night Manager
Although she got her start in comedy roles, Olivia Colman has proven herself to be an esteemed and talented dramatic actress. As hard-nosed intelligence operative Angela Burr, Colman gives the performance of her live as she entwines star Tom Hiddleston's humble hotel manager into the deadly world of espionage. If you were thinking a role in a John Le Carrédrama might be a bit of a stretch for Colman, you'd be wrong: she's terrific as a woman who has to keep her calm at all costs. In fact, she was nominated for an Emmy for her performance.
Broadchurch
It's impossible to discuss Olivia Colman's contribution to ITV murder mystery Broadchurch without divulging a few key details, so avert your eyes if you've yet to become acquainted with its seaside charms. Colman plays Detective Sergeant Ellie Miller, who along with David Tennant's fellow officer Hardy, investigates the murder of a young boy in the fictional  town of the title. Her flair for intense emotional acting was brought to the fore, however, upon the reveal that the murderer was her husband all along: Colman absolutely nails two vital scenes, first when she's informed of the killer, and second when she finally confronts him. Watch this woman in action and tell us she didn't earn that Best Actress Bafta.
Peep Show
As Sophie, object of Mark Corrigan's affection, Colman ran the full spectrum: from out-of-reach office crush to reluctant to girlfriend to spurned wife to bitter ex to passive aggressive mother to his child. Sophie once was everything normal that Mark needed in his life, but thanks to a jilting at the altar – and office halfwit Jeff leading her astray – she eventually grew to hate Mark's cowardly guts. Having given birth to Mark's baby and spitefully named it 'Ian', Sophie hit the bottle; she was last seen being shamefully buried in a ball-pit in a soft play centre. R.I.B. Sophie.
Drunk History
If you thought history was boring, history after a few bottles of wine and a couple of Aperol Spritzes makes it much more tolerable. That's the concept of this ace Comedy Central show, which sees comedians neck as much booze as possible before retelling famous stories of history, acted out by famous actors. As a sozzled Josie Long narrated the story of infamous American quack Dr Harvey Crippen, Olivia Colman played his lover Ethel Le Neve, who had to disguise herself as a boy when the pair went on the run. Something about her disarming smile and toothy grin makes her the perfect candidate for a murderer's mistress.
Twenty Twelve
Nestling in between the giant egos tasked with bringing order to the chaos that was the London 2012 Olympic and Paralympic Games was Olivia Colman's wallflower Sally Owen, personal assistant to Hugh Bonneville's Head of Deliverance and most downtrodden doormat in the office. Most unhelpful is the fact that the Deliverance teams are all idiots, but particularly problematic is the fact that Sally is in love with her boss, and Olivia Colman plays it sweet and subtle, her 'deer in the headlights' act falling just the right side of simpering. We never find out if her feelings are reciprocated, but it doesn't matter – her work is done and her mission is completed. It's as Ian says: "She's basically running the Olympics".
Green Wing
Any British comedic actor worth his or her salt between 2004-2006 appeared in some capacity in Green Wing, the madcap medical comedy that felt like it had overdosed on methadone. Colman played HR staffer Harriet, who along with her colleagues, never really seemed to do much work. An overworked mother of four who is stuck in a romantic rut with her long-suffering husband, Harriet eventually goes all in on an affair with Paterson Jospeh's doctor Lyndon, giggling as he man-handles her ("I nearly weed!"). Most exciting, however, is the fact that this dalliance saw Peep Show titans Sophie and Johnson come together in an unholy alliance. What would Mark say?
Look Around You
Robert Popper's Tomorrow's World parody was a goldmine for early 00s comedy, and Colman played one of the pseudo-science show's hosts, Pam Bachelor. Permanently decked out in a most unflattering BHS jump-suit and with bouffant hair that's never seen a straightener, Pam was one of four hosts who introduced amazing new inventions to the general public, like the Memory Helmet (which allows users to memorise large lists instantly, albeit with the side effect of lowering their voice several octaves) and the Petticoat 5, the computer for women ("You can see here, the space bar is an emery board"). Shows don't come much sillier and Colman was always game for a laugh.
The Office
In one of those 'Oh, I didn't know she was in this' cameo roles, Colman had a small part in The Office as Helena the reporter from Inside Paper, doomed to write up a puff piece on David Brent. Remaining professional to the last, she consistently rebuffed Brent's efforts to annotate his own interview ("Put 'David Brent is refreshingly laid back for a man with such responsibility'…"). Her highlight, however, is the excruciating wait she suffers between taking photos of Brent, who is wearing exactly the expression you'd expect from a man who's just been told he's been let go: "One more for safety," she says, frantically waiting for the camera to reload or the sweet release of death, whichever comes first.
Source: virginmedia.com – 10 times Olivia Colman was the best thing on TV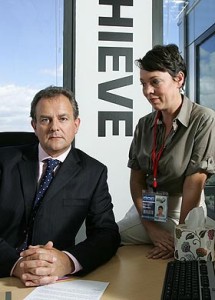 BBC comedy chiefs are plotting a spin-off of Bafta-nominated Olympic mockumentary TwentyTwelve.
They hope to reunite the core team of hapless PRs including Jessica Hynes as Siobhan Sharpe, Hugh Bonneville as Ian Fletcher, Olivia Colman as his PA Sally and Amelia Bulmore as Kay Hope.
A BBC insider said: "There is a real desire for this to happen.
"The show was such a fantastic success and writer John Morton is a genius, such a massive talent.
"It would be so great to get the team together again."
Plans are in their early stages, with the spin-off likely to see dithering Fletcher taking on another major national project and hiring back his Olympic colleagues to help him out.
In the show, made in the style of a fly-on-the-wall documentary, Ian headed up the fictional Olympic Deliverance Commission while Siobhan, who has her own PR company Perfect Curve, was head of brand.
One of the highlights was the development of a travel strategy – called Way to Go – in which pedestrians were banned from pavements.
Morton has indicated that a follow-up comedy could be possible, given the right circumstances. He said: "There's been some talk about whether there can be a life post-Olympics and it's tempting because I'd love to work with those actors again."
The BBC2 series received widespread critical acclaim when it was shown in the run-up to the Olympics last year.
Viewers loved that many of the comedy's ideas – such as problems with the countdown clock, complaints from animal rights organisations and a bell-ringing competition to mark the start of the Games – were echoed in real life.
Tomorrow Bonneville, Hynes and Colman will find out if they have won a Bafta for their individual performances, while the show is also nominated in the sitcom category.
TwentyTwelve has already been named best comedy by the Royal Television Society and won best sitcom at the Comedy Awards.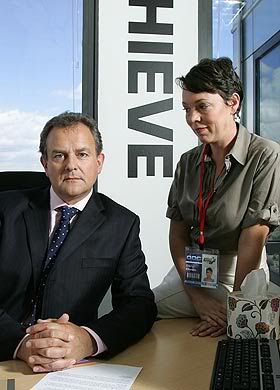 BBC America has announced that they will air BBC Two mockumentary series, Twenty Twelve, ahead of the London 2012 Olympics.
The show – which is narrated by David Tennant (Doctor Who) and stars the likes of Hugh Bonneville (Downton Abbey), Jessica Hynes (Spaced) and Olivia Colman (Peep Show) – follows the people paddling hard beneath the water to make the Olympics happen in London in 2012. They have £9 billion to spend and plenty of time before the deadline; what can possibly go wrong?
Twenty Twelve joins the likes of The Graham Norton Show, The Thick of It, Katy Brand's Big Ass Show, The Inbetweeners, Would You Rather…? with Graham Norton, Come Fly with Me, Outnumbered and Friday Night Dinner to be broadcast on the channel.
Twenty Twelve premieres on Saturday 30th June – just weeks before the opening ceremony on July 27th – as part of BBC America's 'Ministry of Laughs'.
Source: imediamonkey.com – BBC America to screen Twenty Twelve ahead of London Olympics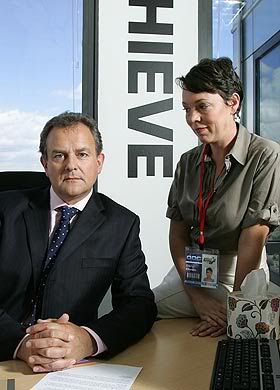 Hugh Bonneville has revealed the Twenty Twelve team are planning special episodes to tie in with the summer Olympics.
The Downton Abbey actor stars with Jessica Hynes and Olivia Colman in the BBC spoof documentary about the team planning London 2012.
Hugh revealed: "There's four new episodes coming out at the end of March and we're going to try to film three more and get them out for the Olympics."
He added: "Seb Coe's been a good sport and he appears in the next series. I'm sure he'll be a bit busy come late spring when things really start hotting up but we've got some good fun in store for the show."
The actor, who has just begun filming the next series of hit ITV costume drama Downton Abbey, admitted he relished going between his stiff-upper-lipped character in Downton to the comedy of Twenty Twelve.
He laughed: "It's such a contrast I can't tell you, to go from the relative calm and the stiff collars of Downton to the frenetic pace of Twenty Twelve, it's great. It's a lovely contrast to be able to do that."
And Hugh is looking forward to working with Shirley MacLaine, when she arrives in Downton Abbey.
"I'm just incredibly excited about sharing just a few minutes of screen time with her," he said.
"We're all over-the-moon that we're going to have two great titans of cinema in the same square footage, Maggie [Smith] and her together."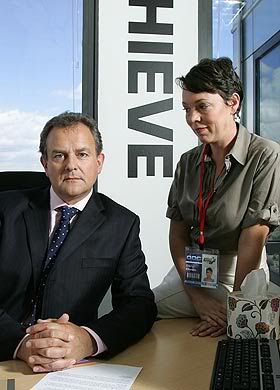 TWENTY Twelve star Hugh Bonneville has struck TV gold – with a second series for the cult Olympics comedy.
The "mockumentary" on BBC4 sees him deal with bungling bureaucrats and a string of foul-ups as the London Games' fictional head of deliverance.
Speaking as his Ian Fletcher persona, Hugh, 47, said: "Damage has already been done to our department by letting BBC cameras in.
"I don't want it to go on, but upstairs do. So that's all good."
The new series will see Hugh face crises like an Algerian demand for an Olympic village mosque and how to give value for money when there's none left.
Source:thesun.co.uk – Twenty twelve star Hugh Bonneville gets 2nd series of Olympics comedy
The BBC have released the new Twenty twelve trailer which Olivia is starring in: