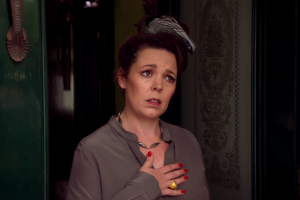 An evil godmother who Fleabag's titular anti-heroine cheerfully describes as a "c***" is not a character you might typically associate with our beloved national treasure Olivia Colman, which begs the question: how did she get the part?
Lydia Hampson, who produces Phoebe Waller Bridge's BBC3 comedy and is one of 2017's BAFTA Breakthrough Brits, has revealed that Colman actually befriended Waller Bridge years ago on the set of the 2011 film The Iron Lady, when she requested that Waller Bridge write her into one of her future projects.
"Olivia had said to Phoebe, 'If you ever write anything please tell me, I'd love to be in it,'" said Hampson.
"Phoebe told me that and I was like, 'Oh my god! What could she be?' In the original play version the godmother is literally just a presence at the top of the stairs, she doesn't have any words, she's not in it at all.
"So Phoebe kind of wrote up this idea of a godmother character that has a much larger role and Olivia, I believe, had said, 'I'd love to play a real bitch.' And so Phoebe was like, 'I've got it!'"
Fleabag is returning for a second series in 2019, but it's not yet known if Colman and the rest of the original cast will reprise their roles. Hampson couldn't reveal any plot details, as Waller Bridge isn't due to start writing until January…
Source: radiotimes.com – The real reason Olivia Colman was cast as evil godmother in Fleabag