olivia colman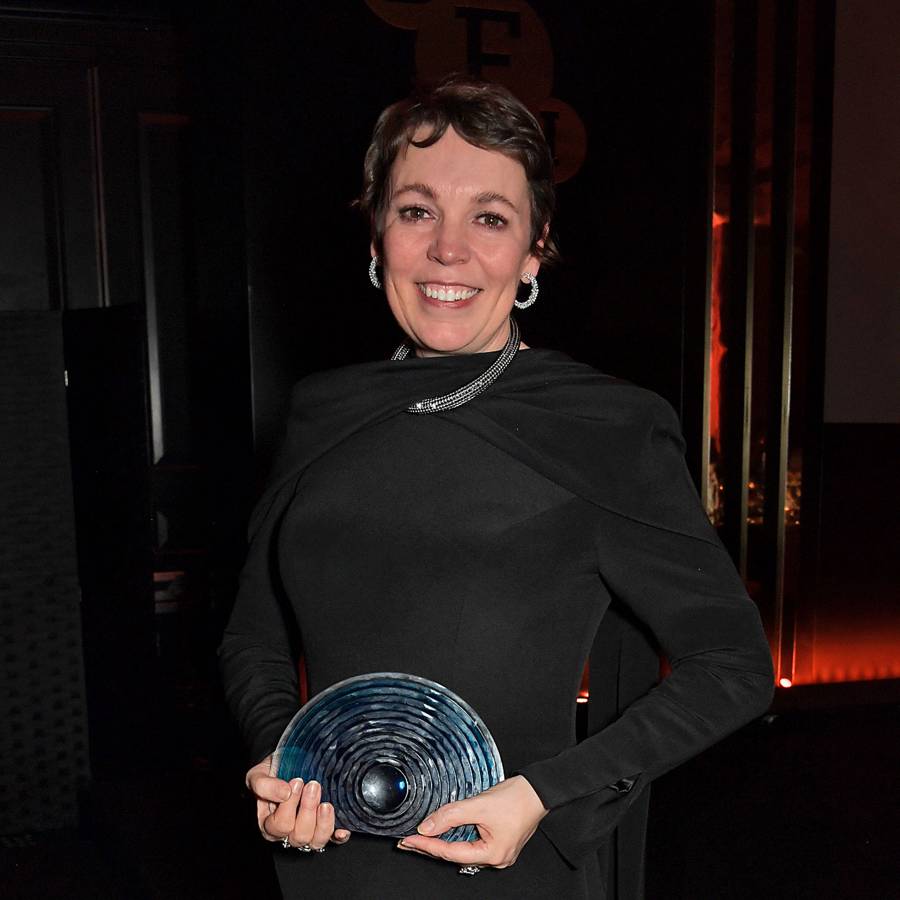 It's scarcely been two weeks since Olivia Colman scooped up the Best Actress statuette at the Oscars 2019, but, last night, The Favourite star was back on the podium giving another acceptance speech – to receive her British Film Institute fellowship.
"There isn't an actor who can infuse each moment on screen with such great humanity, drama and humour," director Yorgos Lanthimos said upon presenting the accolade to Colman, which has previously been awarded to Judi Dench, Maggie Smith, Vanessa Redgrave, Helena Bonham Carter and Cate Blanchett. "No one can appear so fragile, magnetic, fierce, funny and real from one second to the next, or all at the same time."
Naturally, Colman stole the audience's hearts with another speech that was resolutely her and not showy at all – no raspberry-blowing as per the Oscars, however. "I didn't know what to expect this evening," she said. "[It] turns out it's a bit like a surprise birthday party… on the back of a lovely year."
For the landmark career moment, Colman chose to shine a spotlight on sustainable fashion. Her black gown with a draped neck feature and a high slit, which revealed a tailored satin crepe trouser, was created especially for Colman by Deborah Milner, a designer whose missive is to make "haute couture using the challenges of sustainability as a catalyst for creativity".
Milner established her brand's green codes in 2005 with a collection of "Ecoture" and has been an active participant in Eco-Age's #GreenCarpetChallenge, which was founded by Livia Firth to show that beautiful red-carpet wear does not have to exploit the environment. The material for Colman's gown was supplied by Taroni, an Italian mill which was awarded the "Most Sustainable Producer" at the Green Carpet Fashion Awards 2017, and has been committed to making materials that are ecologically and ethically sustainable at every stage of the textile supply chain. For silk, in particular, this involves the breeding of silkworms in areas of organic cultivation, reeling, spinning, dyeing and weaving, before the fabric is ready to be transported to the studio of a designer such as Milner.
Continuing the conscious dressing theme, Colman and her stylist Mary Fellowes chose the Lola rings and Luna earrings from the Atelier Swarovski by Penélope Cruz fine jewellery collection. The line is created from Swarovski Genuine Topaz set in responsibly sourced gold and Swarovski Created Diamonds gems which are lab-grown and show the possibilities of creating problematic materials, such as leather, in a forward-thinking environment.
"We've always been interested in how to be as ethical as possible on the red carpet," Fellowes told Vogue of the principles that underline her working relationship with Colman. "In addition to Swarovski's sustainable design process, the brand, which is helmed by a working mother [Nadja Swarovski] is taking active steps to support women and film. Olivia has been wearing pieces from very famous houses, so we thought it would be great to support a brand which is doing great things for the planet."
Source: vogue.co.uk – Olivia Colman Shines A Spotlight On Sustainable Fashion As She Is Crowned A BFI Fellow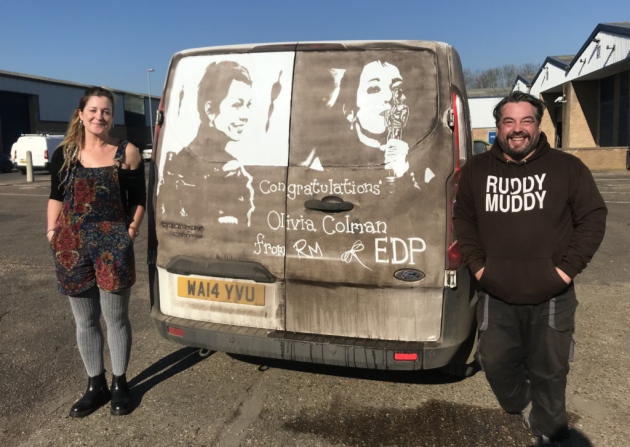 A legendary Norfolk mud artist with fans all over the world has paid tribute to the 'best of Norfolk' as he looks to take his 'graffilthy art' to the next level.
Ruddy Muddy, AKA Rick Minns from Wymondham, began producing intricate mud portraits on vans around 10 years ago, garnering support from celebrities such as Oasis front man Liam Gallagher and footballer Wes Hoolahan, and raising thousands for local charities.
The works take hours to produce the works, with Ruddy using a combination of fingers, tissues and cotton buds to shape the poster style portraits.
As a decade of his reign as the region's favourite van artist approaches, Mr Minns said he was ready to take the project to the next level by purchasing a Ruddy Muddy van.
He said: "So far I have been reliant on other people's vans or hires but having a designated Ruddy Muddy van would allow me to work more freely, produce more mud art and help and involve more people."
To fund the van Ruddy is asking for sponsorship from local businesses, launching the campaign by producing a spectacular trio of famous Norfolk faces alongside Norwich based artist Damsel Dragonfly.
The piece includes Oscar winning Norfolk actress Olivia Colman, Norwich's favourite fictional broadcaster Alan Partridge and the cast of Hollywood blockbuster Fighting With my Family, based on the life of Norwich WWE star Paige.
Ruddy Muddy is offering three tiers of sponsorship, all of which include the chance to be featured on the new van.
The artist said: "My biggest hope, when I first launched on social media, was to support charities and make people smile. Now I am hoping to work on a more meaningful scale.
"Sponsorship would be great exposure for businesses because the Ruddy Muddy van will be a touring vehicle on Norfolk day and present at events all over the country."
Last year Ruddy Muddy joined Norfolk chef Charlie Hodson as a Norfolk Day ambassador, touring the county to meet various groups and local people.
The Wymondham artist also created an original piece to commemorate the day, which was auctioned in aid of local charity Home-Start Norfolk.
To sponsor Ruddy Muddy, contact the artist on ruddymuddy@gmail.com
Source: eveningnews24.co.uk – Legendary Norfolk artist creates Olivia Colman portrait out of mud
Olivia Colman celebrated her Oscar win in the best way possible on Sunday night, after the prestigious award ceremony.
The actress, who won Best Actress for her role of Queen Anne in The Favourite, reportedly took a group of friends on a trip around Los Angeles in a midnight party bus.
She partied with five of her friends out after the ceremony in a minibus with neon lights "for an all night bender," according to tabloid reports.

A source explained, "Olivia didn't want anything uber posh like a fancy executive car so the party bus was the perfect idea to carry on the celebrations."
"She invited her glam squad and a couple of her mates and they drove around Los Angeles with the music pumping, finishing off at a private bash where they stayed until the early hours. Olivia was on cloud nine and couldn't be taken down."
This is the first Oscar win for Colman, who carried on the celebrations at the Vanity Fair after-party, after stopping at her suite at the Chateau Marmont.
Colman went viral after her heart-warming acceptance speech, where she talked about loving her first job as a cleaner, hilariously blew a raspberry into the microphone when asked to wrap up, and thanked her The Favourite co-stars Emma Stone and Rachel Weisz.
Colman won the only award for The Favourite at the 91st Academy Awards, out of all its nominations and became the 11th British actress to take home the prize.
Source: harpersbazaar.com – Olivia Colman celebrated her Oscar win in the best way possible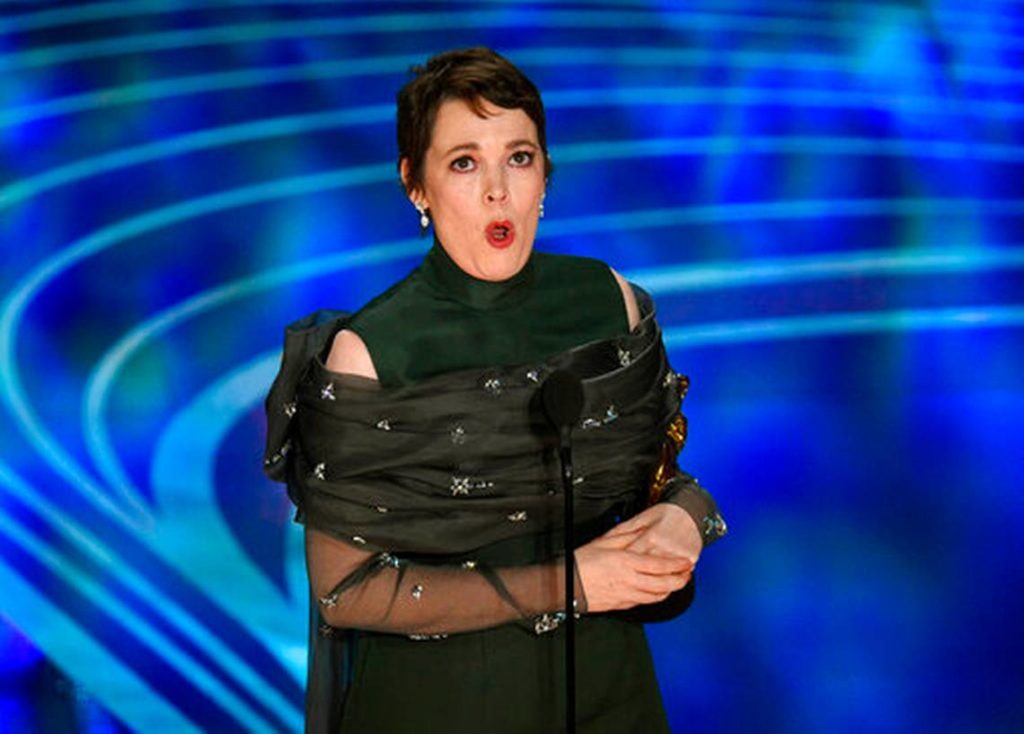 It's fair to say that those who had never heard of British actress Olivia Colman have been well and truly suckered in by the disarming and charmingly awkward acceptance speech she made at this year's Academy Awards.
The 44-year-old actress scooped the Best Actress gong for her highly praised interpretation of Queen Anne, even though highly acclaimed The Favourite failed to win any of the nine other nominations it was in the running for.
But as she revealed in her hilariously personal and kooky speech even though she appears to finally have the world in her grasp, Olivia's career was certainly no overnight success and that in the early days of her career she had to make ends meet by working as a cleaner.
Growing up in Norwich, Colman says she halfheartedly dreamed of being an actor from a young age, describing it as "a secret dream, like talking to animals". While she would appear in school plays, she never actually considered acting as a possible career path, which left her in a dilemma about what she actually could do in the real world, especially as academically, school was a tough place for her.
"I had to go back to school for an extra year as I did so badly in my final exams," the kooky actress told The Hollywood Reporter. "No uni would have me. So I went to Homerton in Cambridge [to become a teacher] but didn't last there for very long [because] I wasn't very good at studying."
After she left Homerton, she decided to stay in Cambridge, snuck into lectures, took part in plays and realized that acting was what she wanted to do. It was there where she auditioned for Footlights and met Robert Webb and David Mitchell for the first time, the comedy duo who would become an integral part of her success.
However, after two years studying at Bristol Old Vic drama school, she discovered life as a working actor was not going to be easy.
"I worked as a temp and cleaner for quite a long time but then Lindy King from what was called PFD took me on from the show at the end of drama school so had her on my side," Colman recalls. "She was putting me up for all sorts but I wasn't getting any auditions."
In spite of all the knockbacks, she was determined to battle on. "I was never crushed [by disappointment] because I knew I couldn't do anything else."
Sticking to her guns, roles began to trickle in for Colman and she began to land parts in the kind of dramas that fledgling actors tend to cut their teeth on, like Holby.
But Colman has her Footlights mates Mitchell and Webb to thank for her eventual success after they suggested her to the BBC for a role in their show Bruiser that this started to take shape.
From then on, she appeared in a series of comedic vehicles like Peep Show, Green Wing and Hot Fuzz, before dabbling in her fair share of dramatic roles, including Tyrannosaur, for which she won acclaim for playing an abused wife and The Iron Lady, for which she played Margaret Thatcher's daughter Carol.
Her profile was significantly raised when she landed the role of DS Ellie Miller on Broadchurch for which she scooped a Best Actress BAFTA. She would go on to appear in the BBC miniseries The Night Manageras a British intelligence operative for which she won a best-supporting actress Golden Globe.
Now she is in the process of shooting the third and fourth seasons of The Crown, having taken over as Queen Elizabeth from Claire Foy. Although the fee she has received for the role has not be revealed, she is expected to earn a lot more than the reported $40, 000 that Claire Foy was paid for the title role.
You may remember that last year, controversy raged when it was revealed that Foy's payment was revealed to be way below that of her co-star Matt Smith's, who played the supporting role of the Duke Of Edinburgh.
After a petition was raised to encourage producers of The Crownto persuade Smith and Netflix to donate part of his salary from the show to Time's Up legal fund, showrunners Suzanne Mackie and Andy Harries confirmed the shocking pay gap and assured the incoming sovereign would be paid handsomely and fairly as "nobody earns more than the Queen."
But with her role in The Crown and her Golden Globe and Oscar wins for The Favourite, Olivia can expect to enjoy a very fruitful career indeed, that will substantially increase her value and net worth of £2.8 million, made during her 20-year career.
"Olivia Colman has got it made now," former OK! Associate Editor Phil Gould tells me. "She has really grafted hard over the years and made a fair amount of money from the British shows that she has appeared on.
"But now, after having scooped a Golden Globe and an Oscar, she is a much more bankable star and will attract more job offers and looks set to earn more money in the next year or so than she has over the past twenty!"
However, Gould thinks that it may take some time for Colman to land the kind of multi-million pound movie deals that the likes of Scarlett Johansson and Emma Stone are offered. Last year, the Avengers star was named the top female earner in Hollywood with $40.5 million in pretax earnings between June 1, 2017 and June 1, 2018, thanks mainly to her lucrative role in the Marvel series.
"It's unlikely she'll be earning the same kind of fees just yet as Hollywood big hitters like Scarlett Johansson and Emma Stone, but it all depends on the roles she is offered and accepts," Gould explains.
"She's a character actress like Meryl Streep and Helena Bonham-Carter so is unlikely to land a role in a big glossy big budget vehicle straightaway. But then again, who'd have thought that Meryl famed for her dramatic roles in Sophie's Choice and Kramer Vs Kramer would have ended up doing Mamma Mia, or Helena joining the cast of Oceans 8."
He concluded: "The great thing about Olivia is she can turn her hand to anything – comedy, drama, you name it – so hopefully we can look forward to her really making a deserved mark in the US!"
But Olivia is adamant that fame is something that has never interested her. "I hate the loss of anonymity," she told The Independent recently. "No one teaches you how to deal with that. I now just tend to stay home because it's so weird not to be on an equal footing with people. They know your face, and you don't know them. It's not that people aren't lovely, but it's harder to deal with than you imagine."
But whether Colman likes it or not, her recent spate of awards has also given her an even more important status – that of 'national treasure' alongside acting legends like Dames Judi Dench, Maggie Smith and Helen Mirren.
Although Colman is a lot younger than those acting heavyweights, the great British public and her peers have taken her to their hearts and hold her in very high regard. It's hard to define exactly what makes someone a national treasure but in most cases they are folks who possess wit and warmth, who are down to earth, humble, real and who capture the nation's imagination
Actor Charles Dance – who will appear with Colman in The Crown – recently said he thought she was the Dame Judi of her generation. "I first met her when she was playing a maid in Long Day's Journey Into Night in the West End. I remember thinking, 'Oh, this is a smart girl'," he told The Evening Standard. "She has rocketed away. I don't think it's too much to say that she is her generation's Judi Dench. And like Judi, she has a wonderful sense of humour but also works incredibly hard and takes the job very seriously."
So Olivia Colman is at a very pivotal point in her career when the world is at her feet. The future certainly looks bright and whether she likes it or not, post Oscars, Olivia's life will never quite be the same again.
Source: forbes.com – How Olivia Colman Went From Cleaner To Oscar Winner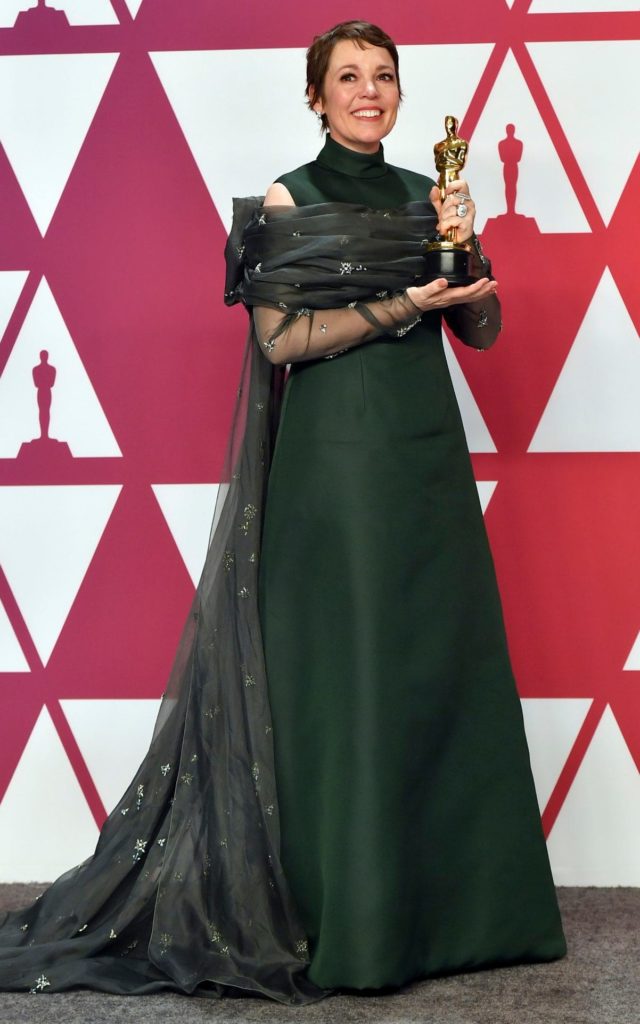 1 She performed the voiceover for the Andrex "be kind to your behind" adverts in 2013. "I did ask if I could get paid in puppies," she revealed. "They said no."
2 Her first career plan was to go into teaching. Before turning her sights to acting she trained as a primary-school teacher at Homerton College, Cambridge. "I wasn't terribly committed, and I would have been a terrible teacher."
3 As a job-hunting graduate she was told by careers-advice software that she would make an ideal HGV driver – "because I've got 100% spatial awareness. I'd be able to back them into tight parking spots."
4 During her university years she auditioned successfully for the Cambridge Footlights troupe, where she met David Mitchell and Robert Webb – in whose sitcom Peep Show she went on to star as Sophie Chapman.
5 After graduating she worked as a cleaner and secretary ("not a very good one").
6 Her preparation for the role of Carol Thatcher (Margaret's daughter) in The Iron Lady involved close scrutiny of her appearances on I'm a Celebrity… "to get her voice right".
7 In her sixth-form years, Colman attended the same school, Gresham's, as Stephen Frears (and Benjamin Britten, WH Auden and James Dyson).
8 She gained 16kg (2st 7lb or 35lb) in weight to play the cake-guzzling Queen Anne for her Oscar-winning turn in The Favourite. ("It was liberating and brilliant.")
9 She is an advocate and member of the anti-press intrusion group Hacked Off, established in the wake of the 2010 phone-hacking revelations.
10 In 2006, she played one half of a naturist couple trying to organise a naked wedding in the mockumentary Confetti – which she has described as the worst experience of her life. "I would have felt better about it had I been aware how much was actually going to be on display."
11 In a high-profile stage production of Hay Fever in 2012, alongside Phoebe Waller-Bridge and Jeremy Northam, she got the giggles after forgetting her lines. "West End audiences haven't paid to see that. I felt really bad."
12 Another onstage mishap was wetting herself when acting opposite David Mitchell. "We were doing The Miser and there were a lot of quick changes and David never quite managed to get his bow tie in the right place. It became too much to bear."
13 Toilet paper clearly plays a big role in her life: she got her husband to steal some from Buckingham Palace when they were there for a formal dinner. "He got two squares of loo roll, just to say, 'We got it from Buckingham Palace.'"
14 She deployed an under-skirt sponge as a receptacle for Emma Stone's fingers when filming a sex scene in The Favourite. "It was a big, wet sponge. So Emma went up my leg and she went, 'Ugh!'".
15 Her first name is Sarah [Caroline Olivia Colman].
16 She had to argue with Wikipedia to get her listed age changed after she spotted it was wrong by eight years. "I said, 'It's really upsetting me that you've made me eight years older than I actually am.' They said, 'We'd have to see a birth certificate to prove it,' and I went, 'Whose fucking birth certificate have you looked at in the first place to make me eight years older!?"'
17 The character she played in The Night Manager was not originally meant to be pregnant. But she was pregnant while filming, so the writers incorporated it into the script. They also incorporated lots of chairs, so she didn't have to stand up all day.
18 She once (and possibly still does) have a clown klaxon as her mobile phone ringtone.
19 She met her husband, Ed, when they were both cast in a student theatre production (of Alan Ayckbourn's Table Manners). He gave up acting early on, and is now a writer.
20 Her dog is called Alfred, Lord Waggyson.
Source: theguardian.com – Olivia Colman: 20 things you didn't know about the Oscar-winning actor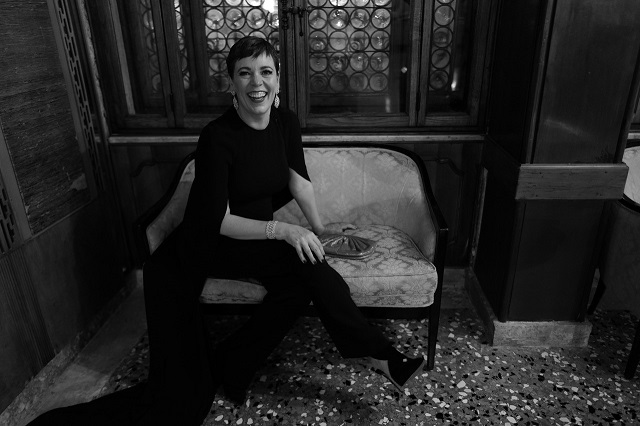 It takes a lot for a film to be nominated for even one Academy Award. But to be nominated for 10? Now, that's a feat. That's what Greek director Yorgos Lanthimos achieved with period drama The Favourite, which premieres exclusively in Ayala cinemas today, February 20.
It might have the huge hair, the big dresses, and the ornate castles, but The Favouriteisn't your typical period drama—not when Lanthimos is the mind behind The Lobster, a black comedy film where people have 45 days to find a soulmate before turning into an animal. He also helmed Dogtooth, a drama about a couple who try to keep their children as isolated from the outside world as possible. 
The Favourite stars celebrated English actress Olivia Colman as Queen Anne, the sick and spoiled royal who leaves it to her aide Sarah Churchill (Rachel Weisz) to handle the government side of her rule. Queen Anne enjoys being Her Royal Highness, while Sarah does the dirty work of her duties. But when Sarah's cousin Abigail (Emma Stone) turns up in search of a job, they start going head-to-head to become Queen Anne's, well, favorite. Needless to say, things start getting crazy. The film also starsNicholas Hoult and Joe Alwyn.
The film is a reunion for Lanthimos and The Lobster co-stars Colman and Weisz. Colman is most known from the series Broadchurch and the film Tyrannosaur but if you're not familiar with her yet, you might want to catch her as Queen Elizabeth II in the upcoming season of The Crown. She's long been known as one of the best English actresses both on TV and film, which is why her work on The Favourite has earned her many nominations and awards. She won Best Actress in a Leading Role from the British Acedemy Film Awards and she's also up for Best Actress at the upcoming Academy Awards.
Before you find out for yourself what makes The Favourite an awards-show favorite, Colman shares about her experience working on the film in this exlcusive interview. She talks about the process of preparing for her role, working with Lanthimos, her "bitches" and now-lifelong-friends Weisz and Stone, and finally making it big on the international stage.
How much did you know of the history behind The Favourite?
Not a thing. It's amazing, isn't it? The film is surprisingly accurate, because it does feel so far away from what we know to be period drama. You think it has got to be made up. But so much is correct.
I just love the way Yorgos has done it. It's not the way you think a period drama is going to be. Everything he did with the shots; the fish-eye lenses. It's all so different from any period movie you've seen before.
But, in a way, it's less about the history of the piece as it as about this woman who has lost all these children, and her love for these other women. It's less about holding yourself in a certain way, or getting used to the way people speak in period dramas. These are real people, and you can kind of smell them. They're a bit grubby and unwashed. I was actually a little nervous about it being a period drama, but it just isn't that.
How does the process of filmmaking begin?
It's all written down. Yorgos is less interested in big discussions. When a script is done, he says, throw yourself into that. You don't really need to know all the things around it. This was written so beautifully. It's obvious, the moments when she's being a cow, when she's being manipulative, or she's bored and she's childish. So we just let rip and run with it.
What did you like about Queen Anne when you read the script?
The fact that she displays every emotion, good and bad. Every trait. It's great to play somebody who does so many things. It's a challenge and it's fun, so it was a no-brainer. I really wanted to play her. It's a gift, really, to play all these things.
Did you find it personally helpful to dig into any research?
Only afterwards, which is what I often do. Otherwise, I think, you're throwing too much in. The work has been done for you if it's a good writer. I think, What could I possibly find out that the script hasn't already told me? It's there in the scenes between Anne, Sarah, and Abigail. You feel Anne's frustration in the film. I wouldn't want her job. You can't really trust that anybody genuinely likes you. Everyone is just waiting to get their own needs met at all times, and you believe that of Sarah, but you find out she might be the only one genuinely there for Anne. She might be the love of her life.
You've worked with Rachel before, on The Lobster, which Yorgos also directed.
Yes. Rachel and I only had one scene in The Lobster, where she was instrumental in tying me up. I remember that we got on very well, very quickly. She's a lovely, fun person. Emma, I'd never met. Yorgos held a lovely little dinner, for us to meet each other, and she came in full of energy and you instantly think, Oh, I'm going to like you. We will be friends for life, I think, the three of us.
Rachel had done a lot of theater and physical theater as a young woman, and Yorgos loves to rehearse in a physical way. So it was so much fun to do that with her. She was gung-ho, throwing herself into it, and so brave. It's a joy to work with someone like that, because once one person has gone for it, it encourages the rest of you to go, "Great, let's all jump in." There was no embarrassment here at all.
Yorgos seems particularly interested in awkwardness and embarrassment, and a lot of this film deals with those things.
I think that's true. I think that comes through the rehearsal process, especially for The Favourite. He comes from theatre too, so we'd play classic theatre trust games and things like that. You become very close, and that really helps. It's not like you're meeting on Day One, "How do you do?" And then you're shooting a sex scene. That's hideous.
Also Yorgos has no embarrassment, and it always starts from the top. He's a disarmingly big, gentle bear. He's lovely, warm, friendly. I only once saw him roll his eyes and go, "Ugh," and it was when I asked him what happened to the girl at the end of Dogtooth [laughs]. He went, "Ah, I don't know. The film is finished, make your own mind up." He puts it all up on screen and then it's up to you to decide.
You want to impress Yorgos. He wants you to be human, and real, so you go for it. You're snotty and spitting. I wanted him to think, "Oh, good. She's willing to be disgusting." I think we all felt that. We always want to see him do a little smile and nod at the end of a scene.
You say it's not a traditional period drama, but you do get to wear some spectacular costumes in the film. Did you enjoy that aspect of it?
I loved them. It's Sandy Powell [Powell is a three-time Academy Award winner and an 11-time nominee]. The Queen's clothes were hilarious. I spent most of the film in a nightie, so I was fine. Poor old Emma and Rachel were a little more tailored. I was eating cake and pizza and trying to keep as fat as possible, while wearing a big, flowing nightie.
Yorgos encourages his team: "Come on. Surprise me. Do something bold." So you have Nadia Stacey, the makeup designer, coming up with such fun looks. In the ball scene, you may not even notice them, but instead of those heart-shaped beauty marks you see, she came up with stencils of horses and carriages. Taking something we've seen before, but making it bonkers. Sandy was the same way. A flash of red, or the servants wearing denim. There's so much to see from all these different inputs, and Yorgos gave everyone the courage and free rein to have fun. Everyone was told, "Do it. Nothing is too silly."
You've been on British screens for a while, and now you're enjoying international success. How hard fought has that been?
It's been a long, slow road, but I feel very blessed. I've always worked. Apart from the first couple of years, I'm also grateful for that because it teaches you to push. I suppose you come into your own. There are more roles now for women in their 40s, and the roles get more interesting because they lean on that experience. It used to be over once you're passed the ingenue thing, but those voices are being heard now. People go, "I want to see myself depicted, because I'm the one in charge of the remote control and I'm paying the bills." Love doesn't just belong to people in their 20s. I'm thrilled those parts have come around for me.
Source: spot.ph – A Conversation With the Oscar-Nominated Olivia Colman, the Star of The Favourite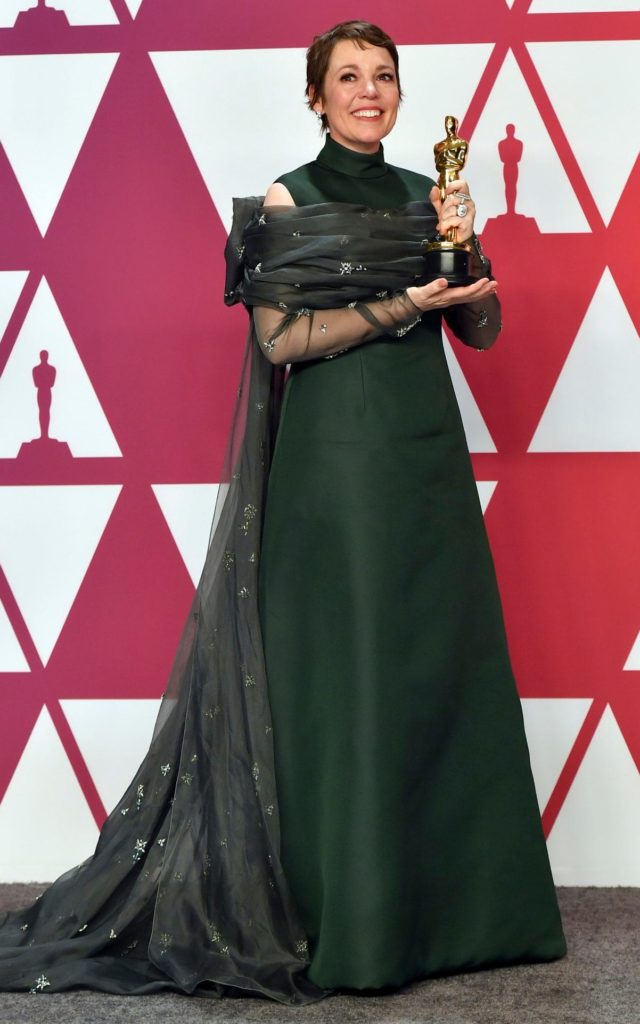 I suspect Olivia Colman is secretly quite relieved that awards season is over. Not because she doesn't want to keep adding prizes to her mantlepiece, of course she wants to do that. But more because it will mean that, for a few months at least, she might not have to do another publicity appearance.
Colman has never been a star who pretends that she loves red carpets. She has until now, with all this global attention for her role as Queen Anne in The Favourite, been a rooted British television star, a national, not international, treasure. She had never partaken in the glossy, pompous American red carpet circuit before, and if ever she did pick up a gong at, say, the BAFTAs for Broadchurch, she usually wore black. The first time she won a Golden Globe, back in 2017 for The Night Manager, she famously skipped the ceremony, and only found out that she had won the next day, when she switched on her phone after going to bed at a sensible 10pm.
It is perhaps self-deprecation, rather than irreverence, that has prevented Colman from finding her inner 'red carpet star' in the past. Following that Golden Globes miss, she told the BBC, "I looked at the list and thought 'I won't win in that group'", and later regretted missing out.
Before promotional duties for The Favourite began, she hired the former Vogue stylist Mary Fellowes- and a visible confidence has appeared. Fellowes has dressed Colman in well-cut, subtly glamorous pieces by Stella McCartney, Emilia Wickstead and Roksanda on the tour so far, yet Colman keeps her feet on the ground, having the fittings at home in her lounge with her tea and her dogs, rather than in some fancy atelier.
She's taught her to make subliminal points about her personal values via her clothing. All of those brands are helmed by working mothers or are family-owned. Sometimes the duo choose to highlight labels with strong sustainability principles, other times it's about giving a platform to a new affordable brand, like London start-up The Fold. If her dress is classic, she's wearing an eye-catching accessory.
"Olivia is a strong woman, a working mother and an independent thinker," Fellowes said recently. "All I've ever sought to do with her clothing is to make her feel empowered and like herself."
A publicist recently told me that her client, a male designer helming a British label, wasn't interested in dressing Colman because he couldn't be bothered to make a custom dress for her that wasn't sample size. His loss. Colman, I think, is one of the most relatable-looking women on the red carpet this year, and in a world where fashion 'influencers' (real women blogging about how they dress their real bodies on Instagram) have become one of the most powerful advertisers for clothing, I'd say that Colman's look is more relevant and desirable than any other celebrity in attendance at the Oscars.
Getting dressed up, in most circumstances, is a bit of fun, but when you're a nominee navigating a promotional tour it becomes a chess game. Looking good is currency in Hollywood and the parade becomes an exercise in personal brand positioning.
Are you considered 'stylish'? If the answer to that question is yes, then all sorts of lucrative opportunities, namely big fashion and beauty contracts, can come your way. After a successful run of glamorous appearances in dresses by Calvin Klein, Givenchy and Gucci during last year's awards season, Margot Robbie was awarded a Chanel ambassadorship, meaning that she will star in advertising campaigns for the Parisian house. The trajectory for the former Neighboursactress was entirely strategised by her stylist, Kate Young, and announcing the ambassadorship whilst wearing Chanel to the 2018 Oscars was almost as big of a prize as if she'd actually won the gold statue.
Colman, I suspect, doesn't care about all of that. But now she is in a position where she could pursue these deals if she fancies it. Her sleek, considered style has been honed by her stylist, sure, but the personality and relatability that she brings is all her own and it's what rare. She is, by all accounts, the new Fashion Favourite. Whether she actually wanted to be, or not.
Source: Telegraph.co.uk – How Olivia Colman became the red carpet's most relatable style star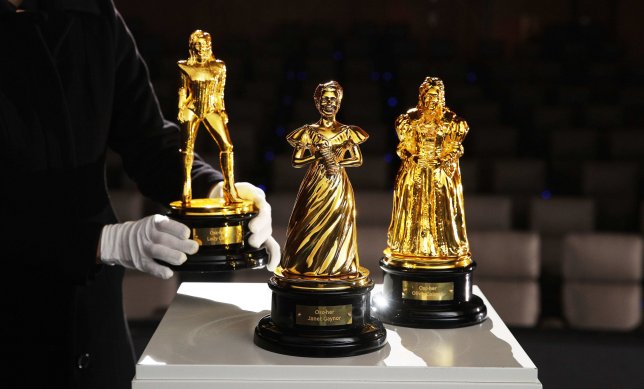 Lady Gaga and Olivia Colman have been given the Oscars treatment, as the Hollywood stars were turned into their own versions of the gold statuettes ahead of the Academy Awards later this month. It comes after a surge of support and celebration for women in film emerged ahead of this year's ceremony. The applause for the likes of Gaga, who is a hot contender for the best actress award for her role in A Star Is Born, as well as Olivia for the same category for her turn in The Favourite, prompted ODEON Cinemas to produce a range of 'Osc-her' statues.
Oh, Osc-her? We see what you did there, you saucy cinema. Gaga and Liv are both up for best actress, but in this glass case of emotion world they're both winners.
The two actresses have also joined Janet Gaynor – who was the first ever woman to win an Oscar – in all their golden glory, unveiled at the Luxe Leicester Square on Monday morning. Apparently the whole thing came about after the cinema chain found 3/4 Brits are keen to see more women represented in the film awards show. Well, we could have told you that! And this year is special in its own right, as Lady Gaga, who found fame as a singer, is straddling both the best song and best actress categories. That's fresh from a Baftas, Golden Globes and Critic's Choice Awards win. While we'd love to see what Olivia's acceptance speech may be, judging by the past times we've seen her on stage this year. 'It's been fantastic to see such a strong line up of talented women up for award nominations this year,' Carol Welch, Managing Director, ODEON UK and Ireland said as they unveiled the timely awards. 'We've been treated to a fabulous set of films with The Favourite and A Star is Born as stand out highlights, so it's no surprise to see the high hopes for Olivia Colman and Lady Gaga.' Guess this is where we tell you the gold likenesses are not going to be used on the night, with the traditional Oscars statuette – you know, the dude – being rolled out for the hardworking winners.
Source: metro.co.uk – Oscars statuette gets modern reboot as Lady Gaga and Olivia Colman turn into legendary gold awards