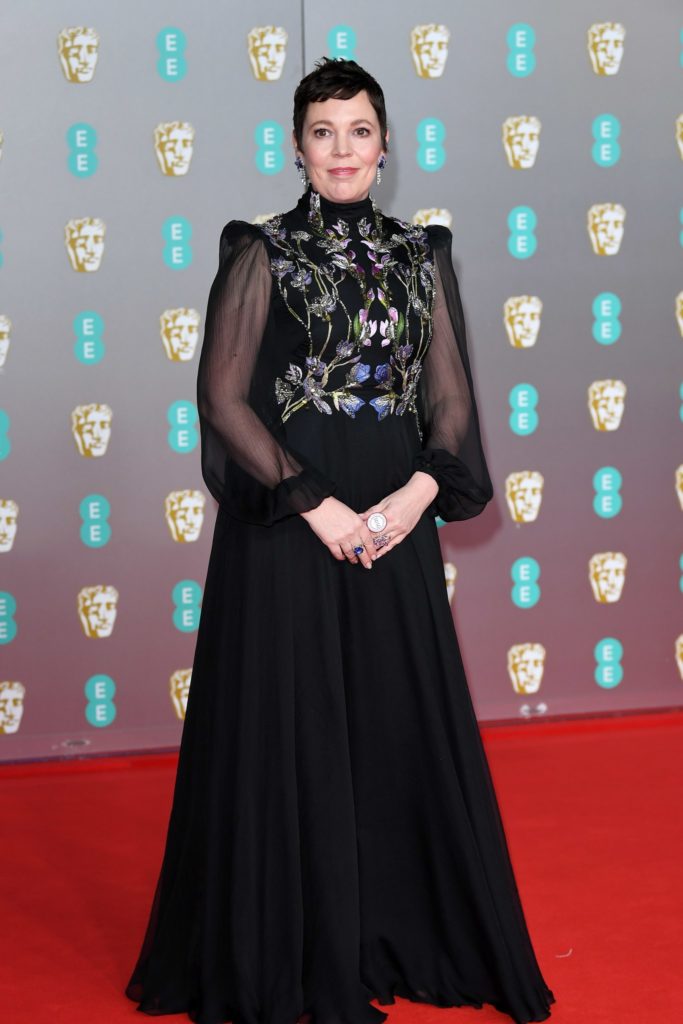 "Who did your make-up? You look like a badger," might be one of the best lines from the film The Favourite, for which Olivia Colman won the Best Actress Oscar in 2019. When it comes to red carpet make-up, however, she's quite rightly a little less experimental. Take Sunday night's BAFTAs 2020 make-up look: drawing on the purple, blue and pink tones in her embroidered Alexander McQueen gown, her look was softly romantic yet modern, with pink and lilac eyeshadows accented with dark, glossy lashes and defined brows.
"Olivia is so trusting and open to ideas, and I'm also partial to her make-up having a 'fresh factor,'" her make-up artist Sarah Uslan told British Vogue. Uslan first worked with the star when she came to Los Angeles in 2011 for a screening of her film Tyrannosaur. "Even if we go for a bold lip and big doe eyes, it's always balanced with her natural-looking skin and a feathery brow."
The getting ready process is delightfully fuss-free, Uslan insisted. "Getting Olivia ready certainly does not feel like work; it's lots of laughs, some yummy snacks and a pot of tea," she said. The hard work starts beforehand. "The conversation always starts with the dress. Miranda Almond, her stylist, will send a picture to her hairstylist Marcus Francis and myself, sharing her thoughts for make-up and hair, and then letting us run with it. Olivia is so trusting that once she's in the chair and we've talked through some ideas, she sometimes doesn't even look at herself until the very end, by which time she gives us a smile and says, 'Well done.'"
Uslan made Colman's naturally big, beautiful eyes the main feature of the actress's beauty look for the BAFTAs. Keeping the complexion bare until after the eye make-up had been completed – "so that if any shadow falls, I can quickly clean up with some moisturiser and keep the skin fresh and flawless before foundation" – she administered a quick facial massage using a tool like a Gua Sha.
Then, Uslan opted for the Marc Jacobs pink and lilac Provocouture Eye Palette. First, she applied the "You Might" shade all over the lid followed by "Otherwise" in the crease; then "Sat It" over the centre of the lid to add a pop of highlight. Accenting the eyes with Marc Jacobs Highliner Gel Eye Pencils, she used "Ro(cocoa)" at the lash-line and then double-lined with "Plum(age)". "I then used a small brush to blend the seam of the liner and give a smoked-out effect." Uslan followed with "Luna(tic)" to give a subtle lilac highlight at the corner of her eyes, adding a little more "Plum(age)" and "Ro(cocoa)" at the bottom lash-line to accentuate her eyes. To complete the look, she used Marc Jacobs Velvet Epic Lash Primer to build up the length and volume of lashes, and then applied Velvet Noir Major Volume Mascara.
Creating a perfect base with Marc Jacobs Under(Cover) Blurring Coconut Face Primer and Shameless Youthful-Look Foundation, as well as Fair 10 concealer in the inner corner of the under eye mixed with Light 20 across the undereye to conceal and lift, she kept the rest of the make-up natural but glowing, with a touch of Glow Stick Glistening Illuminator on her temples and cheekbones.
How does she ensure the look lasts all night long? "I usually send Olivia out of the door with a bit of powder for the T-zone, her lip colour (last night's was Marc Jacobs Lip Creme in "Kiss Kiss Bang Bang") and sometimes a pea-sized amount of concealer," said Uslan. "The trick is making it all fit in her teeny-tiny beautiful clutches. It's always like a Tetris challenge."