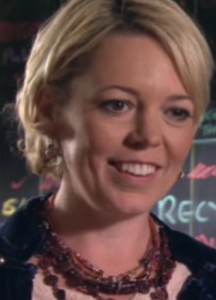 British actress Olivia Colman speaks softly and with great modesty but perhaps that's wise. Her talent speaks loudly on its own behalf by way of ntroduction. Though British audiences have embraced her comic talent for years now, international audiences are just now getting to know her as a dramatic force. She's utterly devastating as a meek Christian shop owner in the violent drama Tyrannosaur. The film, directed by the actor Paddy Considine (In America), is gathering a small but very vocal fanbase who think Colman really ought to have a Best Actress nomination in her very near future. Later this month, she'll be onscreen again as Carol Thatcher daughter of The Iron Lady, but even if you exited the first movie only to immediately enter the latter, you'll scarcely recognize her from one film to the next.
We spoke briefly on the phone recently about her rising stardom, drama and comedy acting muscles, and having a living legend as a co-star.
Nathaniel: Have you been able to soak in all of this attention from Tyrannosaur? Your name being on the awards radar here in the US and such?
OLIVIA COLMAN: Not really. it's quite surreal. Because it's not my first job. I'm 37 and i've been working for a long time. So… [long pause]  This job means so much to me that I'm thrilled that people are liking it. That's the best thing about it, that other people are taking it to their hearts as much as we all did.
Nathaniel: Your involvement with Tyrannosaur goes way back. You were also in Paddy Considine's short film "Dog Altogether" about the same characters. Did this feel like a do-over? What was it like going back?
COLMAN: lt felt different. A lot of the scenes from the short were also in the feature and the reshooting of those scenes that we'd done years before were the hardest to film. It's weird because it's like an echo. You can hear yourself. You've already said it but years ago. It felt very different apart from that because we suddenly had a sense of a much longer journey. In the short I didn't know about Hannah's backstory at all.
Nathaniel: This gave you a chance to dig deeper then?
COLMAN: Yes. It's lovely to get your teeth into it.
Nathaniel: In terms of Hannah's religiosity and her generous nature. How did you approach constructing her? A lot of religious characters in cinema aren't, well, sympathetic like this.
COLMAN: It was so clear from the page. Paddy had written it so beautifully you just had to do what was written, really.  I knew who she was straightaway. Even if she hadn't been a Christian of good faith, she would still have been a good person. Her faith is sort of her protection and her armor but even without it, I would have known who she was.
Nathaniel: Paddy is such a brilliant actor but he's not in front of the camera for this one. So what it was like being directed by a fellow thespian?
COLMAN: Amazing! It made such a difference. I don't imagine all actors can direct at all. I think probably a lot of them would be terrible but he was so comfortable on that side of the camera. He knew how difficult he found it in front of the camera and he made sure we never felt like that. We always felt safe. He's an extraordinary creature. He would say exactly the right thing to get you to the right place. I've said this before but I think he could get a performance out of a log. He's amazing, just taps in. Everybody wanted to make him proud. And he's a great leader of people. A little thumbs up at the right moment would made someone feel 10 feet tall.
For those of us who don't act, we always assume that sets of intense brutal dramas like this one must be sober or difficult to be on. But maybe it's not like that exactly.
OLIVIA COLMAN: No, we had a really jolly time! We were all doing something we felt passionate about. Everyone was up in their game. There were a lot of people who were very funny on set. Peter, Eddie, and Paddy – hilarious people. You have to have a little giggle after you've done some of those scenes. You have to go have a drink together and laugh or you'd go mad.
Everyone is so cruel to Hannah in the film, even Joseph (Peter Mullan). He's trying to be kind but he's actually cruel.
Well, yes. He starts off being cruel. It's his defense mechanism. He's scared as well, underneath. But he ends up rising to the challenge and being her rock. They are each other's rocks which is a rather beautiful thing.
Since you had this opportunity to revisit Hannah and expand the character, which other character of yours would you love to revisit?
Ooh, that's a good question. I have no idea. [Pause]. I did a school play of The Prime of Miss Jean Brodie and I'd like to do Jean Brodie again now that I'm a grown up rather than a 16 year old.
You played Jean Brodie at sixteen [Laughter]!? That's an interesting character to bring up because she has such odd concepts of her age and time and the way her life has developed.
I probably didn't have a clue what was going on with it at 16. I don't think I had a clue what it was really about! That'd be quite fun to do now.
You've been working for a long time and prior to Tyrannosaur it was mostly comedic work. What was your first American movie experience like? Amy Heckerling's I Could Never Be Your Woman. I know that was a really long time ago.
I haven't seen it! I don't even know if I made it to the edit. I went to do that job ten days after having my first child. My husband came with me. We were both sort of tired and emotional and of all people to stand next to, you know, still in shock having just had my first baby, I had to stand next to Michelle Pfeiffer. I thought 'Somebody somewhere is having a laugh! Standing next to this? She's more beautiful than any human I've ever seen and I've got sore boobs and breastfeeding. This is not fair!'
It was a funny old moment.
Do you consider comedy a different acting muscle than drama?
I don't know actually. I think you still have to commit to it and throw yourself in. Comedy people — often when they try to play the comedy it doesn't work. It still has to be real, do you know what I mean? So, no, not really.
It's scarier for me doing what I did for Tyrannosaur because I felt that some people would watch this who knows what it feels like and I don't want to let them down.
So did you do research into abused women?
A little bit. I went to talk to two lovely women who work for a charity called Refuge in the UK which helps victims of domestic violence. They answered a lot of my questions. My preconceived ideas about domestic violence… they put me straight on a few things. They gave me case studies to read which were just shocking, much worse than anything you saw on screen. That sort of informs your performance in the back of your head.
Have you given any thought to the Oscar buzz? Do you read reviews?
I find it hard to read reviews. I'm not so thick-skinned. I don't tend to look at reviews unless a friend has looked beforehand. 'It's all right, they liked it!' If people love our film, Paddy's film, than nothing could be better. But I don't expect it to happen. It would be amazing, it would be a dream, but there's no point in pinning your hopes on it. It does seem rather like a fairy tale and not possible.
Especially for something so dark.
It's quite a hard sell on the face of it. Do you go to a big budget beautiful Avatar type film or do you go to watch this thing that might upset you? But I think [Tyrannosaur] is redemptive and beautiful.
In your next two films you're playing two characters that are very famous to British audiences, Queen Elizabeth in Hyde Park on Hudson and Carol Thatcher in The Iron Lady. How intimidating is it to play celebrities?
Queen Elizabeth was not so intimidating. This was her in 1939 which is not recent memory and there aren't an awful lot of recordings of her voice. I was terrified of playing Carol. There's a real person still there who could watch and I didn't want to offend or get it too wrong.  So I had to go with broad brush strokes, I suppose, sort of hint at her. She's got quite a well known voice, the way she speaks. So I took some of that and then had to make her my own. I hope she doesn't mind.
In The Iron Lady you're working with a living legend Meryl Streep and Jim Broadbent who is also such a fantastic actor. Did you have a lot of time with them or did you all show up, characters formed?
We had a bit of rehearsal, mainly to work out tricky camera moves. The camera is trying to capture her thought process [Margaret Thatcher's] but from a distance. We had to work out where we were standing for what scenes. It was more of that than character work — that had to be done on your own. I'm so grateful that Jim was there. I've worked with him a couple of times before that and he's just the nicest man in the world. It took the edge off that I was having to stand in a room with a minor deity, MERYL.
It turns out Meryl is such a lovely woman so you forgot about being nervous after a few moments in her company.
Was that odd to watch her go between her character and herself between takes?
Yes. It's hard to remember that underneath this character makeup is this ethereal beauty with these wonderful cheekbones and nose and things. That was all hidden. I'm quite grateful it was hidden. It would have been harder to be normal remembering "Oh my god you really are Meryl Streep!". She was lovely and it was amazing that she would just flick between two voices without batting an eyelid.
I've loved Jim Broadbent for a long time in Mike Leigh movies and elsewhere. He's played your father twice now so are you required to send him cards for Father's Day?
We do text each other "Hello Daddy!" / "Hello Daughter!" [Laughs] I'd love it in my contract if I always had to play his daughter and he always had to play my daddy. It'd be brilliant. At the end of The Iron Lady –I think it was around mother's day —  I gave a mother's day cupcake to Meryl and a father's day cupcake to Jim so no parents were upset.
I'm sure they're tough to follow as co-stars but who would you love to work with next? I know I'd love to see you in a Mike Leigh movie.
Would you? [Laughs] I don't know if I'd be any good! I don't think I'm very good at improvising. Eddie Marsan [her screen husband in Tyrannosaur] is a genius at it. Well, I'd love to be in it but I don't think I'd make the grade. I don't know. Obviously anything Paddy does ever, I'd do. I'd so anything he does. Even if I was just the girl making tea.
So Queen Elizabeth and Carol Thatcher. Two famous Brits in a row. Will you make it a trilogy?
I'm afraid I have no say in it. I'll go for auditions and see if i get them.
Well, the offers will surely be rolling in after Tyrannosaur.
Maybe. But don't tempt fate. I might never work again!
Source: thefilmexperience.net – Olivia Colman on Tyrannosaur and mumsy Meryl Streep