david tennant
BROADCHURCH stars will be among the celebrities at a special charity celebration in Hampshire.
David Tennant and Olivia Colman who played DI Alec Hardy and DS Ellie Miller in the ITV Show will take part in the event at Winchester Cathedral on December 7.
It is in aid of Breast Cancer Haven in Titchfield and The Murray Parish Trust.
Other high profile personalities from the world of TV and film who will take part include Downton Abbey star Hugh Bonneville and actor Timothy West CBE.
There will also be a performance by renowned soprano Claire Rutter, along with festive performances by a variety of Hampshire musical groups including Winchester Cathedral Girl Choristers.
BBC South Today presenter and chair of The Breast Cancer Haven Development Board Sally Taylor said:"Once again, we are extremely grateful for this generous support from our high profile friends. We are delighted to be working closely with The Murray Parish Trust to deliver something very special for Winchester Cathedral this year."
Actress and co-founder of The Murray Parish Trust, Sarah Parish said: "We are so lucky to have such big names supporting this event and we will be doing everything we can to ensure that this will be a night to remember to raise as much funds as possible for these two incredible local charities."
From September 600 tickets will be available. To register your interest or if you would like to be involved with or support the event in any way, contact Sally Hillyear on Sally.Hillyear@breastcancerhaven.org.uk or Sam Robson on sam@themurrayparishtrust.com
Source: hampshirechronicle.co.uk – Broadchurch duo among TV and film stars to take part in special celebration at Winchester Cathedral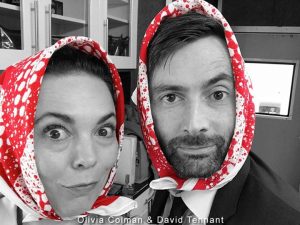 The 'Broadchurch' co-stars will continue working together once the popular ITV crime drama draws to a close after the current series as they are teaming up for their very own comedy musical stage show, which Olivia, 43, says she and the 45-year-old hunk will write together and hopefully star in.
According to the Daily Star newspaper, Olivia said: "We do have plans to work together again – we think it would be fun to do something like a panto.
"We would have to put us in it to play the Ugly Sisters."
Olivia – who portrays Detective Sargent Ellie Miller in 'Broadchurch' – clearly didn't find it difficult working with David, who recently admitted he was like a "grumpy old man" when he was shooting the hit show.
The nation may be preparing itself for mourning when the third installment – the final series to ever hit screens – comes to an end next month, but David – who plays DI Alec Hardy in the crime drama – admitted he was glad it's almost over because he was sick of having to keep the storylines and scripts under lock and key for most of the year.
He recently said: "This is it. I think we should do three and leave them wanting more.
"It's always been the way. Anything that's a thriller has elements you want to hold back. Being on the show gets really tiresome because everything is sent with a password. One script has one password, another has another password. I just can't keep up. I end up being a grumpy old man saying 'just send me some paper!'"
Source: sundayworld.com – Olivia Colman and David Tennant planning a pantomime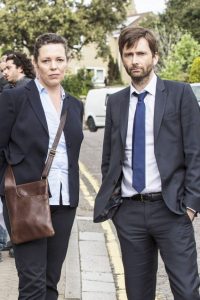 David is back as Detective Inspector Alec Hardy while Olivia is reprising her role as DS Ellie Miller.
Coronation Street star Julie Hesmondhalgh has also joined the cast for the highly-anticipated series.
The soap legend will play Trish Winterman, the victim of a rape that Hardy and Miller are tasked to investigate.
Despite recently revealing that the end of the show feels like "a loss," David has admitted he's not surprised by the decision to end Broadchurch now.
Speaking from the set of the show, the actor told Digital Spy: "We were only ever going to do one.
"Then when the idea came to do more, it was presented as 'Let's do another two and then walk away' so it's not really been a shock."
Olivia added: "I think it seems right."
"The whole point [with the first series] was that a terrible thing had happened in a beautiful place, a place where things like this don't happen," she explained.
"If you get to series 10, it's hard to believe that anymore.
"It's a lovely job, I'd happily do it every couple of years. But I think ending it is the right thing to do."
Having filmed just five of the total eight episodes when the interview took place, the stars couldn't give too much away of how their characters will end up.
They did admit, however, that they were apprehensive they'd be killed off.
Olivia said of the series finale: "It depends how annoyed Chris is with us – he might kill us off.
"He's very certain that it's the last series, isn't he?"
David agreed, adding: "Which does make you wonder if there's some kind of terminal full-stop?"
"Yes…to make sure they can't ask him to bring it back!" Olivia joked.
45 year old David recently confessed he is "sad" to say goodbye to his character Alec.
Speaking to Radio Times, he admitted: "What will be sad is that we'll never go back to it.
"The star then revealed that despite the show's dark subject matter, the actors have always enjoyed their time on set.
"It's always been there as a sort of friendly, comfortable place that we'll return to," he said. "But now that doesn't exist anymore, it does feel like a loss."
Source: OK.co.uk – David Tennant and Olivia Colman admit they feared they would be killed off 
Award winning drama Broadchurch resumes filming in Dorset this summer with an impressive ensemble cast confirmed to appear in the third and final series.
David Tennant and Olivia Colman reprise their roles as DI Alec Hardy and DS Ellie Miller with Jodie Whittaker and Andrew Buchan returning to play Beth and Mark Latimer.
They will be joined by National Television Award winner Julie Hesmondhalgh, BAFTA winner Georgina Campbell along with Sarah Parish, Charlie Higson and Mark Bazeley who take significant roles in the eight part series to be co-produced for ITV by Kudos, Imaginary Friends and Sister Pictures.
Arthur Darvill also returns as local Vicar Paul Coates, Carolyn Pickles as newspaper editor Maggie Radcliffe and Adam Wilson as Ellie's son Tom.
The new series will herald a brand new case for Miller and Hardy with the detectives reuniting to investigate a serious sexual assault.
"This is the final chapter of Broadchurch," said Chris Chibnall. "We have one last story to tell, featuring both familiar faces and new characters. I hope it's a compelling and emotional farewell to a world and show that means so much to me."
The series explores the consequences of a serious sexual assault as a Dorset community comes under the scrutiny of Hardy and Miller's investigation. Based on a year of research with Dorset-based organisations who specialise in dealing with victims of sexual assault, and police advisors who specialise in investigating crimes of sexual violence, Broadchurch's final chapter looks at the emotional cost to all of those involved and the irreparable damage to friendships and relationships.
ITV's former Director of Drama Steve November and Controller of Drama Victoria Fea have commissioned the new series.
"Broadchurch is as ever stylishly written, provocative and thought provoking," said Victoria. "We're pleased with the direction Chris and Jane have taken this series and the extraordinary cast they've assembled."
Broadchurch will be executive produced by Chris Chibnall (Malaterra, The Great Train Robbery, Torchwood) for Imaginary Friends and Jane Featherstone (River, Humans, Gracepoint) for Sister Pictures. Dan Winch (Indian Summers II, What We did On Our Holiday) will produce the final series. Broadchurch is a co-production with Kudos, an Endemol Shine Group company.
"Broadchurch has been an important part of my life and I am so delighted and privileged to be working with Chris and the team again as we embark on the very final series," said Jane Featherstone. "We will return to the town and characters we know so well as they find themselves caught up in a new and compelling story which will test the strength of the community and the people who live there, and will, I hope, be a fitting end to this trilogy."
On behalf of co-producers Kudos Chief Executive Officer Diederick Santer said:
"Kudos are delighted to be working in partnership with Chris and Jane once again, on what promises to be the thrilling final chapter of Broadchurch."
The series will be directed by Paul Andrew Williams (The Eichmann Show, Murdered by My Boyfriend), Daniel Nettheim (Doctor Who, Humans, Line of Duty) and Lewis Arnold (Banana, Prey, Humans).
Filming will commence this summer in Bridport, West Bay and Clevedon, which have featured as locations in Broadchurch series one and two.
Source: unrealitytv.co.uk: Broadchurch series 3: David Tennant and Olivia Colman return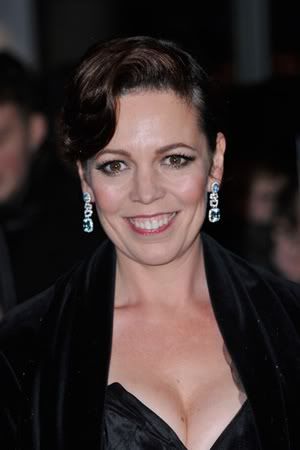 Olivia Colman appears to have been cast in Broadchurch, according to her agent's website. The drama, to be produced by Kudos for ITV, has been created by Chris Chibnall based on the BBC Four hit Danish detective series The Killing. It will be directed by James Strong and produced by Richard Stokes. David Tennant has been strongly linked to the lead role by a number of press and industry sources.
Olivia's artist entry on the United Agents website lists her past and current projects, and also says:
"Projects to be filmed later this year include TV Dramas RUN for Channel 4 and BROADCHURCH for ITV1 and the comedy feature films CUBAN FURY for Big Talk and I GIVE IT A YEAR for Working Title."
Olivia Colman is well known for her comic roles in Peep Show, Twenty Twelve and Rev; however she is also a powerful dramatic actor, appearing in Exile and The Iron Lady and she gave an award-winning performance opposite Peter Mullan in Tyrannosaur.
More production details can be found at the website of costume designer Roy Holman, whose impressive CV includes work on Doctor Who and Torchwood. This states that his work on the series starts from July. Shooting the series is believed to commence in August, and filming appears to continue until December 2012. On Ray Holman's webpage, David Tennant is listed as one of the principal actors for Broadchurch.
As yet, casting and details about specific roles have yet to be confirmed by either ITV or Kudos.
Source: dt-forum.com – Olivia Colman to join David Tennant in Broadchurch