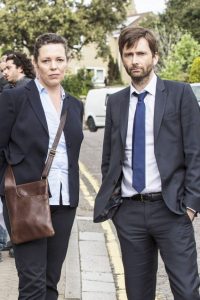 David is back as Detective Inspector Alec Hardy while Olivia is reprising her role as DS Ellie Miller.
Coronation Street star Julie Hesmondhalgh has also joined the cast for the highly-anticipated series.
The soap legend will play Trish Winterman, the victim of a rape that Hardy and Miller are tasked to investigate.
Despite recently revealing that the end of the show feels like "a loss," David has admitted he's not surprised by the decision to end Broadchurch now.
Speaking from the set of the show, the actor told Digital Spy: "We were only ever going to do one.
"Then when the idea came to do more, it was presented as 'Let's do another two and then walk away' so it's not really been a shock."
Olivia added: "I think it seems right."
"The whole point [with the first series] was that a terrible thing had happened in a beautiful place, a place where things like this don't happen," she explained.
"If you get to series 10, it's hard to believe that anymore.
"It's a lovely job, I'd happily do it every couple of years. But I think ending it is the right thing to do."
Having filmed just five of the total eight episodes when the interview took place, the stars couldn't give too much away of how their characters will end up.
They did admit, however, that they were apprehensive they'd be killed off.
Olivia said of the series finale: "It depends how annoyed Chris is with us – he might kill us off.
"He's very certain that it's the last series, isn't he?"
David agreed, adding: "Which does make you wonder if there's some kind of terminal full-stop?"
"Yes…to make sure they can't ask him to bring it back!" Olivia joked.
45 year old David recently confessed he is "sad" to say goodbye to his character Alec.
Speaking to Radio Times, he admitted: "What will be sad is that we'll never go back to it.
"The star then revealed that despite the show's dark subject matter, the actors have always enjoyed their time on set.
"It's always been there as a sort of friendly, comfortable place that we'll return to," he said. "But now that doesn't exist anymore, it does feel like a loss."
Source: OK.co.uk – David Tennant and Olivia Colman admit they feared they would be killed off