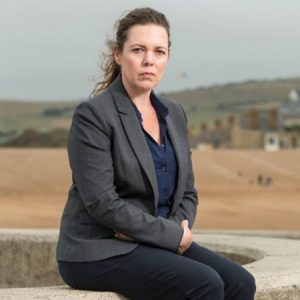 Few people saw the immense global success of Broadchurch coming – least of all, the show's creator Chris Chibnall.
The writer looks back in wonder at the humble origins of the drama, which features Detective Inspector Alec Hardy (David Tennant, Doctor Who) and Detective Sergeant Ellie Miller (Olivia Colman, The Night Manager) investigating gruesome crimes in the close-knit community of Broadchurch on the beautiful Jurassic Coast in Dorset.
On the eve of the third and final series, Chibnall reflects that, "It's been an extraordinary journey – from tiny beginnings inspired by a walk in 2011 along the Jurassic Coast where I live, to a global success in 180 territories, with two international remakes, a novel adaptation, and Broadchurch walking tours that take a similar route to my first walk. It's been quite a ride."
Chibnall, who will take over from Steven Moffat as the show-runner on Doctor Who, continues that, "We've kept a lot of secrets, had a lot of fun and, hopefully, given people another reason to stay in."
In this season, regulars Colman, Tennant, Jodie Whittaker and Andy Buchan are joined by Julie Hesmondhalgh, Sarah Parish, Lenny Henry, Mark Bazeley, Georgina Campbell, Charlie Higson and Roy Hudd.
This time, Hardy and Miller are desperate to find out who sexually assaulted farm-shop worker Trish Winterman (Hesmondhalgh, who played Hayley Cropper on Coronation Street).
Forty-three-year-old Colman outlines where Miller – still coming to terms with the fact that her husband murdered a teenage family friend – is at the start of the third season of Broadchurch.
"We discover that her dad is living with her after her mum has passed, but I think she is finding family quite annoying. She is on her own so her dad's help is great, but her son…
"It's not easy at the best of times for a teenager, but he knows what his dad was put away for, so it's pretty hard and he is becoming a bit of a pain in the backside. So it's all quite trying for Ellie and I think it is probably quite nice for her to be at work."
Former Timelord Tennant, 45, chips in by explaining where viewers will find Hardy when they return to Broadchurch.
"It's a few years down the line and some stuff has happened in the interim which we will find out as the series unfolds. At the end of series two, we didn't know if he was getting in the cab or not…
"It turns out he did, but he has found his way back to Broadchurch and has found his way back to working with Ellie again. Although he is never entirely happy with his lot, he realises that this is probably where he is meant to be and that Ellie is the closest thing he has to a best friend."
Colman, who has also gained plaudits for her work on Peep Show, Twenty Twelve and Accused, is delighted that the latest season of Broadchurch is tackling such an important subject.
"We know that every moment of every day there is someone reliving something like what Trish has gone through. The bravery of Trish is so fantastic to show.
"It's also important to show that there are people who want to help you and who offer their time and protection and love.
"If you have the bravery to ask for help, it is all there. That is a great thing to show people.
"Speak out, don't let anyone get away with this."
The actress adds that, "I'm really pleased to be a part of this story, and it's amazing how people don't know how common this is. People need to know, I think.
"We have to do whatever it takes to stop this happening. We need to put everything we can into teaching and helping people to repair the damage. People have a right to be themselves and not to feel scared."
The Broadchurch crime stories are always compelling but, above all else, it is the chemistry between Miller and Hardy that ensures audiences keep coming back to this drama.
Colman muses that, "Chris has written these two characters brilliantly. They are really good mates – possibly each other's only mate. They need each other and it is quite funny – a bit like watching the old Hinge and Bracket, two old ladies always having a go at each other.
"It feels like they have been friends for longer than they have, the way they bicker. But they clearly deeply respect each other and would staunchly defend each other against other people.
"I think it makes people feel quite secure, watching their friendship. Maybe it just makes them laugh at how horrible they are to each other, even though they clearly love each other."
As she contemplates the end of this hugely successful show, Colman concludes, "It really helps that David and I get on so well. You can tell that Hardy and Ellie like being together because David and I like spending time together. It makes it much easier.
"I will miss working with David. We giggle, he is never late, knows all of his lines … he is a dream person to work with.
"If we could stand next to each other on set every day, I would be so happy."
Source: stuff.co.nz – Broadchurch's Olivia Colman on assault storyline: 'Don't let anyone get away with this'