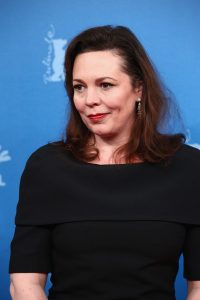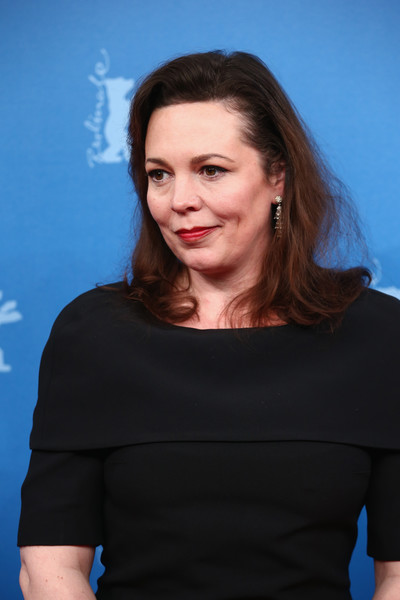 If you ask us, Broadchurch star Olivia Colman has always been a queen, but new film The Favourite will finally see her play a real-life one.
Deadline reports she's been cast in the role of Queen Anne, who ruled Britain in the early 1700s, with X-Men's Nicholas Hoult, Denial's Rachel Weisz, and the freshly minted Oscar-winning Best Actress Emma Stone all jockeying for influence in the queen's court as three of her closest confidantes.
Hoult will reportedly play "Harley," which presumably refers to Robert Harley, the 1st Earl of Oxford, a noted politician and patron of the arts whose family developed the famous Harley Street district of London.
Stone will play his cousin and ally Lady Abigail Masham, while Weisz will play Sarah, Duchess of Marlborough, the queen's close friend and rumored lover.
As a period drama, The Favourite marks something of a departure for director Yorgos Lanthimos, whose previous films include 2015's offbeat dystopian comedy The Lobster starring Colin Farrell.
Some things don't change, however. Weisz and Colman both appeared in that film, which boasted an ensemble cast every bit as formidable as this one.
The Favourite will also represent another reunion of sorts. It's been 15 years since Weisz and Hoult appeared together in About a Boy in 2002, playing the prospective girlfriend of Hugh Grant's character Will, and Will's young friend Marcus, respectively.
We suspect all this hasn't answered your most burning question, however, which is: What is on earth is that on Nicholas Hoult's top lip? Well, he's just wrapped filming on The Current War, in which he plays moustachioed electricity pioneer Nikola Tesla opposite Benedict Cumberbatch as Thomas Edison.
We think that's what it is anyway. He's certainly had to make some interesting hair commitments in his career, what with Marcus's bowl cut, Beast's hirsute chops, and now this.
His character in The Favourite, on the other hand, wore a rather lengthy wig. It starts filming later this year, and is slated for release in 2018.
Source: bbcamerica.com – Nicholas Hoult Cast in 'The Favourite' with Emma Stone and Olivia Colman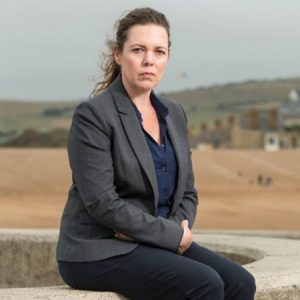 Few people saw the immense global success of Broadchurch coming – least of all, the show's creator Chris Chibnall.
The writer looks back in wonder at the humble origins of the drama, which features Detective Inspector Alec Hardy (David Tennant, Doctor Who) and Detective Sergeant Ellie Miller (Olivia Colman, The Night Manager) investigating gruesome crimes in the close-knit community of Broadchurch on the beautiful Jurassic Coast in Dorset.
On the eve of the third and final series, Chibnall reflects that, "It's been an extraordinary journey – from tiny beginnings inspired by a walk in 2011 along the Jurassic Coast where I live, to a global success in 180 territories, with two international remakes, a novel adaptation, and Broadchurch walking tours that take a similar route to my first walk. It's been quite a ride."
Chibnall, who will take over from Steven Moffat as the show-runner on Doctor Who, continues that, "We've kept a lot of secrets, had a lot of fun and, hopefully, given people another reason to stay in."
In this season, regulars Colman, Tennant, Jodie Whittaker and Andy Buchan are joined by Julie Hesmondhalgh, Sarah Parish, Lenny Henry, Mark Bazeley, Georgina Campbell, Charlie Higson and Roy Hudd.
This time, Hardy and Miller are desperate to find out who sexually assaulted farm-shop worker Trish Winterman (Hesmondhalgh, who played Hayley Cropper on Coronation Street).
Forty-three-year-old Colman outlines where Miller – still coming to terms with the fact that her husband murdered a teenage family friend – is at the start of the third season of Broadchurch.
"We discover that her dad is living with her after her mum has passed, but I think she is finding family quite annoying. She is on her own so her dad's help is great, but her son…
"It's not easy at the best of times for a teenager, but he knows what his dad was put away for, so it's pretty hard and he is becoming a bit of a pain in the backside. So it's all quite trying for Ellie and I think it is probably quite nice for her to be at work."
Former Timelord Tennant, 45, chips in by explaining where viewers will find Hardy when they return to Broadchurch.
"It's a few years down the line and some stuff has happened in the interim which we will find out as the series unfolds. At the end of series two, we didn't know if he was getting in the cab or not…
"It turns out he did, but he has found his way back to Broadchurch and has found his way back to working with Ellie again. Although he is never entirely happy with his lot, he realises that this is probably where he is meant to be and that Ellie is the closest thing he has to a best friend."
Colman, who has also gained plaudits for her work on Peep Show, Twenty Twelve and Accused, is delighted that the latest season of Broadchurch is tackling such an important subject.
"We know that every moment of every day there is someone reliving something like what Trish has gone through. The bravery of Trish is so fantastic to show.
"It's also important to show that there are people who want to help you and who offer their time and protection and love.
"If you have the bravery to ask for help, it is all there. That is a great thing to show people.
"Speak out, don't let anyone get away with this."
The actress adds that, "I'm really pleased to be a part of this story, and it's amazing how people don't know how common this is. People need to know, I think.
"We have to do whatever it takes to stop this happening. We need to put everything we can into teaching and helping people to repair the damage. People have a right to be themselves and not to feel scared."
The Broadchurch crime stories are always compelling but, above all else, it is the chemistry between Miller and Hardy that ensures audiences keep coming back to this drama.
Colman muses that, "Chris has written these two characters brilliantly. They are really good mates – possibly each other's only mate. They need each other and it is quite funny – a bit like watching the old Hinge and Bracket, two old ladies always having a go at each other.
"It feels like they have been friends for longer than they have, the way they bicker. But they clearly deeply respect each other and would staunchly defend each other against other people.
"I think it makes people feel quite secure, watching their friendship. Maybe it just makes them laugh at how horrible they are to each other, even though they clearly love each other."
As she contemplates the end of this hugely successful show, Colman concludes, "It really helps that David and I get on so well. You can tell that Hardy and Ellie like being together because David and I like spending time together. It makes it much easier.
"I will miss working with David. We giggle, he is never late, knows all of his lines … he is a dream person to work with.
"If we could stand next to each other on set every day, I would be so happy."
Source: stuff.co.nz – Broadchurch's Olivia Colman on assault storyline: 'Don't let anyone get away with this'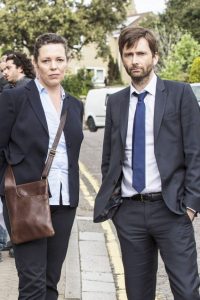 David is back as Detective Inspector Alec Hardy while Olivia is reprising her role as DS Ellie Miller.
Coronation Street star Julie Hesmondhalgh has also joined the cast for the highly-anticipated series.
The soap legend will play Trish Winterman, the victim of a rape that Hardy and Miller are tasked to investigate.
Despite recently revealing that the end of the show feels like "a loss," David has admitted he's not surprised by the decision to end Broadchurch now.
Speaking from the set of the show, the actor told Digital Spy: "We were only ever going to do one.
"Then when the idea came to do more, it was presented as 'Let's do another two and then walk away' so it's not really been a shock."
Olivia added: "I think it seems right."
"The whole point [with the first series] was that a terrible thing had happened in a beautiful place, a place where things like this don't happen," she explained.
"If you get to series 10, it's hard to believe that anymore.
"It's a lovely job, I'd happily do it every couple of years. But I think ending it is the right thing to do."
Having filmed just five of the total eight episodes when the interview took place, the stars couldn't give too much away of how their characters will end up.
They did admit, however, that they were apprehensive they'd be killed off.
Olivia said of the series finale: "It depends how annoyed Chris is with us – he might kill us off.
"He's very certain that it's the last series, isn't he?"
David agreed, adding: "Which does make you wonder if there's some kind of terminal full-stop?"
"Yes…to make sure they can't ask him to bring it back!" Olivia joked.
45 year old David recently confessed he is "sad" to say goodbye to his character Alec.
Speaking to Radio Times, he admitted: "What will be sad is that we'll never go back to it.
"The star then revealed that despite the show's dark subject matter, the actors have always enjoyed their time on set.
"It's always been there as a sort of friendly, comfortable place that we'll return to," he said. "But now that doesn't exist anymore, it does feel like a loss."
Source: OK.co.uk – David Tennant and Olivia Colman admit they feared they would be killed off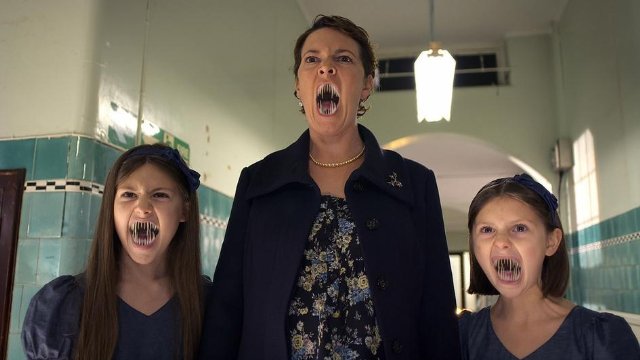 As speculation mounts over who will replace Peter Capaldi on Doctor Who, a former Time Lord has waded into the debate.
David Tennant, who played the time-travelling alien from 2005-2010, told Radio 4's The World at One that Olivia Colman would be a "magnificent" Doctor, and could take Capaldi's place when the character next "regenerates".
Colman and Tennant know each other well, having co-starred in ITV crime drama Broadchurch. The series was created by Chris Chibnall, who is set to take over as Doctor Who's head writer from next year. Chibnall's appointment has prompted speculation that he might decide to bring in his Broadchurch colleague.
Tennant said: "If the two of them [Colman and Chibnall] have been having top secret discussions behind my back, I will be furious! Olivia would clearly be a magnificent choice."
Colman would be the first female actor to play the character in the show's 50 year history, though Joanna Lumley once took on the role for a Red Nose Day comedy special. Referring to the change of gender, Tennant said: "If the story was right, then why not? […] If you have the right people telling the right stories, then it's absolutely a possibility."
Bookmakers are offering odds around 20/1 on the three-time Bafta-winner landing the role, but Colman is not the only famous name in the running. Ben Whishaw, best known for playing "Q" in the Bond films, is currently the bookies' favourite, while his Bond co-star Rory Kinnear and comedian Richard Ayoade are also considered likely contenders.
Capaldi surprised his fans when he revealed on Monday that he would be leaving after the 2017 Christmas special, to coincide with current head writer Steven Moffat's departure.
"People who know the show and love the show get very attached to actors in the role but are also always kind of excited about the prospect of change and renewal," Tennant said. "That's how the show has managed to keep going for over 50 years, because it has that kind of built-in renewal system."
Source: telegraph.co.uk – David Tennant: Olivia Colman would be a magnificent Dr Who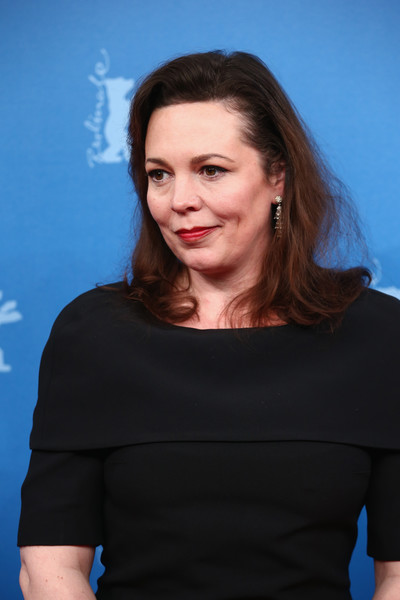 She can do no wrong: BAFTA-winning actress Olivia Colman instantly elevates every one of her projects to 'must watch' status. With the complete series of the very-bonkers but very touching Flowers available now on demand, we look back at ten times Olivia Colman was indisputably the best thing on telly.
Flowers:
As the matriarch of the Flowers family – a collection of crackpot individuals who would have been rejected as Wes Anderson characters for being 'too quirky' – Colman brought a quiet dignity to a woman who was nonetheless slowly unravelling inside. With her husband an increasingly reclusive figure and her kids too self-absorbed to notice her, Ma Flowers couldn't be blamed for lusting after other men – but her cringeworthy flirtation with the neighbouring builders makes the toes curl. For a show that never settles on comedy or drama, Colman walks the line with perfect balance.
Fleabag
Much like the mustard that bears her name, Colman is best used sparingly. As the stepmother to Phoebe Waller-Bridge's titular loafer, Colman is a picture of composed malcontent: there's so much simmering beneath her smile. Even though she only appears briefly in four episodes, she's perfectly grotesque creation, which – no offence to writer Waller-Bridge – was likely not on paper: it's all down to Colman. The awkwardness with which she discusses sex with Fleabag is exquisite; other actors should watch and learn how to spin a mere cameo into televisual gold.
The Night Manager
Although she got her start in comedy roles, Olivia Colman has proven herself to be an esteemed and talented dramatic actress. As hard-nosed intelligence operative Angela Burr, Colman gives the performance of her live as she entwines star Tom Hiddleston's humble hotel manager into the deadly world of espionage. If you were thinking a role in a John Le Carrédrama might be a bit of a stretch for Colman, you'd be wrong: she's terrific as a woman who has to keep her calm at all costs. In fact, she was nominated for an Emmy for her performance.
Broadchurch
It's impossible to discuss Olivia Colman's contribution to ITV murder mystery Broadchurch without divulging a few key details, so avert your eyes if you've yet to become acquainted with its seaside charms. Colman plays Detective Sergeant Ellie Miller, who along with David Tennant's fellow officer Hardy, investigates the murder of a young boy in the fictional  town of the title. Her flair for intense emotional acting was brought to the fore, however, upon the reveal that the murderer was her husband all along: Colman absolutely nails two vital scenes, first when she's informed of the killer, and second when she finally confronts him. Watch this woman in action and tell us she didn't earn that Best Actress Bafta.
Peep Show
As Sophie, object of Mark Corrigan's affection, Colman ran the full spectrum: from out-of-reach office crush to reluctant to girlfriend to spurned wife to bitter ex to passive aggressive mother to his child. Sophie once was everything normal that Mark needed in his life, but thanks to a jilting at the altar – and office halfwit Jeff leading her astray – she eventually grew to hate Mark's cowardly guts. Having given birth to Mark's baby and spitefully named it 'Ian', Sophie hit the bottle; she was last seen being shamefully buried in a ball-pit in a soft play centre. R.I.B. Sophie.
Drunk History
If you thought history was boring, history after a few bottles of wine and a couple of Aperol Spritzes makes it much more tolerable. That's the concept of this ace Comedy Central show, which sees comedians neck as much booze as possible before retelling famous stories of history, acted out by famous actors. As a sozzled Josie Long narrated the story of infamous American quack Dr Harvey Crippen, Olivia Colman played his lover Ethel Le Neve, who had to disguise herself as a boy when the pair went on the run. Something about her disarming smile and toothy grin makes her the perfect candidate for a murderer's mistress.
Twenty Twelve
Nestling in between the giant egos tasked with bringing order to the chaos that was the London 2012 Olympic and Paralympic Games was Olivia Colman's wallflower Sally Owen, personal assistant to Hugh Bonneville's Head of Deliverance and most downtrodden doormat in the office. Most unhelpful is the fact that the Deliverance teams are all idiots, but particularly problematic is the fact that Sally is in love with her boss, and Olivia Colman plays it sweet and subtle, her 'deer in the headlights' act falling just the right side of simpering. We never find out if her feelings are reciprocated, but it doesn't matter – her work is done and her mission is completed. It's as Ian says: "She's basically running the Olympics".
Green Wing
Any British comedic actor worth his or her salt between 2004-2006 appeared in some capacity in Green Wing, the madcap medical comedy that felt like it had overdosed on methadone. Colman played HR staffer Harriet, who along with her colleagues, never really seemed to do much work. An overworked mother of four who is stuck in a romantic rut with her long-suffering husband, Harriet eventually goes all in on an affair with Paterson Jospeh's doctor Lyndon, giggling as he man-handles her ("I nearly weed!"). Most exciting, however, is the fact that this dalliance saw Peep Show titans Sophie and Johnson come together in an unholy alliance. What would Mark say?
Look Around You
Robert Popper's Tomorrow's World parody was a goldmine for early 00s comedy, and Colman played one of the pseudo-science show's hosts, Pam Bachelor. Permanently decked out in a most unflattering BHS jump-suit and with bouffant hair that's never seen a straightener, Pam was one of four hosts who introduced amazing new inventions to the general public, like the Memory Helmet (which allows users to memorise large lists instantly, albeit with the side effect of lowering their voice several octaves) and the Petticoat 5, the computer for women ("You can see here, the space bar is an emery board"). Shows don't come much sillier and Colman was always game for a laugh.
The Office
In one of those 'Oh, I didn't know she was in this' cameo roles, Colman had a small part in The Office as Helena the reporter from Inside Paper, doomed to write up a puff piece on David Brent. Remaining professional to the last, she consistently rebuffed Brent's efforts to annotate his own interview ("Put 'David Brent is refreshingly laid back for a man with such responsibility'…"). Her highlight, however, is the excruciating wait she suffers between taking photos of Brent, who is wearing exactly the expression you'd expect from a man who's just been told he's been let go: "One more for safety," she says, frantically waiting for the camera to reload or the sweet release of death, whichever comes first.
Source: virginmedia.com – 10 times Olivia Colman was the best thing on TV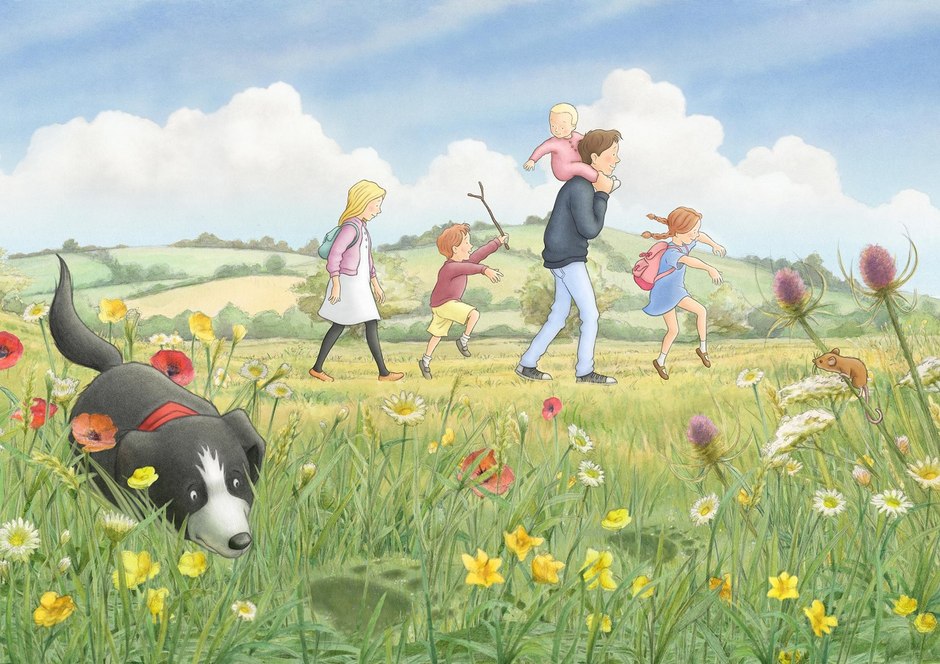 The animated film We're Going on a Bear Hunt, based on the classic children's book by Michael Rosen and Helen Oxenbury, is now available on Amazon Prime Video in the U.S. Prime members can stream We're Going on a Bear Hunt at no additional cost to their membership via the Amazon Prime Video app on compatible smart TVs, connected devices, mobiles devices or online — the film is also available to download to mobile devices for offline viewing.
Amazon is the first streaming platform to bring the animated special to U.S. viewers. Originally commissioned by UK broadcaster Channel 4, the 25 minute film debuted on Christmas Eve attracting 8 million viewers and taking an audience share of 23.5%, making it the Channel 4's highest rating program of 2016.
We're Going on a Bear Hunt follows the intrepid adventures of siblings Stan, Katie, Rosie, Max, the baby and Rufus the dog, who decide one day to go on an adventure in search of bears. A tale of perseverance, optimism and the determination to confront your fears head on, the film expands the universe of the much-loved picture book and stars the voice talent of Olivia Colman (Broadchurch, The Night Manager), Pam Ferris (Matilda, Call the Midwife) and Mark Williams (Harry Potter, Father Brown) who breathe life into the brand new characters of Mum, Grandma and Dad respectively. Michael Rosen, who wrote the best-selling book, plays the Bear.
Acclaimed British singer-songwriter George Ezra wrote and recorded the theme song, penning a distinctive, sweet song called "Me & You" for the film's soundtrack. "Me & You" marks the first time that George has composed a bespoke song for film or television.
We're Going on a Bear Hunt is produced by Ruth Fielding and Camilla Deakin from Lupus Films with Norton Herrick as executive producer for Herrick Entertainment and Helen McAleer and Julia Posen as executive producers for Walker Productions. Joanna Harrison and Robin Shaw are co-directors. It was commissioned for Channel 4 by Jay Hunt, Channel 4 Chief Creative Officer, Beth Willis, Head of Drama, John Hay, Head of Specialist Factual and Commissioning Editor, Drama Liz Lewin. It is a Lupus Films Production in association with Bear Hunt Films, Walker Productions and Herrick Entertainment for Channel 4 Television Corporation with the support of Creative Europe – MEDIA programme of the European Union.
Source: awn.com – We're going on a bear hunt now streaming on Amazon Prime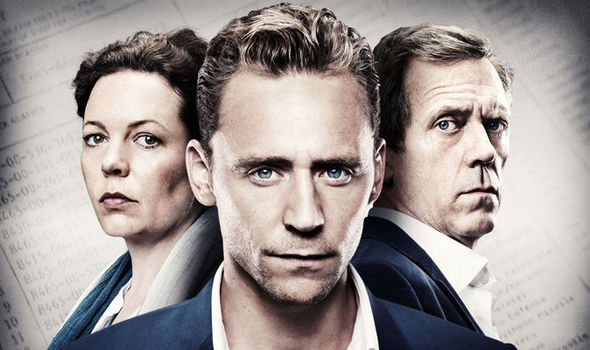 The Night Manager star Olivia Colman said she was "gutted" she missed the chance to pick up an award in person at the Golden Globes in the US on Sunday.
The British star won best supporting actress in a series, mini-series or TV movie for her role as an intelligence officer in the BBC drama.
Colman chose not to attend as she is about to start filming a new adaptation of Murder on the Orient Express.
"It was a gamble not to go but I thought 'I bet I don't win'".
She is starring opposite Dame Judi Dench in Sir Kenneth Branagh's version of the famous Agatha Christie tale.
She said: "I can't believe I was not there but it feels like the wrong thing not being there for the first week of a new job.
"I'm playing Judi Dench's maid and I want her to be so impressed because she is my hero. I have to be good and I don't want to be that person who turns up jetlagged but now I sort of think they would have forgiven me."
Colman said she was in bed at home by 2200 on Sunday and only found out about her win when she switched her phone on at 0700.
She said: "I had all these voicemails from the director Susanne Bier saying, 'turn your phone on!' Now I'm so gutted I'm not there. It's such an enormous honour, I'm beside myself."
Colman beat fellow Brits Lena Headey (Game Of Thrones) and Thandie Newton (Westworld) as well as This Is Us actresses Chrissy Metz and Mandy Moore to her award.
The Broadchurch star said: "I looked at the list and thought 'I won't win in that group'."
Colman said she regretted she had missed the chance to celebrate with her co-stars, Tom Hiddleston and Hugh Laurie, who also won Globes.
"I bet they know how to have a good time. I was always pregnant when we were filming but I could have got wellied with them all last night."
Her award was collected for her by presenters Kristen Bell and Cuba Gooding Jr.
Colman joked: "Don't wash it! Don't polish it if they have touched it!
"I'm clearing everything off the mantelpiece, it's going right in the middle.
"Cool people put their Baftas and things in the downstairs loo but mine are on the mantelpiece."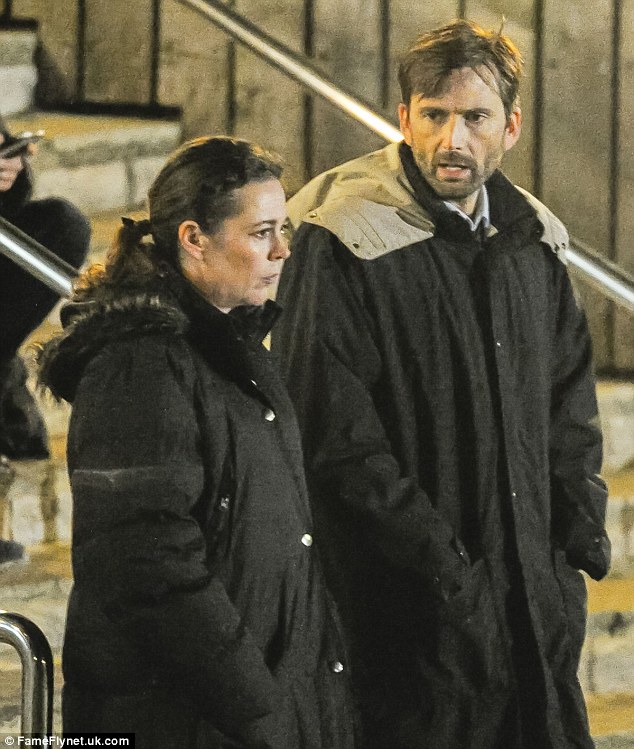 It's been a long old wait for Broadchurch fans. 22 months, to be precise. But patience is rewarded and today brings us our very first glimpse (and when we say glimpse, we mean glimpse) at the third series of ITV's hit crime drama.
The new trailer comes courtesy of BBC America who have tweeted a ten-second teaser for the new episodes, the first trailer we've had promoting the show's return. (So far fans have had to make do with scraps of information and a moody-looking picture of David Tennant, Olivia Colman and new co-star Julie Hesmondhalgh.)
So, what does this blink-and-you'll-miss-it teaser bring us? Well, there's the quintessential Broadchurch cliff shot, some intense staring on the part of Tennant's DI Alec Hardy and Colman's DS Ellie Miller, and a brief look at Arthur Darvill's Rev. Paul Coates (yes, he's back too!)
Jodie Whittaker's Beth Latimer also features, but perhaps most intriguing is this frame which features Tom Miller – the son of Ellie and Danny Latimer's murderer Joe – looking to Mark Latimer as he strolls through an official-looking building alongside Fleabag star Phoebe Waller-Bridge's junior barrister Abby Thompson. Remember, Tom and Mark used to meet up in secret in Susan Wright's caravan before the teenager testified against Danny's dad in court.
The scene bears a striking resemblance to the events of series two – and indeed, could be an old piece of footage – but, if new, it may hint at what's in store from the third series. We already know the plot will follow Hardy and Miller's investigation of a sexual offence, but quite how the Latimers and the rest of Broadchurch's residents fit into the storyline remains to be seen.
The third series of Broadchurch was filmed last summer and is due back on screens early next year. It will be the final instalment of the hit drama as creator Chris Chibnall will become Doctor Who showrunner when Steven Moffat steps down next Christmas.
Source: radiotimes.com – Broadchurch trailer: does this brief trailer provide clues for season 3
The book's had millions of children the world over chanting their way through its epic adventure for nigh on 30 years.
Now the bedtime classic We're Going On A Bear Hunt, which has sold 9 million copies since it was first published in 1989 and spawned countless sing-along theatre productions, has been brought to life in a new festive film that promises to be one of this Christmas's most magical family highlights.
The adaptation of author Michael Rosen and illustrator Helen Oxenbury's bestseller follows siblings Stan, Katie, Rosie, Max and the baby as they embark on an adventure with their dog Rufus on Christmas Eve.
Spurred on by Katie's love of grizzlies the children go in search of one, encountering a series of daunting obstacles along the way.
They must overcome long wavy grass, a deep cold river, oozing mud, a dark, threatening forest and a whirling snowstorm, and at each one they're united in their resolve, chanting, 'We can't go under it; we can't go over it; oh no! We've got to go through it.'
When they reach a cave, they find a bear all on his own. Rosie believes him to be kind and gives him a cuddle, but the others run away so Rosie follows, back through all the obstacles with the bear padding after them.
They reach home, lock the door, run upstairs and hide under the bedcovers with the dog. The bear knocks on the door but no one answers, and the poor forlorn creature trudges off home.
One of the beauties of the book is the words Michael Rosen has used to conjure up each obstacle – 'swishy-swashy' for the long grass, 'splash-splosh' for the river, 'squelch-squerch' for the mud – and the way they draw young readers into a sensory experience as they chant them out loud.
And it's turned the ancient children's rhyme on which it's based – 'We're going on a bear hunt. We're going to catch a big one. What a beautiful day! We're not scared!' – into one of Britain's best known children's songs.
The new TV adaptation has been expanded, and introduces us to the children's mother, father and grandma too. It's been made by the people behind The Snowman And The Snowdog, the sequel to the 1982 animated Christmas classic The Snowman, that pulled in 11 million viewers in 2012.
 The family have a bond, they care for each other
In the new film Mum, Dad and Grandma prove pivotal to the children's adventure when the parents leave them alone to go and help Grandma whose car has broken down. When they return, and the children are safe after their encounter with the bear, Dad gets out his ukulele and Grandma leads everyone in a singalong.
'I know the book, I read it to my older children,' says Broadchurch and The Night Manager star Olivia Colman, who voices Mum and is the mother of boys Finn, ten, and Hall, eight, and a one-year-old daughter.
'It was a long time ago but we loved it. Their favourite part was joining in with the sound effects and the chanting – doing movements with the swishy grass and the squelchy mud. My youngest is too little at the moment, but she'll be enjoying the book in the near future.'
The film will enchant a whole new audience with its story of perseverance, optimism and a love of nature. Coming up against a host of obstacles the children battle on, united in their ambitious quest.
'What appealed to me about the story is the bond the family have,' says Olivia. 'They care for each other and look after each other. Another wonderful aspect of the story is that it's kids enjoying a natural adventure with their imaginations, fresh air and the wilderness.
'It's the sort of adventure adults remember from their own childhoods, while kids are currently in that place where they can imagine these things so clearly,' she says.
'It just struck a nerve with families young and old. I'll be spending Christmas with my family and being cosy, going for walks, lighting a fire and eating an awful lot of food. But part of Christmas is cuddling up together and watching a film, one that everyone can enjoy, and this is perfect for grandparents and kids, cuddling up and experiencing it together.'
Dad is played by Harry Potter and Father Brown actor Mark Williams. 'When I read the script I was moved to tears,' he says.
'I'm terrible for doing that. I said to my wife, "Do you want to read it?" and she said "No, I want to wait till it comes out." So over Christmas we'll definitely be watching it. Our teenage children will probably be on their phones but I'll be watching it and weeping quietly in the corner. It was difficult playing Arthur Weasley in Harry Potter when one of the twins dies, as a parent I found that very tough, and this film is no different.
'The poor bear has become more of a character in the film than he is in the book,' he explains. 'But the image of the bear trudging back to his cave alone and abandoned is a masterpiece as it's so emotive – you know exactly what the bear is feeling, he feels so misunderstood.
'My character, the dad, is only in our film version, but he's a classic father, a loving dad. I think theirs is a bit of a confused household. Dad loses his car keys for example. He's got something you might call "Dad-Head", which is when your family buzzes in your head like a swarm of bees. Mums are much better at swatting the bees away but dads sometimes get a bit overwhelmed. He's one of those dads.'
 You know what the bear's feeling – he's so misunderstood
Pam Ferris of Call The Midwife has a poignant role as Grandma, who's a kind of metaphor for the book's message of coping with whatever gets in your way. 'I was in tears reading the script too,' she says.
'We meet Grandma at a time where she's had a very sad experience – her husband, the children's grandad, has recently died. Yet she's not the kind of person who would expect everybody to share her grief, and she lifts the atmosphere in the house by dancing and singing.
'She's a lovely woman. The emotions Grandma goes through are very touching. She moves from being very sad to lifting everyone's spirits. We wanted to avoid the grieving Grandma cliché and it's brilliant how the film subliminally passes on the message that in life there are some things you can't go over or under, you just have to go through them.'
As a dog owner, Pam was drawn to the film's Rufus. 'He's gorgeous,' she beams. 'The animation tells you in the first few beats that he's smelled something unusual, and we're waiting for the bear at every moment as Rufus is onto him.
'My own dogs would love to join in a bear hunt. Stan's a very fast lurcher and you wouldn't see him for dust, while my Jack Russell Elsie would bark her head off if she saw a bear. Instead they have to be content with chasing squirrels up trees.'
Michael Rosen, the former Children's Laureate who wrote the best-selling book all those years ago, couldn't be more chuffed to be providing the voices for both the Bear and the Hedgehog the children encounter in the long grass. 'You can't imagine how thrilled I am! I'm trying to keep a straight face but I'm actually crying and laughing at the same time.
'The idea that I can be the Bear in Bear Hunt is mind-blowing. But being the Hedgehog is one of the hardest roles I've ever played. If those people in the recording studio thought I could just turn up and go "Sniff!" without the method work, immersing myself in the character, they were wrong,' he jokes. 'I had to think about the Hedgehog's mother, the Hedgehog's father, where the Hedgehog had been, where the Hedgehog goes shopping…'
Michael, now 70, first started performing Bear Hunt in schools in the mid 1980s after hearing it as an American summer camp song. When David Lloyd, editor of publishers Walker Books, saw him performing it he thought it would make a great book and got Michael to start writing it.
 It's absolutely true to the spirit of the original
Coincidentally Helen Oxenbury, an award-winning illustrator with a career spanning more than 40 years, was already familiar with the song too.
'I first heard the story when the Scottish folk singer Alison McMorland asked me to design the cover for an album of folk songs, and Bear Hunt was one of them,' recalls Helen, who's now 78.
'She used to sing it with her son. Then I didn't think about it for years until, by coincidence, I was asked to do some illustrations. When I was shown the text I thought, "My goodness, I know it!"'
Michael and Helen didn't meet until after the project was finished and while Michael had envisaged it as a king, queen and jester setting off to find a bear, Helen went for a group of children.
'I didn't want adults around because the imagination can run freer without them,' she says. 'I modelled them on my own children and added a few more. The dog in the book is exactly like my own dog Stanley, a mongrel, who had lots of Labrador and Collie in him.'
Helen also used real locations for inspiration. 'I grew up on an East Anglian estuary, and when the tide goes out you get mud flats. When the sun sets and reflects in the mud the scene is absolutely astonishing with a backdrop of big skies, so I used that for the mud scenes,' she explains.
'The beach where they find the bear's cave was inspired by a holiday we had in Druidstone in Pembrokeshire. There was a perfect sandy beach with rocks and cliffs, and the cliffs also had caves, But unlike the children in the book I didn't dare explore them. The forest was based on Hampstead Heath, which I know very well as it's near my home.'
Helen admits to being an avid people watcher and uses her observations to create her incredible gallery of postures and expressions.
'I added the last two pages of the bear walking home alone, so forlorn but adorable, because it occurred to me that the bear was all on his own in the cave and might have wanted some company rather than to eat the children. He's lonely and a bit scared too. Then he thinks, "Oh gosh, visitors!" But then they run home, so he follows them but is upset when they shut the door in his face.'
Helen modelled the bear's rounded shoulders on an American friend.
'This poor chap was going through a rotten time because of his divorce and was depressed. I could just tell by his shoulders and these arms that rather hung to the side. I drew the bear and told him it was him. He was thrilled! I went to his flat in New York recently and he has the drawings framed on the wall. And I'm pleased to say he's now deliriously happy with a new partner.'
It was important to Helen that the animation for the film still featured elements of the watercolour illustrations from the book. 'I'm terribly impressed with the film. I'm delighted,' she admits.
'It's absolutely true to the spirit of the original. For instance, for the snowstorm, they've really got the atmosphere and the sparseness and the bleakness of it beautifully. They haven't tried to pretty it up.'
Why does Michael believe the book was such a resounding success? 'It's got this pounding rhythm and repetition, but I think the main reason is because it tells the story of a family having tough times, and we all have tough times. But it's kind of making fun of it. It's a thing people say – "Oh no! We've got to go through it!"'
Make a date with Channel 4 on Christmas Eve – you'll have no trouble getting through this spellbinding half hour of TV. n
We're Going On A Bear Hunt is on Christmas Eve at 7.30pm on Channel 4.
Source: http://www.dailymail.co.uk/femail/article-4037710/UnBEARably-charming-delightful-TV-adaptation-children-s-book-Going-Bear-Hunt-weeping-joy-mince-pies.html#ixzz4TC9yoZYn