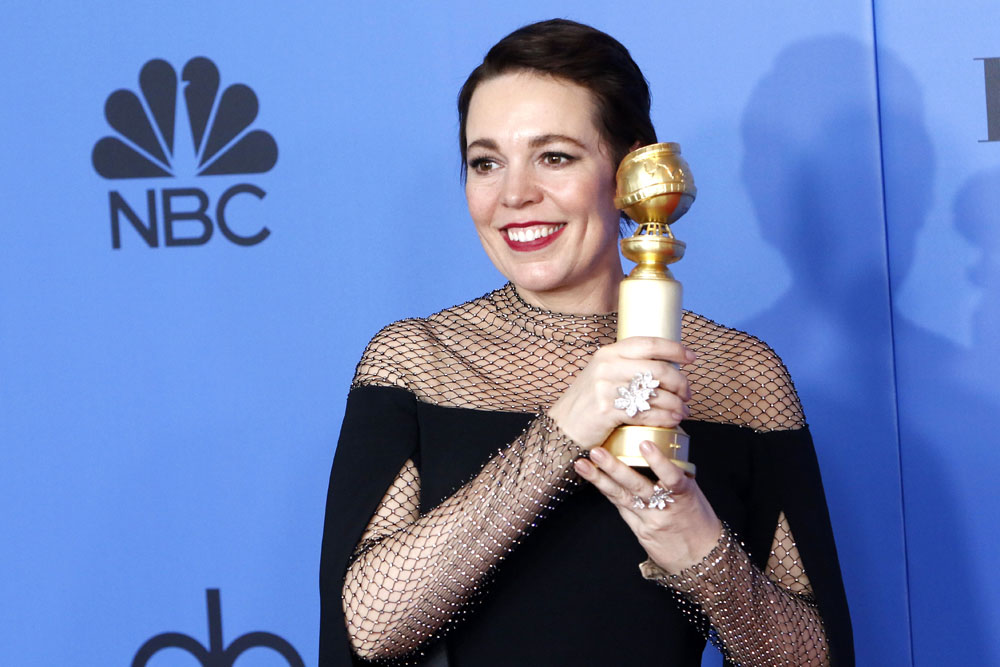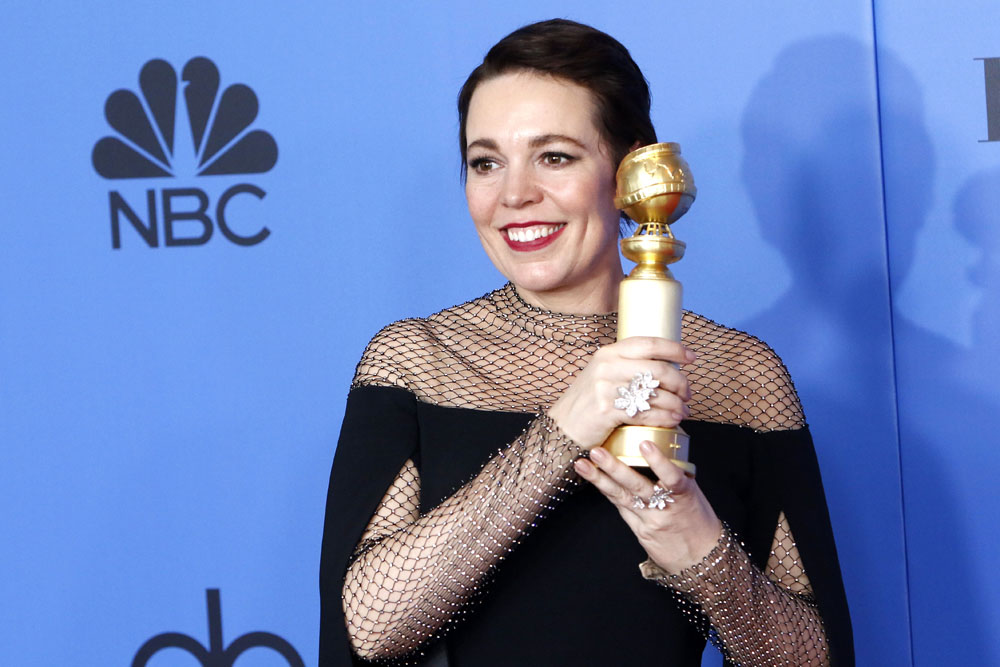 Olivia Colman has revealed how she feels "threatened" by losing her anonymity and now lives "like a hermit" since starring in a string of high profile lead roles.
The Oscar-nominated actress admitted that she rarely ventures out and that she never expected the fame that has followed her.
Ms Colman, 44, has been nominated for the best actress prize at the Academy Awards for her portrayal of Queen Anne in Yorgos Lanthimos'period comedy drama The Favourite, and has already taken home a Golden Globe for the role.
Speaking with her former Broadchurch co-star David Tennant on his new podcast, she said that she "can't cope" with people noticing her out in public.
"I have friends that I adore and I like going to safe places with them, my home or their home," she said.
Fame was "very stupidly nothing I expected to happen, I just wanted to work," she added.
Ms Colman said that it can feel "threatening" to lose her anonymity, although most people who approach her are "really nice".
However, she said that she does not regret the attention, "because hand-in-hand with that, I'm getting work that I'm loving and always dreamt of.
"As long as I know I can keep my head down, stay at home, it's not so bad."
Ms Colman  first became famous for her role as Sophie in Channel 4's Peep Show, but has become better known for starring in ITV drama Broadchurch, BBC drama The Night Manager and films including Hot Fuzz, Tyrannosaur and The Iron Lady, in which she played Carol Thatcher opposite Meryl Streep.
The actress also told David Tennant that she once wrote to Wikipedia because her age had been listed to make her eight years older than she really was.
"Once, on Wikipedia, they had my birthday as the wrong day, the wrong month, and eight years before I was born," she said.
"I emailed them, pretending it wasn't me. (I wrote) 'I was at school with her and that's not her birthday'. I didn't want them to think I was being so vain.
"I didn't get a reply, and wrote again going 'sorry guys, but I know it's wrong'. And they didn't reply.
"So I said, 'actually, this is me, and it's really upsetting me that you've made me eight years older than I actually am'.
"And they said, 'we'd have to see a birth certificate to prove it', and I went, 'whose f****** birth certificate have you looked at in the first place to make me eight years older?"'
Colman said that her date of birth was finally changed to the correct one, January 30, 1974, but joked that she should have said she was younger.
Source: telegraph.co.uk – Olivia Colman 'threatened' by losing anonymity and says new-found fame has made her live like a hermit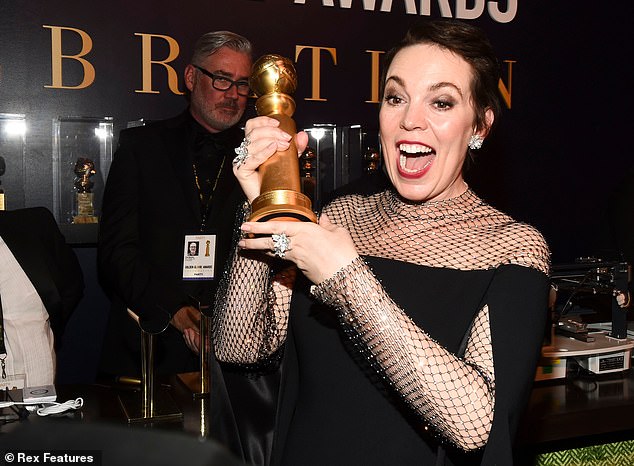 Her mantelpiece already groans with awards including two Golden Globesand three Baftas. Now, following her Best Actress nomination for her performance as Queen Anne in The Favourite, Olivia Colman may be adding an Oscar to her collection.
If she wins an Academy Award next month she can expect demand for her services (not to mention her fee) to go through the roof.
It's all a far cry from the days when she was so broke she lived in a friend's attic and had to rummage under the sofa cushions in search of coins to buy a single potato for dinner.
From her job as a cleaner and struggles with debt to the 'gorgeous' husband she gives half her pay cheques to — as Alison Boshoff discovered, there is far more to this down-to-earth actress than meets the eye.
A cleaner and cheery but hopeless secretary
Like most aspiring actors, Olivia struggled for work. She took jobs as a secretary — 'not a very good one, although I was cheery' and as a cleaner. 'There were years of no work. It was a hard time. I actually really loved my cleaning jobs. I loved the job satisfaction. I'd really go to town. I'd wipe skirting boards, the top of lights. I never looked in drawers.'
She never wanted to do anything but act, though. 'Being able to put 'Actor' on my passport was all I wanted in the world.'
Finding pennies down sofa to buy a potato
Speaking of her early days with now husband Ed Sinclair, she said: 'We had what we call our Angela's Ashes day when we first moved to London from Bristol (in 1998). I had £1 left in my overdraft and cash machines don't dispense pounds.
'Ed didn't have any money either, so we managed to find enough pennies from the sofa to buy one potato to share.' They lived in the attic of friends who had a place in Epping, Essex, for two months.
In 1999 they bought a two-bedroom flat in London's East Dulwich, using a £30,000 inheritance from Ed to help them meet the £90,000 asking price. They sold it two years later for £150,000. 
If it all goes wrong I could be a midwife
The couple took out a credit card in 2001 and ended up £3,000 in debt — a relatively small amount but Olivia found it traumatic as neither was earning regularly.
However, she was determined to pursue an acting career. 'My mum said, "You'll probably give it a year." And I said, "No, I'll give it ten".'
Her career began to take off in 2003 when she was cast in Channel 4's Peep Show, with old friends David Mitchell and Robert Webb.
There followed the 'Kev and Bev' AA adverts and another sitcom, Green Wing.
She counted herself lucky to be paid £25,000 for each comedy series, which took nine months to film, and said that it was enough for her and Ed to live on if they were frugal. As recently as 2009 she had a five-month 'dry spell' which led to her starting to look up midwifery courses.
A childhood full of grand designs 
Olivia was born Sarah Caroline Olivia Colman near the 'golden coast' of north Norfolk in 1974. She is the daughter of chartered surveyor Keith Colman and his wife Mary, a nurse.
She said: 'They both had a good work ethic. I was really proud of my mum, dedicating her life to making people better.'
Both parents also devoted themselves to renovating houses. Olivia estimates that she uprooted herself 17 times in childhood, and that her parents have moved 30 times in all.
She said: 'They basically fall in love with a property that hasn't been cared for and do it up sympathetically.'
Among properties they have lived in, done up and sold on are a nursing home in Horstead and cottages in Freethorpe. They also renovated a cottage in Great Yarmouth, buying it for £310,000 in 2013 and selling it for £850,000 in 2017.
Olivia went on: 'I had a lovely, feral, free childhood — out and then come back when you're hungry or it gets too dark. I feel slightly cruel that I'm not offering my children the same.'
Her father was car crazy and she learned how to drive at his knee aged 12 in the fields of Norfolk. By the time she was 16 she had a rally licence. Her first car was a Morris Minor she called Moomin.
She can be up there with Meryl
Young Sarah was sent to Norwich High School For Girls, an exclusive establishment with a shining academic record. Fees go up to £4,854 a term. She first got the acting bug playing Miss Jean Brodie, aged 16.
'I was on stage, and I suddenly felt really at ease, and at home. Of course, at that age you keep it to yourself, you say, "I want to be a nurse or a teacher".'
In the sixth form she switched to Gresham's in Holt, Norfolk, where she is remembered for being 'popular and kind'. The private boarding school charges £11,660 a term.
Her former drama teacher Paul Hands said: 'Even when I taught her when she was 18 I knew this was going to be the likely future for her.
'She is a very special actor and she was a very special student, too. She was never difficult — when you see her being interviewed now, that funny, sensitive and delightful person was the person she was to work with when she was a teenager.'
Olivia returned to Gresham's recently to open a boarding house and unveiled a plaque in the common room, which includes the words, 'Olivia Colman, Old Greshamian, who played Miss Jean Brodie at an impressionable age and never looked back'.
Mr Hands adds that he believes she will be counted as 'one of the great British actors of her generation' saying: 'I think she can be as good as Meryl Streep.'
The dramatic breakthroughs
The 2011 film Tyrannosaur was a turning point. She played a charity shop worker abused by her alcoholic husband. She was then cast as Carol Thatcher to Meryl Streep's Maggie in The Iron Lady.
Next came her performance as DS Ellie Miller in Broadchurch, which won a Bafta, and The Night Manager, for which she won a Golden Globe. She is now filming The Crown, in which she plays our current Queen. But there is a problem: 'I emote. The Queen is not meant to. She's got to be a rock for everyone, and has been trained not to [emote]. We've discovered that whenever anyone tells me something sad, it makes me cry. It's sort of shameful, but they give me an earpiece and play the shipping forecast. It's somebody going, "And the winds are fair to middling…blah, blah." I'm sort of not listening to what they are saying. I'm trying so hard to tune in to the shipping forecast and not cry.'
Extended home sweet home
In 2011, she and Ed bought their current home, a large five-bedroom Victorian terrace on the Peckham/Camberwell border. They paid £885,000 for it and it is now worth around £1.5million.
It has been extended twice — with a loft conversion in 2011 and a huge six-metre kitchen extension in 2013, which opens out via glass doors onto the garden.
Ed built a treehouse for their children, aged 12, ten, and three, from scratch.
Also at home is a Jackapoo, Alf.
Olivia has said that she hopes to own a second property 'as a pension' one day and gossip in Binham, Norfolk, suggests that she has already done just that.
Certainly she is now very well paid; it is suggested that she is getting around £350,000 per series of The Crown.
She said: 'There's all sorts of things now we can fix. We can fix the loo, which hasn't worked for about three years.'
Balancing fame and family
Olivia hesitated over Broadchurch, as it meant four months filming in Dorset — but went home every weekend. She said: 'If I was away for a long time, we'd all have to go. I don't like being away from them. It's as simple as that.'
Olivia finds fame difficult. 'I hate the loss of anonymity. No one teaches you how to deal with that. I now tend to stay at home because it's so weird not to be on an equal footing with people. They know your face, and you don't know them. It's not that people aren't lovely', she adds, 'but it's harder to deal with than you imagine.'
Dreaming of meeting Oscar
'If I'm really honest, I've always dreamed of holding an Oscar…but I'm really trying to sort of keep everything in check, keep calm.
'This is silly. What are the chances? I don't want to get excited. I don't want to face that disappointment. I just want to be on an even keel.
'I'm a mum, a wife, I'm a mate. I'm other things. You can see how people get sort of swept into it and I want to stay sane.'
Source: Dailymail.co.uk – how oscar winner Olivia Colman was a penniless cleaner
Olivia Colman stole the show at the 76th annual Golden Globes ceremony in California.
Not only did she win an award for her part in The Favourite, but the British actress also won at giving one of the best acceptance speeches at the prestigious awards ceremony when she opened with "Cor blimey!" and addressed fellow actresses Emma Stone and Rachel Weisz as her "bitches".
As the camera panned to the audience, stars including Weisz and Stone were seen laughing and cheering their beloved co-star on.
What did Olivia Colman win?
Colman won the award for best actress in a motion picture drama for her portrayal of Queen Anne in The Favourite.
What did she say?
Having picked up her award, the former Broadchurch actress faced the audience and began by declaring: "Cor blimey, thank you so much. I'm not going to cry because my entire table will point and laugh at me," before going on to praise the director of the film.
"Yorgos, thank you the most muchly and ma bitches, Emma and Rachel, thank you, every second of working with you was such a joy and I was so sad that it finished.
"I would like to tell you how much this film means to me but I can't think of it because I'm too excited. I just had a fucking blast, it was amazing. I went on a private jet and I ate constantly throughout the film and it was brilliant and I promise I will keep on enjoying this, because it's amazing."
Having left the audience in stitches, Colman finished her speech by calling out to her family and telling them: "Ed and the kids, look! Yay!"
Reaction
Having decided to give the audience and viewers at home a different kind of acceptance speech, Colman sparked a social media frenzy as viewers took to Twitter to declare how great she was for her unexpected speech.
"Olivia Colman is a hilarious, wonderful & talented TREASURE. Imagine if she wins an Oscar. Imagine what THAT speech will be like! #corblimey #goldenglobes," wrote one fan, whilst another commented: "Olivia Colman calling Emma Stone and Rachel Weisz her bitches during the acceptance speech is already the highlight of 2019. #GoldenGlobes."
Appreciating the fact that Colman was thankful for the food she had received on the trip ahead of the ceremony, a third user commented: "Olivia Colman talking about sandwiches in her #GoldenGlobes speech is deeply inspiring."
What's next for Olivia Colman?
With awards season underway and a Golden Globes victory under her belt, Colman has become one of the favourites to walk away with an Oscar when the ceremony takes place in February. The actress, also known for her role in Peep show, is also set to play another monarch, Her Royal Highness, Queen Elizabeth II, in the next instalment of the critically acclaimed Netflix offering, The Crown.
With awards season underway and a Golden Globes victory under her belt, Colman has become one of the favourites to walk away with an Oscar when the ceremony takes place in February. The actress, also known for her role in Peep show, is also set to play another monarch, Her Royal Highness, Queen Elizabeth II, in the next instalment of the critically acclaimed Netflix offering, The Crown.
Source: inews.co.uk – Olivia Colman's perfect Golden Globes 2019 acceptance speech in full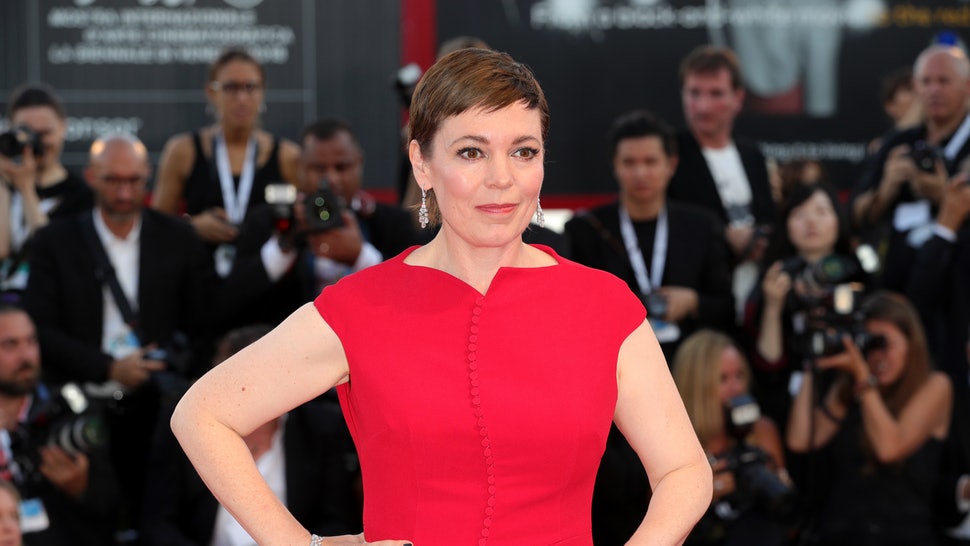 What would you do directly after winning one of the UK's most prestigious acting awards: order the largest available bottle of champagne? Make the extravagant purchase you've been fantasising about for years? Party until the wee hours? Turns out Golden Globes favourite Olivia Colman plumped for a slightly more low-key celebration after her double win at the 2013 BAFTAs. After scooping awards for her roles in Accused and Twenty Twelve, Colman went home, took off her Spanx, and had a nice cup of tea. And honestly, has a certified Hollywood icon ever been quite so relatable?
Speaking to the Mirror, Colman reminisced on the May 2013 ceremony that scored her two BAFTA trophies: one for best supporting actress, for her role in crime drama Accused, and one for female comedy performance, after her appearance in satirical Olympic comedy Twenty Twelve. "That was amazing that night because I had been nominated for things before and just never got them," she told the paper. "That was unbelievable. No one expects to get one, but to get two?"
Her success proved a little overwhelming: "It was a little bit too much," she said. "I just needed to be normal and take the massive Spanx off — you know the big pants? — and just calm down. So I went home and had a cup of tea." Sounds lovely, doesn't it?
Colman is favourite to land the Golden Globe for best actress in a comedy or musical at tonight's awards ceremony, for her role as Queen Anne in (appropriately) The Favourite. Co-stars Emma Stone and Rachel Weisz are also nominated for best supporting actress in a comedy or musical, for their roles as royal favourites Abigail Hill and Lady Sarah Churchill.The event, hosted by Sandra Oh and Andy Samberg, will see Colman run against Crazy Rich Asians star Constance Wu, Mary Poppins Returns' Emily Blunt, Eighth Grade's Elsie Fisher, and Tully star Charlize Theron.
And Colman's pretty delighted about the nomination, telling the Mirror, "When you get nominated for something, for me it always comes as a massive surprise and then an enormous, 'Oh.'" She added, "It's really incredibly exciting and you can't quite believe it, and in all honesty, as a little girl it's all, 'Imagine if I won an Oscar?'"
Colman's snagged a Golden Globe before, winning best supporting actress in a series, mini-series or TV movie at the 2017 ceremony for her role in The Night Manager. But there'll be one major difference tonight: this time, she'll actually be at the ceremony. As she explained to the BBC, Colman was due to start filming Kenneth Branagh's adaptation of Agatha Christie's Murder on the Orient Express at the time of last year's awards, and was keen to impress her co-stars — plus, she assumed she didn't have a chance. "I looked at the list and thought, 'I won't win in that group,'" she said.
"I'm playing Judi Dench's maid and I want her to be so impressed because she is my hero. I have to be good and I don't want to be that person who turns up jetlagged but now I sort of think they would have forgiven me," she told the BBC after her win was announced. "Now I'm so gutted I'm not there. It's such an enormous honour, I'm beside myself." Well, if the bookies' predictions prove correct, this time Colman can collect her Golden Globe in person.
Source: bustle.com – Golden Globes Favourite Olivia Colman Revealed The Relatable Thing She Did After Her 2013 BAFTAs Win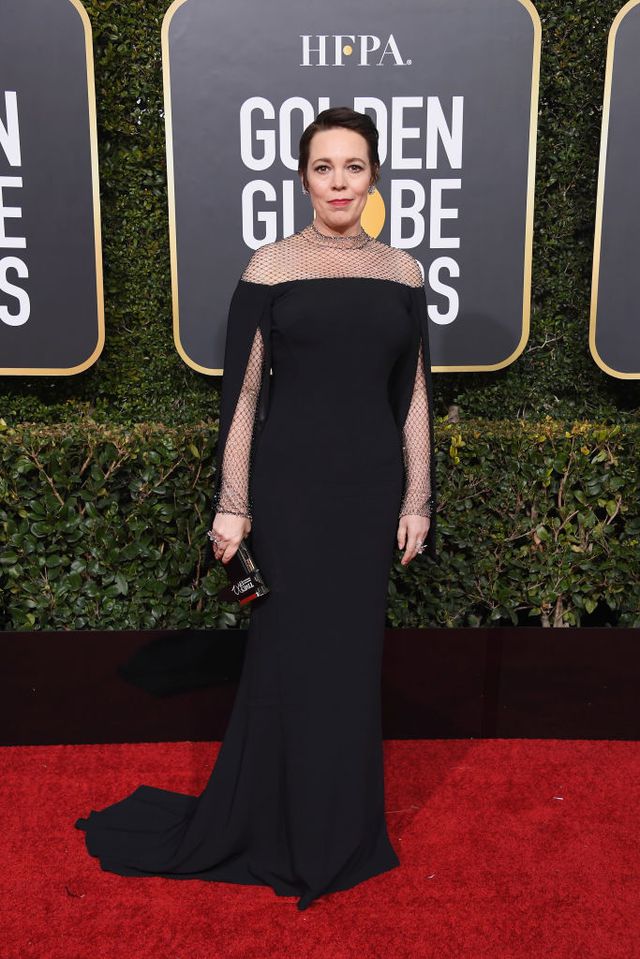 The Crown may not be nominated for any Golden Globe awards tonight (since season three won't arrive until later this year), but the star-studded cast still made a stunning appearance on the red carpet.
Claire Foy, who played Queen Elizabeth in the first two seasons in The Crown, is nominated for Best Performance by an Actress in a Supporting Role in any Motion Picture for her role as Janet Armstrong in First Man. This is the third Golden Globe nomination for Foy, who famously won for her work on The Crown in 2017.
The actress wore a yellow gown on the red carpet.
But Foy isn't the only Queen at tonight's Golden Globe Awards: Olivia Colman, who is taking over the role of Queen Elizabeth next season on The Crown, also made an appearance on the Globes red carpet. Colman is nominated tonight for another regal role: the actress received a Best Performance by an Actress in a Motion Picture – Musical or Comedy nom for her portrayal of Queen Anne in The Favourite.
Colman wore a simple black gown, accented with a fishnet-like, sparkling fabric around her neck and arms.
Here's hoping Foy and Colman meet up during the Golden Globes to take one seriously royal selfie—and maybe to swap a few tips on how to best portray the British monarch.
Source: Townandcountrymag.com – Claire Foy and Olivia Colman Are Queens of the Golden Globe Red Carpet
The Inventing the Future Exhibition runs from Saturday, September 29 to Sunday, October 14 and is a free exhibition celebrating the accomplishments of its 20th century students.
The school, located in Holt, North Norfolk, was founded in 1555 and after beginning life as a small grammar school underwent a cultural revolution in the early 1900s, tripling the pupils it sent to Oxbridge and championing modern languages, literature and science.
Perhaps most notable of the alumni is the inventor James Dyson who attended the school from 1956 to 1965 and some of his early vacuums will be on display.
Other artefacts include the 1934 original manuscript The Liberal Fascist from the poet WH Auden about his thoughts on education at Gresham's and actress Olivia Colman's Golden Globe statuette which she won for her role in The Night Manager in 2017.
Works from Greshamians such as poet Stephen Spender and his artist brother Humphrey, composer Benjamin Britten and Gerald Holtom, the artist who created the famous symbol of international peace, will also be on display.
Gresham's educated Christopher Cockerell, who invented the hovercraft using two empty coffee tins and a vacuum cleaner fan, is represented in the exhibition alongside Frank Perkins who developed the diesel engine.
In the field of arts and culture the school provided the springboard for Auden, Spender, Britten and Nicholson.
More than 15 key artworks by the leading British painter Ben Nicholson are also on show.
Douglas Robb, headmaster of Gresham's School, said: "Gresham's is an historic and vibrant co-educational school.
"We pride ourselves that a Gresham's education enables young people to develop in a huge variety of areas, the school has a tradition of producing outstanding achievers in all walks of life, including architects, diplomats, engineers, musicians, actors and sports men and women and much more.
"We believe that this celebration of some of our greatest alumni will inspire future generations to come to study and thrive here."
In 1903 Gresham's School moved from its ageing premises at the Old School House in the centre of Holt to a greenfield location on the outskirts with state-of-the-art science labs and purpose-built boarding houses.
Over two decades the school roll went from 40 pupils to 240 and a 'cultural revolution' occurred, though more than 100 pupils and staff lost their lives in World War I.
Simon Kinder, Gresham's School's head of history, said: "The small provincial grammar school emerged at the dawn of the Twentieth Century as one of the most progressive, creative and innovative public schools in Britain and it was within this vibrant educational crucible that the pupils who were to go on to invent the future were to be shaped."
In the world of journalism and broadcasting the school boasts the BBC's first Director General, Lord Reith, Cecil Graves, another Director General, and Philip Pembroke-Stevens who was foreign correspondent for the Express and Telegraph.
Pembroke-Stevens was expelled from Germany for his critical reporting of Nazism in 1934 and later shot reporting on Japanese invasion of China in 1937.
Inventing The Future (Cromer Road, Holt, NR25 6EA) runs from Saturday, September 29 to Sunday, October 14 from 9am to 5pm with free entry.
To find out more information on the exhibition and to attend one of the free talks visit the website.
Source: edp24.co.uk – Olivia Colman among the alumni celebrated at Gresham's School exhibition
Cancer Research UK Kids & Teens and TK Maxx have teamed up to encourage people to donate their "preloved" clothes, accessories and homeware to mark Childhood Cancer Awareness Month.
The stars, including Olivia Colman, Billie Piper, Abbey Clancy, Jodie Kidd, Melanie Sykes, Angela Scanlon and Nicola Thorp, donated the outfits that they wore on the catwalk and these will be available to buy soon from Cancer Research UK shops.
Fashion photographer Jason Bell captured the famous faces behind the scenes, as our pictures show, as well as during an offi cial photoshoot on the catwalk.
TK Maxx's Jo Murphy said: "For more than 14 years our customers and staff have generously helped to raise over £31million to support this vital work and once more we're asking everyone to dig deep into their wardrobe and bring in a bag or two to support the campaign."
The charity aims to help people up to the age of 24 suffering from cancer by raising money for research.
More children and young people than ever are surviving cancer in the UK but every year about 520 in this age bracket die from the disease.
Some who survive experience long-term side effects.
Give Up Clothes For Good promotes the re-use and recycling of goods and has collected in excess of 1.1 million bags of clothing and household goods, diverting 6,866 tonnes of unwanted items from landfill.
The Daily Express is supporting TK Maxx's Give Up Clothes For Good in support of Cancer Research UK Kids & Teens. To help fund its work, donate a bag of pre-loved quality clothes, accessories and homeware at TK Maxx stores across the country. 
For more info visit tkmaxx.com.
Source: express.co.uk – Stars come out for clothes appeal
Olivia Colman has won one of the highest accolades of her career so far, after being named best actress at the Venice Film Festival.
The British actress bagged the award for her performance as an ailing Queen Anne in the upcoming period drama 'The Favourite' in which she stars opposite Rachel Weisz and Emma Stone.
The film tells the story of the rivalry between two of Queen Anne's cousins, both bidding to be considered her "favourite", and also stars British actors Nicholas Hoult and Mark Gatiss.
So far, critics have lauded 'The Favourite', particularly Olivia's performance, as well as director Yorgos Lanthimos, who previously worked with the actress in 'The Lobster'.
Olivia had stiff competition for the best actress award, particularly from Lady Gaga, whose performance in 'A Star Is Born' – which also debuted at the festival– has also won near-unanimous praise from critics.
It was a big night for 'The Favourite', which also scored the Grand Jury Prize, one of the Venice Film Festival's biggest honours, though the top award went to Alfonso Cuarón's family drama 'Roma'.
Olivia is currently gearing up for another regal role, picking up where Claire Foy left off in the Netflix drama 'The Crown', in which she's to play Queen Elizabeth II in middle age, opposite Tobias Menzies' Prince Philip.
Initially making a name for herself in roles in British comedies like 'The Office', 'Peep Show' and 'Black Books', Olivia is now better known for her drama performances including 'Broadchurch', 'The Night Manager' and the upcoming 'Les Misérables' remake, in which she'll play Madame Thénardier.
Last year, she also joined the all-star cast of Kenneth Branagh's new take on 'Murder On The Orient Express', which also featured the likes of Dame Judi Dench, Penelope Cruz, Derek Jacobi and Branagh himself.
'The Favourite' is due for release in the UK in January 2019, but will be showcased at the upcoming BFI London Film Festival.
Source: huffingtonpost.co.uk – Olivia Colman Named Best Actress At Venice Film Festival For Role In 'The Favourite'
The Favourite, a movie that is loosely based on historical fact, was always going to generate a big reaction at the Venice Film Festival.
Olivia Colman plays the frail and slightly unhinged early 18th century British monarch, Queen Anne, who jostles with two woman in a power struggle in her court as they vye for her sexual favour. Lady Sarah, the Duchess of Marlborough (Rachel Weisz), whose husband is away fighting the French, is effectively running the country. But when her conniving cousin the Queen's new servant Sarah (Emma Stone) arrives, the naïve monarch is seduced by her charms.
For a second time this year Weisz has a woman-on-woman love scene after Disobedience with Rachel McAdams, while the film marks a follow-up too for Oscar winner Stone after her portrayal as Billie Jean King in Battle of the Sexes.
At The Favourite's Venice press conference, the usually hilarious Colman (The Night Manager) was asked about the sexual politics in the historical film, to which she replied, "There was a lot of it!"
"That aspect of the film is timeless. We think we invented sex but we didn't. It's been going on for quite a long time. It was awfully fun having sex with Emma Stone."
"It was really fun having sex with you too," Stone quipped.
In the film, directed by Yorgos Lanthimos (The Lobster, The Killing of a Sacred Deer starring Nicole Kidman) Stone plays an educated aristocrat who has lost her status and will do anything to get it back. At the age of 15 her father lost her to a fat German with a thin penis in card game. She may be devious but she's not evil, says Stone.
"She's overcome a lot, she's a survivor. I loved every element of getting to play her. In terms of the challenges for me I was the only American in the cast, so it was a bit daunting trying to make sure that the accent made sense. The corsets were a challenge too just because you can't breathe all day.
"The whole cast had this three-week rehearsal process before we started shooting and it was far from traditional. We did a whole bunch of crazy stuff. We had to learn to be embarrassed in front of each other and rely on each other. I think by the time we were shooting we all felt very close and comfortable. When I had to have sex with the Queen, with Olivia, it was very comfortable. We were very good friends."
I asked Colman, who is playing Queen Elizabeth in season three of The Crown, about playing two queens in one year.
"They're not very similar," she deadpanned, "and that's good. We've started filming on The Crown and I'm having a lovely time, so I hope I don't let you down when it comes out. I can't really compare the two queens. I don't think Queen Elizabeth learned anything from Queen Anne!"
I then suggested that the heavily bewigged Nicholas Hoult, whose brilliant blue eyes are offset by a stunning Sandy Powell royal blue costume, and Joe Alwyn (otherwise known as Taylor Swift's beau) were playing women as well.
"It was fabulous!" replied Hoult.
Colman: "I just want to give you a visual of Nick who is 6' 2" with heels and a foot and a half of wig! None of us could look at him when we were acting because it was just too funny."
Alwyn added, "It was a lot of fun running around in wigs, in high heels and in fancy costumes. It's every man's dream!"
While the film's story delves into the power that the three women held as they made decisions on a whim that could effect millions of people, can it also be seen as a statement about women's empowerment post MeToo#?
"Obviously I don't mind that idea, but we can't take credit because we started the project many years ago," Lanthimo replied. "I think the positive aspect of this film is that it focuses on three female characters, which is rare. But what we tried to do is portray them as human beings, because most of the time, given the prevalent male gaze in cinema, women are portrayed as housewives or girlfriends or objects of desire. So we tried to show them as complex and complicated, wonderful and horrific. They are like every other human being."