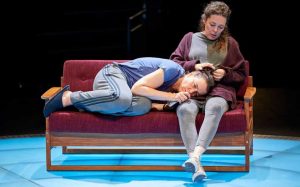 Olivia Colman and Olivia Williams, stars of Lucy Kirkwood's new play Mosquitoes at the National Theatre, will reflect on the acclaimed show in a talk next month.
Lauded by audiences and critics alike, the duo star as sisters with contrasting occupations: one a scientist in Geneva, searching for the Higgs Boson in the Large Hadron Collider and on the brink of worldwide fame, and the other based in Luton, sat by her computer, Googling. But tragedy throws them back together with chaotic consequences.
The talk will take place on Monday 18 September at 3pm, with tickets £7 (£5 concessions) and available through the National Theatre's website.
Mosquitoes is currently sold out for its entire run, with the exception of good availability for the matinee performance on Wednesday 20 September. It is also still possible to buy seats via day tickets and Friday Rush.
The new play is penned by the Olivier Award-winning Kirkwood, who wrote huge West End hit Chimerica, and directed by the National Theatre's Artistic Director, Rufus Norris, who will hold their own talk on Thursday 7 September at 6pm.
Further related events can be found through the National Theatre's website.
Source: officiallondontheatre.co.uk – Olivia Colman and Olivia Williams hold Mosquitoes talk