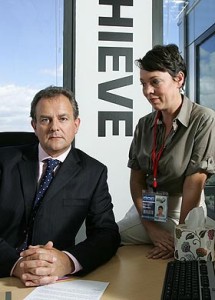 BBC comedy chiefs are plotting a spin-off of Bafta-nominated Olympic mockumentary TwentyTwelve.
They hope to reunite the core team of hapless PRs including Jessica Hynes as Siobhan Sharpe, Hugh Bonneville as Ian Fletcher, Olivia Colman as his PA Sally and Amelia Bulmore as Kay Hope.
A BBC insider said: "There is a real desire for this to happen.
"The show was such a fantastic success and writer John Morton is a genius, such a massive talent.
"It would be so great to get the team together again."
Plans are in their early stages, with the spin-off likely to see dithering Fletcher taking on another major national project and hiring back his Olympic colleagues to help him out.
In the show, made in the style of a fly-on-the-wall documentary, Ian headed up the fictional Olympic Deliverance Commission while Siobhan, who has her own PR company Perfect Curve, was head of brand.
One of the highlights was the development of a travel strategy – called Way to Go – in which pedestrians were banned from pavements.
Morton has indicated that a follow-up comedy could be possible, given the right circumstances. He said: "There's been some talk about whether there can be a life post-Olympics and it's tempting because I'd love to work with those actors again."
The BBC2 series received widespread critical acclaim when it was shown in the run-up to the Olympics last year.
Viewers loved that many of the comedy's ideas – such as problems with the countdown clock, complaints from animal rights organisations and a bell-ringing competition to mark the start of the Games – were echoed in real life.
Tomorrow Bonneville, Hynes and Colman will find out if they have won a Bafta for their individual performances, while the show is also nominated in the sitcom category.
TwentyTwelve has already been named best comedy by the Royal Television Society and won best sitcom at the Comedy Awards.