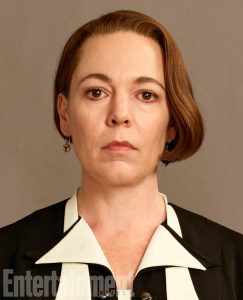 Olivia Colman is adding another great role to her CV, as she's about to play a key part in blockbuster Murder on the Orient Express.
She plays Hildegarde Schmidt, handmaiden to Judi Dench's character Princess Dragomiroff, and it sounds like she couldn't have had a better experience on set.
"It was heaven," she said, speaking on The Andrew Marr Show. "I sat next to Judi Dench all day, holding a dog. It was heaven!"
The Broadchurch actress was recently announced to be taking over the role of Queen Elizabeth II from Clare Foy in Netflix drama The Crown.
And Colman revealed all about just how excited she was to hear the news about her casting.
"I was on speaker phone in the car with my husband and we'd recently finished watching The Crown," she said. "And my agent said, 'Would you go and meet, as a secret, about a tiara?'
"She was trying to be subtle and I went 'The Crown?! The Crown?! Oh my god yes!' And my husband was silently clapping in the background.
"So we were quite excited – I was very excited!"
She and Murder on the Orient Express co-star Michelle Pfeiffer also spoke about the recent allegations surrounding Harvey Weinstein, with Colman pointing out that "women in their 20's are purposefully targeted".
Pfeiffer added: "I've had some experiences. I have to say since this has all come out, there really hasn't been one woman that I've talked to who hasn't had an experience.
"And it just goes to show you how systemic the problem is."
Source: digitalspy.com – Olivia Colman says that working with Judi Dench was heaven