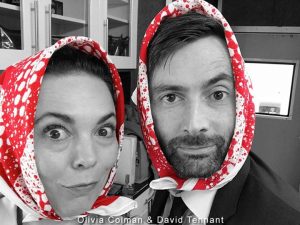 The 'Broadchurch' co-stars will continue working together once the popular ITV crime drama draws to a close after the current series as they are teaming up for their very own comedy musical stage show, which Olivia, 43, says she and the 45-year-old hunk will write together and hopefully star in.
According to the Daily Star newspaper, Olivia said: "We do have plans to work together again – we think it would be fun to do something like a panto.
"We would have to put us in it to play the Ugly Sisters."
Olivia – who portrays Detective Sargent Ellie Miller in 'Broadchurch' – clearly didn't find it difficult working with David, who recently admitted he was like a "grumpy old man" when he was shooting the hit show.
The nation may be preparing itself for mourning when the third installment – the final series to ever hit screens – comes to an end next month, but David – who plays DI Alec Hardy in the crime drama – admitted he was glad it's almost over because he was sick of having to keep the storylines and scripts under lock and key for most of the year.
He recently said: "This is it. I think we should do three and leave them wanting more.
"It's always been the way. Anything that's a thriller has elements you want to hold back. Being on the show gets really tiresome because everything is sent with a password. One script has one password, another has another password. I just can't keep up. I end up being a grumpy old man saying 'just send me some paper!'"
Source: sundayworld.com – Olivia Colman and David Tennant planning a pantomime