iron lady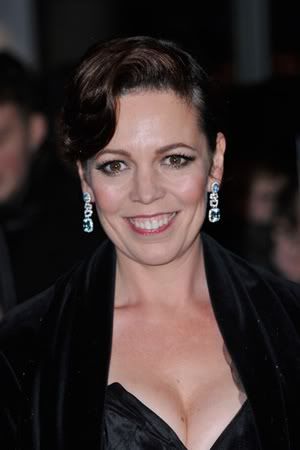 Tomorrow morning, Olivia Colman is alarmed to remind herself, she is due at the first rehearsal for a West End play. "It is Hay Fever by Noël Coward. And I am very nervous about going back on the stage. I am playing Myra, or Myrna, is it?"
Colman will be appearing alongside Lindsay Duncan, Jeremy Northam, David Haig and Freddie Fox, but the list of illustrious co-stars does not help. "I used to do stage all the time, but it has been such a long time. I feel they are all going to be shaking their heads soon enough, saying to each other, 'I can see we are going to have to carry this one.'"
The 37-year-old has applied her subversive wit to a wide selection of critically acclaimed television comedies over the past decade, from Peep Show to Green Wing and Rev, but recently pulled a switch on her audience by proving she can deliver uncompromising emotion, too. Her performance in Paddy Considine's Tyrannosaur, in which she played a charity shop worker enduring hidden domestic violence, won her best actress at the British Independent Film Awards in November, and her portrayal of Margaret Thatcher's daughter Carol in director Phyllida Lloyd's film Iron Lady was last week saluted by critics.
"I don't believe any of the Thatcher family have seen it yet. I think they have decided that if they see it they will do so in their own time, which seems right, although I know Phyllida did ask if they wanted to see it first."
Colman researched her role as the prime minister's daughter by watching back-to-back tapes of the 2009 series of I'm a Celebrity… Get Me Out of Here, the jungle-based reality TV show in which Carol unexpectedly triumphed.
"I know it seems a bit silly to play someone without meeting them, but seeing the show was very good, because it meant I watched her when she was unaware of the cameras. Although the gung-ho, fearless Carol of the bush is not the same woman as in my scenes in the film, which are much more emotional."
Residual affection for the hearty and occasionally maladroit Carol is based, Colman thinks, on her eccentricity.
"I think the English understand that it must be very difficult to grow up in the shadow of someone like her mother, although in America the reaction is different, I hear, because the younger generation do not know anything about Margaret Thatcher, let alone her daughter. You wonder at first how they could not know, but of course they don't."
When it comes to the politics of the film, Colman holds the party line, embellishing the director's view that the film is not about Thatcher's policies or her social impact. "I am not in the same camp as Thatcher politically myself, but the great thing about the film is it looks at how powerful she was and how contentious a figure she was and shows she did it with dignity. It is about the fading of powers. Dementia is such a terrifying thing for all of us, and we are particularly bad at coping with old people in this country."
This subject, she says, coupled with "the more universal family dynamic in the story", drew her to the screenplay. "If you hate Thatcher, you are not going to be satisfied. Although if you look at the film objectively, you will see she is shown as someone who both impressed millions of people and is thought to have ruined millions of lives too."
Decisions about which parts to take – and there are growing conflicts – are based on the scripts.
"If when I read it I can't imagine making it sound real, then I just can't do it," says Colman. "If a script is good, you are 10 steps into the part just reading it. But my choices are not all down to my taste. It is about people you have worked with before. A series like Look Around You, which I did with Peter Serafinowicz, was down to luck. He asked me and he has very good taste in comedy."
Aside from amusing early appearances in the AA's "Kev and Bev" adverts, Colman began to be recognised in 2003 as sensible Sophie from Peep Show, alongside David Mitchell and Robert Webb.
"I suppose I am very sensible," she says. "I mean, here I am now and I'm building a fire and making a cup of tea at the same time as talking. But in fact I was slightly badly behaved at school and got in trouble. I would get a bee in my bonnet about something I thought wasn't right, and I would ape about too, to make everybody laugh. That was my way through my girls' school, because I wasn't very academic."
Funny was never going to be the whole story though. Colman wanted to be taken seriously as an actress and admits running through her awards acceptance speech from the age of eight. "I suppose everybody who wants to perform does that."
She grew up in Norfolk and, after a truncated spell studying in Cambridge, trained at Bristol Old Vic.
"They tried to knock the edges off my funny voice, so that I can do 'received pronounciation'. But my voice is working for me now. It's not really a Norfolk accent, I have moved about a bit and at school I wanted to sound like everybody else."
It was Colman's agent who nudged her into pulling away from a lucrative run of comic roles. "She said not to panic, but that doing straight-girl parts and giving Mitchell and Webb the feed lines was not going to make it easy for me to do other work. So I talked to David and Robert about it and they just said: 'We wondered when you were going to say that.' It was a hard decision though."
Since Considine's Tyrannosaur, the break from sketch shows has proved its worth. "People know I can do other things now. That is all down to Paddy, who stuck his neck out for me." Yet Colman is not turning her back on comedy. "If people still trust me with a funny line, then that is fine. If that is what gets me work."
The popularity of the BBC's Rev, in which she plays the wife of Tom Hollander's vicar, Adam Smallbone, has brought a new breed of fan. "We tried to do some guerrilla filming for the series at the Greenbelt religious festival, but in the end we couldn't use any of the footage because it was like being the Stones. We were mobbed by people saying they loved what we had done with Rev. They are normal human beings, after all, and fed up with constantly being portrayed as starchy."
Colman adds that, while she is not a believer, she is happy that the show is good PR for the church. "Adam Smallbone is an everyman: good, kind, worried and troubled. I have enormous admiration for people that do believe. Maybe one day I will take that step."
Colman lives with her writer husband, Ed Sinclair, and their two small boys. "It is easier now the boys are at school. I don't feel so bad leaving them all at home."
Colman met Sinclair in a student production of Alan Ayckbourn's Table Manners. "I saw his right profile as I entered the room and felt a thunderbolt. He didn't feel it, though. It took me about six weeks to convince him. At least it wasn't six years."
The suggestion that offers of work may soon come from America is unsettling, she says. "It hasn't happened yet, but I would find it hard to sign up for seven years for a series. It would be very tricky. I would have to take everyone. I don't really sleep if I am not with my husband, and seven years is a long time not to sleep."
For now, British television audiences can look out for Colman in a new series of Jimmy McGovern's The Accused, in which she stars with Anne Marie Duff.
"I always want to work. I have got a huge mortgage and I am the only earner at the moment, so I need to work too. It took me a good week or so to calm down over Christmas. Now I have completely relaxed, so I am a bit daunted by the rehearsals tomorrow. I've been used to having the boys come into bed and just lying there. But that all has to change again now."