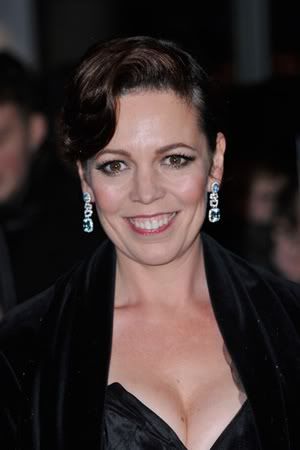 How does an actor with well-established comedic chops turn in a shattering performance in one of the year's darkest, most disturbing films? Olivia Colman says she did it in "Tyrannosaur" by doing what's real for her character—with the help of a pitch-perfect script.
"I didn't go anywhere different for it," Colman says. "You just go to where you need to go to do her justice." Her work in this film by writer-director Paddy Considine was dubbed the breakout performance at the 2011 Sundance Film Festival.
One more breakout is coming her way, however. She more than holds our attention as Margaret Thatcher's daughter, Carol, opposite Meryl Streep in "The Iron Lady."
But in "Tyrannosaur," Colman plays Hannah, a Christian woman who works in a thrift shop and who holds out a literal and figurative hand to the damaged, raging Joseph (Peter Mullan). Yet Hannah bears her own scars, caused in large part by her marriage to the monstrous James (Eddie Marsan). The film began life as Considine's short; in the feature film he expands Hannah's role to show her background and develop her relationship with Joseph.
Back Stage: How did you meet Paddy Considine, and how did he cast you in this project?
Olivia Colman: We met on a film called "Hot Fuzz." We met the first day of our rehearsals. I knew Paddy was coming, and I was so excited to meet Paddy Considine. And he came up the stairs, and I opened the door for him, and he said, "After you," and I went, "Oh, no, no, after you." And he says that at that point he thought, "Oh, right, she's the one for my short film." I'm so pleased I held the door open for him.
Back Stage: How much time did you have to prepare your character for the short?
Colman: I didn't. I read the script, but then I had to fly to Glasgow and do my scenes just in one day, because I was in the middle of a job. The short went down very well. It won a BAFTA for best short. After that, people were saying, "I want to know what happens with these characters." And then it was just about four years between the short and the feature.
Back Stage: If there was no back story for Hannah, did you make one up for her?
Colman: Everything was on the page. She worked in this charity shop; she was the only person who extended a hand of friendship to this man who most people would have walked to the other side of the street away from. I didn't need to know an awful lot more about that. I know lots of actors might disagree with me, but to me I just did what was on the page. She was a lovely, warm person.
And when you come to the feature, she just shows herself as a lovely, warm person. She doesn't show what's going on, anyway, in her back story. It's unveiled during the course of the film. But I think it's right that she doesn't show everybody, and that's what's more interesting.
And the whole film is about challenging perceptions: You make snap decisions, snap judgments about people, and you're invariably wrong. Looking at the film after you've witnessed what Joseph's done, you can't believe you can feel so differently. But I don't think you need to demonstrate everything, because that's not what people do. They keep their secrets, and they keep them well.
Back Stage: Any other research?
Colman: I went to this charity called Refuge, in the U.K., which tries to help victims of domestic violence. I talked to women who work for the charity—not to any of the women, or men, they help—because I couldn't promise I wouldn't cry. So they gave me a case study to look at, which was so shocking—a hundred times worse than anything you saw onscreen—and that was enough. I'll never get rid of that now, the horrible images from that. That was enough to inform what I thought Hannah was.
Back Stage: What was Paddy's set like? Formal? Funny?
Colman: Informal and very, very safe, very friendly. They're all funny people: Paddy, Eddie, and Peter. All lovely, warm people who tell funny stories and joke with each other. Also the crew. When you're feeling exposed when you're doing something, you don't want to hear someone giggling 'cause they're doing a private joke over there. No one did that [on this film]. Everyone was completely committed.
Back Stage: What kind of rehearsals did you have?
Colman: We had one day that had been put aside, before we started the shoot. Paddy and Peter and I sitting. But it ended up we didn't really talk about the piece at all. We ended up going to the pub and having a drink. The characters were already so whole, so multifaceted, so complete on the page, I didn't want to talk about it. It feels like you're taking the lid off the pressure cooker. If I can feel it, it's all there; please don't make me say it before we have to do it.
I told Paddy, "I'm really nervous about rehearsing for this; I don't want to." And he felt the same. Because I felt it so deeply, I would be sobbing during a rehearsal. He said, "No, don't say a word. Roughly when you get to that point, where do you think you might go? [The camera will] just follow you and make sure we get it." That was lovely. It was liberating.
Back Stage: What did you learn about acting while working on this film?
Colman: There's a certain feeling I have a bit more now, which is I do deserve to be here. I always thought, "I'm going to be found out." I couldn't have done "Iron Lady" three years ago. I did "Iron Lady" three years after this, and I thought, "It's all right; I can hold my own," after Paddy giving me confidence like that.
Back Stage: What did you learn watching Streep?
Colman: She has a very strong work ethic. There is no ego; there's no vanity; there's no place for that. That's why she is so extraordinarily good at what she does. I don't want to? see the working behind a performance. To be; that's it. And to feel it.
And laying on extra stuff—I don't enjoy watching that. She takes what she needs to, to make that person real. People would have paid to sit there and watch her in the flesh doing it. And she was amazing, and you completely forgot that underneath the prosthetics she looked different. She became the person.
Back Stage: In "Tyrannosaur," what was the most difficult scene for you?
Colman: The one I was always terrified of, from the moment I got the script, was Hannah's breakdown. I was scared of doing it justice. I didn't want to let Paddy down. And he shot us chronologically, which was brilliant. Because he's an actor, he knows how important that is. So the whole journey, you've already done it. It makes your job very easy.
There was [another] scene which didn't make it to the final cut. I think we all felt it wasn't working. Paddy kept trying. And then I traveled home for the weekend. And Paddy called me and said, "We're going to reshoot that scene." And I was so upset that I hadn't done it right, I've let him down, he'd taken the gamble. And then he says, "It wasn't you. I was saying all the wrong things, and I was directing it wrong." Which is sweet of him.
Back Stage: And the one scene you wouldn't mind reshooting?
Colman: The scenes I found hardest were the scenes that were re-creating the short. It was weird—it was like an echo. We did it four years previously, and I was trying to make it? fresh again now, but I could still kind of hear my own voice. I found those the hardest, which is why I wouldn't want to shoot them again, 'cause it would just get worse.
Back Stage: What was your worst audition ever?
Colman: It was for the Donmar [Warehouse, in London]. I was going to be meeting [casting director and creative associate] Anne McNulty, and I was so excited. Quite early on [in my career]. Wanted to be taken on by my agent. And the script had a lot of mention of camera shot things. And it was for the part of a whore.
So I had a short skirt and tried to look as whorish as I could—or as I could bear. Got there, took my coat off, and she looked at me and said, "What do you think of the script?" And I said, "Oh, it's good." And she still looked puzzled. And then she said, "Should we have a little read?" And it wasn't the script that I'd been sent. It was for the part of a nun. We did laugh about it, but it was humiliating. And I didn't get that part.
Source: backstage.com – Olivia takes new steps in Tyrannosaur