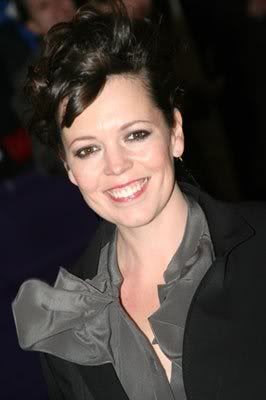 Olivia Colman was relieved Meryl Streep wore prosthetics on the set of their new film about former Prime Minister Margaret Thatcher – because it made it easier to forget that she was working with the Oscar-winning star.
The Peep Show actress, 37, plays Carol Thatcher in the movie, The Iron Lady, which stars Jim Broadbent as her father Denis Thatcher and Meryl as her mother, Britain's first female prime minister.
Olivia told Radio 4's Woman's Hour: "I couldn't quite believe I was in the same room or city as Meryl Streep. I was quite grateful that she was covered in prosthetics so she didn't quite look like her, otherwise I don't think I would have been able to function at all."
Olivia said Meryl perfected the voice of the former Tory leader, adding: "It's spooky, its proper spine-chilling spooky, it's brilliant."
Even though she thought she would turn "to jelly" while working with the actress, she said: "Within moments I forgot that she was stratospherically wonderful…she's a funny woman, who is very close to giggles at all times.
"She's got nothing to prove so there's no ego, she was lovely to be around."
The Rev star did not meet Carol Thatcher before playing the role.
She said that she was "not an impressionist" but that the trick to sounding like her was "weak Rs".
Olivia, who is also filming the role of Queen Elizabeth in Hyde Park On Hudson, the movie starring Bill Murray and Laura Linney, said of her future: "I hope to work until I can't stand any more."