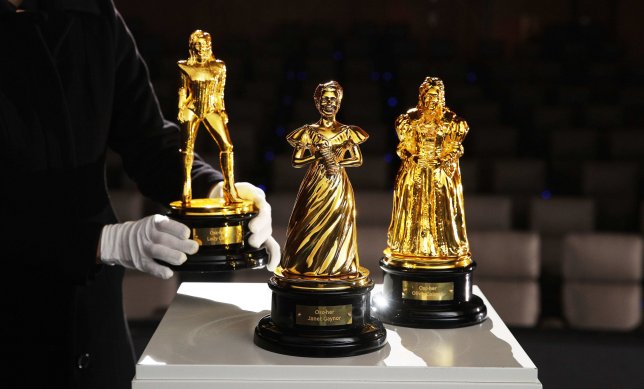 Lady Gaga and Olivia Colman have been given the Oscars treatment, as the Hollywood stars were turned into their own versions of the gold statuettes ahead of the Academy Awards later this month. It comes after a surge of support and celebration for women in film emerged ahead of this year's ceremony. The applause for the likes of Gaga, who is a hot contender for the best actress award for her role in A Star Is Born, as well as Olivia for the same category for her turn in The Favourite, prompted ODEON Cinemas to produce a range of 'Osc-her' statues.
Oh, Osc-her? We see what you did there, you saucy cinema. Gaga and Liv are both up for best actress, but in this glass case of emotion world they're both winners.
The two actresses have also joined Janet Gaynor – who was the first ever woman to win an Oscar – in all their golden glory, unveiled at the Luxe Leicester Square on Monday morning. Apparently the whole thing came about after the cinema chain found 3/4 Brits are keen to see more women represented in the film awards show. Well, we could have told you that! And this year is special in its own right, as Lady Gaga, who found fame as a singer, is straddling both the best song and best actress categories. That's fresh from a Baftas, Golden Globes and Critic's Choice Awards win. While we'd love to see what Olivia's acceptance speech may be, judging by the past times we've seen her on stage this year. 'It's been fantastic to see such a strong line up of talented women up for award nominations this year,' Carol Welch, Managing Director, ODEON UK and Ireland said as they unveiled the timely awards. 'We've been treated to a fabulous set of films with The Favourite and A Star is Born as stand out highlights, so it's no surprise to see the high hopes for Olivia Colman and Lady Gaga.' Guess this is where we tell you the gold likenesses are not going to be used on the night, with the traditional Oscars statuette – you know, the dude – being rolled out for the hardworking winners.
Source: metro.co.uk – Oscars statuette gets modern reboot as Lady Gaga and Olivia Colman turn into legendary gold awards

2 Responses to Oscars statuette gets modern reboot as Lady Gaga and Olivia Colman turn into legendary gold awards