article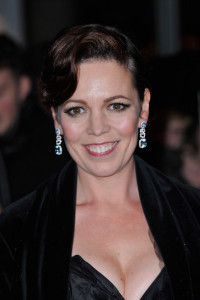 Worried Broadchurch star Olivia Colman is ­facing another cliffhanger – over fears her ­acting work will dry up as she gets older.
The Sunday People can report that the 39-year-old TV favourite revealed: "It's harder to get roles as you get older."
And now, after celebrating nominations for two TV gongs last week, Olivia has ­demanded ­attitudes MUST evolve.
She said: "I have a lot of friends that should be working and aren't and that's a real ­mystery and needs to change."
But canny Olivia has a secret weapon – she revealed last month she lands good parts because she's NOT a pin-up.
Olivia said: "I feel fortunate I'm not a classic beauty.
"I feel it is harder for girls who are like that. There are fewer parts," she added.
And she certainly doesn't have to worry about her future yet.
The mum of two, who shot to fame in cult comedy Peep Show, is nominated at next month's Bafta TV awards for gritty legal drama Accused and Olympics send-up Twenty Twelve.
She is now one of TV's most ­in-demand actresses and is likely to be back for a second series of ITV whodunnit Broadchurch.
She plays DS Ellie Miller – wife of child killer Joe – opposite former Doctor Who David Tennant, 42, as DI Alec Hardy.
She said: "The writer Chris Chibnall phoned up all the cast recently to tell us about it. It does sound really, really exciting.
"I'm not sure if I'm allowed to say whether everyone is back on board. Let's put it this way I will definitely say yes if they ask me."
She added: "I thought this series was so great maybe it was best to leave well alone but then Chris ­explained his idea and I knew it would be good."
Broadchurch – which regularly pulled in more than seven million viewers – was filmed in Bridport, Dorset and Bristol.
Some of the new series is likely to be shot in London.
Olivia said: "It was quite ­intense to film and most of us have families so there's talk of doing the indoor scenes in London which would make a huge amount of difference."
Source: mirror.co.uk – Broadchurch star Olivia Colman fears her career could be killed off as she gets older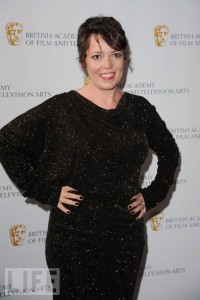 Ten years ago I made my last television acting performance. It was the first series of a brand new sitcom. The idea was new and exciting. The programme would be shot using head cameras on the two main characters. The result would be edgy, jerky close up images. The audience would be see through the eyes of the protagonists and it was to be called P.O.V (point of view). Yes you are right, the title didn't exactly trip off the tongue, so before the series was aired it was changed…… to Peep Show.
The cast was oozing with young new talent. Robert Webb, David Mitchell and Olivia Colman. The boys quickly became household names. They were given their own series and have achieved huge and well deserved success. Olivia was more of a slow burn.
We were filming in a crematorium for the day. Progress was slow and I chatted to Olivia outside our respective winnebagos (which sounds much smarter than it was). She was young, relatively inexperienced but excited to be playing a lead role in a groundbreaking new series. We were all crossing our fingers it would be a success. It was.
Then came the next TV show: Rev. Olivia was, of course, marvellous in Rev. She is marvellous in everything she touches, but I think it was during Twenty Twelve, the Olympic spoof sitcom, written by the magnificently talented John Morton, that my love affair with Olivia really began. Each line, each nuance was so delicately and charmingly delivered. In just one look we knew this downtrodden, unnoticed secretary was in love with her boss. The more Hugh Bonneville's character ignored her, the more our hearts went out to her. I have never seen a sandwich made with such care or a band aid applied with such underlying sexual tension.
So it seemed last night most of Britain, or certainly most of my Twitter timeline, gathered together to watch the denouement of Broadchurch. To be honest I don't often devote myself to long running detective dramas. They involve too much commitment even with the joys of Sky +. But after the first trailer the die was cast. I had to watch. Olivia was in it. If Olivia is in it I have to watch.
There were other people in this drama. David Tennant made an appearance, but my eyes were on Olivia because for all the twists and turns, for all the suspects and false alleyways, this drama was about one thing and one thing only. By the time we had reached last night's episode I think most people had guessed it was Olivia's on screen husband who had committed the deed. It didn't matter that it was revealed early on in the episode. What mattered was Olivia's character's reaction to it. And she delivered. Because she always does. Wretching, kicking, screaming and silently weeping, her bottom lip trembling, Olivia can do it all. Never overplayed, always totally believable.
So why do we all love her so much? Because she has the uncanny ability to touch a piece of all of us. We are all her and she is us. Not an untouchable movie star, a real woman who is vulnerable yet strong. Her comedy is immaculate and her tragedy heart-rending.
She is modest, charming and real; the nation's new Judi Dench.
There are times when the nation falls in love with a passing fad, a fashionable icon. Last night my Twitter feed proved that we had fallen in love, not with glamour, not with superficial beauty, but with pure, pure talent.
Source: telegraph.co.uk – Broadchurchs Olivia Colman is the new Judi Dench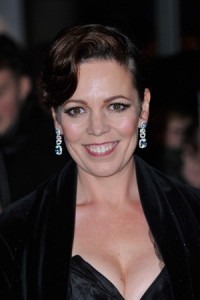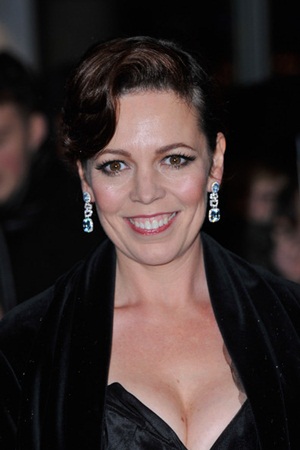 Down on the South Coast, it is the end of a perfect summer. Every evening, the lowering sun turns the Dorset cliffs the colour of molten honey, before sinking behind a landscape of lush fields and church spires.
Every morning the sun ripens and rises again, beating down upon a small seaside town with a sparkling shoreline — and a dark secret.
For in the dead of a hot summer night, for reasons yet unknown, 11-year-old Danny Latimer was murdered and found at the foot of the cliffs.
Against the jolly backdrop of bucket 'n' spade gift shops and ice-cream sellers, the horror of his death seems even more shocking.
As his parents grieve, the detectives scout for clues and the community turns in on itself, the question everyone is asking is: who is the killer in Broadchurch?
In the hit drama from ITV, Detective Sergeant Ellie Miller is played with quiet brilliance by the actress Olivia Colman.
Ellie is the simpatico local cop with insider knowledge, but she has been passed over for promotion by brash newcomer Detective Inspector Alec Hardy (David Tennant).
However, the traditional cop-on-cop conflict has been turned on its head.
While Tennant, the former Doctor Who, is clearly the big marquee name hired to bring in the crowds, he is frequently outshone by Colman.
Indeed, there is barely a scene between the two of them that she does not steal.
With her no-nonsense anoraks and cross-body bags, Ellie is tough yet empathetic, kindly, irritable and so real that you feel you know her.
Whether snatching lunch with her family, dishing out holiday presents to her colleagues or confronting her abrasive boss, Colman is extraordinary at being ordinary — perhaps the hardest thing for an actress to achieve.
In the past, she has done comedy and drama: she is one of those rare actresses who can switch between the two while being tremendous in both.
She has one of those faces that is instantly familiar to TV viewers, but her ability to disappear into a role and cast makes it hard to pin down her work.
She has appeared in, among others, Peep Show and Green Wing. The 39-year-old actress also won a new fanbase as the vicar's wife in the comedy drama Rev and — surely this is everyone's favourite — as Hugh Bonneville's love-struck PA in the hit BBC comedy Twenty Twelve.

Despite winning a host of movie awards for Tyrannosaur and critical acclaim for her role as Carol Thatcher, complete with a blonde wig, in The Iron Lady, her role in Broadchurch is being seen as her big breakthrough.

Some believe it might do for Olivia Colman what playing a similar type of detective in Prime Suspect did for Helen Mirren — pave the way for a Hollywood career.
Modest Olivia would probably beg to differ. She believes that part of her success as an actress is her lack of vanity: she doesn't mind looking a frump on stage or screen.

Certainly, as windswept Ellie in a rubber mac searches for bloodstains on boats in the harbour or tries to console a bereaved mother at the end of a long police shift, she looks as glam as a wet haddock. And that is the way she likes it.
No wonder that Colman — who recently won a Best Actress Award from the Royal Television Society for her role in Accused — has been described as 'divinely gifted' by none other than Meryl Streep, who starred in The Iron Lady.

That's not to say co-star Tennant is disappointing as the troubled Hardy in Broadchurch.

With all the social skills of a dropped anvil, he is a cop with a past; a man tormented by a similar murder case he failed to solve.

He also has an unspecified illness, where he blacks out and bangs his head if he runs out of pills.

Still, whatever he is going through, audiences wait quietly for the return of Ellie onscreen.

For in Broadchurch, it is Colman's character that provides the emotional still centre; she is the voice of reason in a community racked by grief and suspicion.

She is the person everyone turns to — even as she becomes suspicious herself.
'I hate what I am becoming,' she said to her boss Hardy this week.
'A good detective?' he wondered. Hardened,' she replied.

Four episodes into ITV's gripping new drama and viewers are still no nearer the truth. Like Cluedo addicts, we nurture pet suspicions as we pore over the evidence.

Was it the insomniac vicar in the graveyard with a hammer? Was it the newsagent in the scout hut with a rolled-up copy of Tit-bits? Was it the dad? The dog? The scary lady in the caravan? Everyone is desperate to find out.

In the meantime, with more than seven million tuning in every Monday evening to see what happens next, Broadchurch has been a big hit with viewers. It is not hard to see why.

The gripping, slow-burn series, written by Chris Chibnall (who cut his teeth on Doctor Who, Torchwood and Law & Order UK), examines what happens to a small, tight-knit community when the murder of a child takes place in its midst.

Rather than just a straight- forward police procedural drama, Broadchurch also focuses on the shattered and bereaved family.

Once the TV appeals have been made, the cameras are turned off and the police go home, what happens behind the closed doors and shuttered windows of the bereft home?

For once, we see how the parents Mark (Andrew Buchan) and Beth (Jodie Whittaker) try to bear the unbearable.

Whittaker, in particular, is wrenchingly effective. Her pale, haunted face speaks of a mother's pain that will never end, while her sprint along the beach towards the body of her dead son was harrowing.

She is also secretly pregnant — should we assume her husband is the father?

An emotional thriller such as this deserves a theatrical backdrop and, in this, Broadchurch dazzles.

Filmed in and around West Bay in Dorset last year, the stunning Jurassic Coast is shown at its best.

The tourist office is reporting a huge swell of interest, while local businesses advertise their premises 'as seen in Broadchurch' as they prepare for a bumper summer.

This is in marked contrast to their onscreen counterparts, who complain they do not want their town to be a 'byword for murder'.
Chibnall — who insisted none of the actors knew who the killer was during filming — lived in the area for almost ten years and was always aware of its dramatic potential.

In the eight-part series, the beach, sea and cliffs are key elements in the story.
Yet what makes Broadchurch stand out from the usual TV cop dramas is the odd, unsettling atmosphere it creates and the fine acting that propels it along.

Olivia Colman is excellent at acting as a conduit for the strangeness, tensions and complex relationships that lie just under the surface of a small town.

In these neat streets, behind the doors of ordinary houses like hers, Ellie Miller must help unmask a killer who is hiding in plain sight. The question is — who?
Source:dailymail.co.uk – Is Broadchurch star Olivia Colman the new Helen Mirren?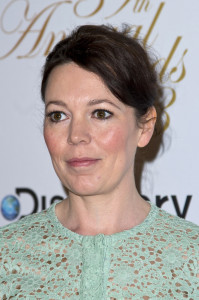 Olivia Colman has been named best actress at this year's Royal Television Society awards.
Colman beat Sheridan Smith and Anne Marie Duff to win the actress prize for her part in Accused II on BBC1.
Overall, the BBC won 18 prizes out of 28 at the event, which was held last night at Grosvenor Hotel.
Sean Bean, who was also in Accused II, won the best actor award, taking the prize over Lennie James and Oliver Lansley.
At the ceremony, BBC1's Sherlock won the drama series category, beating Call the Midwife and Line of Duty, while its writer, Steven Moffat, won the writer section.
Good Cop, also on BBC1, took the drama serial award and The Hollow Crown, shown on BBC2, was named best single drama.
Coronation Street took the prize for best soap over EastEnders and Hollyoaks and CBBC series Wolfblood took the children's drama prize, beating Mr Stink, shown on BBC1, and S4C's Teulu Ty Crwn.
Other winners included Jessica Hynes, who won the comedy performance section for Twenty Twelve, beating Ruth Jones and Jack Whitehall.
However, Twenty Twelve lost out in the scripted comedy category, with Alan Partridge – Welcome to the Places of My Life winning the award. It also beat Channel 4's Fresh Meat.
The award for best comedy writer, meanwhile, went to the writing team of The Thick of It, shown on BBC2.
Celebrity Juice, shown on ITV2, triumphed in the entertainment category, taking the prize over Britain's Got Talent and Dynamo – Magician Impossible.
Danny Boyle was also honoured at the awards for his work on the opening ceremony of the Olympics.
The RTS Programme Awards honour excellence in "key genres of television programming".
Source: thestage.co.uk – Olivia Colman and Sherlock win at Royal Television Society awards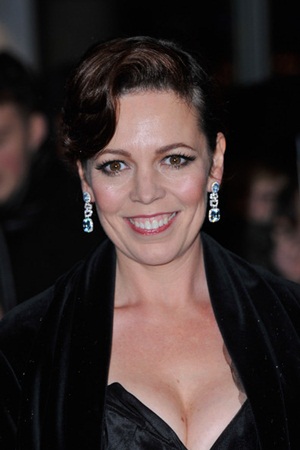 Olivia Colman has the fear – the one actors get when they don't have another job lined up. "Maybe I've had a good run of it and now it's all going to stop," she says. Right now such a dismal outcome is highly unlikely, as Colman seems to be everywhere – as Queen Elizabeth (later the Queen Mother) visiting Bill Murray's Franklin D Roosevelt in Hyde Park on Hudson, as a foul-mouthed marriage counsellor in the British rom-com I Give It a Year, and as Nick Frost's sister in the eagerly anticipated dance comedy Cuban Fury.
Also in the wings are a guest turn in the wonderful Sky Atlantic comedy This Is Jinsy and a new series of BBC2's dog-collar sitcom Rev, while for the next eight weeks she is going to be sharing top-billing with David Tennant in the ITV whodunit Broadchurch – a sort of British The Killing about the murder of a boy from a close-knit Dorset seaside town.
"The Killing was so brilliant that it seems a bit up yourself to say this is 'the British Killing'," says Colman, characteristically averse to hyperbole. She plays a local police detective miffed when an abrasive outsider (David Tennant, giving good stubble) is parachuted in to lead the investigation, while an all-star cast of suspects (Andrew Buchan, Jodie Whittaker, Vicky McClure and Doctor Who's Arthur Darvill) slowly reveal theirf secrets. Colman's is a very personable breed of copper (Scott & Bailey are a pair of Dirty Harriets in comparison), which is hardly surprising since she's modelled on herself. "I wanted it to be me in the police force," she says. "I thought I could damage that by doing too much research, which is my lazy way of saying 'I couldn't be bothered'."
Take that with enough salt to grit Heathrow airport, for the rise and rise of Olivia Colman is about unassuming hard work as well as talent, intelligence and (never a quality to be underestimated in her profession) likeability. Her success is certainly nothing to do with being brazen or pushy – she positively blushed with self-consciousness on our two, albeit brief, prior meetings (on the sets of Broadchurch and This Is Jinsy). Today however she's more relaxed, perhaps because it's her 39th birthday, and also maybe because the ice had been broken with a discussion about the attractions of her native north Norfolk.
There's no East Anglian accent; in fact her voice reminded me of a softer version of Rising Damp's Frances de la Tour – Miss Jones's gentler, more diffident younger sister perhaps. And like another shy comedy actress, Hunderby's Julia Davis, she has a dazzling smile that seems designed to deflect the inane intrusions of journalists and other idiots. "Perish the thought," she says when I ask whether she has a Hollywood agent, and she describes herself as "not terribly thick-skinned", when explaining why she doesn't tweet and why she keeps "my head down" in public. What do people say when they do recognise her? "They shout Peep Show," she says, mimicking a drunken cockney. "I'm not sure what I'm supposed to say in response."
In a way these boors are right – it was Peep Show that first made Colman. In Sam Bain and Jesse Armstrong's brilliant (and brilliantly sustained) Channel 4 sitcom, she played Sophie, the endlessly forgiving girlfriend of the appalling Mark (David Mitchell). "I couldn't do the latest series because I was doing Broadchurch," says Colman. "But also from a story point of view I don't think Sophie was as interesting for people to watch any more. And Dobby (played by Isy Suttie) is such a brilliant character and it's more fun to watch Mark fuck it up with other people."
Also, she might add, in recent years she has had to make the conscious decision to distance herself from her co-stars, David Mitchell and Robert Webb, whom she first met in Cambridge. "That was the discussion I had with my agent," says Colman. "She said, 'I know you love them and I know you're probably going to cry but you need to decide what you're going to do'. And Rob and David were heavenly about it. I'm so grateful for them – they were my first job and without them, well, I could be one of my many mates who doesn't get much work. But it's their show – it's Mitchell and Webb, not Mitchell and Webb and Colman. So Lindy [King – her agent] was right and it's all worked out."
It has indeed, starting with Tyrannosaur, the directorial debut of actor (and Colman's friend) Paddy Considine, with whom she had starred in Shane Meadows' mock documentary Le Donk & Scor-zay-zee, and with whom she has just finished filming an upcoming episode of the ITV period crime drama, The Suspicions of Mr Whicher. Colman's performance in Tyrannosaur, as a charity shop worker enduring hidden domestic violence and further challenged by Peter Mullan's raging alcoholic, was a revelation, and won several awards, including the Special Jury Prize at the Sundance Film Festival.
"It changed everything, really," she says. "It's funny… I've always done bits of drama, but clearly nothing anyone had ever seen." Next came her Carol Thatcher in Abi Morgan's misjudged Margaret Thatcher biopic, The Iron Lady, being singled out in Meryl Streep's Bafta acceptance speech for being "divinely gifted". Colman's research involved watching tapes of Carol in the 2005 series of I'm a Celebrity… Get Me Out of Here!. "It was such a godsend being able to watch the person you're trying to emulate in that situation," she says. "It was her being herself. Anyway, I thought she was amazing; if I was stuck in a forest I'd want her with me."
Colman was born in north Norfolk in 1974, the year before Margaret Thatcher became leader of the Conservative Party. She had an "absolutely heavenly" childhood moving around the county as her father, a surveyor, and mother, a nurse, renovated houses. "I had a lovely, feral, free childhood – out and then come back when you're hungry or it gets too dark," she says. "I feel slightly cruel that I'm not offering my children the same." The children are her two sons, Finn, aged seven, and Hal, five, with her husband, writer Ed Sinclair – but more of them later.
Colman didn't discover acting until she went as a sixth-former to the independent girls' school Gresham's in Holt, but the idea that you could make a living from this new-found passion never crossed her mind. "I'm the only weirdo in the family who's gone into it," she says. f "My older brother, who was in the Army, now owns his own building company. My half-sister was a nurse and is now a psychotherapist."
Instead she went to teacher-training college in Cambridge, but left after a year ("I was rubbish… a generation of children have had a very lucky break"), but not before that fateful meeting with Mitchell and Webb when she attended an audition for the Cambridge University Footlights under the mistaken impression that it was a straight drama society. "I'd never heard of Footlights," she says. "I think Rob and David probably thought I was quite game because they said, 'Find something in here and try and sell it to us', and I picked up a cigarette butt and was trying to sell it to them as nutritious and then ate it. Instead of laughing they just looked slightly shocked."
Another long-standing relationship that began at Footlights was with her future husband, Ed. "We did a play together," she recalls. "He did a play because he fancied the director and I did it because she was a friend of mine, and then I turned up and said (in a breathy voice now very much like Miss Jones in Rising Damp), 'Oh, he's amaaazing…'. And luckily the director… she wasn't that interested in him… thankfully… so, erm, then he got into drama school [the Bristol Old Vic] when he graduated and I was heart-broken that it would all end there. So I said I'd come along and I could support him."
A determined suitor, I suggest. "Yuh," agrees Colman, who thought that drama school looked like so much fun that she herself applied. She and Ed got married seven years later ("He's a steady chap… he likes to be sure"), although Ed has given up acting for writing. "I've got so many friends who just aren't working, it's puzzling; I've no idea why," says Colman. "And for Ed the work just stopped. But actually for him I think he was quite relieved because he always wanted to write and he's brilliant at it. I was lucky enough to pay the rent for both of us. It's not fair if I'm living the dream and he's not."
Wow. Would she consider marrying me? "Ha. Well, I'm hoping the novel will sell for a lot of money," she says. "I've only read the first four chapters. It would be awful if it came out and it was shit."
I ask whether her sons have seen her in anything, desperately racking my brain for any child-friendly fare that Colman might have appeared in. "I did Doctor Who, thinking there's something they can watch," she says. "I turned it on to be horrified and tried to turn it off again because there was mummy with a big scary mouth [in the episode, The Eleventh Hour, Colman's character sports piranha-like fangs]. I didn't really think it through."
But back to drama school in Bristol. After graduating, Colman set about looking for straight roles, but always seemed to gravitate towards comedy. It's at this point, with faultless comic timing, that her mobile phone goes off, her ringtone a honking clown's horn. Her screen-saver is a picture of her dog, a 'Jackapoo' (a Jack Russell/poodle cross) called Alf. "They're not supposed to moult," she says. "But I keep finding hairs."
There's something canine about Colman's nickname, Colly – she had to change her birth name, Sarah, to Olivia, because of an Equity clash with another Sarah Colman. "One of my best friends at university was called Olivia and I always loved her name," she says. "I was never Sarah; I was always called by my nickname, Colly, so it didn't seem so awful not to be called Sarah."
Colman's knack for comedy saw her progress through such shows as People Like Us, The Office, Black Books, Green Wing, as well as the aforementioned Mitchell and Webb collaborations. But it's only with her two most recent sitcoms, Rev, in which plays the wife of Tom Hollander's inner-city vicar, and Twenty Twelve, the Olympics comedy in which her PA shyly won the heart of boss Hugh Bonneville, that she has parts large enough to equal Peep Show's magnificence. And Rev has won her a whole new fan-base.
"We went to try and do some filming at Greenbelt Christian rock festival," she says, "but we couldn't use the footage because everybody went 'Aaah!'… It was like being in the Stones. There was a vicar shaking Tom's hand and saying, 'Thank you so much… I'm proud of my dog collar – you've shown us as fallible and human and trying our best'."
Rev returns at the end of the year, although Bad Sugar, the telenovela pastiche co-starring Julia Davis and Sharon Horgan, surprisingly won't be progressing beyond the pilot stage that was shown on Channel 4 last year. "It's been decommissioned," she says. " I think there might be some new blood and it's not their baby… I don't know… politics."
And then our time is up and it's off to have her photograph taken – and I notice that this seemingly self-effacing actor, casually attired in black leggings and Ugg boots, is carrying a plastic bag with a pair of ultra-high heels, in the fashionable dominatrix style, and a birthday present to herself. It leaves me with a nagging feeling that there might be another Olivia Colman that I haven't yet begun to meet.
Source: independent.co.uk – Is Olivia Colman Britian's most versatile actress?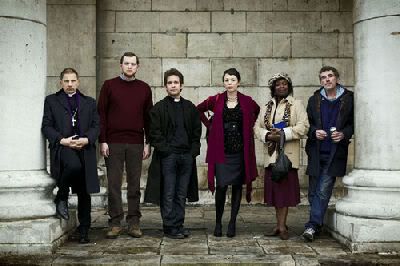 Award-winning comedy Rev is to be remade in the US, with Desperate Housewives producer Bob Daily on board to write the American version.
The half-hour comedy series, which follows an inner-city vicar and his eclectic congregation, won the best sitcom Bafta in 2011.
The British version, starring Tom Hollander and Olivia Colman, recently won fans on the US streaming site Hulu.
It will return to BBC2 for a third series in 2014.
Hollander, who plays Rev Adam Smallbone, and who co-created the series, will consult on the US version with fellow creator James Wood.
The US set-up will centre on an Episcopal priest who leaves a small rural parish in Wisconsin to take over a failing inner-city church in a deprived Chicago neighbourhood, reports US industry website Deadline.
As with the British version, the congregation will include a homeless man and a crack addict.
For Daily, it marks a return to the half-hour sitcom, having spent five years on the award-winning US series Frasier before moving to Desperate Housewives.
Kenton Allen and Matthew Justice, of Britain's Big Talk Productions – which produces Rev in the UK – confirmed they will executive produce the US version, but stressed that the project was still in development and no script was yet available.
Rev won best comedy at the South Bank Awards and picked up four prizes at the Broadcasting Press Guild Awards in March, including best comedy and entertainment show and best writing.
Hollander recently completed filming About Time, a new time-travel comedy from Love Actually director Richard Curtis. Colman is due to appear on the big screen early next year in Hyde Park on Hudson, playing the Queen Mother.
Olivia Colman has joked that she chose to wear Victoria Beckham to the London Evening Standard British Film Awards – because it meant she could eat more.
She revealed: "I've been looking at all her clothes and I think they're really pretty."
She laughed, pulling out the waist: "And you can eat in here and you don't have to breathe in, which is always worth it."
The Peep Show actress won Best Actress for her role as a battered wife in Paddy Considine's Tyrannosaur.
She said: "Very excited, it's obviously a very, very lovely feeling.
"To win things for this particular film feels pretty special because it's probably the best part I will ever get, so it's lovely that people have loved it just as much as I have."
It was the latest in a run of awards for the Rev actress.
She said: "I'd like to be cool like lots of people and go 'Yeah, it's in the downstairs loo', but they're absolutely all over the mantelpiece, polished."
A champagne reception before the ceremony was interrupted by a fire alarm, forcing the stars – including Tom Hiddleston, Poesy and Downton Abbey star Jessica Brown-Findlay – to be evacuated outside on to the street for a short time.
But everyone made light of the episode, swigging from miniature bottles of champagne and huddling together for warmth.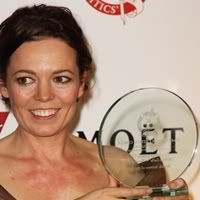 Michael Fassbender, Olivia Colman and John Hurt stole the honours at Monday night's Evening Standing British Film Awards which was a blazing success despite an alarming delay.
The awards took off to a rocky start when stars were evacuated from the venue following a fire alarm which put the ceremony behind schedule, according to BBC News.
Famous guests including Colman, Hurt, Clemence Poesy and Jessica Brown-Findlay stood out in the cold until it was deemed safe to return inside.
However the show continued without a hitch as prizes were handed out to the best in the business.
Fassbender won the best actor prize for his role in sex addiction drama 'Shame' and as Edward Rochester in 'Jane Eyre'. He was not present for the awards so 'Shame' writer Abi Morgan accepted the prize on his behalf with a message from the actor saying he "truly honoured and delighted" by the win.
The best actress gong went to Olivia Colman for her performance in drama 'Tyrannosaur.' 'The Iron Lady' star beat Oscar winners Vanessa Redgrave, Rachel Weisz and Tilda Swinton for the honour.
John Hurt picked up the Alexander Walker lifetime achievement award for his contribution to cinema. 'The Elephant Man' star, 72, was presented his prize by 'My Beautiful Laundrette' director Stephen Frears.
The prize for best film went to Lynne Ramsay's 'We Need To Talk About Kevin,' a drama about a woman who tries to deal with the grief of her teenage boy who goes on a high-school killing spree.
'Harry Potter And The Deathly Hallows: Part 2' picked up The People's Choice Award for Blockbuster of the Year.
The awards were hosted by 'Green Wing' star Stephen Mangan at the London Film Museum
Source: entertainmentwise.com – Michael Fassbender, Olivia Colman lead British Film Awards
Time to Change, the mental illness charity organisation, is launching a new campaign to encourage people to talk about the issue of mental health.
The "It's time to talk. It's time to change" campaign aims to "remove the fear and awkwardness" around mental health by encouraging people to talk openly about it.
The TV, press, radio and digital campaign was created by Dare, and includes a series of cartoon strips showing common misunderstandings around mental health, drawn by Stephen Collins, who has previously created cartoons for the Times and Spectator.
Olivia Colman, who played Sophie in Channel 4 TV programme Peep show, will voice one of the characters in the radio ads.
The charity is also inviting people to make a pledge towards ending the silence around mental illness through an online portal that offers help on how to start a conversation on the subject or send e-cards to let someone know they are thinking of them.
Time to Change director Sue Baker says: "The aim of our social marketing campaign is to use creative, innovative methods to reach our target audience. It's time to talk. It's time to change, encourages the public to talk and open up about something that affects one in four people in our communities. Through the use of subtle humour in our advertising, we hope we can remove the awkwardness and fear that stops many people talking about mental health."
The Time to Change campaign is jointly run by charities Mind and Rethink Mental Illness, and recently received new funding from the Department of Health and Comic Relief.
You can find out more about this charity here:Time to change
Source: marketingweek.co.uk – Charity encourages people to talk about mental health
THE New Year couldn't be getting off to a better start for Olivia Colman, one of our most liked actresses seemingly on a fast-track to National Treasure status.
In November she won Best Actress at the Moet British Independent Film Awards for her heartbreaking performance as an abused wife in Paddy Considine's Tyrannosaur, trumping Tilda Swinton in We Need To Talk About Kevin.
The film has shaken-off in sensational style any kind of perception of Colman as a strictly comic actress after years of appearances in some of out most popular TV comedies, including Peep Show, Green Wing and Rev.
Her role in the latter as a mumsy but frisky vicar's wife has received whoops of appreciation from the genuine articles ("who wants to be portrayed as starchy?" she says) and a third series looks a certainty if star and co-creator Tom Hollander can rev himself up.
"I think he's still a bit frazzled" she admits.
"It's a solid year of work for him up to finishing the edit so I think if I was to ask 'are we doing a third one?' he might start twitching."
Now she is starring opposite Meryl Streep in The Iron Lady as Carol Thatcher, a role she describes as even more intimidating than her battered spouse in Tyrannosaur.
The fear lay in the recognition factor – "we all know her voice and her face and I'm not good at impressions" – but Carol's public profile proved a blessing in terms of research: Colman, 37, watched the entire series of I'm A Celebrity Get Me Out Of Here! in which Carol emerged triumphant as "Queen of The Jungle" in 2009.
"She was a favourite to lose when she went in and she ended up winning it" admires the actress who is completely convincing in the film, nailing Carol's familiar voice with its soft Rs and looking like her too, aided by a prosthetic nose.
"She was gung-ho and witty and quite fun. She's a ballsy person to play." A tad potty too, I venture. "Yes, it's great to play potty. Potty's a good word."
She recounts an episode in I'm A Celebrity in which Carol had to drive a car across a wobbly bridge over a ravine even though she can't drive.
"She just climbed in thinking 'death is preferable to failing the task and not feeding my comrades.'"
Yet Colman's performance is no caricature and provides the picture with its warmest and most touching moments as Carol confronts the upsetting reality of her mother's dementia.
It's a storyline that has attracted controversy for it's portrayal of Lady Thatcher as a lonely and vulnerable old lady conversing with the ghost of her late husband Dennis, played by Jim Broadbent.
It falls on Colman's Carol to try and gently remind Lady Thatcher of her present-day circumstances  ("you're no longer Prime Minister and daddy's dead") while the story flashbacks to her past glories and challenges as Britain's first female Prime Minister.
Streep is magnificent ("I just watched her with my mouth open" says Colman) but some have questioned the taste of portraying the former PM in such a way while still alive.
"I feel very sad if people find it distasteful" says Colman, suddenly quite crestfallen.
"It's not mocking or cruel, it's sensitive and tender and I think it's actually incredibly flattering for Margaret Thatcher. It does show the light and darkness of her reign, some of the unrest, so it's honest like that, but above all it shows her as a woman who achieved something remarkable. Maybe people are saying things who haven't seen the film yet."
As for Carol, the actress has never met her and shrinks at the possibility of doing so, although it's hard to see how Carol can be anything other than chuffed at the spot-on casting: like Carol, Colman exudes a game positivity that makes her company quite life-enhancing.
"I don't want to meet her in case she hates me. In case I've done a really bad job."
Of course she hasn't. Her Carol is immensely sympathetic and humorous. Their politics may be different, says Colman, who grew up in Norfolk, the daughter of a nurse mother and chartered surveyor father, but she has great sympathy for Carol's predicament as the offspring of a world famous mother.
"The children of people so extraordinarily famous have a pretty hard time of it" she suggests.
"Anything you achieve is going to be compared to them. I would hate it and I don't think I'd cope with it so there's something admirable about coming out and doing whatever you do when everyone's looking. It takes a thick skin and courage."
Colman is a mother herself, to two boys aged six and four, and the bulk of the childcare falls on her writer husband Ed Sinclair who works from home, especially in the last year when Colman found herself in almost constant demand.
The pair met while students in Cambridge, Colman attending a teacher training college which she left after a year to study drama at Bristol Old Vic Theatre School, Ed at the university proper.
"I always try not to take jobs away from home so I can get back every night and offer him some moral support" she says of family life.
"I definitely have an easier time of it. You'll do anything for your children and utterly utterly adore them but it's still pretty tiring and hard work."
Ed is a "brilliant parent" she enthuses.
"He's much better at it than I am actually, much cooler about things. I always assumed I'd be a terribly patient mum but it turns out I'm not!"
There doesn't seem much prospect of a let-up in 2012 for Colman. Later this month (January) she starts rehearsing for her part in Noel Coward's Hay Fever in London's West End alongside Lindsay Duncan and Jeremy Northam and directed by Howard Davies.
"Lots of wonderful people are in it who know what they're doing so I'm going to hide behind them" quips Colman who describes herself as "pretty rubbish" on stage.
She'll also be seen as Queen Elizabeth, the future Queen Mother, in Hyde Park On Hudson, an account of a weekend in 1939 when King George VI and Queen Elizabeth visited President Franklin D. Roosevelt and his wife Eleanor.
Directed by Roger Michell (Notting Hill), it's a romantic drama centred on the complicated love life of the US President, played by the notoriously elusive Bill Murray.
"The film was five years in the making and trying to pin him down was like trying to nail jelly to the wall apparently" chuckles Colman who found the actor "hilarious, anarchic and brilliant."
Although she says she'll take whatever jobs "come my way", there's no doubt that Tyrannosaur, which she describes as "the thing I'll be most proud of until I die", has opened up new avenues for her as a dramatic actress.
"Yes, I've had some different things come through the letter box which is so nice, it's really exciting. The ultimate dream is to do a bit of everything" she says, fizzing with good cheer.
Source: express.co.uk – Olivia on fast track to becoming national treasure