article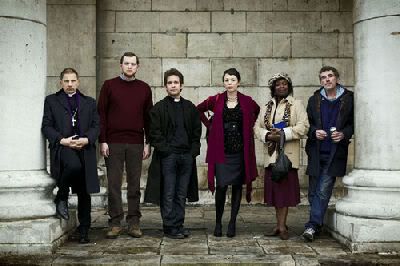 Award-winning comedy Rev is to be remade in the US, with Desperate Housewives producer Bob Daily on board to write the American version.
The half-hour comedy series, which follows an inner-city vicar and his eclectic congregation, won the best sitcom Bafta in 2011.
The British version, starring Tom Hollander and Olivia Colman, recently won fans on the US streaming site Hulu.
It will return to BBC2 for a third series in 2014.
Hollander, who plays Rev Adam Smallbone, and who co-created the series, will consult on the US version with fellow creator James Wood.
The US set-up will centre on an Episcopal priest who leaves a small rural parish in Wisconsin to take over a failing inner-city church in a deprived Chicago neighbourhood, reports US industry website Deadline.
As with the British version, the congregation will include a homeless man and a crack addict.
For Daily, it marks a return to the half-hour sitcom, having spent five years on the award-winning US series Frasier before moving to Desperate Housewives.
Kenton Allen and Matthew Justice, of Britain's Big Talk Productions – which produces Rev in the UK – confirmed they will executive produce the US version, but stressed that the project was still in development and no script was yet available.
Rev won best comedy at the South Bank Awards and picked up four prizes at the Broadcasting Press Guild Awards in March, including best comedy and entertainment show and best writing.
Hollander recently completed filming About Time, a new time-travel comedy from Love Actually director Richard Curtis. Colman is due to appear on the big screen early next year in Hyde Park on Hudson, playing the Queen Mother.
Olivia Colman has joked that she chose to wear Victoria Beckham to the London Evening Standard British Film Awards – because it meant she could eat more.
She revealed: "I've been looking at all her clothes and I think they're really pretty."
She laughed, pulling out the waist: "And you can eat in here and you don't have to breathe in, which is always worth it."
The Peep Show actress won Best Actress for her role as a battered wife in Paddy Considine's Tyrannosaur.
She said: "Very excited, it's obviously a very, very lovely feeling.
"To win things for this particular film feels pretty special because it's probably the best part I will ever get, so it's lovely that people have loved it just as much as I have."
It was the latest in a run of awards for the Rev actress.
She said: "I'd like to be cool like lots of people and go 'Yeah, it's in the downstairs loo', but they're absolutely all over the mantelpiece, polished."
A champagne reception before the ceremony was interrupted by a fire alarm, forcing the stars – including Tom Hiddleston, Poesy and Downton Abbey star Jessica Brown-Findlay – to be evacuated outside on to the street for a short time.
But everyone made light of the episode, swigging from miniature bottles of champagne and huddling together for warmth.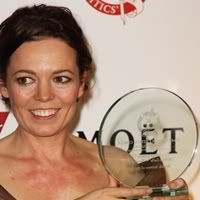 Michael Fassbender, Olivia Colman and John Hurt stole the honours at Monday night's Evening Standing British Film Awards which was a blazing success despite an alarming delay.
The awards took off to a rocky start when stars were evacuated from the venue following a fire alarm which put the ceremony behind schedule, according to BBC News.
Famous guests including Colman, Hurt, Clemence Poesy and Jessica Brown-Findlay stood out in the cold until it was deemed safe to return inside.
However the show continued without a hitch as prizes were handed out to the best in the business.
Fassbender won the best actor prize for his role in sex addiction drama 'Shame' and as Edward Rochester in 'Jane Eyre'. He was not present for the awards so 'Shame' writer Abi Morgan accepted the prize on his behalf with a message from the actor saying he "truly honoured and delighted" by the win.
The best actress gong went to Olivia Colman for her performance in drama 'Tyrannosaur.' 'The Iron Lady' star beat Oscar winners Vanessa Redgrave, Rachel Weisz and Tilda Swinton for the honour.
John Hurt picked up the Alexander Walker lifetime achievement award for his contribution to cinema. 'The Elephant Man' star, 72, was presented his prize by 'My Beautiful Laundrette' director Stephen Frears.
The prize for best film went to Lynne Ramsay's 'We Need To Talk About Kevin,' a drama about a woman who tries to deal with the grief of her teenage boy who goes on a high-school killing spree.
'Harry Potter And The Deathly Hallows: Part 2' picked up The People's Choice Award for Blockbuster of the Year.
The awards were hosted by 'Green Wing' star Stephen Mangan at the London Film Museum
Source: entertainmentwise.com – Michael Fassbender, Olivia Colman lead British Film Awards
Time to Change, the mental illness charity organisation, is launching a new campaign to encourage people to talk about the issue of mental health.
The "It's time to talk. It's time to change" campaign aims to "remove the fear and awkwardness" around mental health by encouraging people to talk openly about it.
The TV, press, radio and digital campaign was created by Dare, and includes a series of cartoon strips showing common misunderstandings around mental health, drawn by Stephen Collins, who has previously created cartoons for the Times and Spectator.
Olivia Colman, who played Sophie in Channel 4 TV programme Peep show, will voice one of the characters in the radio ads.
The charity is also inviting people to make a pledge towards ending the silence around mental illness through an online portal that offers help on how to start a conversation on the subject or send e-cards to let someone know they are thinking of them.
Time to Change director Sue Baker says: "The aim of our social marketing campaign is to use creative, innovative methods to reach our target audience. It's time to talk. It's time to change, encourages the public to talk and open up about something that affects one in four people in our communities. Through the use of subtle humour in our advertising, we hope we can remove the awkwardness and fear that stops many people talking about mental health."
The Time to Change campaign is jointly run by charities Mind and Rethink Mental Illness, and recently received new funding from the Department of Health and Comic Relief.
You can find out more about this charity here:Time to change
Source: marketingweek.co.uk – Charity encourages people to talk about mental health
THE New Year couldn't be getting off to a better start for Olivia Colman, one of our most liked actresses seemingly on a fast-track to National Treasure status.
In November she won Best Actress at the Moet British Independent Film Awards for her heartbreaking performance as an abused wife in Paddy Considine's Tyrannosaur, trumping Tilda Swinton in We Need To Talk About Kevin.
The film has shaken-off in sensational style any kind of perception of Colman as a strictly comic actress after years of appearances in some of out most popular TV comedies, including Peep Show, Green Wing and Rev.
Her role in the latter as a mumsy but frisky vicar's wife has received whoops of appreciation from the genuine articles ("who wants to be portrayed as starchy?" she says) and a third series looks a certainty if star and co-creator Tom Hollander can rev himself up.
"I think he's still a bit frazzled" she admits.
"It's a solid year of work for him up to finishing the edit so I think if I was to ask 'are we doing a third one?' he might start twitching."
Now she is starring opposite Meryl Streep in The Iron Lady as Carol Thatcher, a role she describes as even more intimidating than her battered spouse in Tyrannosaur.
The fear lay in the recognition factor – "we all know her voice and her face and I'm not good at impressions" – but Carol's public profile proved a blessing in terms of research: Colman, 37, watched the entire series of I'm A Celebrity Get Me Out Of Here! in which Carol emerged triumphant as "Queen of The Jungle" in 2009.
"She was a favourite to lose when she went in and she ended up winning it" admires the actress who is completely convincing in the film, nailing Carol's familiar voice with its soft Rs and looking like her too, aided by a prosthetic nose.
"She was gung-ho and witty and quite fun. She's a ballsy person to play." A tad potty too, I venture. "Yes, it's great to play potty. Potty's a good word."
She recounts an episode in I'm A Celebrity in which Carol had to drive a car across a wobbly bridge over a ravine even though she can't drive.
"She just climbed in thinking 'death is preferable to failing the task and not feeding my comrades.'"
Yet Colman's performance is no caricature and provides the picture with its warmest and most touching moments as Carol confronts the upsetting reality of her mother's dementia.
It's a storyline that has attracted controversy for it's portrayal of Lady Thatcher as a lonely and vulnerable old lady conversing with the ghost of her late husband Dennis, played by Jim Broadbent.
It falls on Colman's Carol to try and gently remind Lady Thatcher of her present-day circumstances  ("you're no longer Prime Minister and daddy's dead") while the story flashbacks to her past glories and challenges as Britain's first female Prime Minister.
Streep is magnificent ("I just watched her with my mouth open" says Colman) but some have questioned the taste of portraying the former PM in such a way while still alive.
"I feel very sad if people find it distasteful" says Colman, suddenly quite crestfallen.
"It's not mocking or cruel, it's sensitive and tender and I think it's actually incredibly flattering for Margaret Thatcher. It does show the light and darkness of her reign, some of the unrest, so it's honest like that, but above all it shows her as a woman who achieved something remarkable. Maybe people are saying things who haven't seen the film yet."
As for Carol, the actress has never met her and shrinks at the possibility of doing so, although it's hard to see how Carol can be anything other than chuffed at the spot-on casting: like Carol, Colman exudes a game positivity that makes her company quite life-enhancing.
"I don't want to meet her in case she hates me. In case I've done a really bad job."
Of course she hasn't. Her Carol is immensely sympathetic and humorous. Their politics may be different, says Colman, who grew up in Norfolk, the daughter of a nurse mother and chartered surveyor father, but she has great sympathy for Carol's predicament as the offspring of a world famous mother.
"The children of people so extraordinarily famous have a pretty hard time of it" she suggests.
"Anything you achieve is going to be compared to them. I would hate it and I don't think I'd cope with it so there's something admirable about coming out and doing whatever you do when everyone's looking. It takes a thick skin and courage."
Colman is a mother herself, to two boys aged six and four, and the bulk of the childcare falls on her writer husband Ed Sinclair who works from home, especially in the last year when Colman found herself in almost constant demand.
The pair met while students in Cambridge, Colman attending a teacher training college which she left after a year to study drama at Bristol Old Vic Theatre School, Ed at the university proper.
"I always try not to take jobs away from home so I can get back every night and offer him some moral support" she says of family life.
"I definitely have an easier time of it. You'll do anything for your children and utterly utterly adore them but it's still pretty tiring and hard work."
Ed is a "brilliant parent" she enthuses.
"He's much better at it than I am actually, much cooler about things. I always assumed I'd be a terribly patient mum but it turns out I'm not!"
There doesn't seem much prospect of a let-up in 2012 for Colman. Later this month (January) she starts rehearsing for her part in Noel Coward's Hay Fever in London's West End alongside Lindsay Duncan and Jeremy Northam and directed by Howard Davies.
"Lots of wonderful people are in it who know what they're doing so I'm going to hide behind them" quips Colman who describes herself as "pretty rubbish" on stage.
She'll also be seen as Queen Elizabeth, the future Queen Mother, in Hyde Park On Hudson, an account of a weekend in 1939 when King George VI and Queen Elizabeth visited President Franklin D. Roosevelt and his wife Eleanor.
Directed by Roger Michell (Notting Hill), it's a romantic drama centred on the complicated love life of the US President, played by the notoriously elusive Bill Murray.
"The film was five years in the making and trying to pin him down was like trying to nail jelly to the wall apparently" chuckles Colman who found the actor "hilarious, anarchic and brilliant."
Although she says she'll take whatever jobs "come my way", there's no doubt that Tyrannosaur, which she describes as "the thing I'll be most proud of until I die", has opened up new avenues for her as a dramatic actress.
"Yes, I've had some different things come through the letter box which is so nice, it's really exciting. The ultimate dream is to do a bit of everything" she says, fizzing with good cheer.
Source: express.co.uk – Olivia on fast track to becoming national treasure
Focus Features announced filming has begun on Hyde Park on Hudson starring Bill Murray and Laura Linney, and directed by Roger Michell (Notting Hill). Richard Nelson wrote the script with Michell, Kevin Loader, and David Aukin producing.
The cast of the historical drama also includes Olivia Williams, Samuel West, Olivia Colman, Elizabeth Wilson, Elizabeth Marvel, and Eleanor Bron. Filming is taking place in the UK with Focus aiming for a late 2012 theatrical release.
Announcing the start of production, Focus Features CEO James Schamus said, "Filmgoers will be intrigued by this unique exploration of the all-too-human side of one of history's great men. Roger is an actor's director who will guide Bill and Laura through their playing of Richard's script, which beautifully encompasses satire and drama."
The official synopsis: "In June 1939, President Franklin Delano Roosevelt (Murray) and his wife Eleanor (Williams) host the King and Queen of England (West and Colman) for a weekend at the Roosevelt home at Hyde Park on Hudson, in upstate New York – the first-ever visit of a reigning English monarch to America. With Britain facing imminent war with Germany, the Royals are desperately looking to FDR for support. But international affairs must be juggled with the complexities of FDR's domestic establishment, as wife, mother, and mistresses all conspire to make the royal weekend an unforgettable one. Seen through the eyes of Daisy (Linney), Franklin's distant cousin, neighbor, and intimate, the weekend will produce not only a special relationship between two great nations, but, for Daisy – and through her, for us all – a deeper understanding of the mysteries of love and friendship."
Source: movies.about.com – Hyde park on Hudson starts shooting
Here's the first UK poster for the next Studio Ghibli picture, Arrietty. It has been adapted from Mary Norton's The Borrowers by Hayao Miyazaki, Keiko Niwa and director Hiromasa Yonebayashi. As you'd expect, it looks wonderful.
And it will sound pretty good too – note that the UK dubbed version will feature a different (and indeed, preferable) voice cast to the US iteration. We in blighty will get Saoirse Ronan, Olivia Colman, Mark Strong and Phyllida Law.
Oh, and somebody the poster calls Tom Holland. I wonder if they mean Tom Hollander? Because Tom Holland, writer-director Fright Night and Child's Play seems like an odd match. Oops typo.
UPDATE: A subsequent press release refers to "newcomer Tom Holland", so that settles that.
Anyway, a good cast. The US get Bridgit Mendler, Will Arnett, Amy Poehler, Carol Burnett – none of whom exactly seem to match the setting or tone so well. Score one to Optimum, the UK distributors.
Having said all of that, I'll still opt for a subtitled version, personally.
The film will go on release on July 29th, though Picture House Cinemas will be screening it as their Kid's Club in the 23rd. Adults will need to have a kid with them, but there's a lot of Little Bleeders with families, I know.
Let's score Optimum another point for getting the film out this year. US audiences will be waiting until February 2012. If I were in the States I'd start shopping for a multi-region Blu-ray player now.
Source: bleedingcool.com – Studio Ghibilis Arietty UK poster