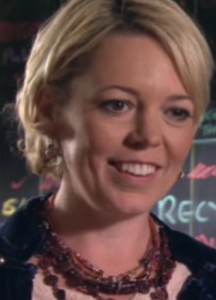 Olivia Colman has confessed she's worried about what Carol Thatcher will make of her portrayal of her in an upcoming film.
The Rev star plays Margaret Thatcher's daughter in The Iron Lady, alongside Meryl Streep as the steely former Prime Minister.
"I'm not a terribly good impersonator so… hopefully people will allow some artistic licence," Olivia revealed.
"Apparently (Carol)'s watching it! She's going to watch a cut of it! I didn't meet her, so I hope she doesn't mind it. She's a very sweet character in the film."
And Olivia revealed she researched her character by watching hours of footage of Carol on the 2005 series of I'm A Celebrity… Get Me Out Of Here!
"I watched all of I'm a Celebrity – she came across brilliantly. She was hilarious. And if you're ever going to be stuck in the jungle you'd want her on your team," the actress added.
"She was favourite to lose and then she ended up storming it because she was just so gung-ho. She was amazing – very funny."
:: The new series of Rev begins on BBC Two on Thursday November 10.