tyrannosaur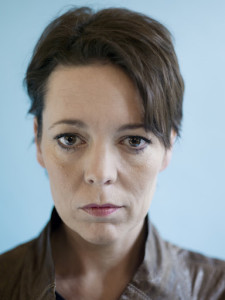 All actors love scripts like the one I received for Paddy Considine's 2011 film Tyrannosaur. It was complete – it contained everything I needed to know about my character and the story. It did my work for me. I just needed to turn up and say the lines. But I couldn't. The suffering my character, Hannah, went through had a real world analogue that couldn't be ignored.
Tyrannosaur is not an "issues" film. It is not about domestic violence, or poverty, or alcoholism. It is the blistering, heart-rending story of two people finding each other and trying to heal themselves through love. I don't think I will ever be prouder of any job. But it is not always possible, or responsible, to separate fact from fiction, and Hannah's story is rooted horribly in a real-world nightmare: that of domestic violence.
I had not previously had much cause to dwell on the issue. I have never suffered domestic violence, unlike the 25% of women in the UK who at some point in their lives have. Nor have any of my close family or friends, as far as I am aware. (That caveat is necessary – a 25% incidence of domestic violence means it's quite possible that I am wrong about what people I love have faced. It's quite possible that some people I love, and some people you love, have not told the truth about what is happening to them behind closed doors.)
Now I had to dwell on it. The most satisfying experience of my professional career would involve me confecting the kind of suffering that millions of women, and many men, suffer in reality every day. I knew the chances were high that someone who had been through it, or was still going through it, would see the film. What duty did I owe those people, between whose lives and mine was such an extraordinary gulf? I decided that I needed, at the very least, to know something about them. They deserved that respect. So I asked Paddy to put me in touch with someone at domestic violence charity Refuge.
What I wanted to know, more than anything – what I wanted to be sure about, notwithstanding the internal truths of Paddy's script – was that Hannah's story was credible. The brutality, the depravity, the seeming hopelessness … was it credible? The answer I got astonished me. My contact at Refuge told me that Hannah's experience wasn't only credible, it was nothing compared to the suffering some women and men endured. She gave me a couple of examples – just two of the many hundreds of which she had recent experience – and I could scarcely bear to hear them. Then she offered to set up a meeting with one or two of them for me.
I am afraid I declined. I knew I would just cry, and that wouldn't help anyone. And for what? To achieve some questionable incremental improvement in my performance? To do justice to the cause of people who weren't having enormous fun making films? Actors have a reputation for vaingloriousness, but no…
Anyway, I'd had my moment of insight. I had knowledge, where previously I'd had just my imagination and Paddy's brilliant script. Knowledge enabled me to turn up and say my lines. It also brought me to become a patron of a domestic violence charity.
As soon as I heard about Tender, I knew it would be a good fit for me. Tender is a little different from charities like Refuge (which, in a time of reduced funding, also need all the support we can give them, because of the brilliant, life-saving support they give to people who are currently suffering the horrors of domestic abuse). Tender operates at the other end of the time line – before abuse has occurred. Tender is involved in prevention. My cowardice, my tearfulness, means I am not the best person to have around in an environment where there is real, existing suffering. Tender operates in a world where there is not – yet – any suffering; where the stakes are just as high, but they are deferred.
I have two young boys. I hope, of course, that I and my husband, and everyone else who loves them, will give them the sort of knowledge and experience that will make them, and those around them, happy. But I am aware that I will never be able to – nor should – control everything they are exposed to, or the conclusions they draw from those experiences. Nor can I always know what they are thinking, or feeling; any parent will know how hard it can sometimes be just to get a child to tell them something about their school day.
So it is vital that children and young adults have spaces – mental and physical spaces – in which it is safe for them to explore and practice strategies for dealing with real world difficulties, and build confidence to communicate and be heard. This is what Tender offers them. It works primarily with young people and runs prevention projects, which raise awareness of the issue of violence in teenage romantic relationships. It uses drama and the arts – a world that I understand as being a safe space indeed for the exploration of ideas – to give young people the skills to identify the early warning signs of abusive relationships, so that they can avoid or leave them.
These projects are a powerful tool, and worth supporting in themselves. But Tender wants more, and I want to help them achieve it. Tender wants sex and relationship education to be made mandatory in all schools, so that all young people can learn how to negotiate healthy relationships.
As I mentioned at the beginning of this piece, 25% of women will suffer domestic violence at some time in their life. Please think about that in relation to your young daughters. Think about it in relation to your young sons. Hopefully, they have not yet become part of that 25% – or become abusers themselves. But think ahead to the next 10, 15 … 40 years. You will dearly want their lives to be wonderful over these years, but it is more likely that they will be some combination of wonderful and difficult. There will certainly be a degree of suffering. Ask yourself this: what shape will that suffering take? Will it involve domestic violence? Current statistics say there's a good chance it will. Let's do our best to ensure it won't.
This article is written by British actor Olivia Colman and Ed Sinclair.
Olivia will be presenting the annual awards at Tender's upcoming event on the 10th December. For information on how to book tickets to the event, visit their website.
Source: theguardian.co.uk – Olivia Colman: Tyrannosaur made me face the true brutality of domestic violence
To celebrate the fact that Tyrannosaur is a) out on DVD, and b) a BAFTA-winning film, we've got a special prize to give away.
We were thrilled when Paddy Considine won the most promising debut award at the 65th Orange British Academy Awards, and now we've got a DVD and a quad poster signed by the actor-turned-director himself to give to one lucky reader. One runner-up will receive the film.
Considine made his directorial debut with his powerful drama, which stars Peter Mullan and Olivia Colman as two damaged people brought together by circumstance: Joseph, an unemployed widower, crippled by his own volatile temperament; and Hannah, a respectable charity shop worker, whose apparent happiness belies troubles of her own. Read our review here, and watch our interview with Considine and Colman here.
With Considine remaining behind the camera for this film, we want to know your favourite of his performances and why for a chance to win. Email your answer to competitions@thisisfakediy.co.uk with Tyrannosaur in the subject field by 20th February, and remember to include a postal address.
Source: thisisfakediy.co.uk – Win Tyrannosaur DVD signed and poster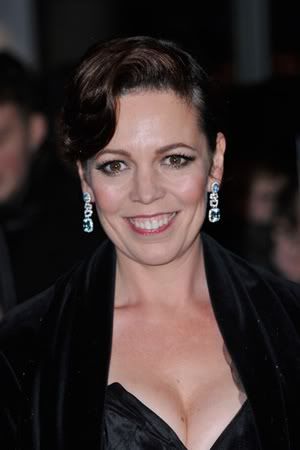 How does an actor with well-established comedic chops turn in a shattering performance in one of the year's darkest, most disturbing films? Olivia Colman says she did it in "Tyrannosaur" by doing what's real for her character—with the help of a pitch-perfect script.
"I didn't go anywhere different for it," Colman says. "You just go to where you need to go to do her justice." Her work in this film by writer-director Paddy Considine was dubbed the breakout performance at the 2011 Sundance Film Festival.
One more breakout is coming her way, however. She more than holds our attention as Margaret Thatcher's daughter, Carol, opposite Meryl Streep in "The Iron Lady."
But in "Tyrannosaur," Colman plays Hannah, a Christian woman who works in a thrift shop and who holds out a literal and figurative hand to the damaged, raging Joseph (Peter Mullan). Yet Hannah bears her own scars, caused in large part by her marriage to the monstrous James (Eddie Marsan). The film began life as Considine's short; in the feature film he expands Hannah's role to show her background and develop her relationship with Joseph.
Back Stage: How did you meet Paddy Considine, and how did he cast you in this project?
Olivia Colman: We met on a film called "Hot Fuzz." We met the first day of our rehearsals. I knew Paddy was coming, and I was so excited to meet Paddy Considine. And he came up the stairs, and I opened the door for him, and he said, "After you," and I went, "Oh, no, no, after you." And he says that at that point he thought, "Oh, right, she's the one for my short film." I'm so pleased I held the door open for him.
Back Stage: How much time did you have to prepare your character for the short?
Colman: I didn't. I read the script, but then I had to fly to Glasgow and do my scenes just in one day, because I was in the middle of a job. The short went down very well. It won a BAFTA for best short. After that, people were saying, "I want to know what happens with these characters." And then it was just about four years between the short and the feature.
Back Stage: If there was no back story for Hannah, did you make one up for her?
Colman: Everything was on the page. She worked in this charity shop; she was the only person who extended a hand of friendship to this man who most people would have walked to the other side of the street away from. I didn't need to know an awful lot more about that. I know lots of actors might disagree with me, but to me I just did what was on the page. She was a lovely, warm person.
And when you come to the feature, she just shows herself as a lovely, warm person. She doesn't show what's going on, anyway, in her back story. It's unveiled during the course of the film. But I think it's right that she doesn't show everybody, and that's what's more interesting.
And the whole film is about challenging perceptions: You make snap decisions, snap judgments about people, and you're invariably wrong. Looking at the film after you've witnessed what Joseph's done, you can't believe you can feel so differently. But I don't think you need to demonstrate everything, because that's not what people do. They keep their secrets, and they keep them well.
Back Stage: Any other research?
Colman: I went to this charity called Refuge, in the U.K., which tries to help victims of domestic violence. I talked to women who work for the charity—not to any of the women, or men, they help—because I couldn't promise I wouldn't cry. So they gave me a case study to look at, which was so shocking—a hundred times worse than anything you saw onscreen—and that was enough. I'll never get rid of that now, the horrible images from that. That was enough to inform what I thought Hannah was.
Back Stage: What was Paddy's set like? Formal? Funny?
Colman: Informal and very, very safe, very friendly. They're all funny people: Paddy, Eddie, and Peter. All lovely, warm people who tell funny stories and joke with each other. Also the crew. When you're feeling exposed when you're doing something, you don't want to hear someone giggling 'cause they're doing a private joke over there. No one did that [on this film]. Everyone was completely committed.
Back Stage: What kind of rehearsals did you have?
Colman: We had one day that had been put aside, before we started the shoot. Paddy and Peter and I sitting. But it ended up we didn't really talk about the piece at all. We ended up going to the pub and having a drink. The characters were already so whole, so multifaceted, so complete on the page, I didn't want to talk about it. It feels like you're taking the lid off the pressure cooker. If I can feel it, it's all there; please don't make me say it before we have to do it.
I told Paddy, "I'm really nervous about rehearsing for this; I don't want to." And he felt the same. Because I felt it so deeply, I would be sobbing during a rehearsal. He said, "No, don't say a word. Roughly when you get to that point, where do you think you might go? [The camera will] just follow you and make sure we get it." That was lovely. It was liberating.
Back Stage: What did you learn about acting while working on this film?
Colman: There's a certain feeling I have a bit more now, which is I do deserve to be here. I always thought, "I'm going to be found out." I couldn't have done "Iron Lady" three years ago. I did "Iron Lady" three years after this, and I thought, "It's all right; I can hold my own," after Paddy giving me confidence like that.
Back Stage: What did you learn watching Streep?
Colman: She has a very strong work ethic. There is no ego; there's no vanity; there's no place for that. That's why she is so extraordinarily good at what she does. I don't want to? see the working behind a performance. To be; that's it. And to feel it.
And laying on extra stuff—I don't enjoy watching that. She takes what she needs to, to make that person real. People would have paid to sit there and watch her in the flesh doing it. And she was amazing, and you completely forgot that underneath the prosthetics she looked different. She became the person.
Back Stage: In "Tyrannosaur," what was the most difficult scene for you?
Colman: The one I was always terrified of, from the moment I got the script, was Hannah's breakdown. I was scared of doing it justice. I didn't want to let Paddy down. And he shot us chronologically, which was brilliant. Because he's an actor, he knows how important that is. So the whole journey, you've already done it. It makes your job very easy.
There was [another] scene which didn't make it to the final cut. I think we all felt it wasn't working. Paddy kept trying. And then I traveled home for the weekend. And Paddy called me and said, "We're going to reshoot that scene." And I was so upset that I hadn't done it right, I've let him down, he'd taken the gamble. And then he says, "It wasn't you. I was saying all the wrong things, and I was directing it wrong." Which is sweet of him.
Back Stage: And the one scene you wouldn't mind reshooting?
Colman: The scenes I found hardest were the scenes that were re-creating the short. It was weird—it was like an echo. We did it four years previously, and I was trying to make it? fresh again now, but I could still kind of hear my own voice. I found those the hardest, which is why I wouldn't want to shoot them again, 'cause it would just get worse.
Back Stage: What was your worst audition ever?
Colman: It was for the Donmar [Warehouse, in London]. I was going to be meeting [casting director and creative associate] Anne McNulty, and I was so excited. Quite early on [in my career]. Wanted to be taken on by my agent. And the script had a lot of mention of camera shot things. And it was for the part of a whore.
So I had a short skirt and tried to look as whorish as I could—or as I could bear. Got there, took my coat off, and she looked at me and said, "What do you think of the script?" And I said, "Oh, it's good." And she still looked puzzled. And then she said, "Should we have a little read?" And it wasn't the script that I'd been sent. It was for the part of a nun. We did laugh about it, but it was humiliating. And I didn't get that part.
Source: backstage.com – Olivia takes new steps in Tyrannosaur
The 2011 awards season may be young, with a great many breathless winners yet to soak the stage in tears, but I'm not sure we'll see another acceptance speech quite as humbly overwhelmed as Olivia Colman's at the British Independent Film Awards earlier this month. Visibly trembling and sincerely astonished at having beaten a roster of nominees including Tilda Swinton, the unassuming London-based actress managed to stammer out a brief list of thank-yous before scuttling off the stage, seemingly shaking her head in disbelief at her good fortune.
It was, of course, not the first trophy she's won for her shattering performance as a brutally abused charity worker in actor Paddy Considine's hard-bitten directorial debut "Tyrannosaur," which also won the top prize at the aforementioned BIFA Awards. Her success began nearly a year ago with an acting award (shared with co-star Peter Mullan) at the Sundance Film Festival, while a Chicago Film Festival prize followed in the fall. Earlier this week, she snagged a nomination from the London Film Critics' Circle. All through the year, Colman has remained a prominent dark horse in the Oscar conversation, fiercely championed by critics and bloggers who fear this minute UK indie will slip through the cracks: the actress isn't optimistic about her chances of being invited to that particular dance, but such talk, she finds, is its own reward.
"It's incredibly flattering, but let's be honest — it doesn't seem like a feasible prospect, does it?" she asks cheerily over the phone. She's just returned home from a day of filming of a long-nurtured TV pilot in Watford; supper is being prepared as we speak. She audibly beams when I mention Hollywood Elsewhere blogger Jeff Wells's self-funded campaign on her behalf, arranging screenings of the film in L.A. for potential awards voters, though she's clearly as amused as she is touched by the effort.
"I didn't even know until people started talking about us that there was all this massive campaigning around the Oscars every year, I had no idea that's how it worked. This film means so much to me, and when people show that they like it, I couldn't be happier. I'm in shock that people are even talking about me, but it's lovely, and it may never happen again — so why not go with it? But I've never expected to win anything, and I still don't."
Whether it happens again or not, the likelihood has been significantly raised in the past 12 months, as Colman's big-screen profile has shot up with key roles in two major 2011 releases: in addition to her weighty lead turn in "Tyrannosaur," she'll reach even more audiences in The Weinstein Company's upcoming Oscar hopeful "The Iron Lady," where she plays Margaret Thatcher's put-upon daughter Carol, and consequently shares the screen in multiple scenes with Meryl Streep. Under a blobby prosthetic nose and distressed blonde wig, Colman gives the most open, affecting turn in an often stifling film; her rapport with Streep, as the elderly, dementia-plagued former British Prime Minister, is sweetly evident.
This one-two of dramatic projects is an unexpected breakthrough for an actress, now in her mid-thirties, previously best appreciated as a secret weapon of British TV comedy: shows like "Green Wing" and "Look Around You" built up to a long-running gig as seemingly gormless, but ruthlessly manipulative, office drone Sophie in the superb "Peep Show," where she makes a rich comic virtue of the character's utter lack of wit. Her dry gifts also reached cinema audiences in the hit police spoof "Hot Fuzz," where she first worked with Paddy Considine. The off-kilter actor was sufficiently impressed by Colman's work to offer her a part opposite Peter Mullan in his short film "Dog Altogether," which won awards from BAFTA and the Venice Film Festival, and essentially served as the opening chapter for "Tyrannosaur."
"I've always done some smaller serious roles along the way, but I'd go to auditions, and I wound up getting picked for a lot of comedy parts — which is great fun, and a lovely way to spend your life," she says, speaking with great affection of her work on "Peep Show" in particular. "But drama is where my heart's always been, and it took Paddy to see it. And I don't know why he did, because no one else had — it was always other actors who got the big, ballsy parts. I'm so thrilled he took a chance on me."
"Dog Altogether" introduced the emotionally damaged protagonists of "Tyrannosaur," Joseph and Hannah (called Anita in the short), but left them dangling in their suffering. Colman explains that Considine initially conceived a second short following Hannah's story in more detail, but when funding for that fell through, decided to expand the project to a full feature — writing the script in just one week. Colman and Mullan remained on board throughout, she says: "They're such beautiful people to play: to have someone write a character like that specifically for you is amazing, but then you have to justify their faith."
For Colman, that meant going to some psychological territory she'd not yet been in her work: the abuse endured by Hannah at the hands of her husband (strongly played by Eddie Marsan) is as tough to watch as it surely was to play, beginning with a much talked-about scene in which he urinates on her as she pretends to sleep. The action she takes against him forms the nervy moral crux of the film.
"Paddy had warned me while writing the script that he was taking it somewhere quite dark," she says. "And I remember seeing his wife Shelley at an event and her saying to me, 'Oh God, I can't believe what Paddy's going to make you do.' So I'll admit that when I read it, I was scared. But I wanted to go there. That he believed I could do that was incredible, and I wanted to prove him right. With Paddy at the helm, you feel like you can do anything."
Colman speaks of her director with immense affection, calling him "an extraordinary creature" and citing his own formidable acting experience as a key factor in encouraging her to lay it on the line: "It goes without saying that Paddy is a great actor, but it turns out he's an even better director. I felt completely safe with him, even doing the hardest scenes; he would sit as close to me as he possibly could on set, so I never felt I was on my own while he was staring at a monitor. He understands what it feels like to be that exposed, which other directors don't — they might think it's better to leave you to your own process, which doesn't always give you courage. It's magical to see that little smile on his face at the end of a really tough take and think, 'Yay, I've made Paddy proud.'"
As unflinching as the film is in its depiction of emotional suffering, Colman was determined not to play Hannah simply as a doleful martyr, and found her comedy experience valuable in this regard. "The comedy I've done, that I've always been drawn to, tends to have a bit of darkness to it. You can find darkness in comic characters — in 'Peep Show,' for example, Sophie makes one bad choice after another — and conversely, in an unhappy character like Hannah, you can find a lot of strength and warmth. Everyday life is about finding comedy in misfortune and vice versa; acting is much the same. There's nothing lovelier than hearing people bursting with laughter in the cinema; you need that release. But you can surprise people with those moments in films where they aren't necessarily looking for it."
That sense of balance carries over into the narrative's most tragic stages, she continues: "As an actress, I respond to characters who are human, who are understandable rather than perfect. Hannah is both human and animal, I suppose — they go hand in hand. An animal can only be pushed so far: at some point, it's not your fault if you snap. She believes in goodness and she believes in love, even if she's exposed to so little of it in her daily life. As an actress, I have to make the audience understand that."
In "The Iron Lady," the principal challenge that concerned Colman was more a technical one: how to successfully inhabit a living figure whose face and distinctive lisp are still fresh in the minds of UK audiences, thanks to Carol Thatcher's recent exploits on local reality TV. She recalls turning up for the audition, her jangling nerves amplified when she observed the spot-on mimicry of some of her rivals for the part: "I've never been very good at impressions myself. So I did think it was pointless, since, well, why wouldn't they want the soundalike? Luckily, I was wrong. Or maybe I wasn't, and they asked the soundalike, but she turned them down. I don't know." She laughs.
"I'm intrigued to see how people take me as Carol," she says, genuine curiosity creeping into her voice. "I used some broad brushstrokes, but overall, I tried to ignore the fact that I was playing someone so familiar and focused instead on making the mother-daughter relationship work. Surely that's what's more important. Anyway, Meryl's doing such an extraordinary job, so you're already standing there alongside her worrying about what a tough act she is to follow. How much pressure is it reasonable to put on yourself?"
Colman isn't too blasé to describe working with Streep as a "sheer out-of-body experience," though she floated back to earth soon enough. "The first day I went to meet her, I couldn't sit down — I was beside myself with excitement and nerves," she recalls. "And then Meryl walked right past, then spotted me and backtracked, before giving me a big hug and saying how pleased she was to see me. I couldn't say anything; all I was thinking was, 'Oh my God, Meryl Streep's given me a hug!' But in a snap, that feeling's gone, because you just realize that she's real and lovely and just this incredibly warm, funny woman. She makes you feel like you're her equal, though who is?"
As we say our goodbyes and she settles in for a hard-earned dinner, I don't tell her that her performance in "Tyrannosaur" is one Streep would have been proud to give in her prime. Perhaps I should have. But one of Olivia Colman's greatest personal and professional assets, it seems, is her lack of outward awareness of just how good she really is.
Source: hitfix.com – Interview Olivia Colman on seeking joy in Tyrannosaur and meeting Meryl
In Paddy Considine's directorial debut "Tyrannosaur," Peter Mullan ("War Horse") and Olivia Colman ("The Iron Lady") play Joseph and Hannah, two troubled souls trapped in destructive home lives that manage to connect and find hope in the other. The two characters meet after Joseph, a bitter widower who's just killed his dog, stumbles into a Christian charity run by Ms. Colman's unhappily married wife, who's also being abused by her alcoholic husband.
The film debuted at the Sundance Film Festival this past January and recently swept the British Independent Film Awards, wining awards for best British independent film, best debut director for Mr. Considine and best actress for Ms. Colman. The film beat out more heavily favored dramas "Tinker Tailor Soldier Spy" and "Shame."
Speakeasy spoke to Mr. Mullan and Ms. Colman earlier this year.
Speakeasy: Both of you first became involved in "Tyrannosaur" roughly five years ago, when both of you starred in Mr. Considine's short film "Dog Altogether," the basis for "Tyrannosaur."
Peter Mullan: When Paddy first sent the script for the movie, I wasn't sure about it because the first eight, nine pages were basically the short film and I thought, oh my God, he has sent me the wrong script. And then it got into what is now the film and it blew me away.  Initially, I didn't know where he was going to take the short film, but I became so impressed with how he opened up the Hannah character and all that she is having to go through, and then gently reintroduced the Joseph character. Well, maybe gently is not the right word, given Joseph's character. And then there was the great twist at the end and it all just blew me away.
Olivia Colman: I also loved the end, the extension of the short. You now see Joseph's home and his life is not what you might expect. You think he is a complete bum and he's not.  He has got this proud, clean, tidy little house. And it's lovely isn't it, to see their whole love story?
Given the quick nature of the shoot, it sounds like Paddy gave you room to improvise and flesh out characters from the page.
Colman: Paddy was lovely at that. He would say, "You don't even have to say the words [on the page.] Just show us where you think you might go so that we make sure there is no boom [microphone] in the way, and even then, you can change it again and we'll just move." For me, it took a little while to get used to because I'm so used to being told [by directors] we've already lit the scene, we want you to stand on that mark. So when Paddy goes, "Do what you want," I panicked a little.  I need instruction.  It was great.
Mullan: I liked how the story remains as much a mystery to you as to anyone, and I don't mean that in any kind of bleak way.  I mean it is genuinely a mystery because you don't quite know what you are going to do next or what is going to happen next.  You may have read the script and you might know the journey, but for me, if a film is going to work acting-wise, the work can't be premeditated. Then there's no pursuit of truth.  What you'd effectively be doing is a vanity exercise.  If you break it down too much, it won't work. When you don't think too much about your performance, you have to feel it more.  I didn't know half the time whether my character loves this woman or  if he's just wanting her to cut his throat. I genuinely don't know.
Whether or not they're in love, the characters have a spiritual connection.
Colman: Well it's shared upset and shared pain and they can sort of sense that in each other.
Mullan: Hannah has declared her faith and that's the flame for [Joseph's] particular moth.  It's like, "Oh really, you have faith? Watch us now try and break it into total pieces." But the truth is, people like Joseph don't actually want to break it.  They want you to resist and then earn their respect. Of course, to Joseph's horror he does break Hannah's faith to a degree and then obviously he doesn't feel good about it. One of my favorite scenes is when Joseph is watching Hannah give the last rites to his friend. I genuinely don't know why I have no recollection of us doing it but what fascinates me about it is, and my reading of it may be wrong, but my reading of it was there's this guy looking at someone wishing to God that if he is to die, then you'll be the one that is there. At the same time, he's horrified by the very notion of his own feelings.
Does it surprise you that some audiences seem to be more offended by the scenes of animal cruelty than the violence against women?
Mullan: The misplaced priorities anger me, to be honest.  I mean there was this lady in the UK who became the most hated woman in all of England because she put a cat in the dustpan.  The literally got death death threats, and the venom that was directed at this woman was astounding. Meanwhile, I'm thinking, do you watch the news? Do you know what is going on in Zimbabwe?  Do you see what we're doing in Afghanistan and Iraq?  I mean, no offense to cats, but it wasn't like she was putting him through a meat grinder. I wouldn't mind so much if they would transfer that care to human beings. But no offense to the animals.  I love my dogs, you know.
Especially because since it's a film, there is no harm actually being committed to the animal.
Colman: Exactly, it's imagery. It illustrates, right away in the film, the extent to which Joseph has got himself in such a place that he'd damage a loyal, gentle thing.  It's a great way of telling you exactly where Joseph is at that point, isn't it?
Mullan: Completely. I remember when Apocalypse Now first came out.  All the press talked about was the whole bit when they severed the head of the cow towards the end. It's like, you just sat through two and a half hours of a Vietnam War movie, one of the biggest, genocidal war crimes in human history, but you care if someone really cut the head off that cow? It's what we do, but for me it's so misplaced and then you really start to wonder about people and humanity.
blogs.wsj.com – Peter Mullan and Olivia Colman on the mysteries of Tyrannosaur
Below is a link to really nice video interview with Olivia: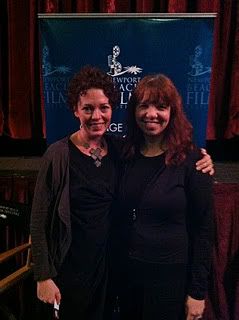 Well, if you know Olivia Colman, you know GOOD work! The above photo was taken tonight after the film and I was so thrilled to meet and chat with her.
Let me start by saying her performance in this film is OSCAR WORTHY!
The movie starts out very compelling, Joseph (Peter Mullan) coupled with rage and anger that you don't really expect. The shear madness of it all will have you inching up in your seat just drooling wondering what will happen next!
Skip ahead to when we first see Hannah (Olivia Colman), you already can feel this character…she's warm, loving, almost sacred-there can be nothing wrong with this child of God.
We find out later in the movie there is a lot of things wrong with Hannah. Namely, she is a victim of domestic abuse over and over and over. I can relate to her turmoil, not sure what to do, how to get away from it, making excuses and lying to your friends…it's just a vicious cycle that we victims have gone through until we find the strength to leave. Which, by the way, she did leave-yeah!
There is a part in the movie where she is praying over Joseph's father and you'd think she was a nun the way the words flowed, sounding so heavenly. The use of sound reduction in this particular scene works amazingly. Joseph's eyes and the faint whisper of her voice in back of them…really well done!
The story continues and moves to happier times with Hannah and Joseph in a pub, celebrating the life of Joseph's now deceased father. The joy that was forgotten in both their lives was brought seemingly back to life in those moments. Watching it, I reflected back to more care-free times in my life where I could enjoy a glass of wine with friends and just talk about anything, laugh about anything, no worries, all the world's trouble's forgotten. This scene hit the mark, I think a lot of people probably felt the same way watching it. If they didn't, there's something wrong with them.
When we reach the end of the movie, the twist of fate that occurs was just so unexpected for me. Inside, it made me want to scream and shout and cheer for Hannah, but at the same time I felt so sad for her. Joseph's life will go on now, but with a sort of calm that only Hannah could provide.
If you want to know why the movie is named "Tyrannosaur" it will be revealed to you in the movie, I'm certainly not going to tell you! Go watch it!
Two Thumbs WAY Up!!
OSCAR WORTHY!!! You heard it here! OSCAR WORTHY!!!
Please be sure to "Like" The Film on Facebook!
https://www.facebook.com/TyrannosaurUK
Few of us in Oscar Blogger Land have seen "The Iron Lady," however, and Colman's being overshadowed — ever so slightly — by her co-star, Meryl Streep, for the work she does as Margaret Thatcher. (Colman plays Carol in Phyllida Lloyd's upcoming biopic, and tells me she's thrilled to share the screen with Streep, as you'd guess.)
But we have seen "Tyrannosaur," Paddy Considine's hard-to-handle relationship drama, which is why we can't stop talking about Colman's devastating performance. She plays Hanna, a battered and bruised soul who clings to a wavering religious faith and finds herself tested by a surly lout who stumbles into her shop one day.
Weeks ago, I wrote of "Tyrannosaur" that, "like a traditional Irish wake, it is, at times, depressing, celebratory, devastating and boisterous. Yet the script's honest probes of such taboo subjects as rape, alcoholism and savage, blue-collar violence are unflinching, which pushes 'Tyrannosaur' past like-minded, melodramatic Sundance pap.
"What you've heard about Colman is true. … The actress allows numerous difficult emotions to flood across her tranquil face. Considine's focus shifts from Colman to [Peter] Mullan at times, though both are so good at wallowing in the human pain of this raw story that 'Tyrannosaur' rarely misses a step."
Colman made the rounds in Los Angeles in support of the film recently, and I was able to ask her a few questions about the movie, her performance, and the picture's Oscar hopes. Here's Olivia Colman:
HollywoodNews.com: Please give me a few things about Mr. Considine's script that appealed to you?
The main thing was that the characters he'd written were whole, multi-faceted, complicated people. The script was beautiful, you almost never get scripts like that through the post, it was the most affecting script I had ever read.
HollywoodNews.com: I think most audiences will recognize you from your comedic efforts, like Gervais' brilliant OFFICE, GREEN WING, the hilarious PEEP SHOW or HOT FUZZ. Were you actively seeking something more dramatic as a means of challenging yourself?
I find it funny that people assume their is any element of choice in an actors career. You have to be a fairly hefty, established actor to have that. I had dreamt about this job from about the age of 12, Paddy took a punt on me, and I will be eternally grateful. I got work in comedy and I'm very grateful for it. I have had the best time laughing with some of the loveliest people, but I always wanted to do work like this. But you have no control as an actor, you have to wait for someone to give you the chance.
HollywoodNews.com: At what point in the process of constructing your performance did you finally figure Hannah out? And how did Mr. Considine help you shape the performance?
Hannah was figured out on the page. The moment you read her, you know who she is. Paddy gave me confidence, He made us all feel safe. He has the ability to say just the right words to tap into your head. He was extraordinary. You want to make him proud.
HollywoodNews.com: I'm usually fascinated by actors who turn to directing. What can you tell me about Mr. Considine as a director? And would you ever give directing a try?
Paddy was brilliant because he knows what it feels like to be an actor. He films in sequence as much as possible, [and] he doesn't make you do a scene over and over. He knows when he's got it. He inspires and gives you the confidence to throw yourself in. He's a protective and nurturing force. He's also hilarious.
I'll never direct, though. I'd be rubbish.
HollywoodNews.com: Since its Sundance debut, Tyrannosaur has been receiving awards support. The British Independent Film Awards nominations were a particular boost. What does awards recognition mean to you? Did it ever once cross your mind that Tyrannosaur might be in the Oscar conversation when you were filming it? Maybe as you watched Mr. Mullan's gut-wrenching performance, or dailies of you and he acting together?
No, we had no place in our heads for awards talk during filming. That's not why it was made. We all felt we were part of something special. This is Paddy vision. He wanted to create cinema. When people first saw it and got it, that was a beautiful thing. To be noticed and recognized by nominations and things, well of course that's overwhelming. We all feel so proud of this film, of what Paddy has made. It means the world if people recognize it. Watching Peter and Eddie doing ANYTHING is an honor. They're flawless.
HollywoodNews.com: Lastly, which is more exciting: Acting alongside Meryl Streep for "The Iron Lady" or playing Queen Elizabeth for "Hyde Park on Hudson"?
Ooh, tricky. I'll be able to die happy that I was even in the same room as Meryl Streep! And, every day on 'Hyde Park' was a joy also. Cant compare I'm afraid.
Source: zimbio.com – Tyrannosaur star Olivia Colman on her searing performance
For people who don't live in Great Britain, the lifestyle of the working class might be somewhat foreign to them, which may be why Tyrannosaur, the feature film directorial debut by actor Paddy Considine (In America) could very much be an acquired taste to some Americans. Considine expanded on ideas he wrote for a short called "Dog Altogether," which won multiple awards including a BAFTA Award and the top prize for a short film at the Venice Film Festival.
Both the short and feature star one of Scotland's finest actors Peter Mullen playing Joseph, an angry alcoholic widower who when we meet him has accidentally killed his beloved pet dog in a drunken rage. This is a man who clearly has problems and he's not an easy guy to like, but when he meets a kindly Jesus-loving store clerk named Hannah, played by Olivia Colman, he tries to turn over a new leaf as he discovers her own dark secret about having an abusive husband (Eddie Marsan). All three actors give absolutely fantastic performances in the movie that isn't easy to watch, but tempers the intense drama with its own unique form of dark humor.
It's a great role for Mullen to really let loose with someone who is all rage and bile but whom also has a heart buried deep beneath, and it features a terrific dramatic performance by Colman, who is best known for her comedy. (Some may remember her as the single "police woman" on the force in Edgar Wright's Hot Fuzz, in which Considine also appeared as a foul-mouthed detective.) Considine's transition into filmmaker is nothing short of astounding, as he's created a British drama on par with the likes of Mike Leigh and Ken Loach in terms of showing real humans.
Back in January, ComingSoon.net had a chance to sit down with Mullen and Colman at a ski resort in Park City when the film premiered at the Sundance Film Festival–this is just after we had talked with writer/director Paddy Considine, an interview you can read here. Colman offered to make us all tea as we began with the Scottish actor, whose heavy brogue is not always the easiest to understand, but he was surprisingly warm and introspective in opposition to some of the roles he's played.
ComingSoon.net: I just spoke with Paddy and he mentioned you two did a short film together. What was the draw to do the short film and then to do the feature? Did he tell you a lot about the character before giving you a script?
Peter Mullen: No, with the short film, we had been to the BAFTAs and Paddy, whom I had never met before, said, "I'd really like to work with you" and the feeling was mutual. And so about a year later, he sent the script to my agent for the short film he was doing for no money. I read the script, loved it, phoned him up and said "Count me in" and that was it. I had never met Olivia before, never worked with Paddy and he came and shot the whole film in Glasgow. Originally, it was set in Sheffield or Leeds, but because it was for no money, he shot in Glasgow and Olivia, she then came to Glasgow to film the short. We did that, and about two years after we did the short, he sent us a script for the feature. The first couple pages I thought, "This is just the short film again."
CS: So the short film's just the beginning of the movie basically.
Mullen: Yes, the short film is the beginning of the film.
Olivia Colman: It's all exactly the same.
Mullen: There's about three scenes that are cut from it, something like that, and to my amazement, it had its own… what did F. Scott Fitzgerald say? "A great work of art is like a block of ice on a stove. It will move and undulate to its own temperature." I probably paraphrased him badly but that's just what he said. When I read the script, that's what it felt like, a great block of ice that was going on its own way. it wasn't just defining itself as a short film, and then it took him another year or something to get the money for it, maybe longer, two years?
Colman: At some point, the money they really needed wasn't going to happen, so Paddy finally just said, "Let's get on. With whatever we've got, let's just make it."
Mullen: Something like that. Yeah.
CS: What about yourself, Olivia? Because you'd worked with him before as an actor, but what did he tell you about Hannah before you did the short?
Colman: I remember very clear when I met him, because I was a huge fan of Paddy's and I got over-excited when Paddy walked up the stairs. We were going to have a rehearsal for "Hot Fuzz" and I went "Hi" and sat up and opened the door for him…
CS: He actually told me that you opening the door for him, that's what made him think of you for the part. You actually got a job by opening the door for someone.
Colman:
I open the doors for everybody all the time.
Mullen:
I must remember that, to open the door. That's brilliant.
Colman:
It's hilarious. He thought–'cause he had the idea for the short–"Oh, maybe she'll be the one for that" so I'm eternally grateful and pleased I opened the door.
CS: When you have someone who is such a good actor, how do you know that they can pull off what they've written as a director?
Mullen: You don't. You genuinely don't. You go in and you touch wood–I've been very lucky most of the films I've done–you go on instinct with a director and most of them, while they don't necessarily become commercial success but artistically you're like,"Yeah, that's a job well done." Couple times you thought wrongly and you only find that out when you see the finished product and it's not about bad acting, it's bad directing. With Paddy, because we'd done the short, we already knew and had complete confidence in him as, for wont of a better word, the human director. Because you have the technical director, then there's a human director. From an actor's point of view…
Colman: You want the human one
Mullen: You want the human one. You don't give a f*ck about the technical one. Some directors quite rightly want to explain a shot to you. Personally, I don't give a f*ck. As long as he's a nice person, isn't going to shout at me, isn't going to shout at Olivia, isn't going to make life hell. For so many actors, that's the primary fear. These are people with kids and mortgages, they don't want to be shouted at. It's bizarre. Because any line of work, you obviously don't want to be shouted at but for actors, it's quite crippling and some actors can play on it. They can suss it. It's like, "If I raise my voice and say you're sh*t, I can decimate you" and if you met them on the street, you'd be like "What did you just f*cking say?" but the minute you're on a set, you're f*cking vulnerable as all hell, so we knew the human Paddy then we saw the technical Paddy which his all together, which was fabulous. So it was dead easy when we were doing "Tyrannosaur" because we knew how he was going to approach it. What we didn't know was quite how the technical, we didn't know it was going to be quite as gothic as it was going to look, and it was stunning compositions, really beautiful.
CS: Right, it looks amazing. It looks like a movie that could have cost three or four times as much.
Mullen: Exactly. We knew Paddy spoke about being desperate to create, as he calls it, "a cinematic experience," so he was very particular about composition. Paddy was desperate not to have the Dogme swing-camera approach or drama-doc, however you want to describe it. He wanted something to look more like the cinema he grew up with.
Colman: But he's got that photographic background, doesn't he?
Mullen: Exactly.
Colman: Photographic degree so visually… and he and Eric, they had a kindred love of beautiful shots.
Mullen: Yes, and what was great was that we never spoke about that, well I didn't anyway.
Colman: No, I had no idea.
Mullen: Not your business.
CS: You guys did the short and it had a very specific tone but this movie gets into some very dark territory in how it deals with some real serious issues like domestic abuse. Since you were mainly known for comedy, were you nervous about where the movie goes?
Colman: Well, to begin with, when he said he was going to extend the short, I thought "Cool" but I didn't think I'd be in it much and I thought it would be Joseph's story, but he said, "I do want to do both of your stories and find out how you come together." Then reading it, his wife said, "I've seen it and I can't believe what Paddy's going to make you do." Then I read it, and I showed my husband, and my husband said, "You can do that. You've just got to go with it. Do it." Because I was worried I'd make it look hammy or bad. Yes, I started off in comedy but that's just where I got my work. I've always been an actor.
CS: Did you do theater before?
Colman: Yeah. It just so happens that you do a job and you can do a comic script so other people go "Oh!" It just works like that, you don't plan it. I can't turn up and go, "I want a period drama now." If only that worked.
CS: This movie isn't a comedy but it has comic elements…
Colman: Well, every day life does. We just laughed. Everybody laughs all the time and some of the worst things that happen make you laugh 'cause it's a defense isn't it, I suppose.
CS: When you see this movie with an audience are you sometimes surprised when they laugh and what they laugh at?
Mullen: There's been a few. I love it. Personally, I'm a cheap whore. I'll take any f*cking laugh that comes, that's fine by me. Silence in a cinema can be slightly distressing because you don't know if somebody hates it or loves it. But over the years, it's been really interesting. There's been a couple laughs from me, but completely unexpected, and I love that, because I always think if an audience laughs in that fashion, they're really getting the story. When they don't laugh or they aren't sure, obviously–you don't want them mocking laugh–but when there are those moments, for want of a better word, the democratic "You can laugh if you want, don't laugh if you don't." A big laugh we got the other night was a moment when Olivia tries to put a tie onto Joseph and he goes back because he's not used to any physical contact, and it got a huge laugh, which I thought was fabulous. Like I said, I'll take any laughs when they come, but I do think it means a deeper understanding.
CS: I'll be curious to see how the movie is seen over in England or Scotland, because there's a lot of things in the movie which are probably very foreign to us which are very common there.
Mullen: Sure. Not so much that, but I'll be interested to see audience response internationally, because any film festival is not the real world. We're all here to see that type of film, that's why it's Sundance. Immediately, you can get a leg up. It would be tougher to come to Sundance if we were an out and out goofy musical. It would be tougher, because audiences are here for serious cinema, that's why we spend out money to come to Sundance to see serious independent cinema. It'll be interesting to see how it does in the great big real world of multiplexes and the like 'cause personally I think it's an astonishing film and it should do really well, but depends on how they market it. It comes down to that, like everything, particularly for a film like this, because say hypothetically it wins a couple of big gongs. In the UK, as I've discovered in the last five or six years, they will not put them on the poster, it won't go. You don't want to put Venice or that it won Cannes. They will not go see it, so for low-budget cinema, you're constantly spread across the canal, because you're like, "Yeah, but we've won it, that's good. Doesn't that tell an audience that this is quality?"
Colman: Is that right?
Mullen: Never put "Cannes" on a poster ever. "My Name is Joe" they were like (does impression of something plummeting like a bomb). Britain was the only country that didn't put "Golden Lion" right across the top, because nobody will watch it.
Colman: That's hilarious.
CS: How hard is it to make a character like Joseph? That's the key of why the film is so great is that as you watch the movie, you think "This guy is really horrid" but it's really easy to like him after a while, so was that something that was clear from the script how to do that?
Mullen: Obviously, a lot comes to the script in terms of context. I would never think of making anybody likeable. Ever. I'd only be interested in making them honest and pay tribute to them, no matter who the hell you're playing, you have to attribute to them, their own humanity however screwed up that may be. I would never expect an audience to like a character. That's never bothered me, that kind of empathetic notion to me is almost counter-art. You either look at someone as a human being with all the flaws or you really should be watching a television soap opera. If that's what you want, which is fine. I have nothing against soap operas. If you want black and white, good, bad, those are all avenues, but for a film like this, it goes completely upstream. There is no good, there is no bad.
CS: You have it a little bit easier with Hannah because she's completely likeable and she's the sweetest person in the world.
Colman: They practically both turn on their heads.
Mullen: Hannah commits the worst crime in the whole f*cking film. Much worse.
And really, we can't say much more about the movie without spoiling anything. Tyrannosaur opens in New York and LA on Friday, November 18.
Source: comingsoon.net – Interview with Olivia Colman and Peter Mullan