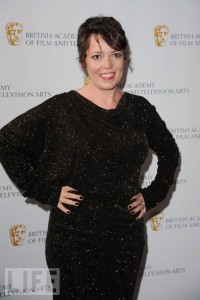 Last month Sky announced a number of new commissions, including romantic comedy Mr Sloane. This week they've revealed who'll star in the 1960s-set production.
The line-up includes Olivia Colman, Ophelia Lovibond, Peter Serafinowicz, Lawry Lewin and Brendan Patrick.
As announced in March Nick Frost takes the lead role of Jeremy Sloane – a buttoned-down 1960's man in crisis. Olivia Colman will play Sloane's estranged wife Janet. Regularly appearing to him in flashbacks and fantasies, Janet remains a significant 'other' in Mr Sloane's life.
Ophelia Lovibond joins the cast as Robin, a free-spirited young American and prospective new love interest for Mr Sloane, following a chance encounter in his local ironmongers while Peter Serafinowicz will play Ross, one of Mr Sloane's three childhood friends whom he meets every night in his local.
Lawry Lewin plays Beans, Mr Sloane's close friend who still lives at home with his mother and Brendan Patricks will play Reggie, the ladies' man of the group.
Between his failed attempts at marriage, career success and even suicide, it's fair to say that 1969 isn't shaping up to be Sloane's year. But with a potential job opportunity on the horizon and the phone number of a prospective new love interest following a chance encounter in his local hardware store, could Mr Sloane's luck be about to change?
Filming began earlier this month and will be shot in studio and on location in London for transmission on Sky Atlantic HD in 2014.