Uncategorized
I have updated the gallery with some beautiful pictures of Olivia at the Paul premiere in London last night and I found some photos of her at the Variety Studio, Sundance on January 23, 2011 in Park City, Utah:
Tyrannosaur got recognised by the award for The World Cinema Directing Award: Dramatic at Sundance and Olivia Colman also was awarded World cinema special jury prize, dramatic for breakout performance which she shares with her co-star Peter Mullan
Source: unitedagents.co.uk – Olivia Colman wins award at Sundance
movieline.com – Sundance award winners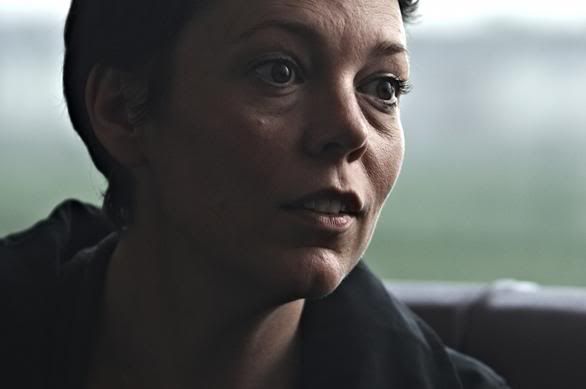 Film in Leeds has been on the rise in recent years and another locally-shot film has been winning awards.
Tyrannosaur, filmed in Leeds and Wakefield, is the talk of critics across the globe as it bagged two awards at the Sundance Film Festival.
Sundance, the world's leading independent film festival, takes place every year in Park City, Utah.
It was set up by Hollywood superstar Robert Redford to encourage independent cinema.
Tyrannosaur, is another success from Warp Films – the team behind Four Lions, This Is England and Dead Man's Shoes.
Renowned actor Paddy Considine took the World Cinema Directing Award: Dramatic Award for Tyrannosaur, his feature directorial debut, produced by Warp X – an offshoot of Warp Films – and co-funded by Screen Yorkshire.
Olivia Colman and Peter Mullan were awarded The World Cinema Special Jury Prizes: Dramatic for Breakout Performances for their roles in the hard-hitting drama, which explores how love and friendship can be found in the darkest of places.
Filmed in Leeds and Wakefield in 2010, Tyrannosaur was produced on Warp Films' low budget feature initiative Warp X, which aims to support emerging talent to break into features.
While it was wowing the critics and audiences alike in the States, Tyrannosaur also had its European premiere as part of the Bright Future programme of first and second feature films at the International Film Festival Rotterdam.
The film tells the story of Joseph (Peter Mullan) a man plagued by violence and a rage that is driving him to self-destruction. As Joseph's life spirals into turmoil a chance of redemption appears in the form of Hannah (Olivia Colman), a Christian charity shop worker. Their relationship develops to reveal that Hannah is hiding a secret of her own with devastating results on both of their lives.
The wins for Tyrannosaur complement last week's Best TV Drama Award at the South Bank Sky Arts Awards for This Is England '86 – a hard-hitting four-part drama based on characters from the original film. Ironically such success comes as Screen Yorkshire undertakes redundancy consultation with fifteen of its nineteen staff.
Hugo Heppell, Head of Production at Screen Yorkshire, who co-funded Tyrannosaur and gave locations and crewing support, says:
"We are absolutely thrilled at the success of Tyrannosaur at the Sundance Film Festival and congratulate Paddy Considine, Peter Mullan and Olivia Colman for their richly deserved awards. This unflinching, wonderful film, shot entirely on location in Seacroft, Leeds, takes its place alongside The Arbor and The Kings Speech among the most lauded films of the year, and shows that film is still very much alive in Yorkshire despite these difficult times."
Director Paddy Considine, made his name appearing in several films by Shane Meadows, before appearing in TV's Red Riding Trilogy and international cinema hits such as The Bourne Ultimatum. The script for Tyrannosaur, written by Considine, was based on his 2008 BAFTA winning short Dog Altogether.
One of the most striking performances at this year's Sundance Film Festival has come from British actress Olivia Colman — best known for her comedy roles. Her TV credits include Peep Show and Doctor Who.
In the Sundance film Tyrannosaur, she plays a God-fearing charity gift shop worker subjected to horrific degradation by her abusive husband. Her acting has won praise, particularly her ability to convey a gamut of emotions — anger, humiliation, hurt, and tenderness — all with great authenticity. She's not the boastful type, but Colman thinks her performance in Tyrannosaur, which is directed by Paddy Considine, is one of her best.
I have a lot toupdate about Olivia at Sundance she and the film she was there for Tyrannosaur has really been recieved well with olivia getting some fantastic reviews. Here are some of them:
Mark Adams, chief film critic at trade magazine Screen International, says Tyrannosaur is, "a thoughtful, uncompromising and at times moving debut driven by quite outstanding performances by Peter Mullan and Olivia Colman."
Over at BBC America, Tom Brook describes Olivia Colman's performance in Tyrannosaur as "one of the most striking performances at this year's Sundance Film Festival", adding, "her acting has won praise, particularly her ability to convey a gamut of emotions — anger, humiliation, hurt, and tenderness — all with great authenticity."
Source: em-media.org.uk – Tyrannosaur lauded by audiences and critics alike at Sundance
Here are some other great reviews:
filmthreat.com – Tyrannosaur review
guardian.co.uk – Tyrannosaur review
saltlakemagazine.com – Tyrannosaur review
I have just added a ton of images to the Gallery DVD extras, episode screencaps etc go check them out more will be coming asap
Sundance has some real joy for us Olivia fans I have added some great professional pictures from the festival:
Total film have interviewed Paddy Considine while he is at Sundance film festival and he has let us know that Olivia will star in his new film:
"According to Total Film, Considine was hinting (though they don't say just how he was doing so) that Olivia Colman, the star of Tyrannosaur, would have a role in the film. He also revealed that another famous story about misunderstood forces is to provide some kind of influence on the film:
He plans to shoot the movie in England and says The Exorcist is a reference point for him. But don't expect pea-puke and spinning heads – the dilemma of the mother when she doubts her own daughter are more his inspiration."
Source: bleedingcool.com – Paddy Considine to write and direct the leaning
Paddy Considine makes a powerful and intense directorial debut with Tyrannosaur, the hard and at times harrowing – though ultimately redemptive – story of a self-destructive man and his relationship with a charity-shop worker. The bleak story and strong language may appear a handicap, but the film is a thoughtful, uncompromising and at times moving debut driven by quite outstanding performances by Peter Mullan and Olivia Colman.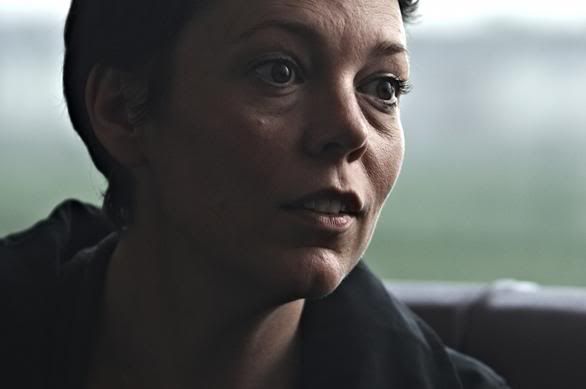 Actor Considine follows in a great British tradition of British actors choosing tough stories for their first films – such as Gary Oldman's Nil By Mouth; Tim Roth's The War Zone and Samantha Morton's The Unloved – and he has delivered a dazzlingly intense film that is tough to watch but completely memorable and challenging.
The film, which has its world premiere at Sundance, is not an easy watch at times – though much of the violent brutality actually happens off screen or out of shot – with the astonishingly fine performances making the film all the more sad and realistic.
The opening scene sets the tone of the film. A drunken and raging Joseph (Peter Mullan) stumbles out of a pub, swearing and crashing around the alleyway, and proceeds to kick his loyal dog so brutally that it dies the next day.  He is a tortured and tormented man, driven to drunken self-destruction and living a cycle of brutality and harsh self-absorption.
After smashing the window of a local post office he hides in a charity shop, where the Christian-minded shop assistant Hannah (Olivia Colman, in a moving performance) wants to offer kind words and support. He simply swears at her, but after being beaten up he returns to the shop the next day.
Joseph is harshly dismissive of her Christianity, good nature and desire to help and criticises her for being middle class and knowing nothing of the harsh life on his estate. What she is hiding, though, is that she is being abused by her husband James (Eddie Marsan) at home, and her life is anything but perfect.
Battered and beaten after an incident with her husband, Hannah seeks solace with Joseph, but he questions his ability to help and protect her. She stays at his tidy house where he talks about his wife, who had died some years before. His joke name for her was 'Tyrannosaurus' – describing her as a big woman who makes a lot of noise climbing the stairs, causing a vibration that made the tea in his cup quiver…just like the Tyrannosaurus Rex in Spielberg's Jurassic Park.
The film impressively spirals to a dark twist towards an unlikely sense of redemption for both Hannah and Joseph as they gently and falteringly fumble towards a relationship based on care and understanding.
The revelation in Tyrannosaur is the moving and remarkable performance by Olivia Colman as battered wife Hannah. She is well known in the UK through comedy shows such as Peep Show and Rev, and had a role in Edgar Wright's film Hot Fuzz as well as starring alongside Paddy Considine in Shane Meadow's film Le Donk & Scor-zay-zee. But here she is remarkable and is complemented by an appropriately brutal and haunted performance by Peter Mullan who is at his very best as the embittered and tortured Joseph.
Paddy Considine writes and directs impressively, making good use of the widescreen scope format to emphasise the bleakness of the estate where Joseph lives. He has created a tough and harrowing story that is punctuated by dark moments of compassion and humour and yet which offers a sense of redemption amidst the abuse and killing of household pets.
I have updated the gallery with some lovely photos of Olivia from the Tyrannosaur film premiere at Sundance 2011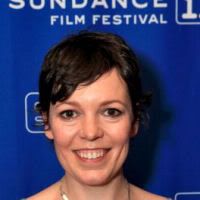 Principal photography will commence in January on director Phyllida Lloyd's take on the former British Prime Minister's dotage, The Iron Lady.
Award-winning actress Meryl Streep will portray the British leader. British writer Abi Morgan (Brick Lane) has written the script that focuses on Margaret Thatcher's later years as she combats retirement and poor health and reflects on some important moments of her political career.
Jim Broadbent (Another Year) will play her husband Denis and Olivia Colman (Tyrannosaur) their daughter Carol.
The Iron Lady will be Lloyd's first film after global box office smash Mamma Mia! The film has run into controversy before the shoot, with Thatcher's family members reportedly upset about its content, describing it as "some Left-wing fantasy."
The project's £13m budget is financed by Pathé, Film4 and the UK Film Council. Pathé Managing Director Cameron McCracken said, "It is a film about power and the price that is paid for power. In that sense, it is the story of every person who has ever had to balance their private life with their public career."