Uncategorized
Congratulations to Olivia who won an award for her performance in Tyrannosaur at the Chicago International Film Festival
Silver Hugo for Best Actress to Olivia Colman in TYRANNOSAUR (UK) for an outstanding performance hitting every note showing her vulnerability, her power and her humor.
Source: moviecitynews.com – Chicago International Film Festival
For the first time since its renaming and refurbishment, one of Noël Coward's most well known plays will be performed at the Noël Coward Theatre. Howard Davies is to direct Lindsay Duncan in Coward's Hay Fever, reuniting the director and actor who together received seven major international theatre awards for their 2001 collaboration on Coward's Private Lives. Duncan is joined by Jeremy Northam, Kevin McNally and Olivia Colman in Coward's sublime comedy of bad manners.
Running at the Noël Coward Theatre from 10 February – 2 June 2012, Hay Fever has designs by Bunny Christie, lighting by Mark Henderson and sound by Mike Walker. Press preview performances are Thursday 23 February at 7pm, Friday 24 February and Saturday 25 February at 2.30pm and 7.30pm, with reviews embargoed until Monday 27 February 2012. Hay Fever is produced in the West End by Richard Willis, Matthew Byam Shaw for Playful Productions and Sonia Friedman Productions. Further casting will be announced shortly.
Judith Bliss, once glittering star of the London stage, now in early retirement, is still enjoying life with more than a little high drama and the occasional big scene. To spice her weekend up, Judith invites a young suitor to join her in the country. However, her novelist husband, David, and her two eccentric children, Simon and Sorel, have had the same idea for themselves and any hope for private flirtation disappears as the family's guests begin to arrive. Misjudged meetings, secret seductions and scandalous revelations all run riot at the most outrageous of all house parties.
In 1920 Noël Coward made his stage debut at what was then known as the New Theatre in his own first play, I'll Leave It To You. In 1973 the theatre was renamed the Albery and subsequently, in 2001, Lindsay Duncan and Alan Rickman played Amanda and Elyot in Coward's Private Lives to great critical acclaim. In June 2006 the theatre was renamed once again as the Noël Coward Theatre when the building underwent major refurbishment including the naming of the two principal dressing rooms as Noël and Gertie, the latter being Coward's favourite leading lady, Gertrude Lawrence.
Cameron Mackintosh said: "I'm delighted to be able to have our first Coward play at the theatre since it was renamed after The Master. Truly one of Noël's masterpieces, Hay Fever promises to be as great an evening at this theatre as Howard Davies' Private Lives a few years ago, also starring the delicious Lindsay Duncan. I am also delighted to welcome to the salon of the Prince of Wales Theatre, Noël's beloved grand piano on which he composed so many of his wonderful songs. His talent to amuse lives on forever."
Playwright, composer, director and actor Noël Coward wrote Hay Fever in 1924 and it was first produced a year later at the Ambassadors Theatre. Coward wrote over 50 plays during his career including Private Lives, Design for Living, Present Laughter, Blithe Spirit and Hay Fever. His many compositions include Mad Dogs and Englishmen, A Room with a View and Mrs Worthington, and his film credits include Brief Encounter, The Vortex and The Italian Job. Coward was knighted in 1970.
Double Olivier award-winner Lindsay Duncan (Judith Bliss) has worked extensively for The National Theatre where her credits include Plenty, The Homecoming and Cat on a Hot Tin Roof, and for the Royal Shakespeare Company in productions including A Midsummer Night's Dream, The Merry Wives of Windsor and Les Liaisons Dangereuses. In the West End she has been seen in The Cryptogram, That Face and Noel Coward's Private Lives. For the Royal Court her credits include the original production of Top Girls as well as Ashes to Ashes and Mouth to Mouth. For The Almeida Theatre her credits include Celebration and The Room. On television she has recently appeared as Alex Cairns in Black Mirror – The National Anthem and The Duchess of York in Rupert Goold's Richard II. Her other television credits also include White Heat, Dr Who, the title role in Margaret, as well as Lost in Austen, Longford, Rome, Shooting the Past and Perfect Strangers, The Rector's Wife, A Year in Provence, GBH and Traffik. Her film credits include Tim Burton's Alice in Wonderland, Starter For Ten, Mansfield Park, An Ideal Husband and Prick Up Your Ears.
Olivier award-wining Jeremy Northam (Richard Greatham) was most recently on stage at the Donmar Warehouse in Old Times. His other theatre credits include Love's Labour's Lost and The Country Wife for the Royal Shakespeare Company, Certain Young Men for The Almeida Theatre and The Voysey Inheritance at The National Theatre. He has most recently been seen on television in Stephen Poliakoff's Glorious 39 and as Thomas Moore in The Tudors. His other television credits include White Heat and Journey's End. Northam's film credits include Creation, Dean Spanley, A Cock and Bull Story, Gosford Park (in which he played Ivor Novello), The Winslow Boy, An Ideal Husband, Happy Texas, Possession, Emma, The Net and Carrington.
Kevin McNally's (David Bliss) most recent stage credits were as Claudius in Hamlet and Lebedev in Ivanov, both for the Donmar Warehouse at Wyndham's Theatre. Previously his extensive theatre credits include Boeing Boeing, The Lady in the Van, Naked, Dead Funny and The Iceman Cometh. On television he can soon be seen in ITV1's Downton Abbey. His other television credits include New Tricks, Life On Mars, Margaret, Bloodlines, Dunkirk, Spooks, Shackleton, Rab C Nesbitt, Enigma and Diana. McNally's many film credits include the role of Joshamee Gibbs, Captain Jack Sparrow's first mate in The Pirates of the Caribbean films, The Raven (to be released next Spring), Valkyrie, De-Lovely, The Phantom of the Opera, Johnny English, Sliding Doors, Irish Jam and Entrapment.
Olivia Colman's (Myra Arundel) theatre credits include England People Very Nice for The National Theatre, The Three Some for the Lyric Hammersmith and A Long Day's Journey Into Night at the Lyric Theatre. Her upcoming film credits include The Iron Lady directed by Phylidda Lloyd and Hyde Park on Hudson. Her other film credits include Tyrannosaur, Dog Altogether, Grow Your Own, I Could Never Be Your Woman and Hot Fuzz. On television she is best known for playing Sophie Chapman in the Peep Show series and Harriet Schulenburg in the Green Wing series. Her other television credits include The Baader Meinhof Gang series, Exile, Doctor Who, Beautiful People, Consuming Passion, That Mitchell and Webb Look, Hancock and Joan, Love Soup, Much Ado About Nothing, Ny-Lon and The Office.
Multi award-winning Howard Davies is an Associate Director of The National Theatre where his many productions include The Cherry Orchard, The White Guard, Burnt by the Sun, The Taking Cure, Flight, Present Laughter and Mourning Becomes Electra. For The Almeida Theatre, where he was also Associate Director, his productions include Period of Adjustment, The Play About the Baby, The Iceman Cometh and Who's Afraid of Virginia Woolf? At the Royal Shakespeare Company he produced 26 new plays in 4 years at The Warehouse Theatre which he established and ran. His other RSC credits include The General from America, Les Liaisons Dangereuses and Jail Diary of Albie Sachs. In the West End Davies' directing credits include All My Sons, The Breath of Life and Noel Coward's Private Lives. His many Broadway transfers include A Moon for the Misbegotten, The Iceman Cometh, My Fair Lady, Cat On A Hot Tin Roof and Les Liaisons Dangereuses.
Dates: 10 February – 2 June 2012
Press performances: 23 February at 7pm, 24 February at 7.30pm, 25 February at 2.30pm and 7.30pm
Reviews embargoed until 27 February
Address: Noël Coward Theatre
St Martin's Lane, London, WC2N 4AU
Performances: Monday – Saturday at 7.30pm
Wednesday and Saturday matinees at 2.30pm
First Wednesday matinee 29 February
Box Office: 0844 482 5140
Source: westend.broadwayworld.com – Lindsey Duncan to lead Hayfever in the West End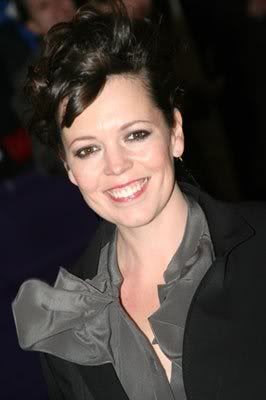 Olivia Colman was relieved Meryl Streep wore prosthetics on the set of their new film about former Prime Minister Margaret Thatcher – because it made it easier to forget that she was working with the Oscar-winning star.
The Peep Show actress, 37, plays Carol Thatcher in the movie, The Iron Lady, which stars Jim Broadbent as her father Denis Thatcher and Meryl as her mother, Britain's first female prime minister.
Olivia told Radio 4's Woman's Hour: "I couldn't quite believe I was in the same room or city as Meryl Streep. I was quite grateful that she was covered in prosthetics so she didn't quite look like her, otherwise I don't think I would have been able to function at all."
Olivia said Meryl perfected the voice of the former Tory leader, adding: "It's spooky, its proper spine-chilling spooky, it's brilliant."
Even though she thought she would turn "to jelly" while working with the actress, she said: "Within moments I forgot that she was stratospherically wonderful…she's a funny woman, who is very close to giggles at all times.
"She's got nothing to prove so there's no ego, she was lovely to be around."
The Rev star did not meet Carol Thatcher before playing the role.
She said that she was "not an impressionist" but that the trick to sounding like her was "weak Rs".
Olivia, who is also filming the role of Queen Elizabeth in Hyde Park On Hudson, the movie starring Bill Murray and Laura Linney, said of her future: "I hope to work until I can't stand any more."
Focus Features announced filming has begun on Hyde Park on Hudson starring Bill Murray and Laura Linney, and directed by Roger Michell (Notting Hill). Richard Nelson wrote the script with Michell, Kevin Loader, and David Aukin producing.
The cast of the historical drama also includes Olivia Williams, Samuel West, Olivia Colman, Elizabeth Wilson, Elizabeth Marvel, and Eleanor Bron. Filming is taking place in the UK with Focus aiming for a late 2012 theatrical release.
Announcing the start of production, Focus Features CEO James Schamus said, "Filmgoers will be intrigued by this unique exploration of the all-too-human side of one of history's great men. Roger is an actor's director who will guide Bill and Laura through their playing of Richard's script, which beautifully encompasses satire and drama."
The official synopsis: "In June 1939, President Franklin Delano Roosevelt (Murray) and his wife Eleanor (Williams) host the King and Queen of England (West and Colman) for a weekend at the Roosevelt home at Hyde Park on Hudson, in upstate New York – the first-ever visit of a reigning English monarch to America. With Britain facing imminent war with Germany, the Royals are desperately looking to FDR for support. But international affairs must be juggled with the complexities of FDR's domestic establishment, as wife, mother, and mistresses all conspire to make the royal weekend an unforgettable one. Seen through the eyes of Daisy (Linney), Franklin's distant cousin, neighbor, and intimate, the weekend will produce not only a special relationship between two great nations, but, for Daisy – and through her, for us all – a deeper understanding of the mysteries of love and friendship."
Source: movies.about.com – Hyde park on Hudson starts shooting
If you have even a smidgen of taste in comedy then you'll already be familiar with Olivia Colman, who played Mark's on-off (mostly off) girlfriend in Peep Show, PC Doris Thatcher in Hot Fuzz and harassed mum-of-many Harriet Schulenberg in Green Wing. Lately, however, Colman's career has begun to move into more serious drama with films such as Paddy Considine's Tyrannosaur and the Margaret Thatcher biopic The Iron Lady.
Tyrannosaur is a drama about domestic abuse in which Colman plays a Christian charity worker who seeks escape from her violent husband James (Eddie Marsan) through a friendship with alcoholic widower James (Peter Mullan). The film has already stormed its way through Sundance, picking up the Directing Award and Special Jury Prize, and rumours are abound that it could do equally well at this year's BAFTAs.
However, I went into this interview straight after watching Studio Ghibli's latest animated adventure Arrietty, based on the timeless children's novel The Borrowers by Mary Norton. Colman provided the UK voiceover for the character of Homily, the hand-wringing, fretful mother of the title character who would probably benefit greatly from "borrowing" some Xanax. Despite her fits of anxiety, the character is incredibly endearing and Arrietty is every bit as beautiful and heart-warming as the world has come to expect from a Studio Ghibli film.
Bleeding Cool: What was the dubbing process like for Arrietty? Were you recording alongside the other actors.
Olivia Colman: No, well I certainly didn't meet any other actors, so I heard what they'd recorded and then I did my bit. I don't know if anyone else met but it's funny, I can't wait to see it so I can see if it works or not. It's a funny feeling, having a chat but not ever meeting anybody.
BC: Had you read the book before?
OC: Yes, and we've got the audiobook in the car that my kids listen to and I remember reading it when I was very little. I remember seeing the film, you know the Jim Broadbent film, years ago when that came out and I loved it.
BC: Had you heard that they've also recorded another English-language version, but with American accents for the US audience?
OC: Yes, I'd just learnt that, it's great! So you get your own accents for your own regions. It's nice to have a little reminder of the Englishness of it when it's set in that beautiful Japanese garden.
BC: The next big release for you is Tyrannosaur, directed by Paddy Considine. How did you get involed with the project?
OC: Apparently, Paddy says, we met during Hot Fuzz, and when he turned up for his first rehearsal I was terribly excited that Paddy Considine was about to walk through the door, and I jumped up and grinned at him and opened the door for him, and he says that was the moment when he thought "Oh she'll do for the film."
I don't why know why he did that but I'm very pleased he did. He was thinking at the time for a short and he was looking for someone to play my character. Luckily he stuck with it and I did the feature as well.
BC: It sounds like a very intense story and it covers a lot of sensitive subjects. How did you prepare for the role?
OC: I'm not sure that you can, really. He's written it so beautifully and the characters are so multi-dimensional that you just have to throw yourself in and go with it. That sounds a bit vague, but it's so beautifully written that you just have to imagine what it would be like to be that unhappy or that happy … [Laughs]. It's not great, is it? I would be a rubbish drama teacher.
BC: Did you do a lot of rehearsal beforehand?
OC: Not really, we sat and talked a bit, and you felt very secure and trusted him, and you just walked through where'd you think you might move to. He said, "I don't want you to fix it, I don't want you to feel stuck, you don't have to say any of the lines yet, we'll wait until everyone's ready and then you can just go." So as long as you didn't let it out of the room in the middle of a speech and hope the camera would follow you … I found it quie scary initially, because I'm used to parameters, but it was a lovely experience.
BC: Tyrannosaur has already done very well at Sundance, are you now looking forward to the BAFTAs?
OC: I don't know. It'll be nice to see how the general public take to it and I think they'll love it. I'm so … if someone says they don't like it I'm not sure I'm going to be able to cope, because I was so passionate about it. I really hope people love it as much as we do and I don't suppose it matters about awards. If anyone comes out with, "yeah, it was alright, " I don't know what I'll say. I think it's going to be a love or a hate thing, a Marmite thing.
BC: Paddy started out as an actor and became quite well known for doing that before he started to make the move into writing and directing. Would you ever make the move behind the camera?
OC: Ooh, no! No, it's never even crossed my mind, and I think that if, by 37, it hasn't crossed my mind then there's a good reason for that. Some people are good at it and some people aren't and I think I would be in the latter camp. I don't think I could bear the responsibility.
BC: You've got another very interesting film coming out, The Iron Lady. Did you have any scenes with Meryl Streep?
OC: Yes, all my scenes are with Meryl. It was an amazing experience and completely different to Tyrannosaur, because it was a much bigger budget and a lot more, sort of, organised, I suppose, and I lot of waiting for the right lights to be done. So it was a really different way of doing things but interesting and very exciting to be part of it. I have only seen little bits of it in ADR, I haven't seen it yet. I've seen lots of Tyrannosaur, I've seen it a few times when we went to Sundance together, but I haven't seen Iron Lady yet. From what I have seen it looks very exciting and Meryl is, as you'd imagine, amazing!
BC: You're already very well known for comedy, with TV series like Peep Show, but now it seems you're doing a lot more serious drama. Was that a move you chose to make or did it just work out that way?
OC: No, it's just turned out that way, it's not a conscious decision. I started out just wanting to be an actor and it ended up that I did a lot of comedy first, which was brilliant because you get to laugh all day at work! So yes, I'm loving the fact that I'm getting more stuff to do now, but it's just the way it's worked out, really.
BC: What's next for you?
OC: At the moment I'm just finishing Rev, which is a telly series about a vicar, and I'm just about to start a film with Bill Murray called Hyde Park on Hudson, which is really fun, but luckily it's all set in England. It's meant to be America but they've found places that look like it here, so I don't have to go away!
Arrietty is in UK cinemas this Friday, June 29th, with Tyrannosaur to follow in early October and The Iron Lady coming along in January (or December, apparently, in the US).
Source: bleedingcool.com – Exclusive interview with Olivia Colman Arrietty, Tyrannosaur and more
Nine years after her death, Queen Elizabeth the Queen Mother is the subject of much competition in the film world.
After she was portrayed by Helena Bonham Carter in The King's Speech, Queen Elizabeth will be played by Olivia Colman in Hyde Park on Hudson, about George VI's 1939 visit to President Franklin Roosevelt in New York.
The actress, 37, who appeared in Peep Show, is not concerned about comparisons with Bonham Carter. "Our performances are going to be so very different that it would be pointless to compare the two," she says.
In Madonna's film about the 1936 Edward VIII abdication crisis, W.E., Queen Elizabeth will be played by Natalie Dormer.
Source: telegraph.co.uk – Olivia Colman mustard keen to play Queen Elizabeth the Queen mother
Here's the first UK poster for the next Studio Ghibli picture, Arrietty. It has been adapted from Mary Norton's The Borrowers by Hayao Miyazaki, Keiko Niwa and director Hiromasa Yonebayashi. As you'd expect, it looks wonderful.
And it will sound pretty good too – note that the UK dubbed version will feature a different (and indeed, preferable) voice cast to the US iteration. We in blighty will get Saoirse Ronan, Olivia Colman, Mark Strong and Phyllida Law.
Oh, and somebody the poster calls Tom Holland. I wonder if they mean Tom Hollander? Because Tom Holland, writer-director Fright Night and Child's Play seems like an odd match. Oops typo.
UPDATE: A subsequent press release refers to "newcomer Tom Holland", so that settles that.
Anyway, a good cast. The US get Bridgit Mendler, Will Arnett, Amy Poehler, Carol Burnett – none of whom exactly seem to match the setting or tone so well. Score one to Optimum, the UK distributors.
Having said all of that, I'll still opt for a subtitled version, personally.
The film will go on release on July 29th, though Picture House Cinemas will be screening it as their Kid's Club in the 23rd. Adults will need to have a kid with them, but there's a lot of Little Bleeders with families, I know.
Let's score Optimum another point for getting the film out this year. US audiences will be waiting until February 2012. If I were in the States I'd start shopping for a multi-region Blu-ray player now.
Source: bleedingcool.com – Studio Ghibilis Arietty UK poster
I have updated the gallery with photos from the recent British Academy Television Craft Awards click the picture to see them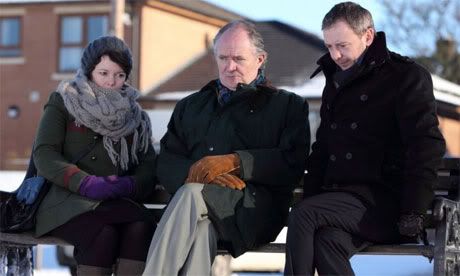 Exile (cert. 15) will be released as a two-disc DVD (£19.99) by FremantleMedia Enterprises on 13th June 2011.
Exile, new BBC drama starring John Simm (Life on Mars, State of Play), Olivia Colman (Peep Show, Green Wing), Jim Broadbent (Moulin Rouge, Iris) and Clare Goose (The Bill, Waking the Dead) is on UK DVD from Monday.
"Superbly written" and featuring "uniformly excellent" (The Sunday Telegraph) performances by a top-notch cast, Exile is both a "taut psychological thriller" (The Guardian) and an intimate, moving portrayal of a father and son's relationship that will keep viewers hooked throughout
The new two-disc DVD edition of the series features an in depth making-of documentary. Here's a short behind-the-scenes montage from this extended extra feature…